One Sunday, my family and I went island hopping in Mactan, specifically in San Vicente Marine Sanctuary in Olango island. It's been awhile since we swam in the waters of Cebu so we were really glad that the weather was good and that we were able to enjoy swimming in the clear sea.
We hired the team from Island Banca Cruises for this day trip. This is the company contact that we knew that was readily available even if we booked two days before the activity.
We arrived at the docking area for the boats which is located at the back of Shangri-La Hotel Resort Cebu, and before Movenpick Hotel & Resort. There's an alley and signboard leading towards the dock.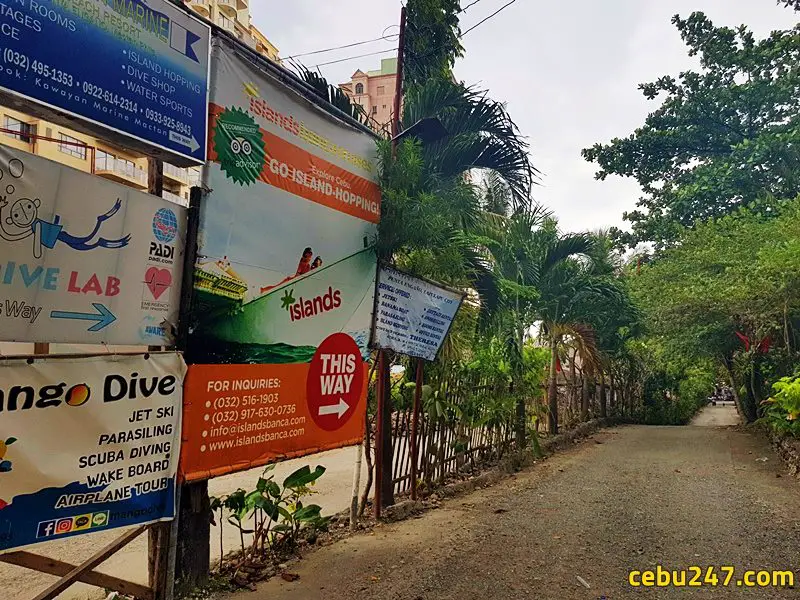 Punta Engano (look for the orange signage)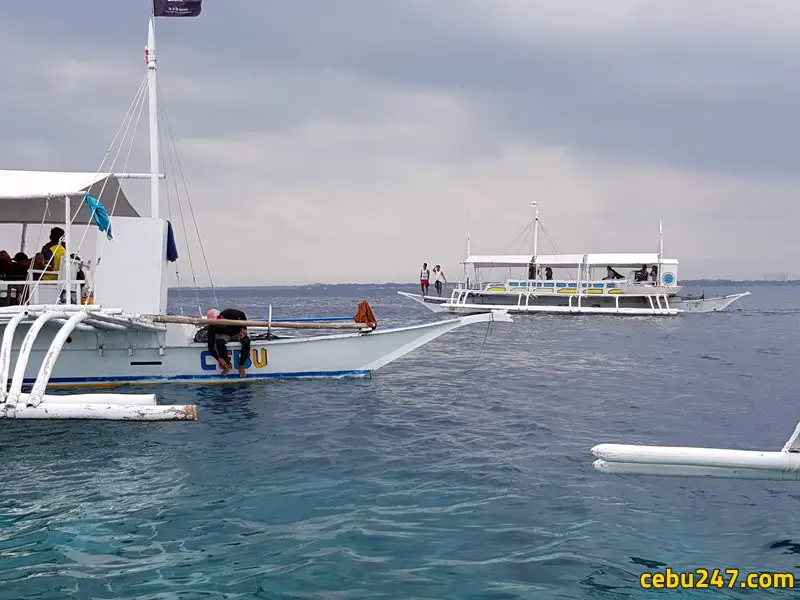 Cebu Island hopping!
Snorkelling at Olango Island with Island Banca Cruise
We headed towards the office of the tour company and paid the remaining fees and about 9:30am, we were already on the boat and cruised about 30 minutes before stopping at the San Vicente Marine Sanctuary in Olango island.
The water was very clear and upon jumping in the sea, I could already see fishes swimming very close. My wife and I were very happy that we got to swim in Cebu again.
While on our boat, we noticed a local couple selling some snacks, merchandise and coconuts. We got interested in buying some sea urchins as this was my first time to try them. Nice to know that locals are also trying to make a living.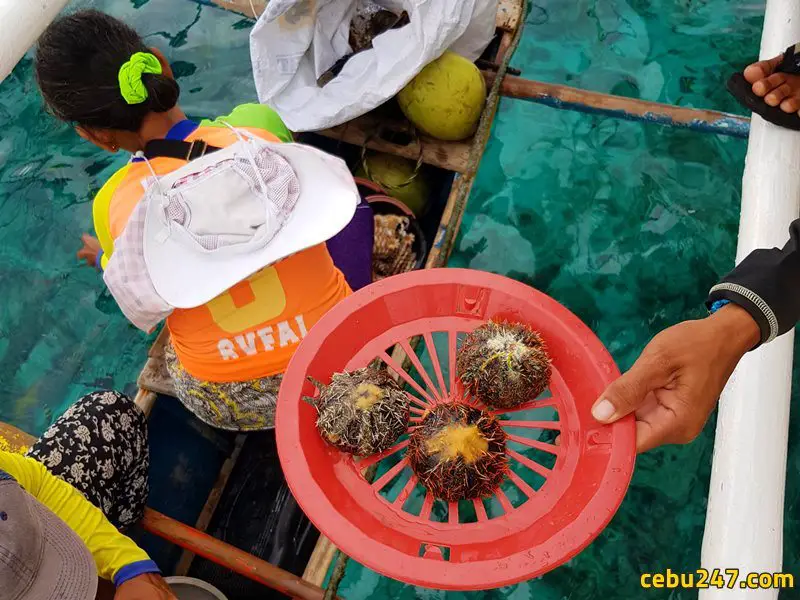 local couple in a small boat selling snacks (sea urchins, coconut juice, etc.)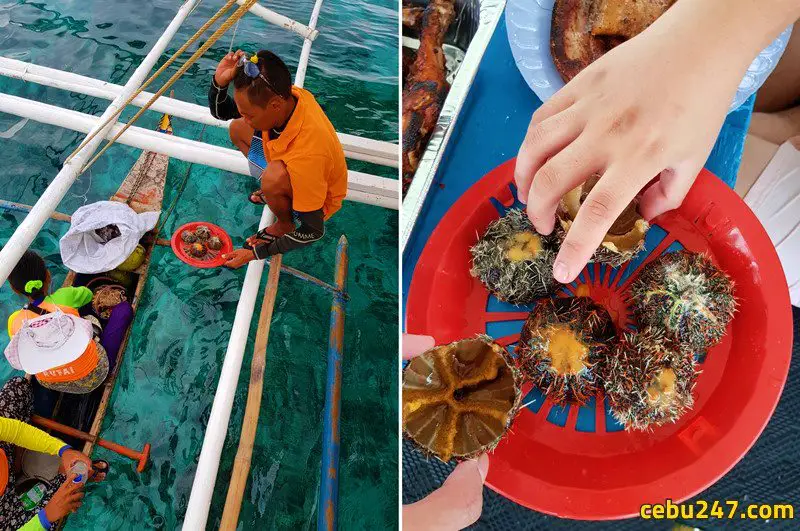 sea urchins as snacks
Bringing Our Own Food
We brought our own food as we wanted to grill on the boat. For an additional fee, we were able to rent a grill so that we could prepare our own lunch. Actually, the staff prepared the lunch for us which was very convenient. We marinated our food, and they were the ones who grilled it for us.
After our lunch, we were planning to visit another place to swim. However, upon arrival, we noticed the water current was strong and we didn't enjoy it as much as the San Vicente sanctuary. So we headed back to the first point to spend the remaining time there.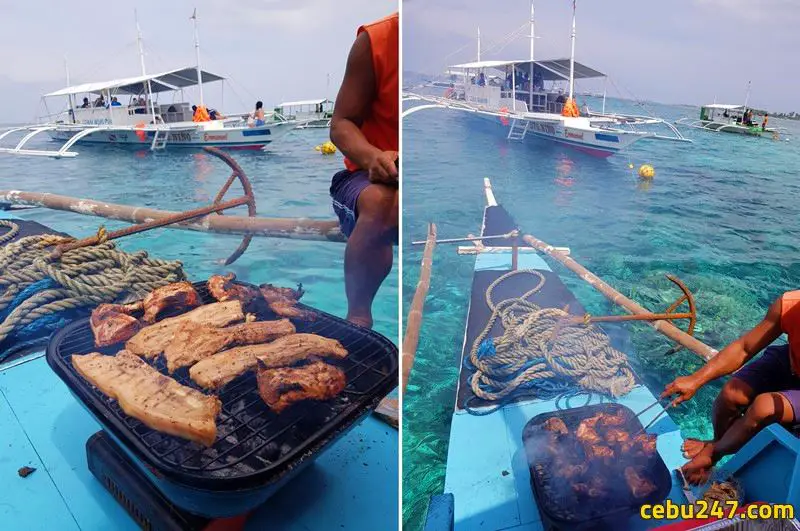 grilling on the boat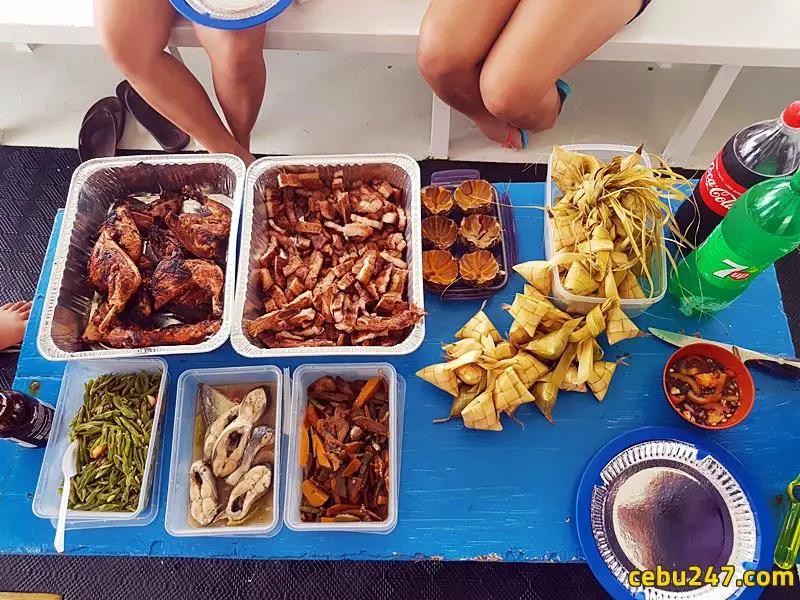 bought some vegetables and fish beforehand in an eatery
Service Review of Islands Banca Cruises
Islands Banca Cruises are the managed by the company handling Island Souvenirs, a popular shop for Cebu tshirts and other merchandise for pasalubongs. I am very happy with their service. I called them 2 days before the trip and the staff provided the information quickly and promptly. They answered my concerns regarding renting the boat and they really did a great job in making sure everything is well-prepared for our banca cruise trip.
They offer packaged cruises to various island destinations in Cebu Mactan and specialize in offering a hassle-free cruise. Some of their services and facilities include: boat rental, iPod dock, bean bags, steward services (1 captain, 2 stewards), Toilet, Complimentary Towels, Cold Towels, Life Jackets
clear waters

San Vicente in Olanggo island
Island Hopping Packages
Some of the more famous tour packages to the island include the following:
Package A (Pandanon + Nalusuan Island) – 6500 Php
Package B (Gilutungan Marine Sanctuary + Pandanon Island – 6500 Php
Package C (Nalusuan + Giluntungan Island) – 4850 Php
Other Islands to Choose: Talima Marine Sanctuary, Caohagan Island, Sulpa Island
The cruise is good for 10 persons and below. In excess of people, it will be an additional charge of 350 per person. If you want the biggest boat, there's an upgrade of 1,500 Php.
Lunch Options
They provide packed lunch with a minimum of 220 Php per person. If you want to bring your own food, there is a one-time corkage fee of 1000 Php.
Entrance Fees to the Islands
If you are planning to dock or go to specific islands, there are corresponding entrance fees
Pandanon – 150 Php/person
Nalusuan – 300 Php/person
Gilutungan – 100 Php/person
Talima – 50 Php/person
Caohagan – 200 Php/person
Sulpa – 100 Php/person
Note: These prices may change without prior notice. This was the quotation they provided at the time of our island hopping activity.
In our case, we only stayed at the Marine Sanctuary area and paid a 100 Php fee per person to stay there.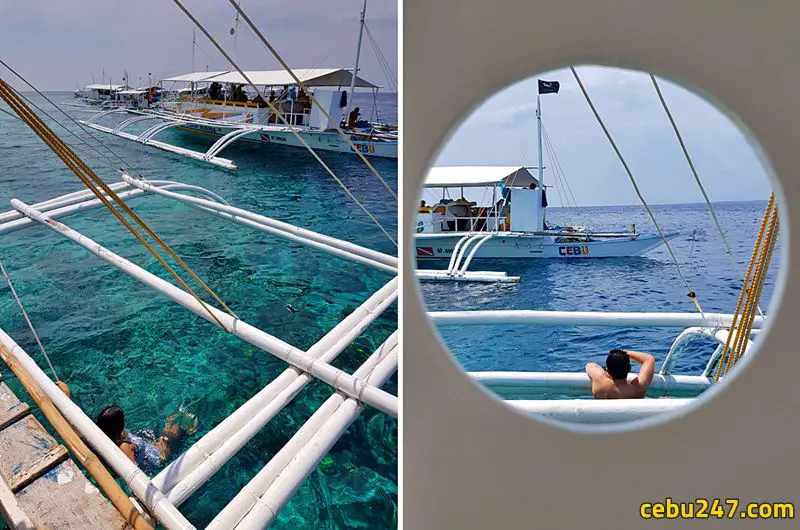 island hopping in Cebu!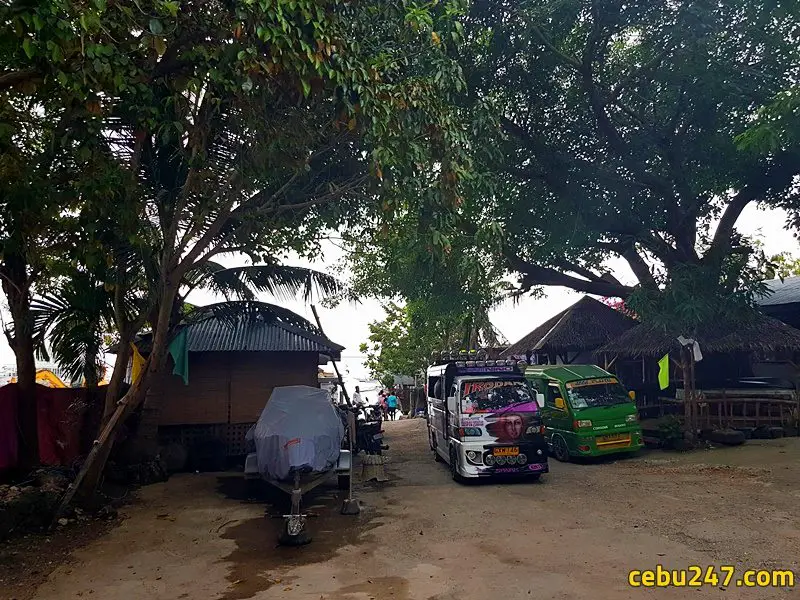 in Punta Engano in Lapu Lapu
If you are looking for something convenient and you don't want to manage the planning, I recommend you call and book with them.
All you have to do is pick among their Cebu island destinations and they can prepare everything for you so all you have to do is show up on the site on the day of the island hopping.
Note: Upon heading back to the docking point, I noticed some water bottles and trash floating in the sea. It was a not a good sight to see them floating in the area and I hope people reading this will be reminded to make sure to throw their trash accordingly and practice being responsible tourists.
How to Get There
The meeting point of Island Banca Cruises in Mactan is located in Punta Engano, Mactan. It is  a few meters after Shangri-La Resort and before Movenpick Resort. There's a small road on the right with an Islands Banca Cruise signage. Go through that road and walk straight until the end. You will see their office there.
Contact Information
Islands Banca Cruises
Address: Punta Engano, Mactan Island, Cebu
Telephone Number: +6 32 516 1903
Mobile: +63 917 630 0736
Website: www.islandsbanca.com
Email: info@islandsbanca.com
Google Map Location
Below is a map guide to the meeting point in case you are planning to travel to Cebu and do an island hopping tour: