In the aftermath of natural calamities and disasters, regaining stability can be an overwhelming process. Acknowledging this, the Government Service Insurance System (GSIS) extends its support to members and pensioners by offering Emergency Loans. This financial aid is crucial in providing prompt assistance to those grappling with the unexpected repercussions of such events.
Also read: Pag-IBIG Fund Affordable Housing Loan Program for Minimum Wage Earners
With a loanable amount of ₱20,000.00, the GSIS Emergency Loan aims to lighten some of the financial burdens during these challenging times. Whether it's for property repair, managing emergency expenses, or aiding the recovery process, this loan can be invaluable. A redemption insurance, equivalent to 1.2% of the gross loan amount, is deducted from the loan proceeds. This program underscores GSIS's dedication to its members and pensioners, providing them with a financial lifeline when they need it most.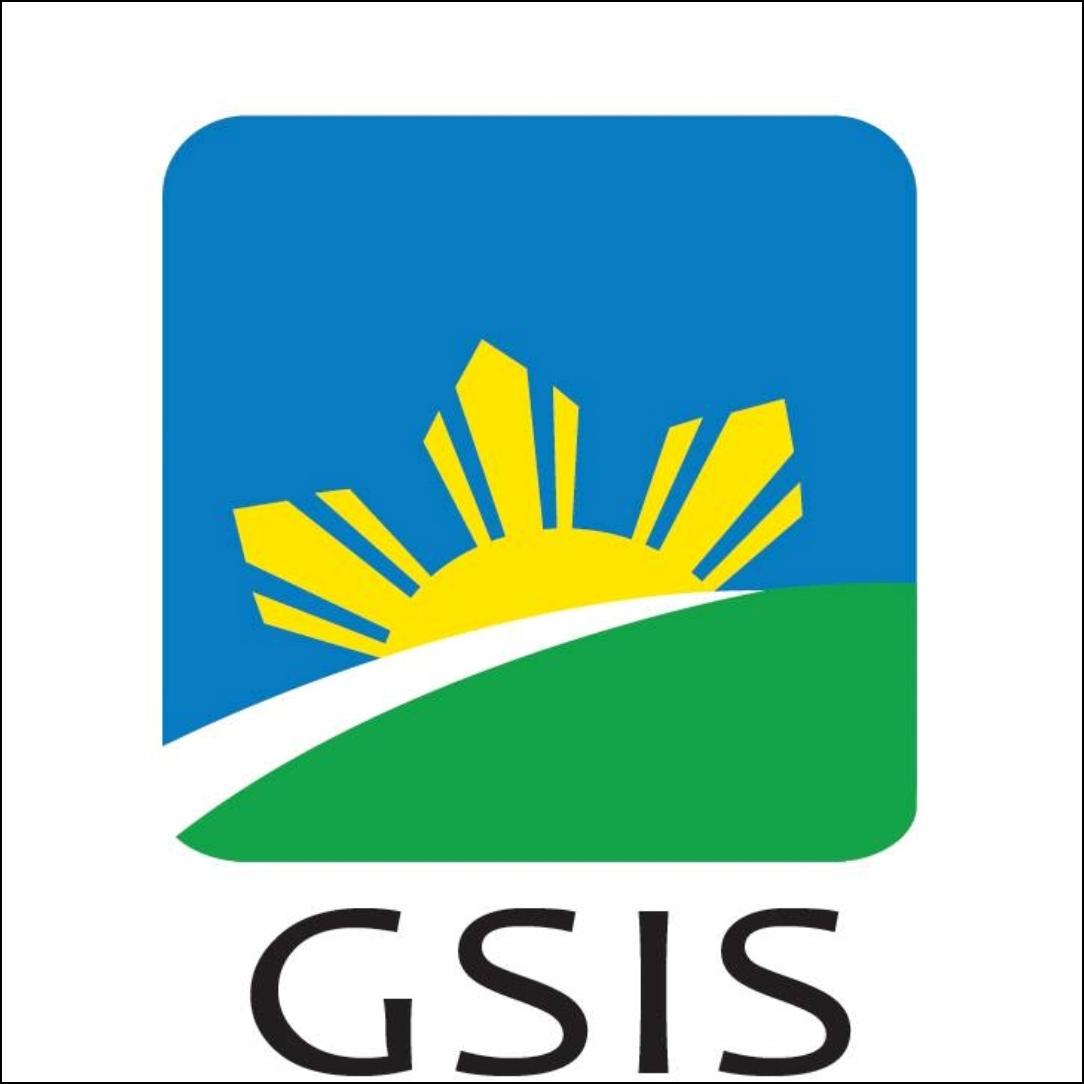 What are the Advantages of GSIS Emergency Loan?
The GSIS Emergency Loan offers several advantages to its members and pensioners, particularly those affected by natural calamities or disasters:
Timely Financial Assistance: The loan provides immediate financial aid to those in need, helping them cover unexpected expenses or property repairs due to a disaster.
Accessible and Convenient: Members and pensioners residing or working in calamity-declared areas can easily apply for the loan, making it a convenient option during emergencies.
Affordable Terms: The loan is payable in three years or 36 equal monthly installments, offering manageable repayment terms.
Low-Interest Rate: Compared to other loans, the GSIS Emergency Loan has a relatively low-interest rate, reducing the financial burden on borrowers.
Loan Redemption Insurance: If a borrower passes away and their loan is up-to-date, the outstanding balance will be considered fully paid through loan redemption insurance.
No Due and Demandable Requirements: Borrowers with no due and demandable loans are eligible, making it accessible to a broader range of members and pensioners.
Supports Recovery: The loan serves as a vital resource for members and pensioners to get back on their feet after a calamity, supporting recovery and rehabilitation efforts.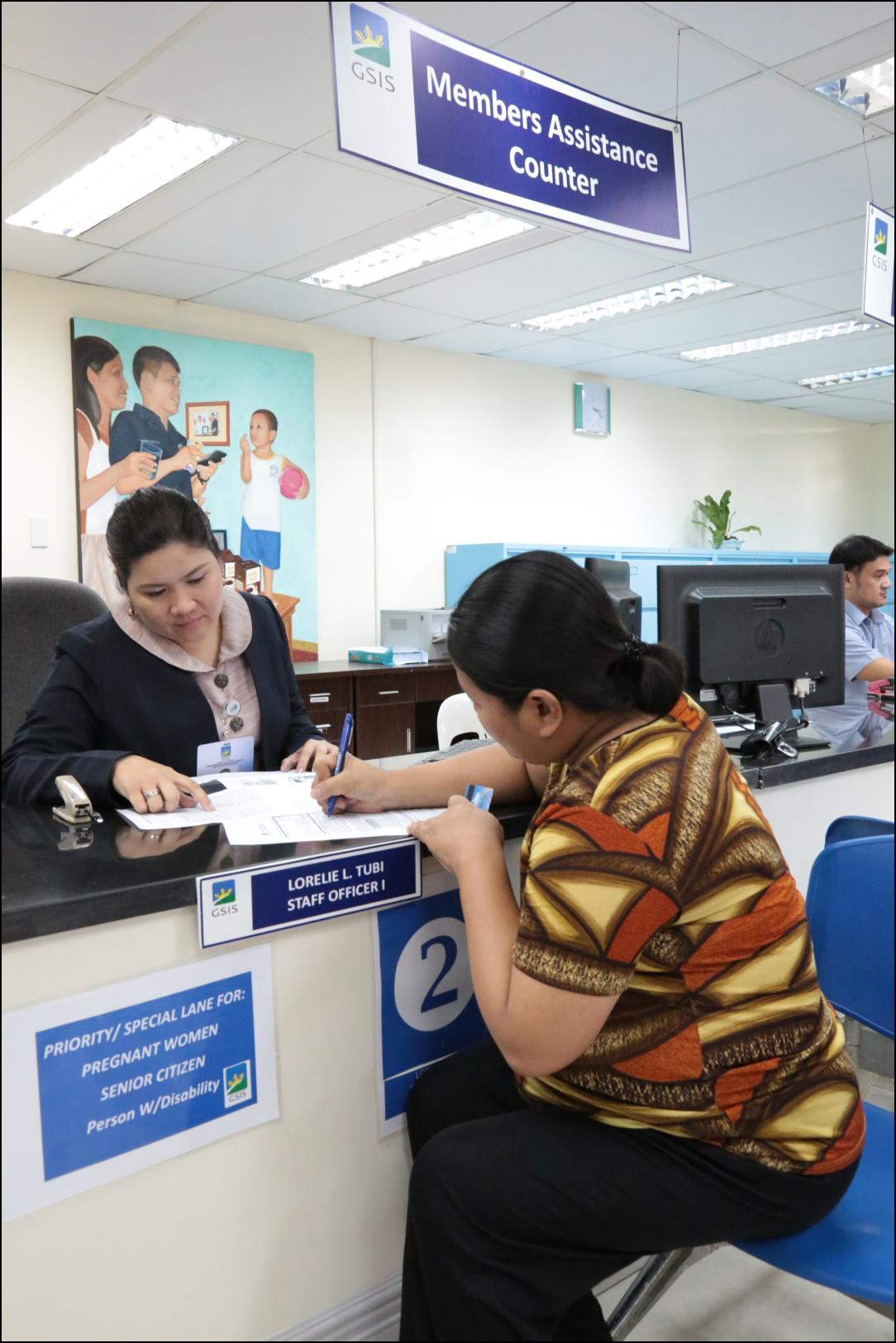 However, it's important for potential borrowers to understand their ability to repay the loan before applying, to avoid future financial difficulties.
Who are the Qualified Borrowers for the GSIS Emergency Loan?
The GSIS Emergency Loan is available to two categories of qualified borrowers:
1. Active members who meet the following criteria:
They either reside or work in an area that has been declared a calamity zone.
They are not on a leave of absence without pay.
They have paid and remitted premiums equivalent to at least three monthly premium contributions for both Personal and Government share within the last six months prior to their application.
They have no pending administrative case and/or criminal charge.
They do not have any due and demandable loans.
Their net take-home pay, after the deduction of the monthly premium contributions and loan amortization, is not lower than the amount required under the General Appropriations Act.
2. Old-age and disability pensioners who meet the following criteria:
They reside in a calamity-declared area.
The net monthly pension they receive after loan availment is at least 25% of their monthly pension.
These eligibility criteria ensure that the Emergency Loan is extended to those most in need during times of calamities and disasters, and that the borrowers have the capacity to repay the loan.
What are the Requirements Needed for GSIS Emergency Loan?
To apply for the GSIS Emergency Loan, both active members and pensioners need to submit the following:
Application Form for Emergency Loan
Here is the sample form: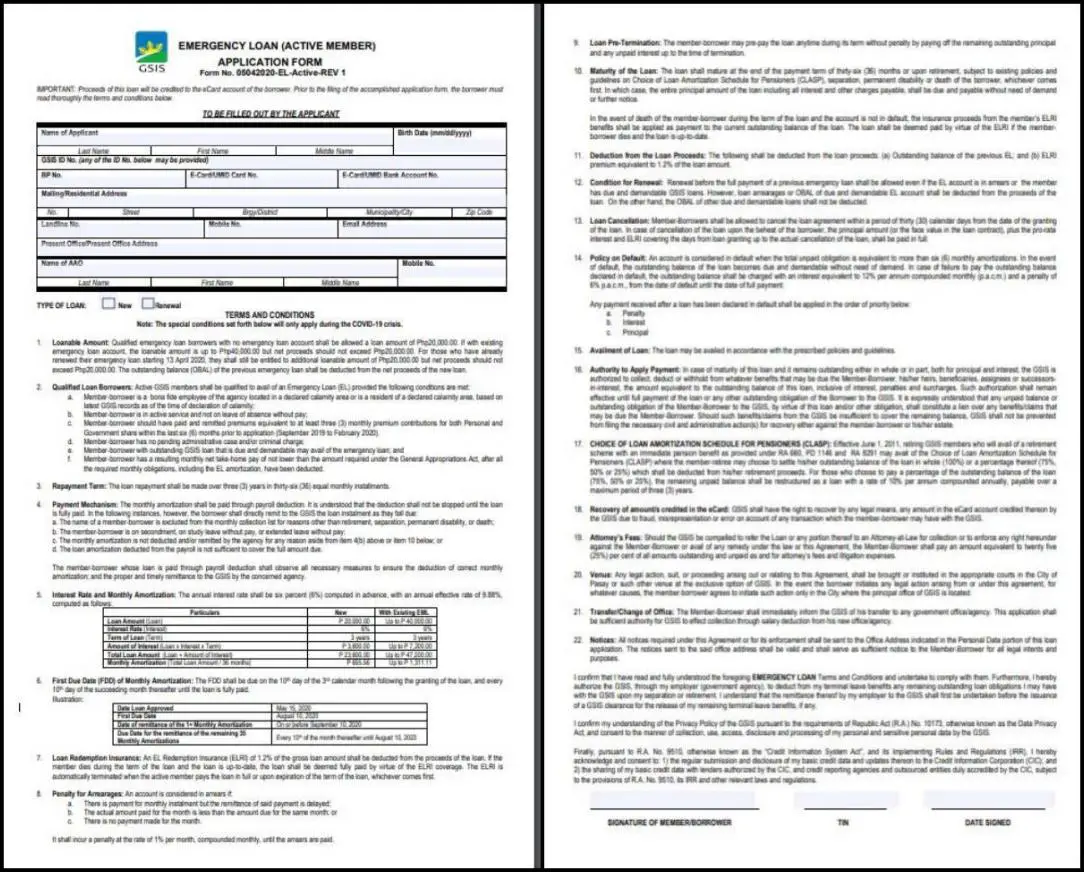 Here is the sample form: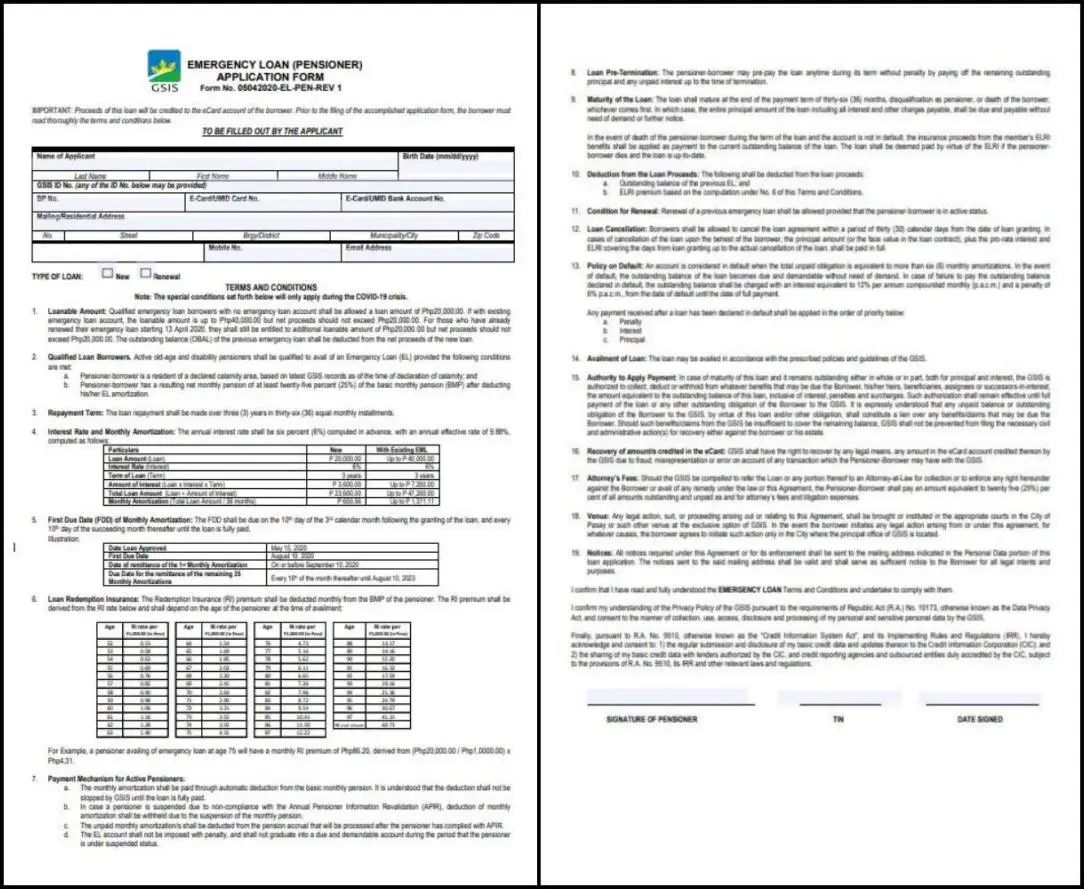 Also read: How to Apply Pag-IBIG Calamity Loan
Application Process: Step by Step Process
Applying for a GSIS Emergency Loan is straightforward and can be done through three methods: eGSISMo, email, or GWAPS Kiosk.
a. Via eGSISMo
Step 1: Log into your eGSISMO account using your BP number and password.
Step 2: Click on the Loans Application icon and choose Emergency Loan, then select Loan Type (either New or Renewal).
Step 3: Upload a picture of you holding your UMID/Temporary CARD or two valid government IDs if your UMID/Temporary CARD is lost. The file should be in JPEG or PDF format.
Step 4: Confirm the Loan Agreement and click SAVE.
Step 5: Wait for an email confirmation from GSIS with further instructions.
b. Via Email
Step 1: Fill out the Emergency Loan Application Form and provide a scan of your GSIS UMID Card.
Step 2: Save the Application Form as a JPEG or PDF file.
Step 3: Email the documents to the GSIS handling branch that corresponds to your location. You can find the list of branches and their email addresses on the GSIS website.
Step 4: Wait for an email confirmation from GSIS with further instructions.
c. Via GWAPS Kiosk
Step 1: Visit a GWAPS kiosk nearest to your location.
Step 2: Place your eCard Plus/UMID in the G-W@PS kiosk card reader and place the enrolled finger on the biometrics scanner. Once recognized, it will display your personal data.
Step 3: Choose the Loan Windows icon and click on Emergency Loan.
Step 4: To confirm your loan application, place your finger on the biometrics scanner again.
Step 5: Once approved, you can withdraw your loan proceeds anytime from any Megalink, Bancnet, or Expressnet ATM located nationwide.
GWAPS Kiosk at SM Seaside City, Cebu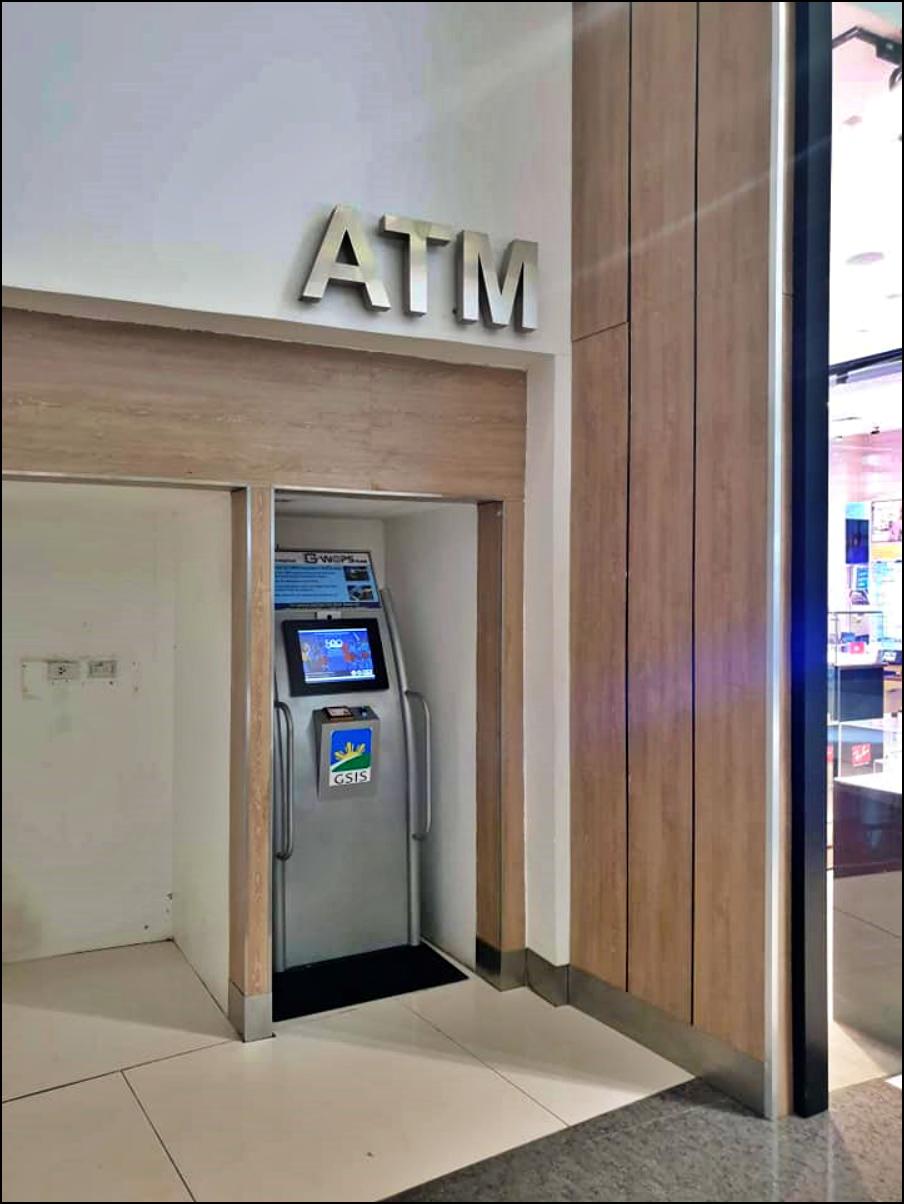 Remember to check all the information you provide for accuracy to ensure a smooth application process.
Emergency Loan Payment Term
The GSIS Emergency Loan is structured to be repaid over a period of three years, or 36 equal monthly installments. This allows borrowers to manage repayments in a structured and predictable manner, easing the financial burden. The loan comes with a 6% interest rate, which is computed in advance. This relatively low-interest rate reduces the overall cost of the loan, making it a more affordable option for members and pensioners in need of immediate financial assistance during times of calamities or disasters.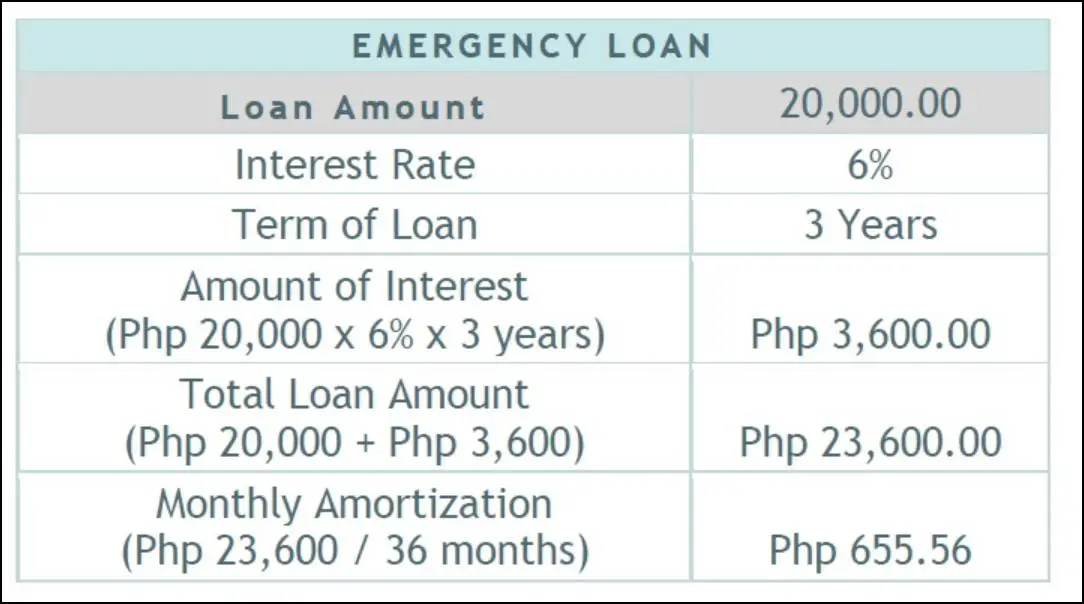 Also read: How to Apply Multi-Purpose Loan from Pag-IBIG
Tips for Easier Loan Availing
Availing a loan can sometimes be complicated. Here are some tips to make the process of availing a GSIS Emergency Loan easier:
Understand the Terms: Make sure you fully understand the terms and conditions of the loan, including the interest rate, repayment period, and any penalties for late or missed payments.
Check Your Eligibility: Before applying, ensure that you meet all the eligibility criteria to avoid any delays or rejections.
Prepare Your Documents: Gather all required documents in advance. This includes your Application Form for Emergency Loan and UMID card or valid government IDs. Ensure all information provided is accurate and up-to-date.
Use eGSISMo: Consider using the eGSISMo platform for a more convenient application process. It allows you to apply for the loan from the comfort of your home.
Check Your Email Regularly: After applying, regularly check your email for updates or further instructions from GSIS.
Plan Your Repayments: Make sure you have a plan for repaying the loan within the stipulated period. Factor the monthly payments into your budget to ensure you can comfortably afford them.
Contact GSIS for Queries: Don't hesitate to reach out to GSIS if you have any questions or concerns about the loan. They can provide you with the most accurate and updated information.
Maintain a Good Credit History: Keeping a good credit history by paying your loans on time can make the loan availing process easier in the future.
Remember, while a loan can provide immediate financial relief, it's important to consider your ability to repay it to avoid future financial difficulties.
Also read: How to Claim PhilHealth Benefits in Hospital Bill
Summary
GSIS, the Government Service Insurance System, provides support to eligible members and pensioners in the form of an Emergency Loan during times of natural disasters and calamities. This financial assistance is a much-needed relief for those affected by unexpected events.
If you live in the beautiful province of Cebu, and you're an active GSIS member or pensioner, you can take advantage of this program. Don't hesitate to get in touch with them as soon as possible if you need help. The GSIS Emergency loan can provide a glimmer of hope during uncertain times.
Contact Information
Address: Leon Kilat St., Brgy. Kalubihan, Cebu City, 6000
Email: mvpeenriquez@gsis.gov.ph, gsiscebu@gsis.gov.ph
Website: gsis.gov.ph
For Provincial Calls: 1-800-8-847-4747 (for Globe subscribers)
or 1-800-10-8474747 (for Smart subscribers)