Even if you are a foreigner or a Filipino coming from a different town or city, you should pay respect to Cebu by following the rules and regulation and the dos and don'ts. It's not hard to follow what's right, you just have to know things first prior to entering this beautiful land. Continue reading the rest of this article to know more about the dos and don'ts you should be reminded of when in Cebu.
Also Read: Double Ma Tea, a Pink Milk Tea Cafe at SM Seaside City
Locals don't discriminate you for being a tourist, in fact, Cebuanos are quite welcoming so you better enjoy your stay in Cebu as much as you want. You can get most out of your Cebu trip even if it's just a couple of days of vacation provided you do the following dos and don'ts.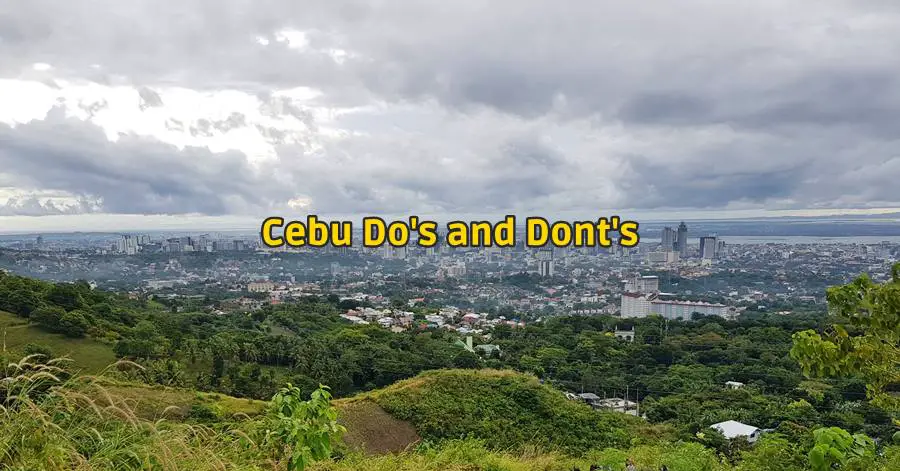 Tips for Cebu Tourists
It is still important, however, that you observe proper decorum and respect the culture. As a traveller, you should also show respect to the people here. Here are some do's and don'ts as a tourist in Cebu,
Dos
Be friendly and nice to everyone. Locals will often greet you along the way and as a courtesy, you should return their greetings. Cebuanos don't like snob tourists.
Take off your slippers when entering a local's house. Locals usually wear slippers only outside the house.
Give your greetings to the elders first, then to the younger ones.
Accept locals' offers such as food and ride. Rejecting them can mean that you're embarrassing them or you don't like the food they are offering.
Smile as often as you can! With this, you can for sure make a lot of friends during your stay here in Cebu.
Try eating with your bare hand. Locals enjoy the food more while eating with their bare hands.
Experience riding a haba-habal. If you haven't done this before, you might want to consider riding a motorcycle on the way to your preferred destination.
Also Read: How to Apply for a UMID Card in Cebu
Don'ts
Don't get paranoid when locals stare at you. In the Philippines, it's just normal if you see locals staring at you while you are walking or riding in a public vehicle. This is because some of them are not yet used to seeing foreigners or new faces in town.
Avoid showing off. If you do this, the locals will not only dislike you, you will also attract pickpockets and robbers.
Don't be too straightforward, especially when giving your feedback or observation to the locals. You should reserve it at the right time and in the right place.
Don't wear sandals and shorts if you're attending a special occasion. Locals wear decent clothes in such events.
Don't use your index finger to call someone as this is considered rude. Instead, use your hand to express your gesture.
Don't just call locals by their names. Add prefixes such as Sir, Ma'am, Miss, and Mister, as a form of respect and courtesy.
Dos and don'ts are simple and easy to remember. If you are in Cebu right now, you should ensure that you follow this list so to avoid misunderstanding with Cebuanos.