It's the start of the new year and what better way to plan ahead than to know what are dates of the Philippine Holidays with long weekends this year. Here we share the list of holidays for your reference so you can make travel or vacation arrangements accordingly.
Also Read: Direct Flights from Cebu to Macau via Cebu Pacific Air
This list of Philippine long weekend holidays is posted by the Department of Foreign Affairs (DFA) and is based on Proclamation No. 555, s. 2018 which declares the the regular holidays and special (non-working) days for 2019.
Long Weekends in the Philippines 2019
Be advised that the list below are NOT all the holidays in 2019, but these are the dates where the holidays that are close to a weekend or just a day earlier or later than a weekend. For the full list of holidays, please visit this page: Official List of Philippine Holidays 2019
So do take note that in some cases, you will have to apply for a vacation leave from your office job in order to file and take advantage of a long vacation.
January 1 – New Year's Day
February 5 – Chinese New Year
February 25 – EDSA Anniversary
April 9 – Araw ng Kagitingan
April 18 – Maundy Thursday
April 19 – Good Friday
April 20 – Black Saturday
August 26 – National Heroes Day
November 1 – All Saints' Day
November 2 – All Souls' Day
December 24 – Christmas Eve
December 25 – Christmas Day
December 30 – Rizal Day
December 31 – New Year's Eve
Note: There will be separate proclamations from Malacanang for Eid Al Fitr and Eid Al Adha holidays (as they are based on Islamic calendar).
Below is an infograph to help give a better insight on the long weekends this 2019.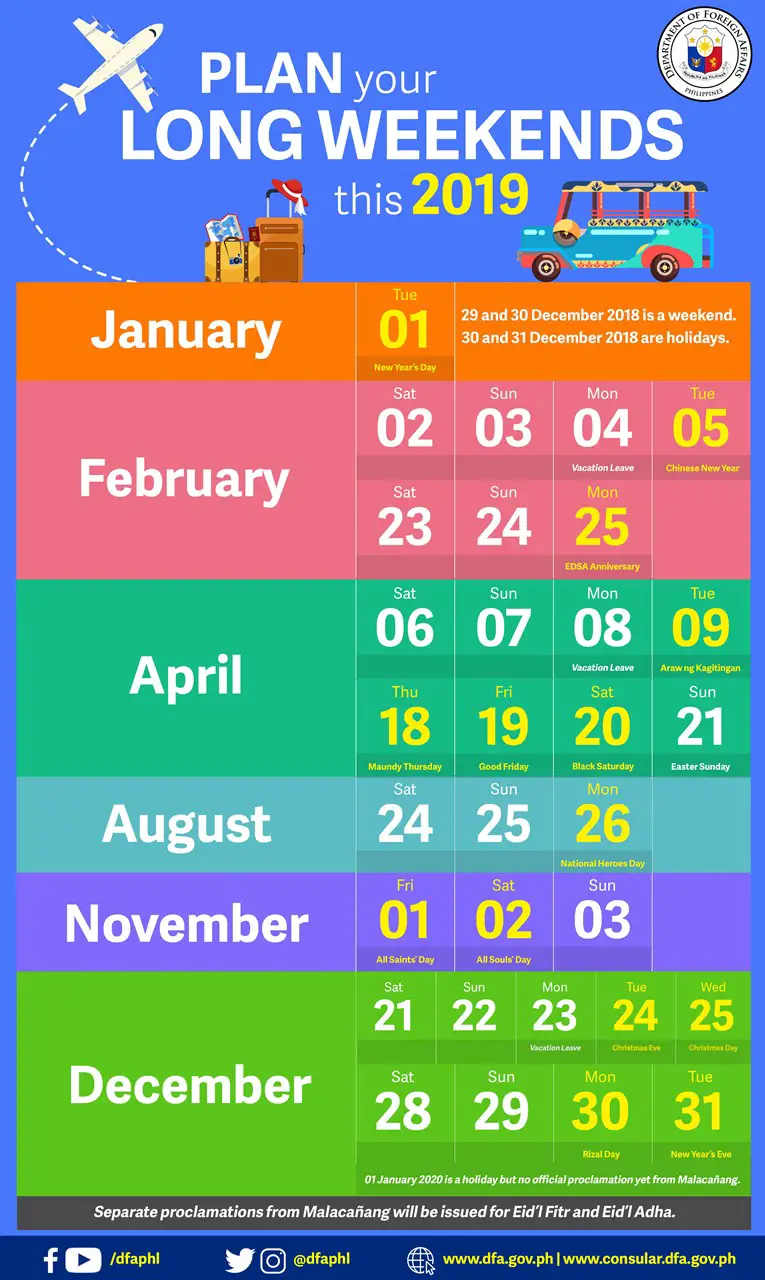 Note: The infographic above is not an exhaustive list of all the 2019 holidays declared by Malacañang. This list covers only holidays that fall on a Monday/Friday or Tuesday/Thursday (with one vacation leave in between), making the long weekend possible.
We hope you find the above details helpful so you can plan for your travels and work leaves properly and maximize the days off from your work.