In case you are wondering what the dates of the public holidays are in the Philippines, the Department of Foreign Affairs has posted an announcement and infographic showcasing the official list of regular holidays and special (non-working) days for the year 2023.
Also Read: Best Weekend Activities in Cebu
Some holidays fall near a Saturday or Sunday which gives you the opportunity to have a long weekend vacation. Here's a list of the long weekend holidays in the Philippines. As a tip, it is important to know the dates so you can make plans accordingly.
From the list below, there are 2 special non-working days added to make room for the All Saint's Day and Christmas Day. Doing so will help "strengthen family ties" and "promote domestic tourism as well".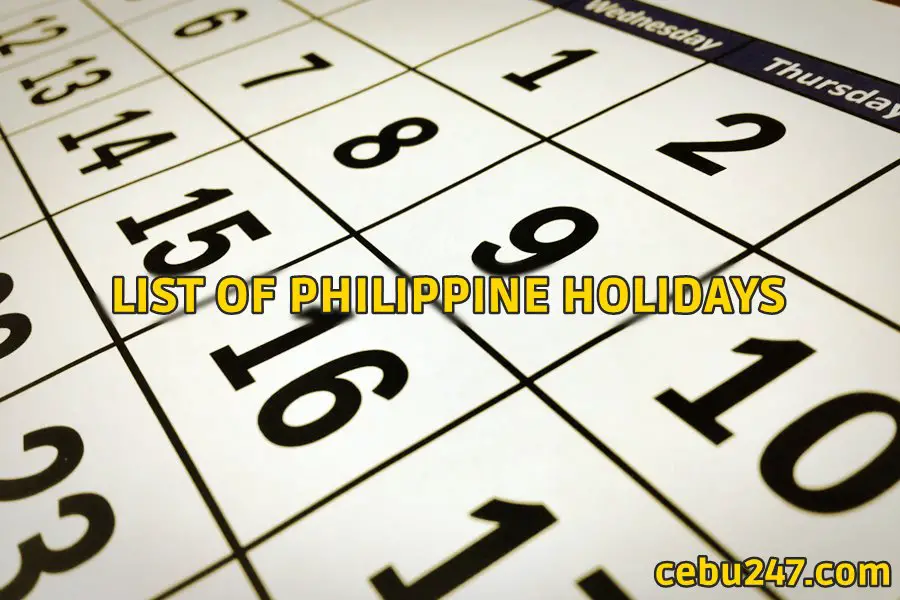 2023 Philippine Public Holidays List
Take out your notes so you can plan ahead of time in your calendar. Here's a list of office holidays in the Philippines:
REGULAR HOLIDAYS
January 1, 2023 (Sunday) – New Year's Day
April 10, 2023 (Monday nearest April 9, 2023) – Araw ng Kagitingan
April 6, 2023 – Maundy Thursday
April 7, 2023 – Good Friday
April 21, 2023 (Friday) –  Eid Al Fitr Holiday
May 1, 2023 (Monday) – Labor Day
June 12, 2023 (Monday) – Independence Day
August 28, 2023 (Last Monday of August) – National Heroes Day
November 27, 2023 (Monday nearest November 30) – Bonifacio Day
December 25, 2023 (Monday) – Christmas Day
December 30, 2023 (Saturday) – Rizal Day
SPECIAL NON-WORKING HOLIDAYS
February 24, 2023 (Friday) – EDSA People Power Revolution Anniversary
April 8, 2023 – Black Saturday
August 21, 2023 (Monday) – Ninoy Aquino Day
November 1, 2023 (Wednesday) – All Saints' Day
December 8, 2023 (Friday) – Feast of the Immaculate Conception of Mary
December 31, 2023 (Sunday) – Last Day of the Year
Here is the list of additional special non-working days:
January 2, 2023 (Monday)
November 2, 2023 (Thursday) – All Souls' Day
CEBU Holiday dates
August 6, 2023 (Sunday) – Cebu Provincial Charter Day
September 9, 2022 (Saturday) – Osmeña Day
Eid al Fitr and Eid al Adha Muslim Holidays
The proclamation declaring national holidays for the observance of Eidul Fitr and Eidul Adha, two major feasts of Islam, will be issued after the dates of the Islamic holidays have been determined in accordance with the Islamic calendar (Hijra).
Likely April 21-22, 2023* – Eid al-Fitr
Likely June 28-29, 2023* – Eid al-Adha
We hope you are guided accordingly on the official holiday dates in the Philippines. Please do schedule your vacation leaves from work to take maximize your time off from your duties. It's always better to plan ahead of time and be prepared.
Check out these images below as shared by Presidential Communications in Malacañang regarding the proclamation declaring the list of regular holidays and special non-working holidays in the Philippines holidays for the year 2023: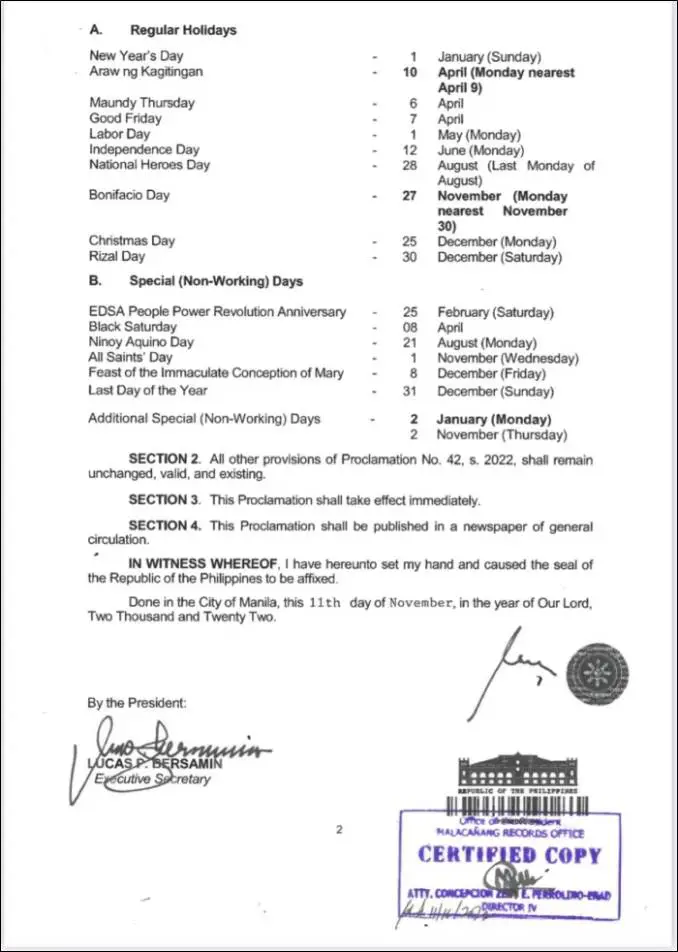 So these are the PH holiday dates that have been announced for this year. Good to know about these dates so you can prepare whatever time off you have or if there are long weekend dates, you can also plan ahead.