Cebu is known for its wide variety of food to offer like Ngohiong, Siomai, Lumpia, and many more. But one of the main dishes that Cebu brings is the famous Pork Humba. It is a pork dish that is cooked with soy sauce, garlic, onions, sugar, bay leaf, and star anise. There are a lot of preferences in how the Pork Humba is served. It can be served with boiled eggs, potatoes, or even vegetables for a healthier option. The sauce can be simmered to perfection with the right amount of saltiness and sweetness.
Also Read: Co Jordan Bangus and Talaba Eatery in Consolacion
Humba Heaven Restaurant is one of the well-known restaurants that serve authentic Cebuano selections in the city. They have been serving food for a few years and have been receiving good feedback from customers. Their primary specialty is the Humba Specials which is really recommended by their kitchen staff. It includes their signature pork Humba, boiled eggs, pickled papaya (atchara), and a variety of sauces to add taste.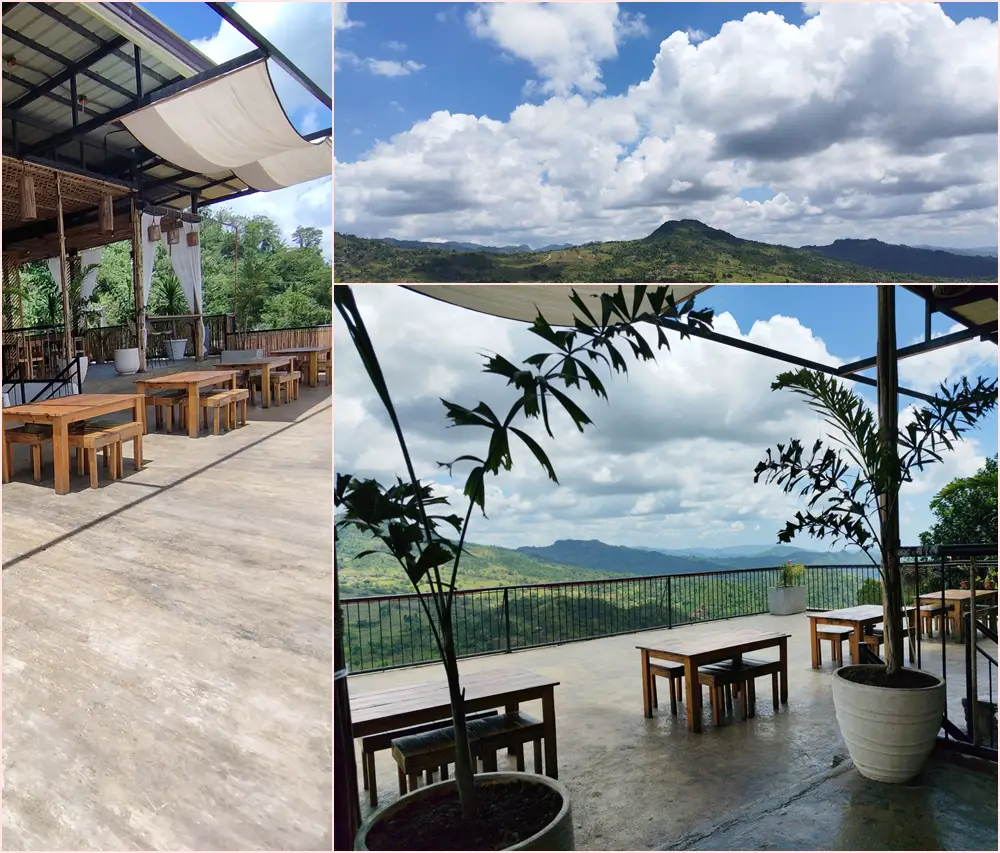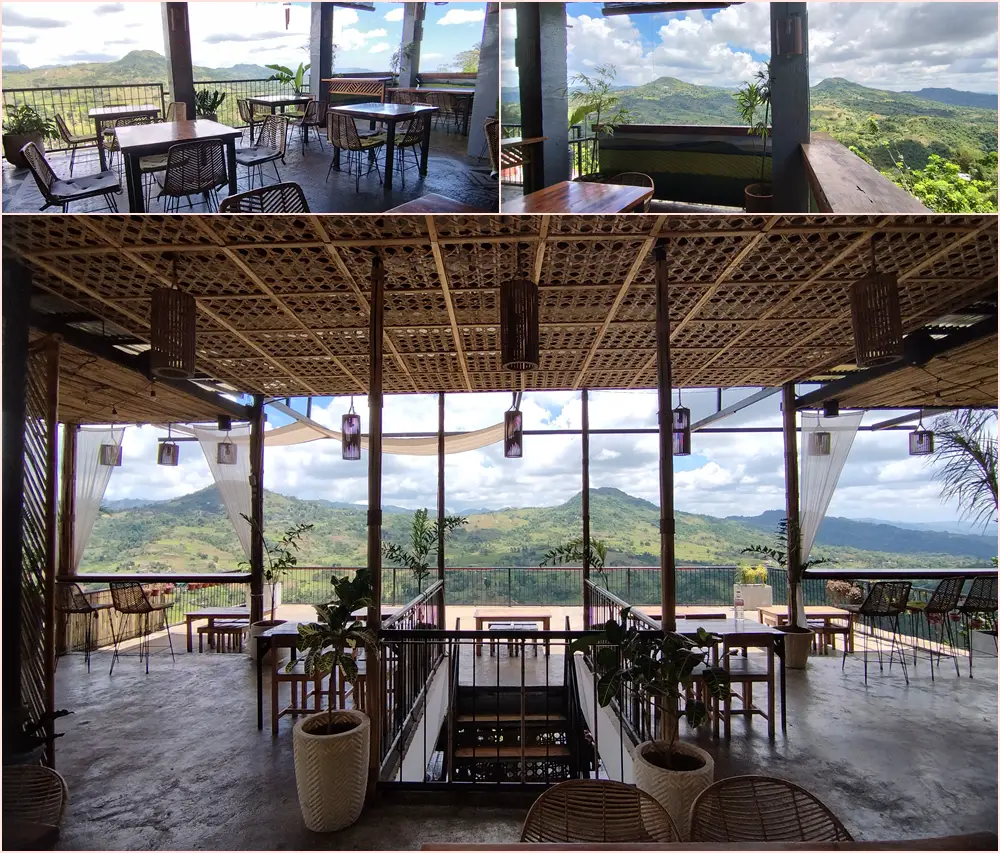 Humba Heaven Branches
There are currently two known branches of Humba Heaven restaurant, one in Transcentral Highway Tiguib Malubog Busay, Cebu City, Philippines, and the other branch in IL Corso, IL Corso Lifemalls.
If you'd like a view of the city and at the top of Cebu, Busay is the way to go. However, if you needed a different scenic view, you can go to Humba Heaven IL Corso Branch as they are located near the bay, where you will be at the seaside.
And if you're just craving some Humba Heaven selections. You can visit the nearest food stall in Sugbo Mercado at IT Park, Lahug. It is strategically situated and open for lunch and dinner because there are a lot of people in this area who would like to dine, especially in the BPO industry.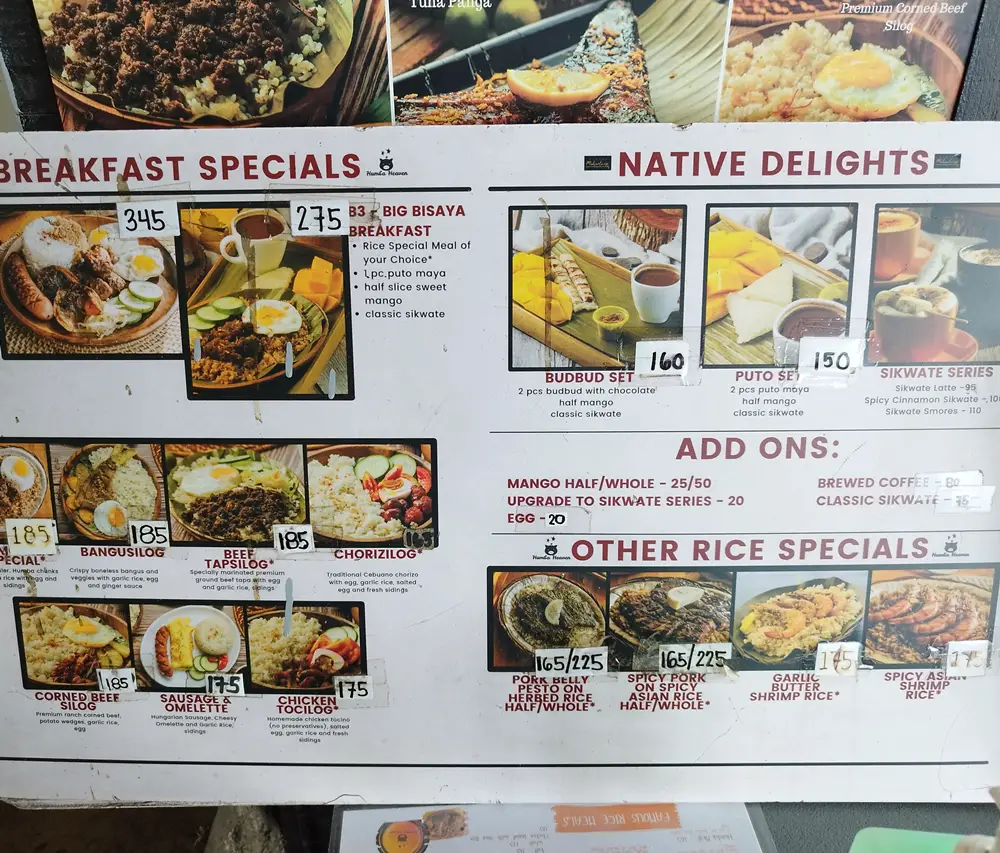 Humba Heaven Menu
The options you can choose from Humba Heaven Restaurant are great. Aside from best sellers' Humba Specials, you may select from their selection of Breakfast specials, which would include an egg (Sunnyside or Scrambled).
So if you're looking for a great restaurant to have a delicious Cebuano meal with your friends and family, Humba Heaven Restaurant is the perfect place to go. Enjoy their signature pork Humba dish or try something new like their Lechon Kawali or fried chicken wings. No matter what dish you choose, you won't be disappointed! Visit them today at either branch in Transcentral Highway Tiguib Malubog Busay OR IL Corso Lifemall's IL Corso Branch
Also Read: Dine-in at Amigos Food Corner in Guadalupe
Humba Heaven Breakfast Specials
Humgarlic Supreme – loaded with Humba chunks, Danggit, and Hungarian Sausage as the main viands, half-half of plain and their special humba rice, you will also get fresh sides like pickled papaya and cucumber and a Sunnyside egg.
Big Bisaya Breakfast – rice meal of your choice (from the menu), 1 piece of puto maya, 1 classic sikwate, and a half-sliced mango.
Humba Special – Their bestseller humba with lots of humba rice, an egg, and some atsara (pickled papaya) with slices of cucumber.
Bangusilog – Fried crispy boneless bangus with garlic rice, egg, and some veggies with their special sauce.
Beef Tapsilog – Lots of ground beef tapa that is marinated with their secret ingredient along with garlic rice, egg, and sidings.
Chorizilog – Cebu's best chorizos with egg and garlic rice, with tomatoes and cucumber.
Corned Beef Silog – Premium Ranch corned beef with garlic rice, egg, and potato wedges.
Chicken Tocilog – Homemade chicken Tocino, salted egg, garlic rice with tomatoes, and cucumber.
Sausage & Omelette – Hungarian sausage, Egg Omelette, garlic rice, and sidings.
Humba Heaven Rice Specials
Pork Belly Pesto on herbed rice (Half/Full)
Spicy Pork on Spicy Asian Rice (Half/Full)
Garlic Butter Shrimp Rice
Spicy Asian Shrimp Rice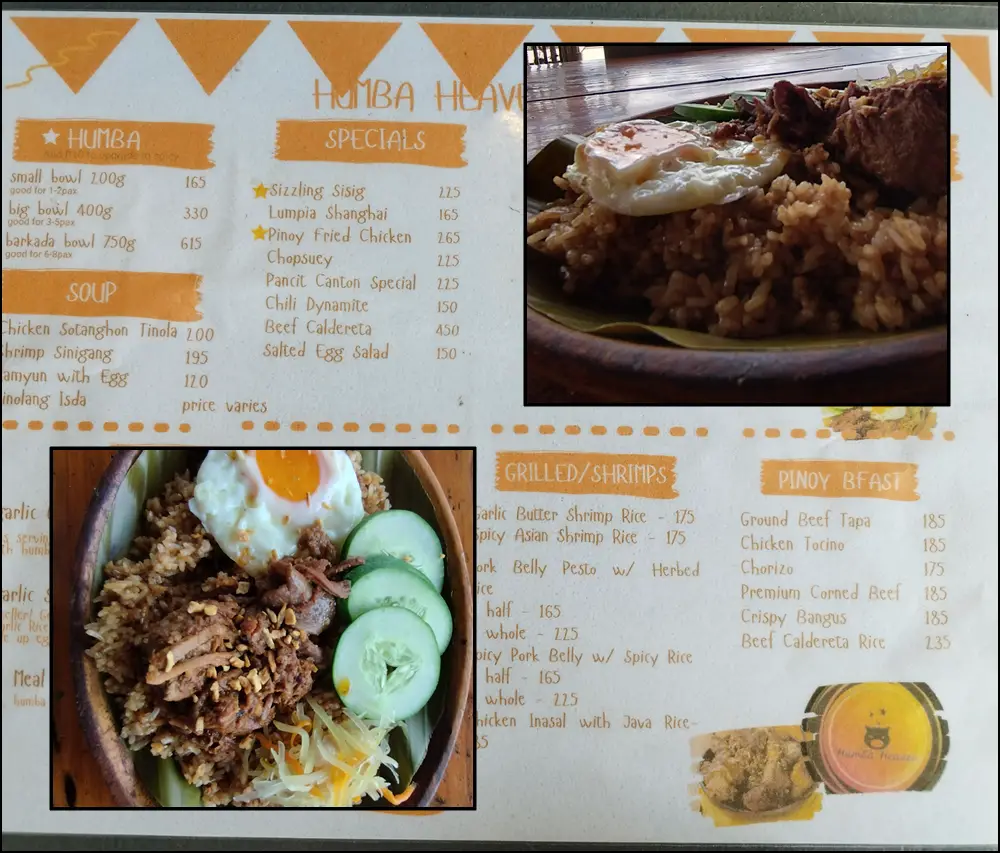 Personal Experience at their Busay Branch
I really liked how Humba Heaven is situated at the top of Cebu City, with a great view of the city and mountains. The place is really nice and cozy with their setup, and the service was top-notch, the staff is very helpful and attentive to my needs.
Their Humba Specials were delicious, cooked perfectly with just the right amount of sweetness and saltiness. The pork meat was tender and juicy that you can definitely taste all the flavors from their special ingredients. We also tried their Sausage & Omelette rice which my friend loved as it was both savory and sweet.
Overall, I would highly recommend Humba Heaven Restaurant if you're looking for an authentic Cebuano dining experience in a cozy yet beautiful setting. Their dishes will surely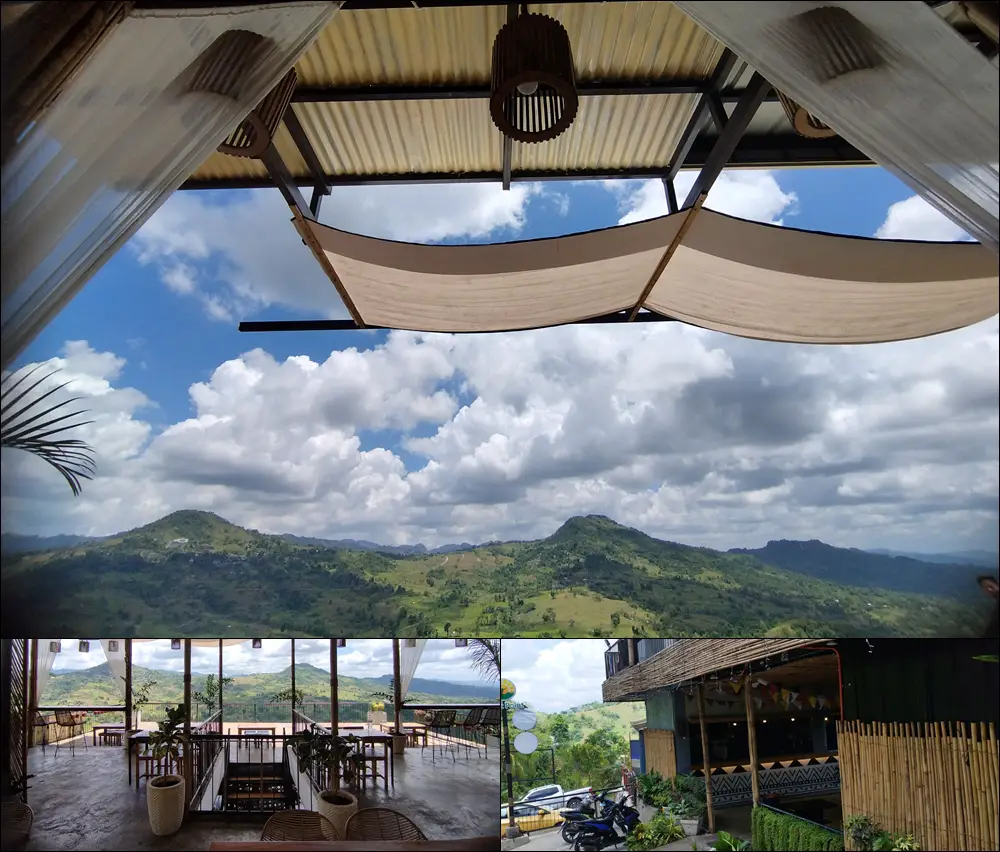 Summary
I have visited this place for the second time and it felt like the first time again. First, I ordered the Pork Belly Pesto on herbed rice and it tasted very good. I loved how the herbed rice complimented the meat. Since it was my sibling's treat, they also ordered the Puto Set for me and appreciated the free food, the taste, and the view, everything was spectacular!
The second time I visited, I ordered their best seller Humba meal. And after I was done, I really wanted to hang out and chill a bit further, so I decided to get a Puto Set again. Both were delicious and it was a great way to end my visit.
If you're ever in Cebu, drop by Sidlak Point for an unforgettable experience! You'll get to enjoy a vast view of the city skyline, savor some Filipino food and get to hang out with your friends and family. What more could you ask for?
Humba Heaven Restaurant is definitely the place to go if you're looking for a delicious meal with an amazing view! Drop by and taste their signature Humba Specials that everyone's been talking about. Visit them at their designated branches and spend a wonderful time with friends and family. Enjoy your stay!
Also Read: Heart-Warming Soups at Carlo's Batchoy in Osmeña Boulevard, Capitol Site
Contact Information
Humba Heaven
Branches:
Busay Branch: Transcentral Highway Tiguib Malubog Busay, Cebu City, Philippines
IL Corso Branch: IL Corso Lifemalls, City di Mare Visitor Center, 6000 Cebu South Coastal Rd, Cebu City, 6000 Cebu
Sugbo Mercado, Food Stall: Abad St, Apas, Cebu City, Cebu
Contact Number: 0917 143 0580
Facebook Page: Humba Heaven
Google Map Location
Busay Branch
IL Corso Branch
Sugbo Mercado, Food Stall