Have you indulged in some of the best raw oysters in Cebu? Co Jordan Bangus and Talaba Eatery offer many seafood, fishing, and grilling where you can satisfy your cravings for the freshest catches at this restaurant. Whether you are a foodie or a fan of fishing, you can relish your hunger for fresh plates of seafood. Even the oysters at this eatery will tantalize your taste buds and make you want more.
Also Read: AKITA Authentic Japanese Ramen Restaurant in Cebu
This is not your typical seafood restaurant as the establishment offers you to catch fish using a nylon line and have your order cooked to perfection right before your eyes. This unique experience is sure to be a highlight of your visit to Cebu. With a wide selection of freshly caught seafood, Co Jordan Bangus and Talaba Eatery will surely make you come back for more!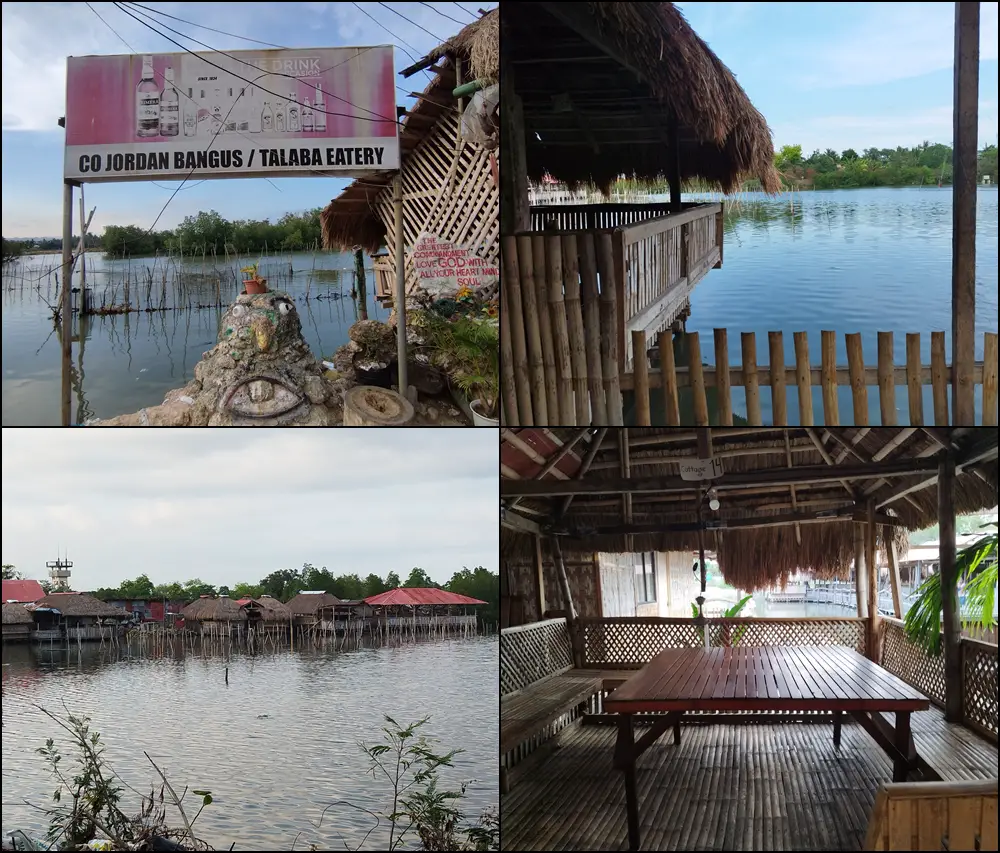 This seafood restaurant is located north part of Cebu in Tayud, Consolacion, and is known for its freshly caught milkfish or oysters which are the main features or specialty at Co Jordan Banugs and Talaba Eatery. Additionally, they also have different foods to serve like Pork Belly, Fried Chicken, Chopsuey, and many more.
The Ambiance of Co Jordan Bangus and Talaba Eatery
The restaurant has a great place with many different dining table capacities that can accommodate small or big groups. They also offer an outdoor seating area which gives you a chance to appreciate the freshness of nature while dining in its setting.
They also offer services like fishing, which is very unique in its own way and it helps to make the restaurant more memorable. The staffs are also friendly and accommodating, giving you an assurance that you're getting the best service possible.
Their fish lagoon is a rare view when dining, you will see live crabs, fish, and even birds, it's truly a great sight when enjoying your meal at this eatery.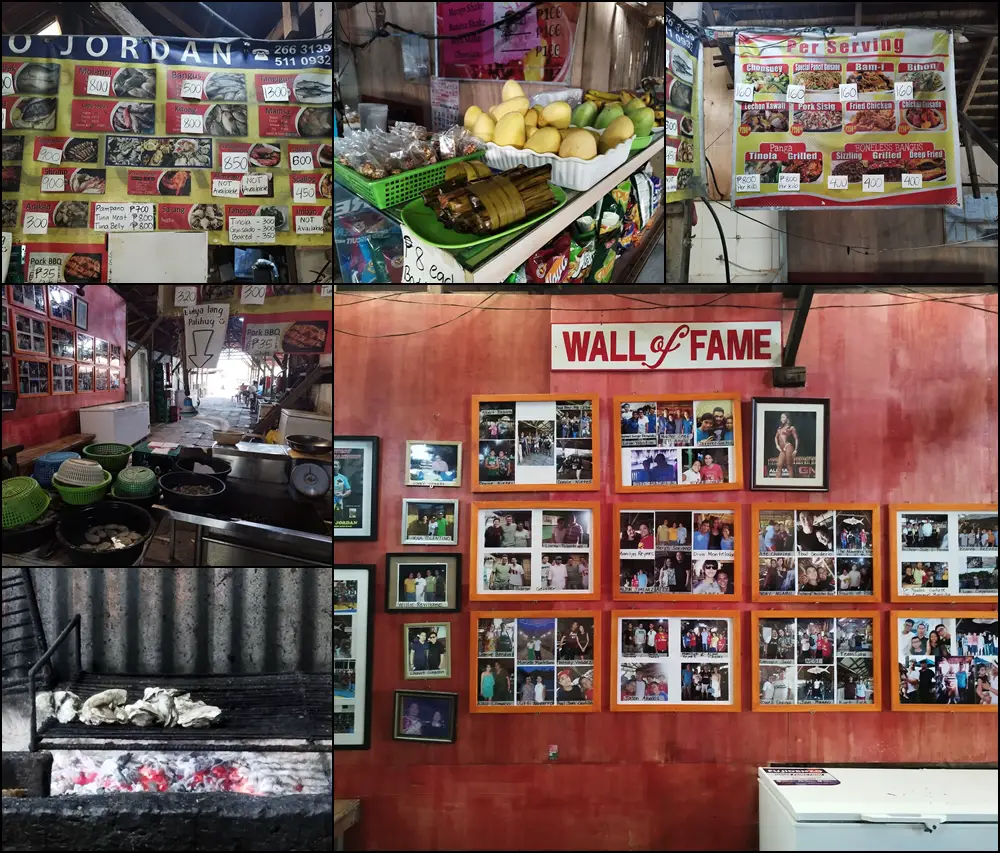 Co Jordan Banugs and Talaba Eatery list of Menu
This seafood eatery offers many options to choose from, their specialty is their milkfish(bangus) and oyster (talaba). When I looked at the menu, I was a bit overwhelmed with the many seafood options, so I asked what their best sellers were and of course, they recommended their oysters. Since I was not fond of eating raw oysters, they said they'll half-cook them by steaming.
Aside from ordering their main oyster dish, I got 2 pork barbeque sticks and a classic Coca-cola. You can also opt for the veggie Chopsuey or Special Pansit Guisado. You can also check their other beverages and fruit shakes.
And finally, if you've ever opted for fishing and have caught some fresh ones, you can ask their head cook to either grill or have it fried for your preference.
They also sell fresh fish or oysters for takeout that's already cleaned and ready to go, perfect if you're planning to cook it on your own. You may also get buy of their sweet delights, fruits, peanuts and etc.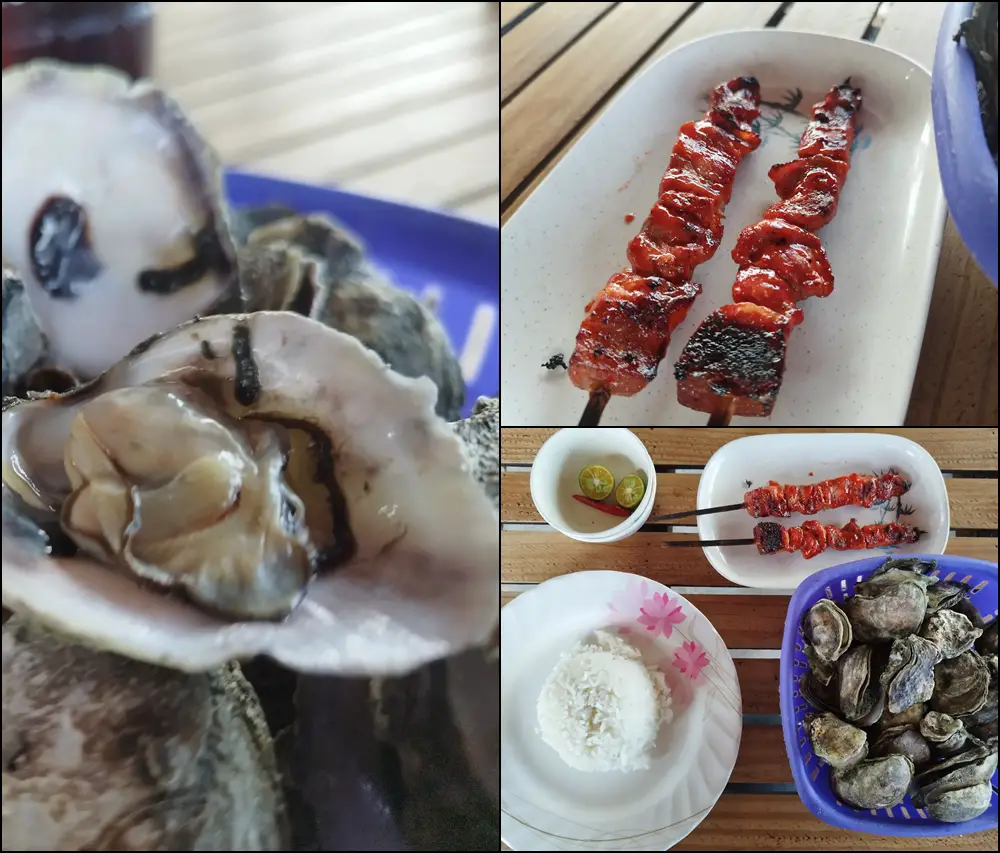 Half-Cooked (Steamed Oysters) are the Bomb!
I recalled when I had my first raw oyster, I didn't appreciate it at that time cause all I could taste was seawater, and it's just a piece of meat that slides down your throat. I wanted to try them raw, but I was worried I'd have the same feeling when I had it a decade ago- a gulp of oyster meat with salty seawater as flavor.
However, the staff suggested having it steamed halfway through to enjoy the savory and sweetness of the oyster. And to my surprise, it was different from what I had expected since they were so delicious and flavorful. It wasn't salty at all and I could taste its natural flavor, and adding some lime to give it a good sour-ey and tangy taste made me want to order more.
Also Read: Ice Monkees: Cold Desserts in Cebu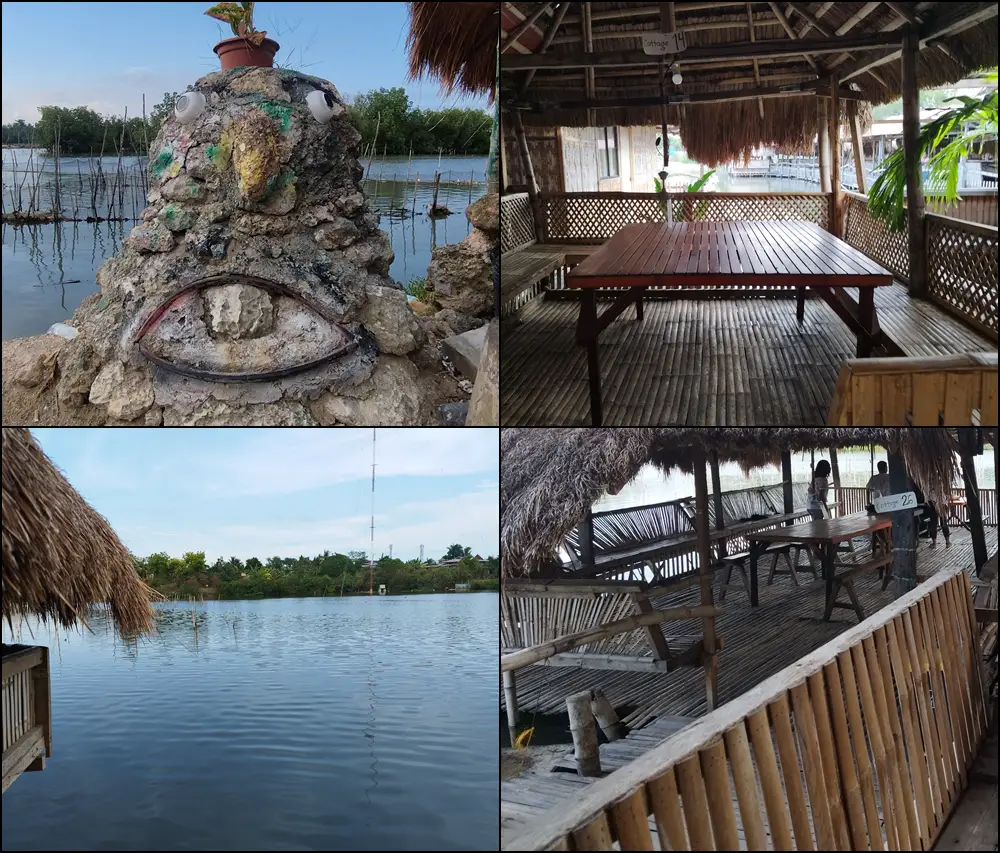 Unavailable Selections due to Breeding/Season
I would love to eat a big grilled squid to satisfy my hunger but this time, it was not available due to the season or something. But I'm sure when you visit in the future, they will be available for ordering as they rotate their menu depending on the availability of their seafood supply.
Food Souvenirs, Fruit Shakes, and Snacks
Whenever you're not really coming for the food, and just wanted to enjoy the vast fishing lagoon and rest in their cottages, or simply want to enjoy Karaoke with your family or friends. You may order their different fruit shakes and snacks like chips, peanuts and sweet delights and etc.
Activities and Leisure
The best feature that this eatery offers is the ability to do some fishing while waiting for your food. You can rent one of their cottages for the day and spend your day relaxing and unwinding while fishing. There's also a Karaoke for your family and friends to enjoy a good time while singing their favorite songs and spend an unforgettable dining experience
Diners may book in advance to reserve the desired cottage and even rent the karaoke for special occasions like birthdays and anniversaries. Or you may book for simple gatherings because it will be a remarkable experience for everybody.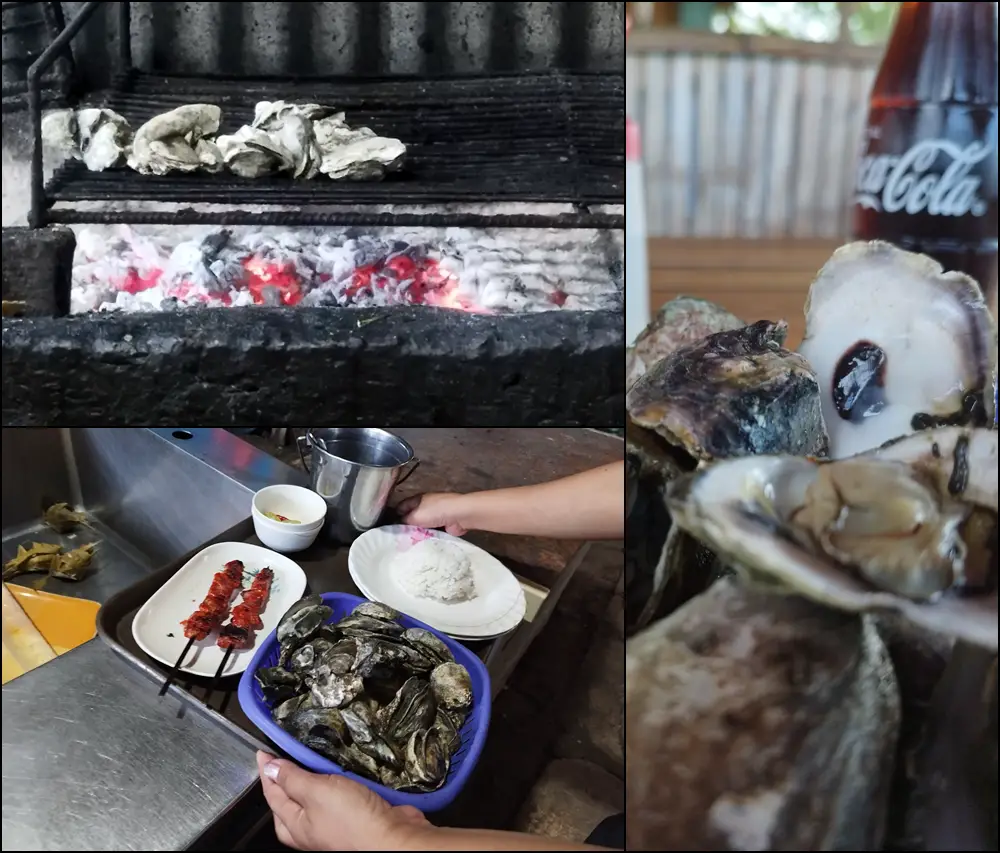 Summary
Co Jordan Bangus and Talaba Eatery is the best when it comes to bangus and oyster dishes, but it has lots more to offer. From pork barbeque sticks, seafood platters, Chopsuey, Pansit Special Guisado, and other drinks like fruit shakes and Coca-Cola and alcoholic drinks like beer. Their unique fishing lagoon feature is also a great experience for foodies who love to have a different dining experience that has a unique view. And don't forget to try their half-cooked steamed oysters, it's definitely one of the best dishes they offer! Enjoy your stay and happy fish-eating!
What I enjoyed the most is the peaceful view and the great food, a very dazzling experience for me, and I really loved the half-cooked oysters, I didn't get any stomach problems that day.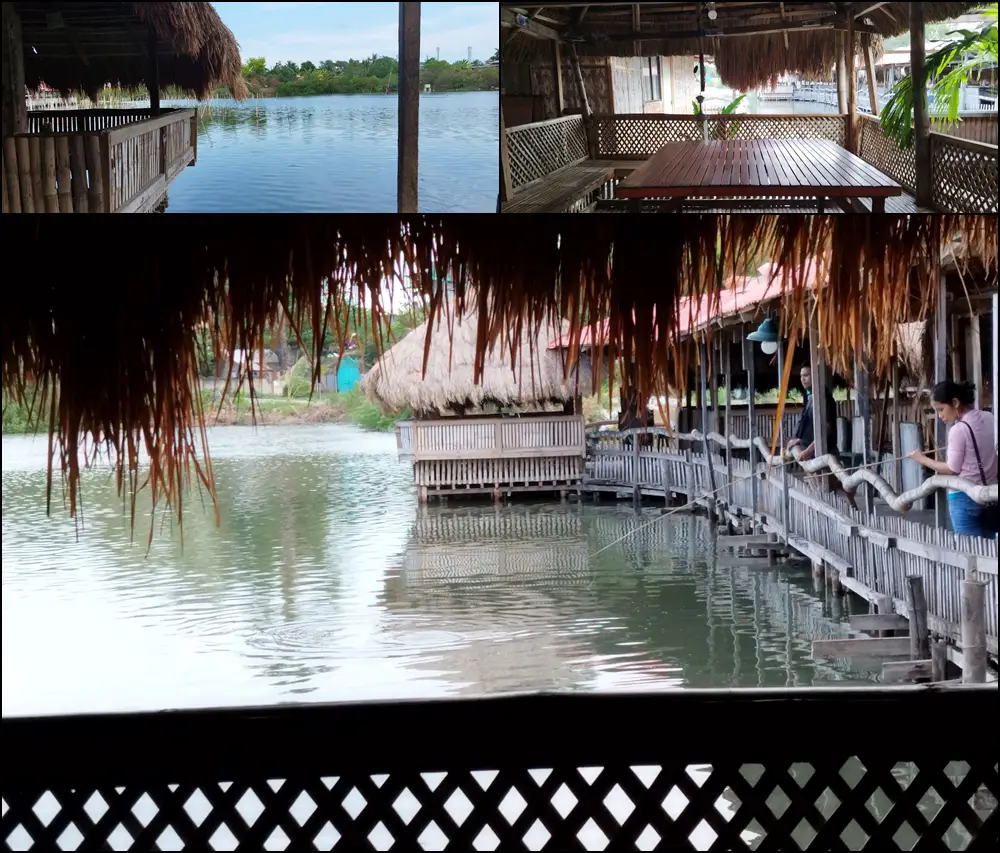 Contact Information:
CO Jordan Bangus and Talaba Eatery
Address: Sun-ok, Tayud, Consolacion, Cebu 6000 Philippines
Landmark: Near Redwood Subdivision/PNP Regional Training Center
Contact Number: 0921 237 0728 / (032) 266 3139
Business hours: 8 AM to 8 PM
Facebook Page: Co Jordan Bangus & Talaba Eatery
Google Location Map