Summer is around the corner and Cebu City may experience intense heat and humidity, but don't worry! We've found a food stall that offers a cool and delicious treat, perfect for the hot weather. Ice Monkees is an Italian Ice Treat and is a self-proclaimed Vegan Friendly and Lactose-Free ice-flavored fruit dessert.
Also Read: Burritos and Mexican Food Bites at Ceburrito
This is not your regular creamy ice cream dessert, its style is more of an ice-shaven flavored delight. Most of their flavors are coming from healthy fruits like Orange, Mango, Cherry, Grape, Green Apple, Strawberry and etc. Some notable flavors that do not come from fruits are Chocotela, Bubblegum, Cotton Candy, and other kinds. They have a lot of unique flavors that you can choose from.
Ice Monkees has 3 branches in Cebu City
Ice Monkees currently has three branches spread throughout Metro Cebu. The first branch was established in Escario Central. The other two branches/stalls are situated in SM Seaside (3rd floor across Quantum) and Sugbu Mercado in IT Park Lahug. We've visited the main branch in Escario Central and would personally say that this is the best spot to enjoy ice-cold goodies.
Branches
Escario Central – N Escario St, Cebu City, 6000 Cebu
SM Seaside Cebu (3rd floor) – Cebu South Coastal Rd, Antuwanga, Cebu City, 6000 Cebu
Sugbo Mercado IT – Abad St, Apas, Cebu City, 6000 Cebu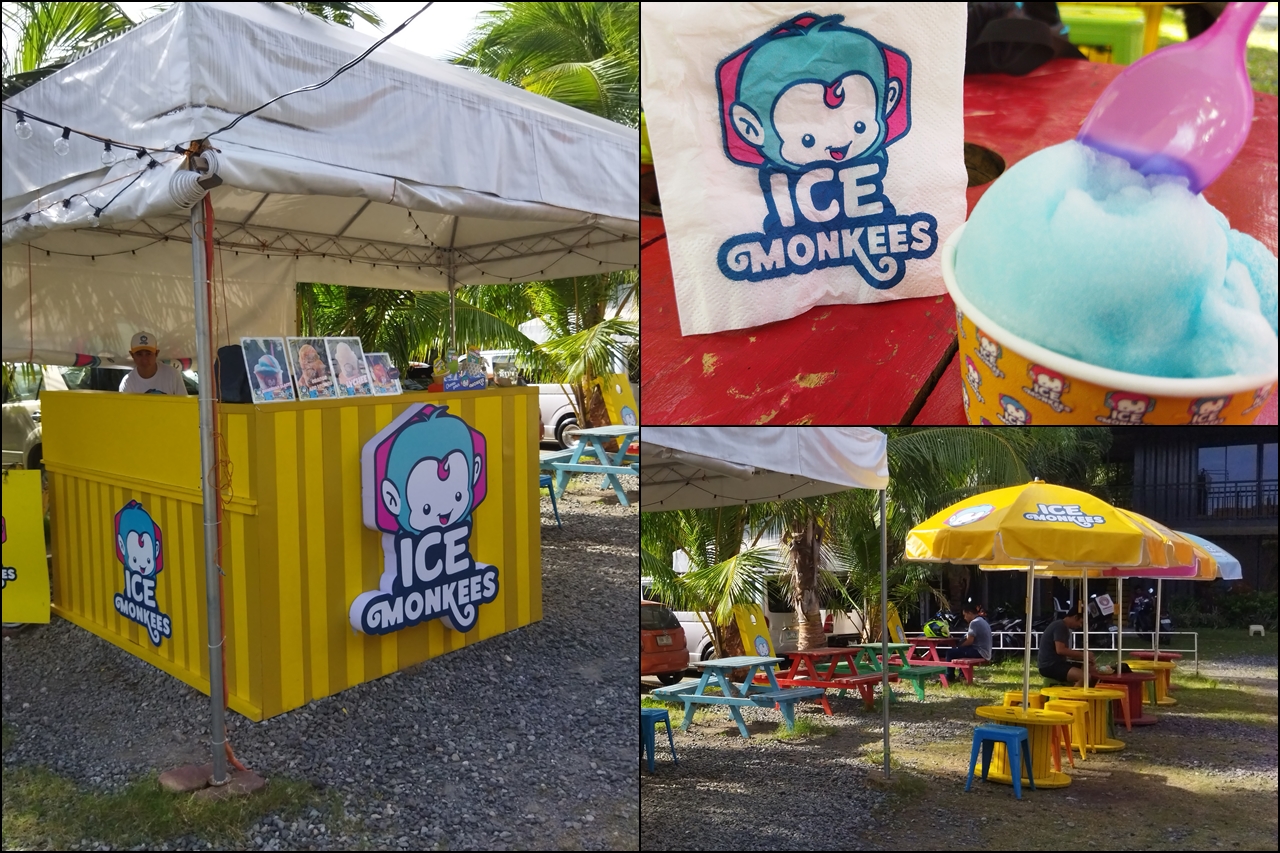 The Ambiance of their branch in Escario Central
A regular food stall would have people standing and enjoying their meals at the counter. However, Ice Monkees provides tables and chairs for its customers. It is well-situated for those who just want to indulge and take their time eating their desserts. The tables also give the shop a very nice and inviting atmosphere, perfect for customers of all ages.
Overall, if you're looking for a cool treat to beat the summer heat, Ice Monkees is the place to go! With its unique flavors and vegan-friendly treats, this Italian Ice shop ensures that everyone will enjoy and keep coming back for more.
I personally like the Escario Branch as it provides a cozy ambiance where I can spend time with friends and family. It also has nearby restaurants where you can choose to have a meal first. This is a big area and there's good music while you enjoy the yummy shaved ice.
Also Read: Heart-Warming Soups at Carlo's Batchoy in Osmeña Boulevard, Capitol Site
Ice Monkees Menu or Flavor List
There are more than 10 fruit flavors to choose from in Ice Monkees, including the favorites like Cherry, Mango, Strawberry, Orange, Grape, Pineapple, and Sour Apple. Best sellers are recommended by the staff like the Blue Raspberry, but you can always choose to pair up these treats. They also offer unique flavors such as Chocotela, Bubblegum, and Cotton Candy.
If you ask me personally, I choose 1 sweet flavor and 1 sour-type flavor. I prefer to have a balance of sweet and sour with my dessert. Either way, all flavors actually complement each other and you will be amazed at how many combinations you can create with the many flavors to choose from.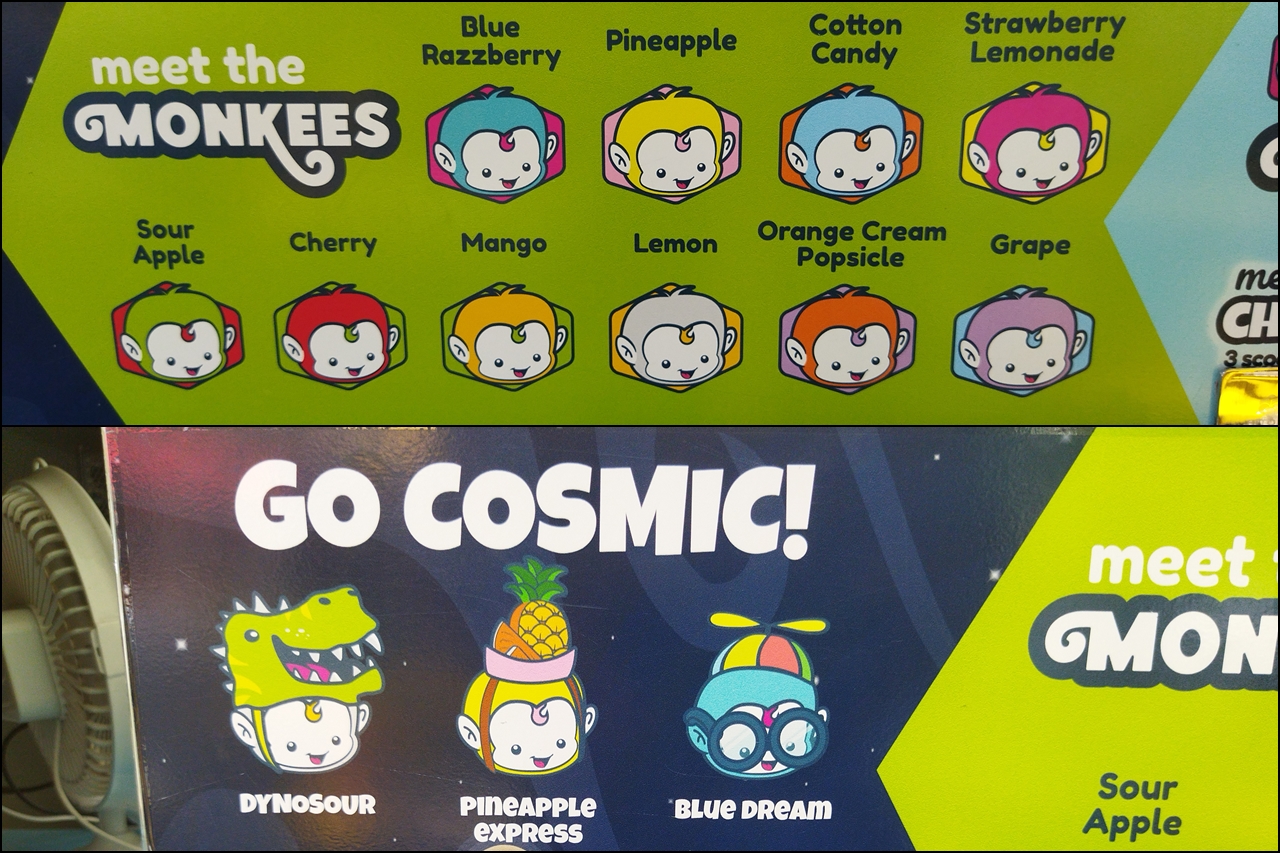 Sizes and Pricing
They have 3 sizes to choose from: Tarsier (mini) 2 scoops, Chimp (medium) 3 scoops, and Gorilla (monster) 5 scoops. After ordering the size, you may choose one single flavor to satisfy your taste buds or simply enjoy the unique combination of flavors.
Tarsier (mini) – PHP 99
Chimp (medium) – PHP 149
Gorilla (monster) – PHP 199
As of this writing, available individual flavors are:
Orange
Bubblegum
Cotton Candy
Cherry
Pineapple
Blue Raspberry
Mango
Grape
Sour Apple
Strawberry
Chocotela (New!)
Coconut Cream (New!)
Coffee (New!)
Caramel (New!)
You may only choose an individual flavor per scoop. For example, in their Tarsier size, you may choose up to 2 flavors since you're entitled to 2 scoops. Chimp offers 3 scoops where you can select 3 different flavors. Lastly, Monster size can get you 5 different flavors per scoop.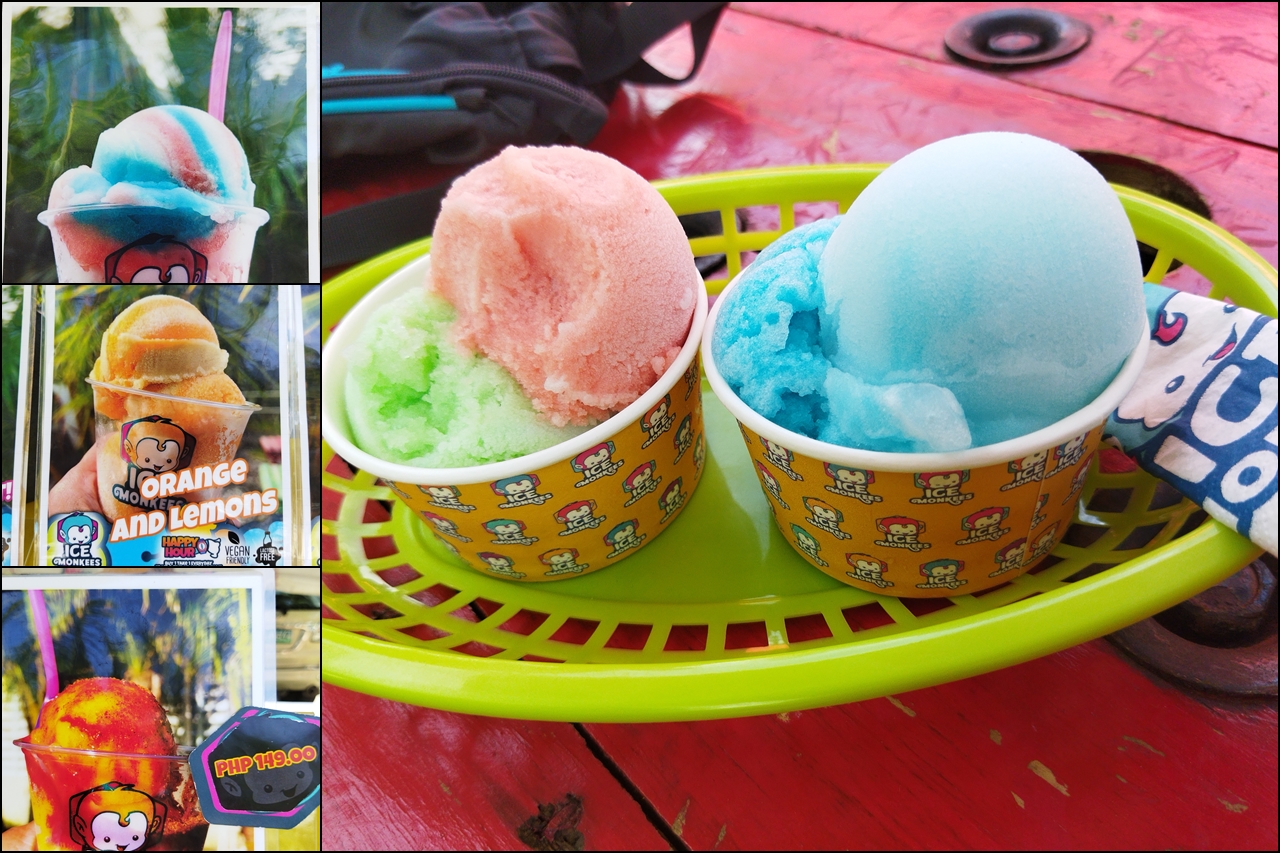 Cosmic Combos
Overwhelmed by the many selections or having a hard time mixing and matching? No problem! Ice Monkees also offers Cosmic Combos which are ready-made combinations. It consists of 3 scoops. Under this category, the Cosmic Combos are priced at PHP 149.
As of this writing, the available cosmic combos are:
Dynosaur
Pineapple Express
Blue Dream
Fireball Red
Strawberry Candy
Mr. Chazeberry
Orange & Lemons
If you want to add more flavor to your dessert, you can request for toppings (at an additional cost of PHP 20). And if you want it overloaded, you may ask to have all three toppings at PHP 50.
Add Ons/Toppings
Space Rocks – cotton candy meteorites, intergalactic nerds, sour belt asteroids
Flava Lava – syrup of (blackberry, kiwi, and strawberry)
Space Dust – green apple, fruit punch, wild cherry, freedom pop, blue raspberry
Happy Hour and Loyalty Customers
They also offer Happy Hour every day between 6:00 PM to 7:00 PM. Purchasing customers may buy 1 and get 1 free during this period and is available in all branches.
Aside from that, you may also get their loyalty card. Present this card on every purchase. Every 4th purchase will entitle you to their freebie. Once you've marked everything, you get an exclusive Ice Monkees Cap!
And they even have a "free-toppings day" where you can choose which topping to add on at no cost.
How to Order
Ice Monkees is open for dine-in and take-out. Customers may still contact their Facebook page for queries and deliveries. You may also order through Grab Food as there is no Foodpanda option yet.
Also Read: AKITA Authentic Japanese Ramen Restaurant in Cebu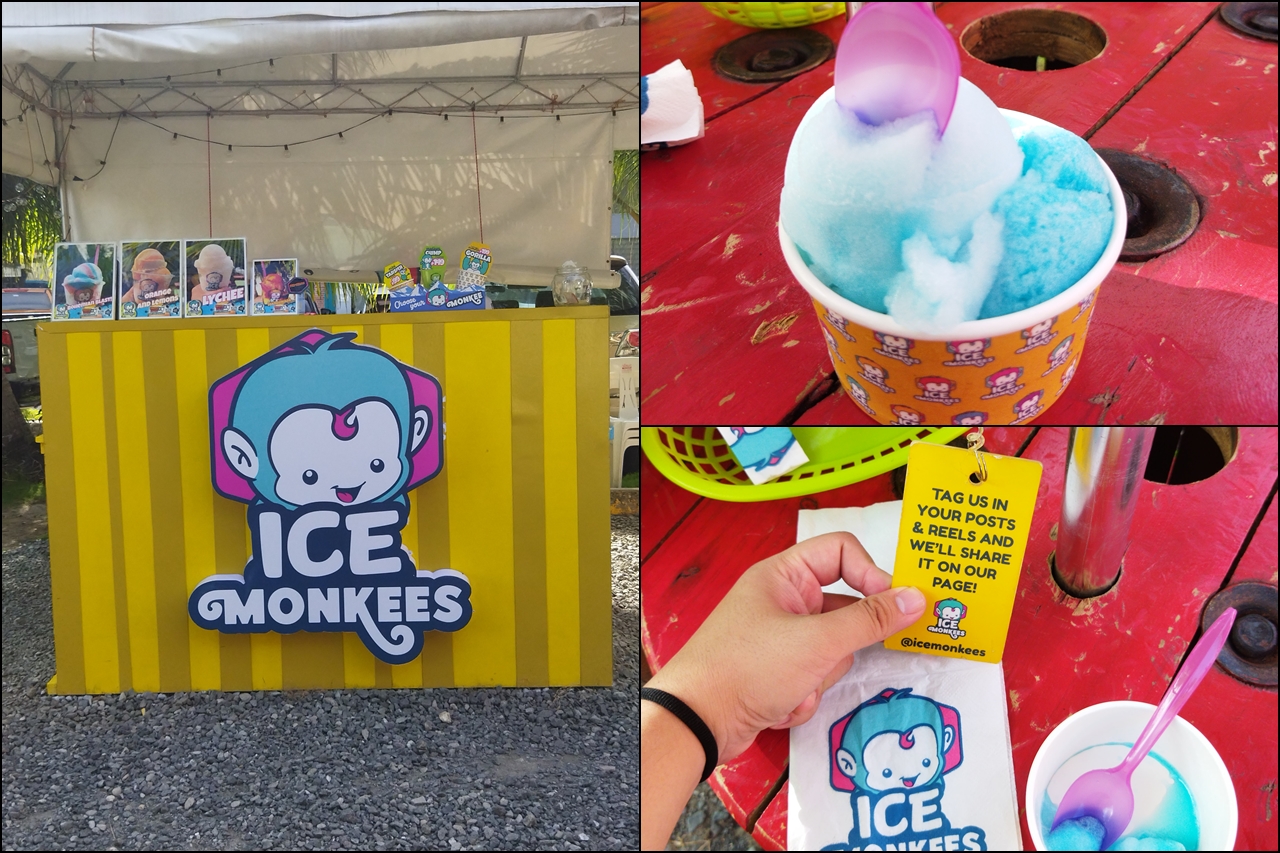 Summary
Therefore we conclude that the Ice Monkees branch in Escario Central is a great place to enjoy these Italian ice cream desserts and their eccentric flavors. Its unique menu and combination of flavors ensure that everyone will find something that suits their taste buds. Furthermore, its inviting atmosphere and ready-made combos make it even more enjoyable for everyone.
And one thing worth mentioning is the vegan-friendly and lactose-free. So anyone can enjoy a delicious dessert without any guilt!
So what are you waiting for? Head over to Ice Monkees now and indulge in some of the most amazing desserts Cebu has to offer!
Contact Information
Ice Monkees
Address: Escario Central Hotel, N Escario St, Cebu City, 6000 Cebu
Contact Numbers: 0995 562 4295
Email: hello@icemonkees.com
Facebook Page: Ice Monkees
Google Map Location
Here are map guides to each Ice Monkees Branch:
Escario Central Branch
SM Seaside Cebu Branch
Subo Mercado Branch