Are you feeling cold? Have a heart-warming soup at this restaurant situated near Cebu Doctor's hospital at Capitol Site. There are many rice meals, pasta, soup, and even desserts to choose from. It's a "go-to" place if you want a pleasant meal.
Also Read: Enjoy Unlimited Chicken Wings, Rice and Fries at PAKU by Chef Binux
We're here to visit one of the best restaurants to have a good "Batchoy". This noodle soup has many varieties, influenced by many types of cuisine. Its origin is based in the district of La Paz, Iloilo City, and is commonly known as "La Paz Batchoy". Although we're in Cebu and it may be different, the main ingredients stay the same (noodles, beef broth, pork liver, pork rinds, and a whole egg).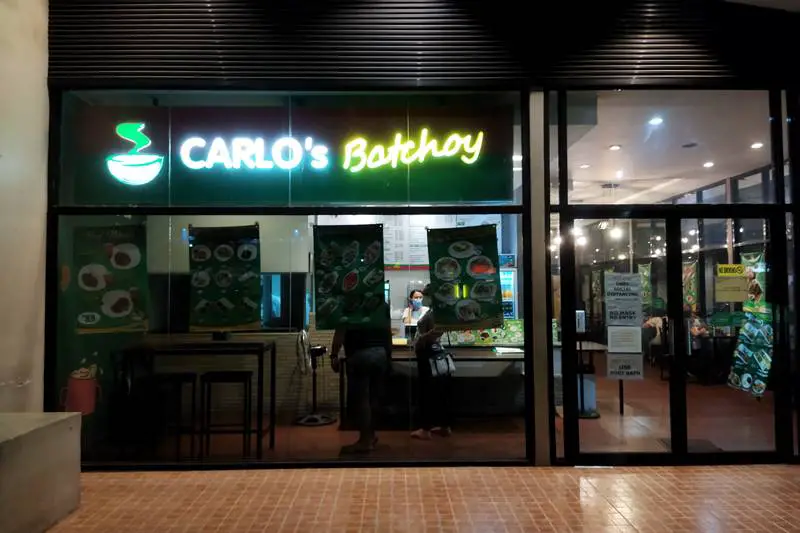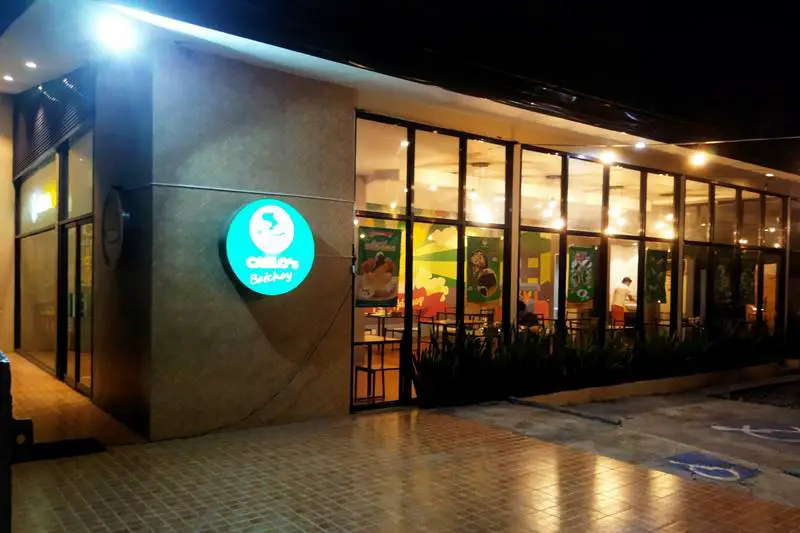 Iloilo Carlo's Batchoy at Osmeña Boulevard, Capitol Site
While I was strolling through the streets of Cebu, I thought of having a warm meal and Batchoy came across my mind as it was nearly 10 in the evening. This restaurant is strategically located near the heart of Cebu, Osmeña Boulevard. It is near to schools, hotels, hospitals and tourist attractions.
The restaurant is very clean and cozy, the tables were arranged in a manner of social distancing due to the pandemic, and have a bit of privacy to enjoy your meal. Their parking area is very spacious that may accommodate about 6-7 vehicles.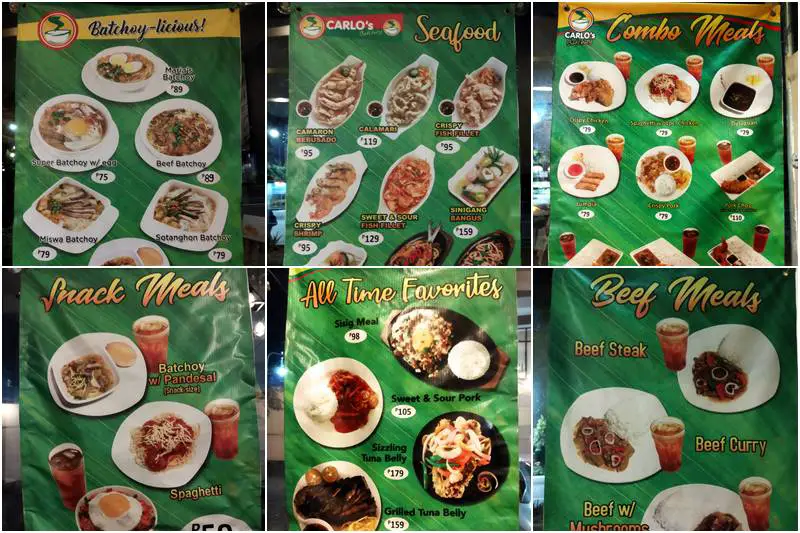 Rice meals, Ala Carte, Snacks and down to Budget-meals
Upon entering the restaurant, you will smell the aroma of the soup and it makes you even more hungry.
Their reception area is a bit overwhelming with many choices to decide. Since my last meal was more than a few hours ago, I decided to have a medium-heavy meal as it was late in the evening.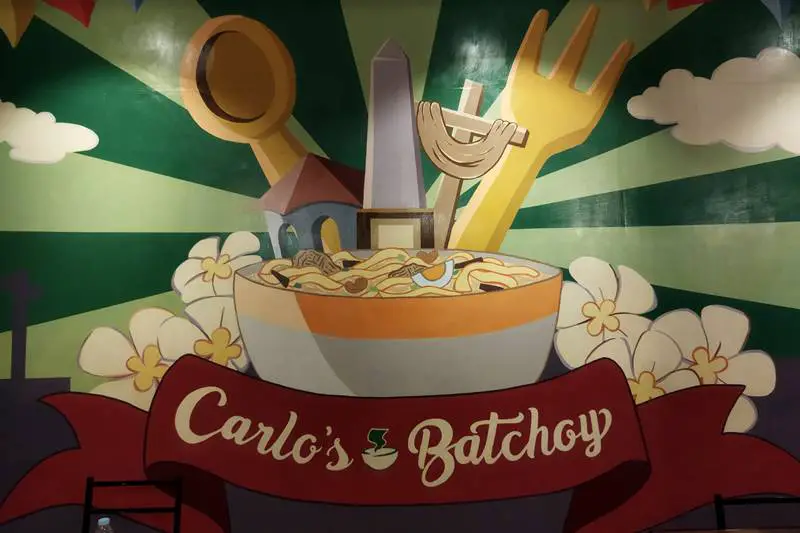 I ordered their Best Seller's choice, Super Batchoy w/ Egg. And I knew that this won't be enough, I ordered a 2-piece Chicken Meal w/ Iced Tea. The waiting time wasn't that long as there were about 3-4 other dine-in customers. In fact, it took less than 10 minutes for my food to be served.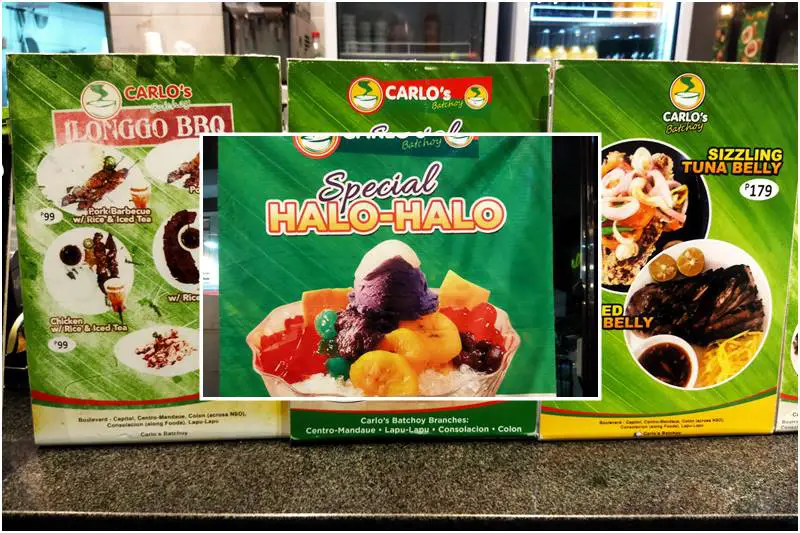 After everything was placed on my table, there are condiments (pepper, fish sauce) to supplement and find "YOUR TASTE" of Batchoy. It was time to dine, the 2 piece Chicken was well seasoned and crispy. The noodle soup was the main dish for me, I added a decent amount of pepper to make it spicier, and a bit of fish sauce to enhance the flavor.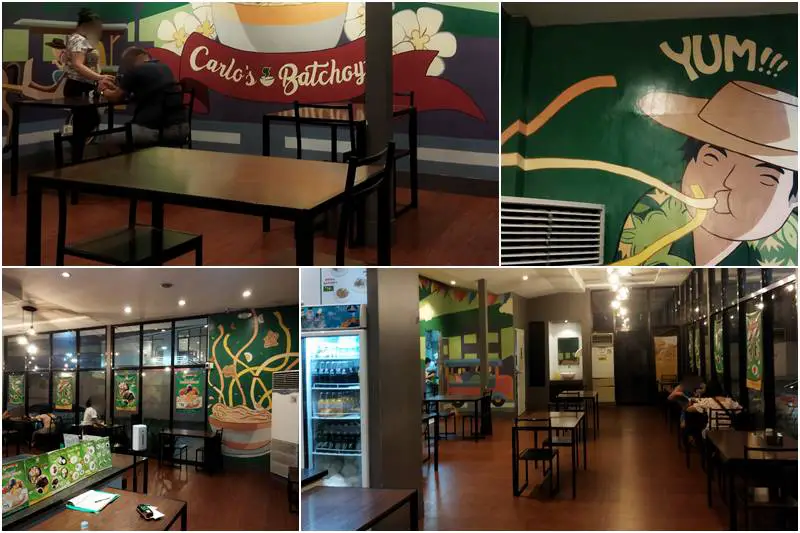 Overall, the ambiance, meals, the price was worth it. I was energized after my meal and while eating, the interior design, the lighting, and even the wall illustrations were a sight for sore eyes.
Contact Information
Carlo's Batchoy
Address: Osmeña Boulevard, Capitol Site, Cebu City 6000
Telephone: +632365020, +639328875365
Facebook: https://www.facebook.com/carlosbatchoyph
Google Map Location