There's a Korean-themed cafe here in Cebu, Cafe Berry. They offer a wide variety of drinks, food, and snacks. This cafe provides an ambiance that makes you feel relaxed and forget about your daily troubles.
Also Read: Double Ma Tea, a Pink Milk Tea Cafe at SM Seaside City
Hi Cebuanos! Care to have another Food and Milktea Adventure? Milktea has become a famous drink in the Philippines in the past years. It is a great drink that comes with many different flavors and paired with appetizing food.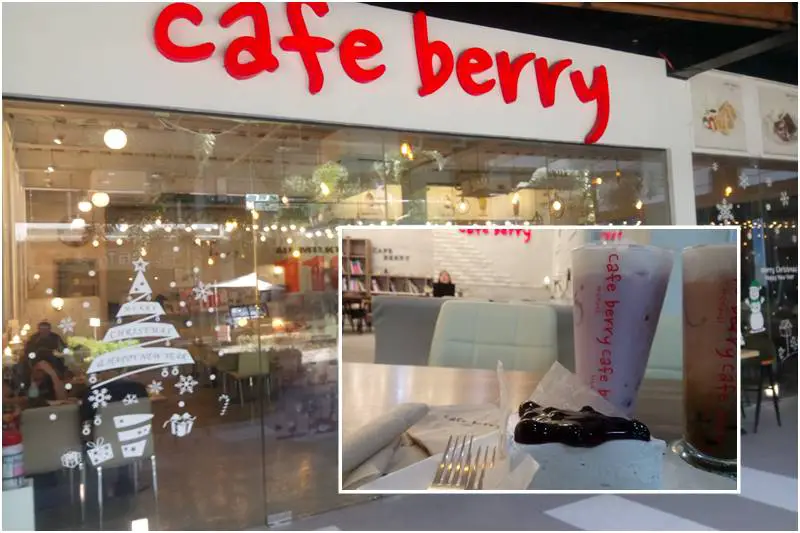 Cafe Berry at Tipolo, Mandaue City, Cebu
This cafe is situated in Town Square near Tipolo, Mandaue City. My colleague had to meet a client at this store and we were waiting for her arrival for a sales proposal with her project. The area outside this store provides an earthly feeling as the scenery is mostly green.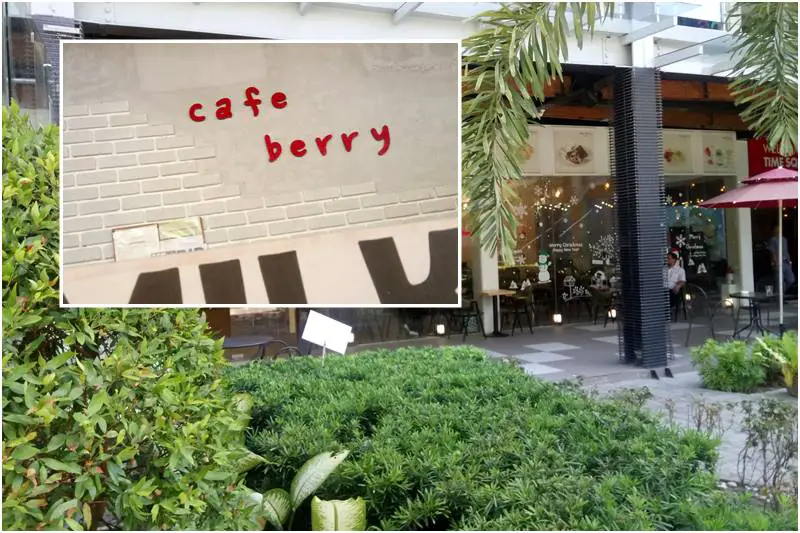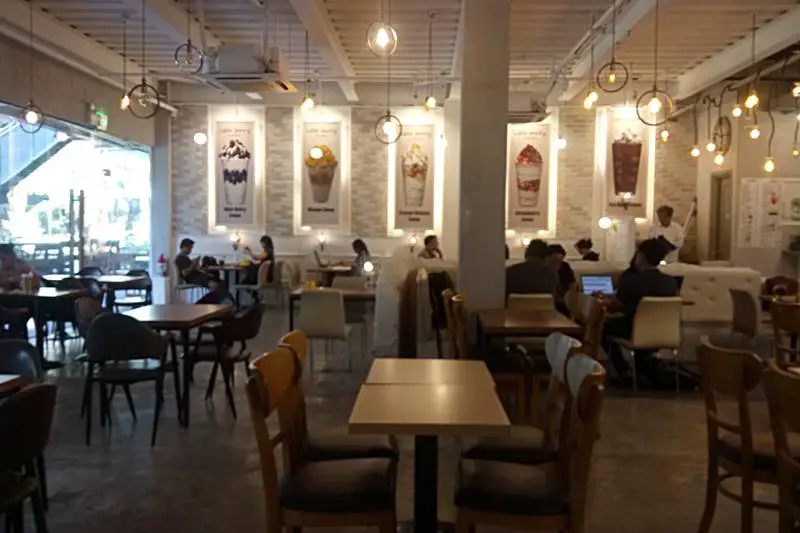 When we entered the cafe and have settled at the table near the window, we noticed the other customers in this shop enjoying their time while having a good drink and a good meal… We thought we'd order for ourselves and satisfy our cravings too.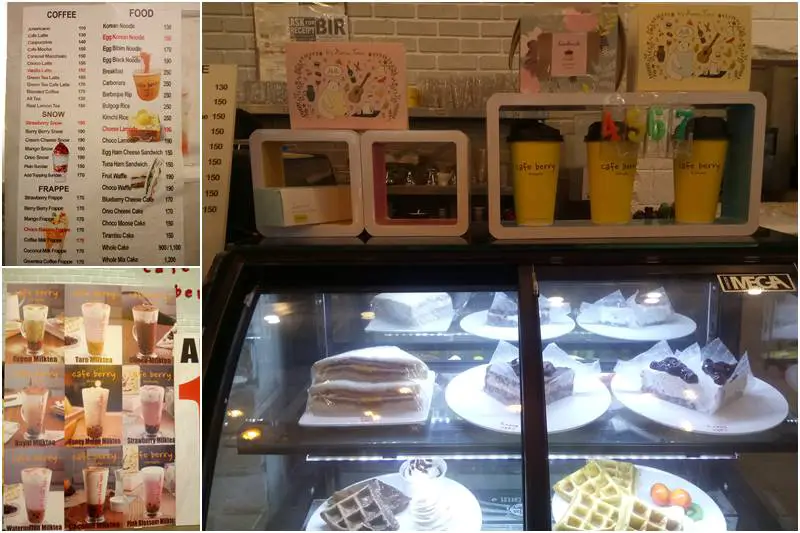 Meals, Snacks, and Milktea
This cafe presents many different drinks, meals, and even snacks. But of course, their best-sellers are their delicious milk tea. Aside from that, they have Frappes, Snow (shaved ice), and even Coffee drinks. Under the food category, there are different types of noodles, rice, and sandwich. And to wrap it up with a selection of waffles or cakes.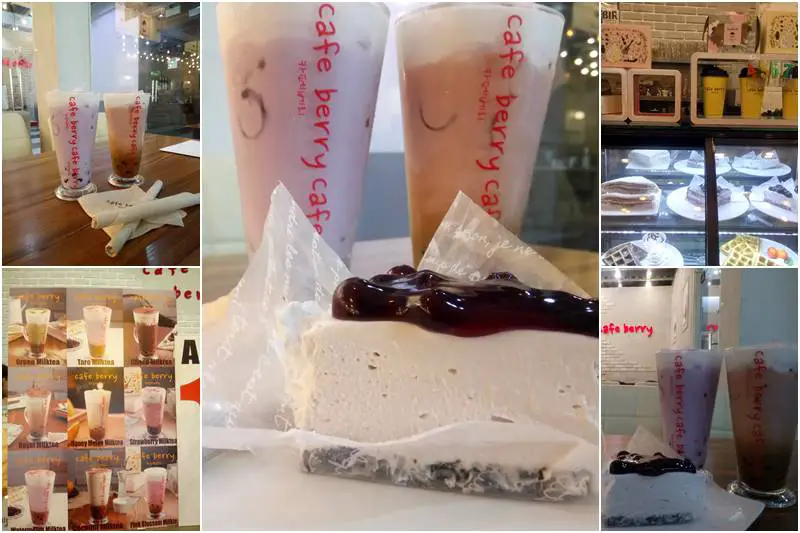 We ordered a pink blossom milk tea, a strawberry milk tea, and knew that we needed something to fill our stomachs so we added a slice of blueberry cheesecake to share.
Our tastebuds were satisfied and so as our tummies. We were both happy with the service and the delightful food and drinks. We wished to visit again and try the other milk tea flavors or maybe even try the frappe or snow drinks.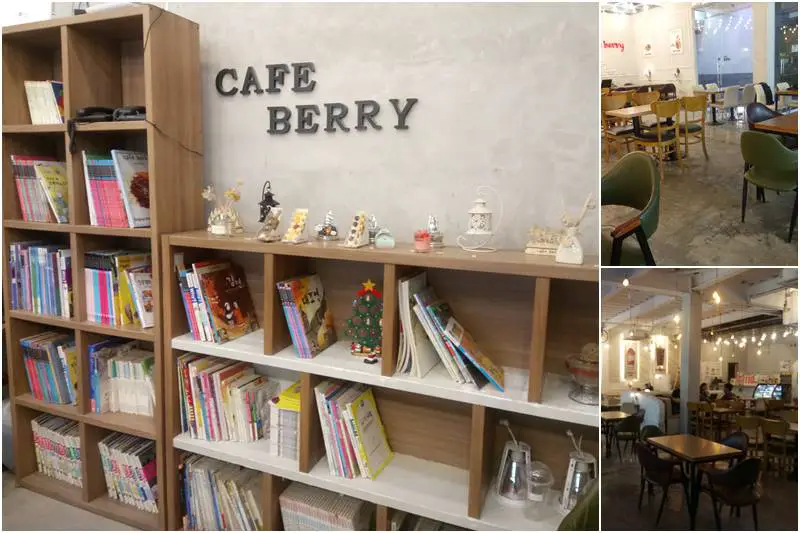 Aside from their menu, we wanted to highlight the interior of this cafe. If you've seen Korean Novelas (Korean-tv-drama-series) you'd be very familiar with the setup of this cafe. It's not too boring and not too fancy. I liked how they have a "mini-library" section where you can borrow books to read.
Also Read: Enjoy Unlimited Chicken Wings, Rice and Fries at PAKU by Chef Binux
Overall, it is a good place to hang out with your families or friends. We all know that most of the people here in Cebu are fond of milk tea. So what are you waiting for? Visit Cafe Berry.
Business Hours: 8:00 AM – 2:00 AM
Contact Information
Cafe Berry
Address: City Time Square, Mantawe Ave, Mandaue City, 6014 Cebu
Telephone Number: 0966 413 9490
Email: leap1114@naver.com
Facebook: https://www.facebook.com/cafeberryph
Google Map Location
Below is a map guide to the location of Cafe Berry in case you'd like to visit this Korean-themed Cafe in Mandaue.