The people of Cebu are known to eat sweet delicacies. This is common in most Cafes in Cebu City because they offer a lot of the most famous Filipino sweets such as Sikwate, Puto, Ripe Manga, and many more. These Pinoy delicacies are served in Maharlicup at Sidlak Point, they mainly serve Puto, Sikwate (chocolate), and coffee.
They give their customers an unforgettable experience of Filipino food and its sweetness. So if you're feeling hungry and craving something sweet, head over to Maharlicup in Cebu City to satisfy your taste buds, while being at the top of Cebu! There are tons to choose from at this cafe and you can also enjoy a spectacular view when feasting.
Also Read: Co Jordan Bangus and Talaba Eatery in Consolacion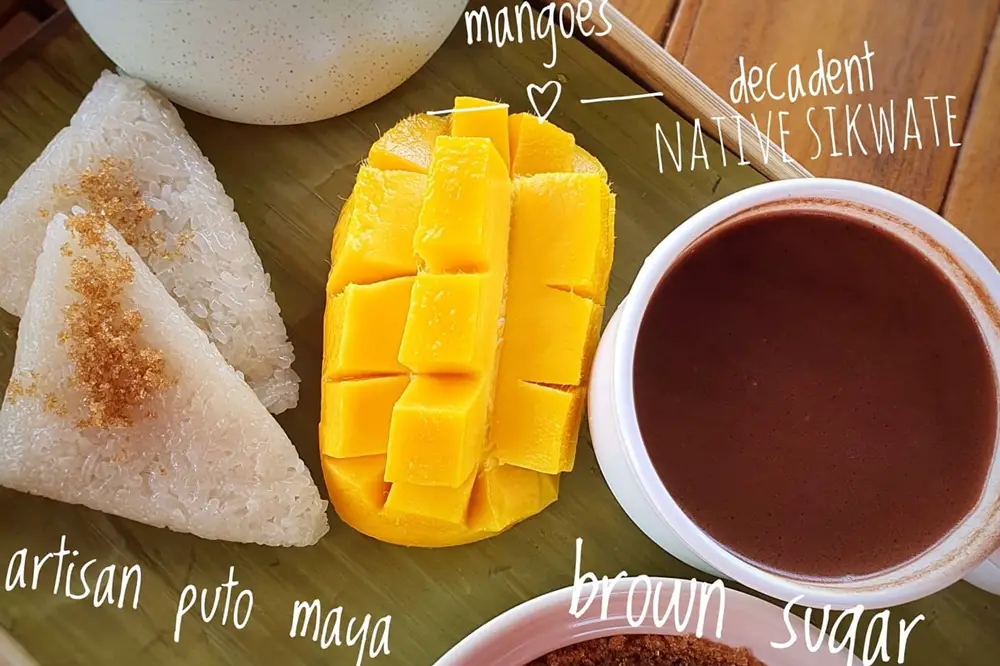 Maharlicup Location
This hangout cafe is located at Sidlak Point, which was formerly known as Mak's View. It's situated at the top of Cebu which overlooks the city and has stunning views of mountains. It is a great spot for those who want to take a break from their busy schedules and enjoy the picturesque scenery.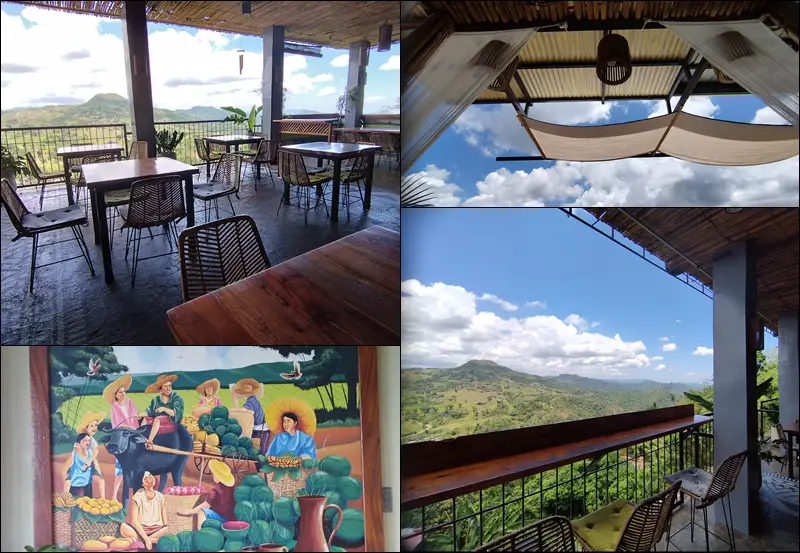 Maharlicup Ambiance
The location is situated at the top of Cebu with a stunning view of the city. It provides guests with an unforgettable experience as they are able to immerse themselves in Filipino culture and cuisine. The cafe offers a very cozy atmosphere perfect for any occasion, whether it's for family bonding or just catching up with friends. Their theme is a hint of modernized neutral color palettes that give a very calming vibe which would make you feel very relaxed.
Maharlicup Menu Offerings
At Maharlicup, you can find a wide variety of delicious Filipino sweets to choose from. The menu includes Sikwate, Puto, Binignit, Champorado, and many more. The prices would range from 100 to 200 per order. Sometimes it is not available because of the season, but the cafe always makes sure to provide customers with fresh ingredients.
The cafe also offers different beverages such as Filipino coffee, brewed fresh every morning. Aside from that, they also serve a variety of hot or cold drinks. All these are served with a warm smile and great hospitality from the friendly staff at the cafe. Their recommended dishes are the Sikwate and Binignit, as they are known to be the best-sellers at this cafe.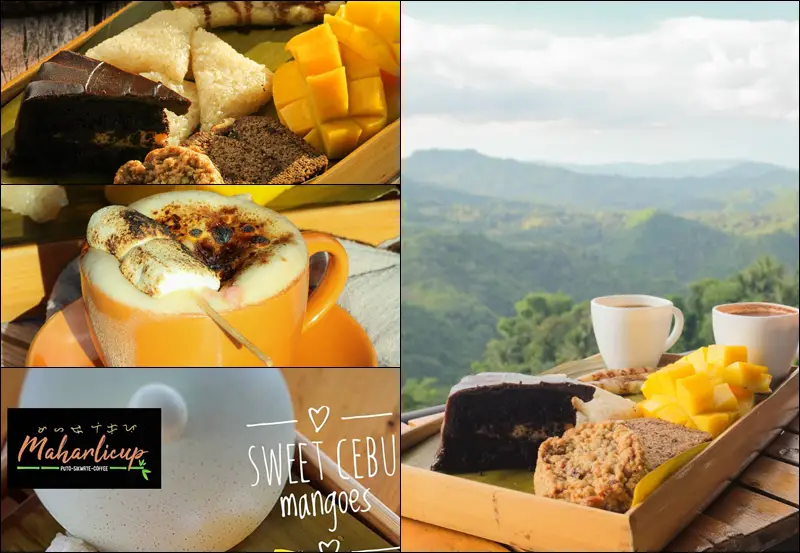 Maharlicup Menu
Sikwate is a traditional hot chocolate drink made from cacao beans and other spices that are indigenous to the Philippines. It has a smooth yet rich flavor that can definitely make your day. And Filipinos always complement their drinks with something to munch on like Puto, a steamed rice cake.
Then there's the Binignit which is made with different kinds of root crops like ube and sweet potatoes. It can be served hot or cold depending on what the customer prefers.
Pamahaw/Merienda Sets
Budbud Set
2 pcs Budbud
Chocolate Sikwate
Mango Slice
Puto Bumbong Set
2 pcs puto bumbong with toppings
Chocolate Sikwate
Mango Slice
Puto Maya Set
2 pcs Puto Maya with coco/ginger candy
Chocolate Sikwate
Mango Slice
Bibngka Set
1 pc large special bibingka
Chocolate Sikwate
Sikwate Specials (Hot/Cold)
Classic Sikwate
Sikwate Latte
Mocha
Spicy Cinnamon Sikwate
Sikwate Smores
Oreo Cream Cheese
Hazelnut
Kape (Hot/Cold)
Moka Pot Americano
Cafe Latte
Vanilla Latte
Mocha
Cappuccino
Macchiato
Native Treats 
Puto Maya
Budbud Pilit
Turon Ala Mode
Bibingka
Champorado
Binignit
Puto Bumbong
Bacon Alfredo
Tuna Sandwich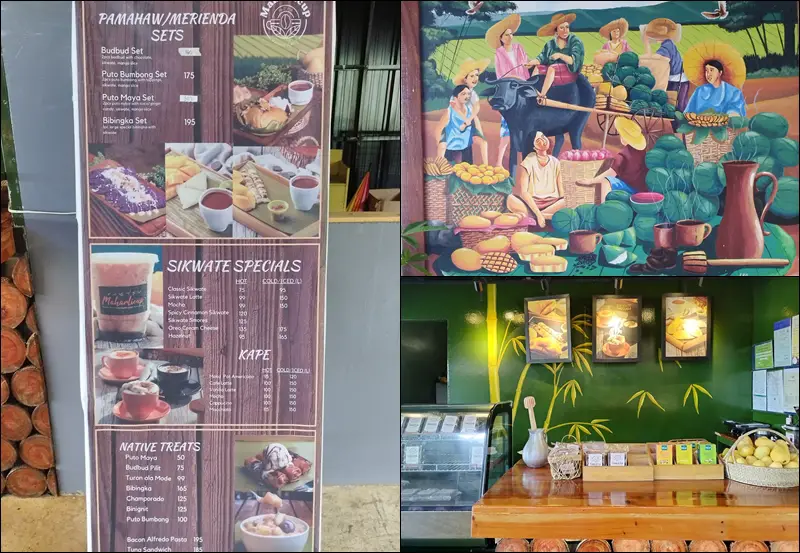 Experience Cebu's Sweet Delicacies
There are a to choose from Maharlicup's Menu. So come and experience the sweet flavors of Cebu in a beautiful place with stunning views. Stop by Maharlicup today to enjoy the best Filipino delicacies and sip on Sikwate while taking in the view!  You won't regret it!  Enjoy your stay and indulge your cravings all under one roof. Enjoy the sweetness of Cebu's famous sweets at Maharlicup!
Enjoy Sweetness at Maharlicup Cafe, get ready for a unique yet delightful experience as you feast on these delicious treats! From spicy Sikwates to creamy Binignits, this cafe has got it all that will satisfy even the most discriminating tastes. Experience a new level of decadence when you visit this amazing cafe in
Also Read: Ice Monkees: Cold Desserts in Cebu
What to Expect from Maharlicup?
Maharlicup is a perfect place for those who are looking for classic Filipino snacks and sweet delicacies. Their menu consists of the most popular dishes such as Sikwate, Puto, and Binignit. Each dish gives you a taste of authentic sweetness that can't be found anywhere else. They also serve other sugary treats like halo-halo, Turon, and leche flan. For drinks, you can have their signature Sikwate or coffee and any other options to choose from.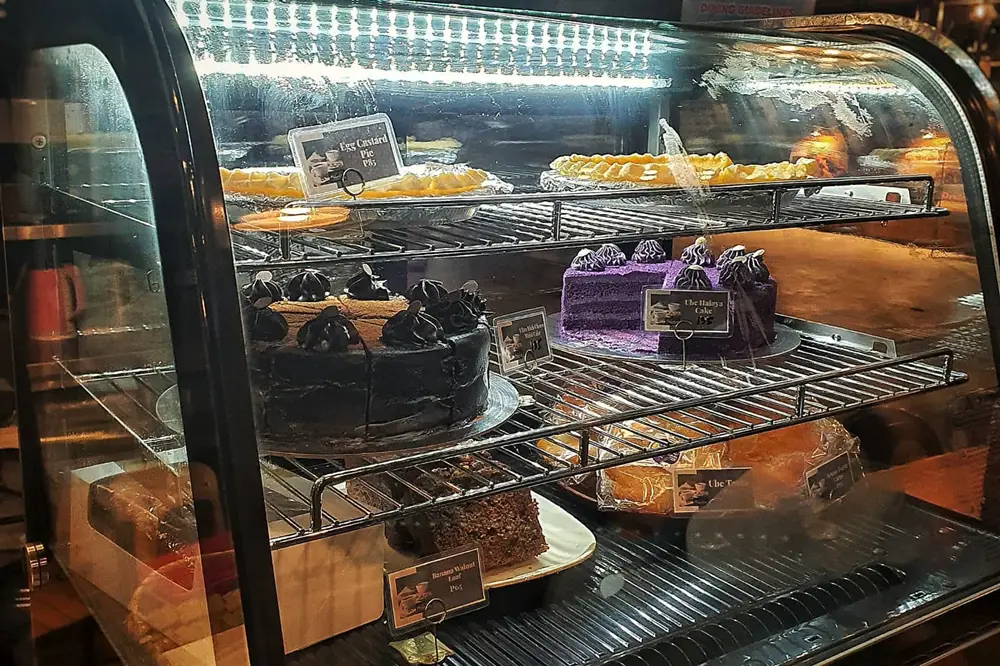 Summary
There is no other place I can think of to enjoy a sweet experience like Maharlicup Cafe in Cebu City. It offers an amazing view as well as mouthwatering Filipino sweets that will make you want to come back for more. From Sikwate, Puto, and Binignit to halo-halo, Turon, and many more delicacies.
You can visit anytime as being at the top and dine on your favorite Filipino delicacies. It's the perfect place for a quick snack, a hearty meal, or just a cup of coffee to enjoy the view. So come and visit Maharlicup Cafe and indulge in the sweetness that Cebu has to offer!
Maharlicup offers an extraordinary experience with its menu full of delicious traditional Filipino sweets such as Sikwate, Puto, Binignit, and many more scrumptious dishes. The cafe also serves other sugary treats like halo-halo, Turon, and leche flan. It will be a memorable visit as you indulge your sweet tooth with a dramatic view.
My personal preference is the Sikwate Smores, because it is creamy and sweet. The beverage provides a foamy texture which leaves its guests wanting more. The Sikwate and Binignit are also great choices which I really enjoy.
Contact Information
Sidlak Point / Maharlicup
Address: Transcentral Highway Tiguib Malubog Busay, Cebu City, Philippines
Landmark: Busay Top view, Temple of Leah
Contact Number: 0917 143 0580
Business hours:
Mon – 5:00 AM – 8:00 PM
Tue – 5:00 AM – 8:00 PM
Wed -5:00 AM – 8:00 PM
Thur- 5:00 AM – 8:00 PM
Fri – 7:00 AM – 9:00 PM
Sat -7:00 AM – 9:00 PM
Sun- 7:00 AM – 9:00 PM
Facebook Page: Maharlicup
Google Map Location
Below is a Map Guide to Maharlicup at Sidlak Point