These times are quite difficult given that we are all adjusting to the new normal. Many businesses are also facing challenges in terms of operating despite the quarantine. However, resourceful people find methods to earn a living and get by with their daily lives. Such is the case of our experience when we saw "manong" doing his rounds and offering to sharpen basic items like scissors, knives, and other tools.
Also Read: How to Treat Animal Bites in Cebu City Health Department
I saw Manong in our barangay who was on a bike and was offering his 'sharpening services' to people in their homes.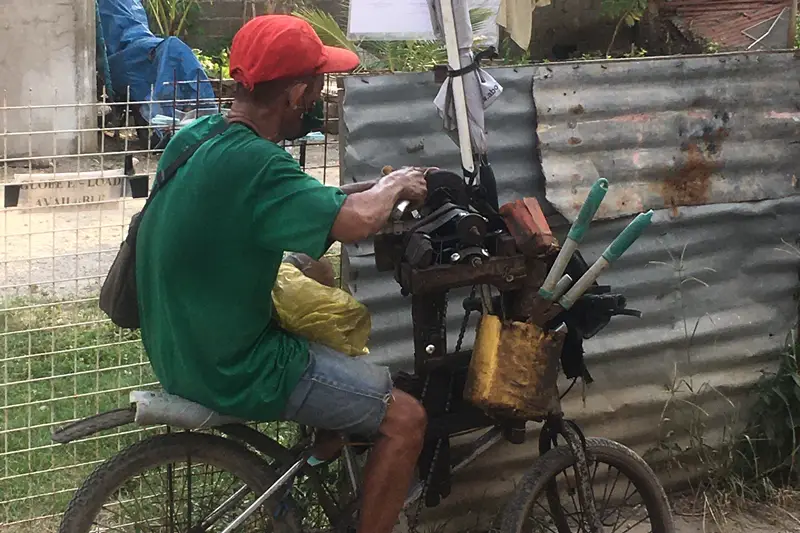 Augmented Bicycle and Sharpening Gizmo by Manong Cutler
Finding ways to earn during this health crisis is not easy when there is a lockdown or quarantine implemented in our City. Companies are thinking of ways to continue their business despite the limited mobility.
Despite the strict implementation of quarantine guidelines, this Pinoy found a way to offer his services to his customers. The idea of manong and his cutting tools is quite very impressive. It serves as his means to travel and also doubles already as his workstation.
I took a video of manong cause I was amused seeing his bike with attachments like the grinder which makes his sharpening skills possible. He uses the bike to roam around the neighborhood to offer his services to people.
The cost depends on the type of tool you want to be sharpened. When we asked how much our kitchen knives were done, it was only for PHP 25. For farming tools it costs PHP 40. We had gave him our knife to have it serviced on his bike.
Also Read: Do's and Don'ts in Cebu
Our knife was neatly sharpened and when I used it for cutting pork meat, it felt like it was new. Manong cutler did a job well done. And we hope to see him again as he visited our area twice in a month.
It is really convenient to see services like these come around when you need them. We are glad to see Manong who is persevering despite the challenges of the pandemic. He is still making a living by utilizing his skills so he can also earn an income for himself.
May Kuya serve as inspiration for us all to be resilient in times of crisis. We hope that Kuya's story will teach us all to learn to adapt especially during these difficult times.