Getting bitten by a stray an animal brings in a lot of problems. Aside from the pain coming from the wounds, you may be facing a deadly virus if the animal carries Rabies. Many of us have little knowledge of what to do if that happens. We need to address the wound and get rid of the issue to avoid any further complications. Here's a guide what you need to do in case you get bitten by a dog in Cebu.
Also Read: How to Apply for a Driver's License in Cebu
It's important that you be careful when you roam around Cebu as there may be congested areas near tourist attractions. In these crowded areas, there are also stray animals like dogs. Sometimes these dogs can become aggressive if you walk into their territory or if you accidentally step on them. In the worst-case scenario, if bitten, you should visit the nearest hospital or clinic available.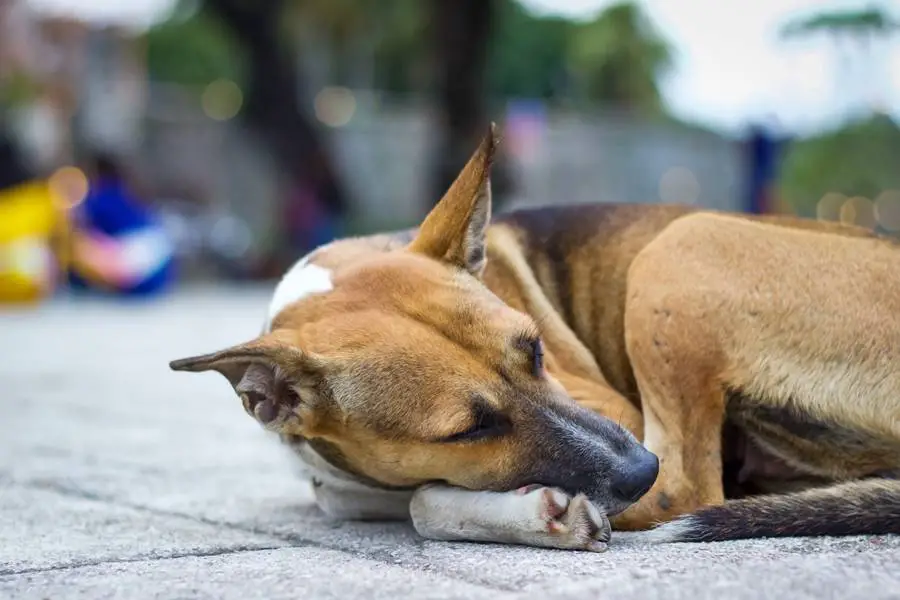 What to do if you get bitten by a dog in Cebu City
Getting bitten by a stray dog without knowing if they carry the virus or not can cause panic. The basic thing to do when there's an accident is to stay calm. This way, we are prepared for the next steps and think about what's best. It is important that you have it treated immediately as dog bites can introduce dangerous bacteria into your body and can also lead to serious fatal infections.
After everything is stable and the bleeding has stopped we need to make sure we are clear and safe from the virus.
Anti-Tetanus and Anti-Rabies Shots
There will be two types of shots: Anti-tetanus and Anti-rabies. The vaccine needs to be administered and having health insurance plan from your HMO would be of great help as it covers most of the cases a patient is diagnosed with.
However, to those who do not have any health insurance and are financially incapable of paying for the vaccine shots, you may refer to your barangay for assistance.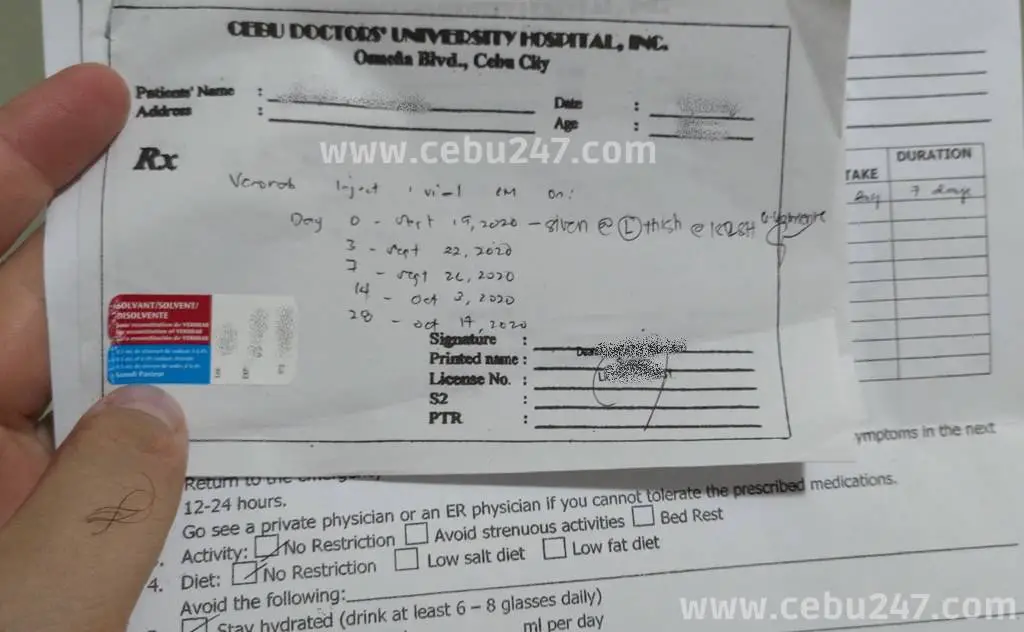 Private Hospital Clinic VS Public City Health
So you have two options to have the animal bite treated and managed – Private or Public Clinic.
We went to a private hospital in Cebu and in Cebu Doctor' Hospital gave us a price quote estimation of PHP 50,000 for treatment shots with 5 visits. You may be able to use part of your HMO package (depending on your coverage) for this.
Cebu City Health Department offers a Treatment and Management of Animal Bite Cases as part of its services and this is given FREE of charge by the government. We were told that the treatment will have 4 visits.
We opted for the public health system as it's free.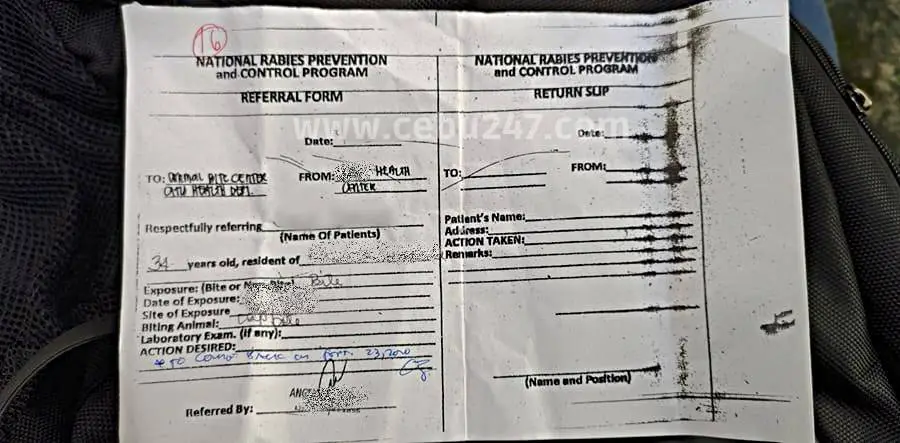 Step by Step Procedure for Dog Bite Treatment and Management in Cebu City Health
1. Get a barangay referral form and Anti-tetanus shot at your nearest barangay hall.
2. Schedule an appointment for Anti-Rabies shots at City Health Center/Animal Bite Center. The Doctor will interview you and give you a schedule for the shots. As a tip, show up early for the appointment so you can get a good priority number.
3. Follow the allotted schedule as per doctor's advice for the anti-rabies shots. The time slot given to us was from 1pm to 3pm.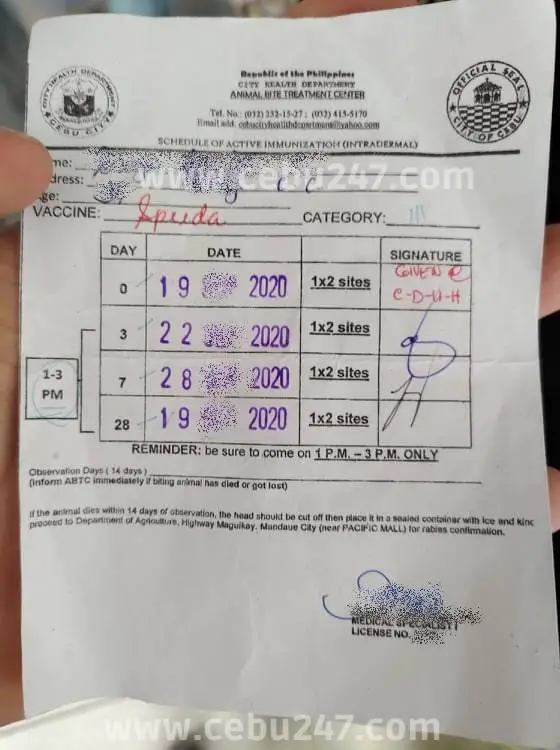 Tips when Getting a Vaccine Shot for Dog Bites.
Below are some helpful tips based on our experience visiting the City Health Department:
Expect a long queue at the City Health Department. After all, this is a free and public service.
I tried calling City Health Department at first but no one answered the phone. So it is advised that you "Walk-in" and wait for the doctor.
If you get bitten by an animal, get it treated immediately!
Observe your condition or any symptoms you may experience and inform your doctor about it.
I tried going to private hospitals and clinics but they charged a huge amount and my HMO coverage could only supplement a portion of the treatment. I had to shell out money from my own pocket if I continue to have the treatment via HMO.
Again, going to the City Health is just your option. If your HMO provider covers your treatment, then you can use your HMO for support.
Overall, it is advised that you should not delay going to the doctor for the treatment. This is your health and it is important that you take care of it. We hope this guide has helped you in understanding the process of getting treatment for animal bites from the public government office.
Contact Information
Cebu City Health Department
Address: Gen. Maxilom Ext. Cebu City, Philippines 6000
Tel no: (032) 415 5170
Email: chd@cebucity.gov.ph
Website: https://www.cebucity.gov.ph/department-and-offices/city-health-department/
Google Map Location
Below is a location map of the Cebu City Health for your reference in case you are wondering how to get there.