There's no doubt that Cebu is a milk tea lover's paradise. With so many great shops to choose from, it can be hard to decide where to get your fix. But whether you're a fan of classic bubble tea or looking to try something new, there's a shop for you. This newly discovered milk tea shop, DripTea, is one of the must-try places.
Also Read: List of Gelatissimo Branches in Cebu
Driptea is owned by a 22 years old Filipino entrepreneur Mr. Thor Gomez from Luzon. It was March 2019 when driptea was started as a food cart. The first branch was in Quezon City which caters students and employees in the area. And now with 102 stores nationwide, Driptea is considered one of the biggest milk tea shops in the Philippines.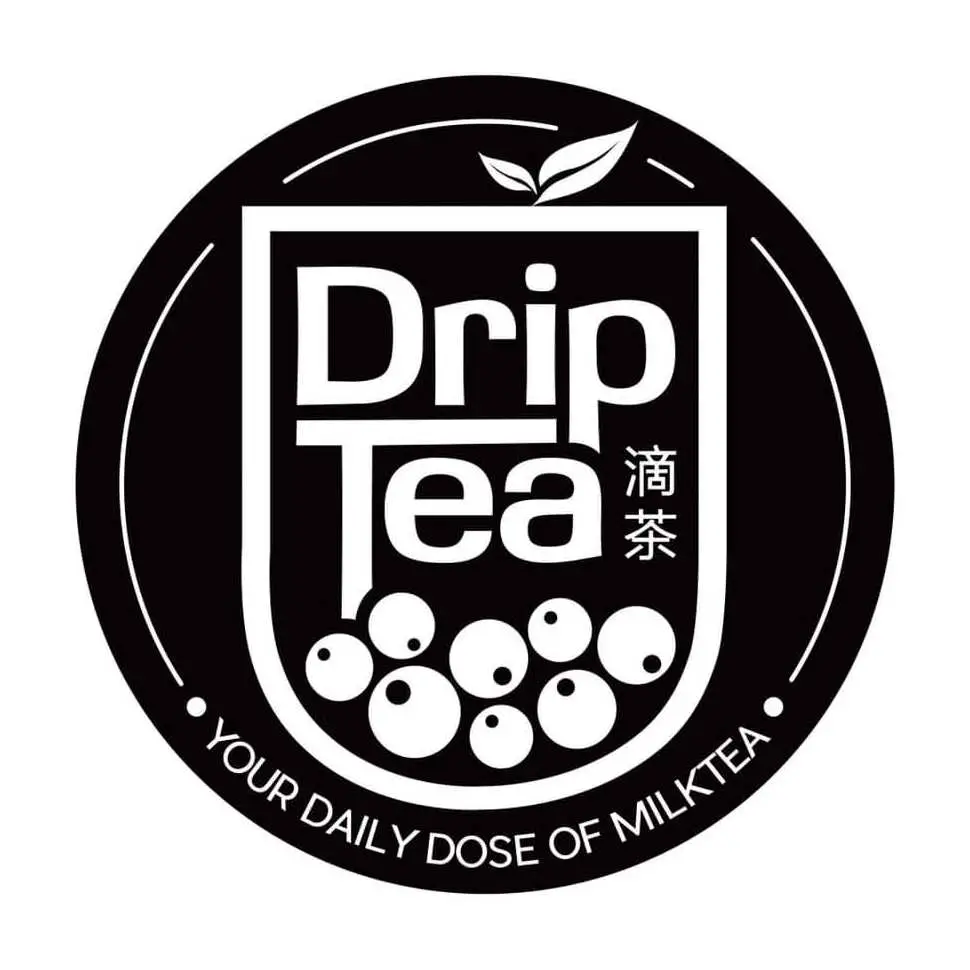 Driptea in Cebu
Cebu is a beautiful island in the Philippines that is well-known for its stunning beaches and crystal-clear waters. But Cebu is also home to something else that is equally amazing. We are all aware that there are all kinds of milk tea drinks available in Cebu but one that stands out is Driptea even if it just recently opened its first branch in Cebu compared to other brands.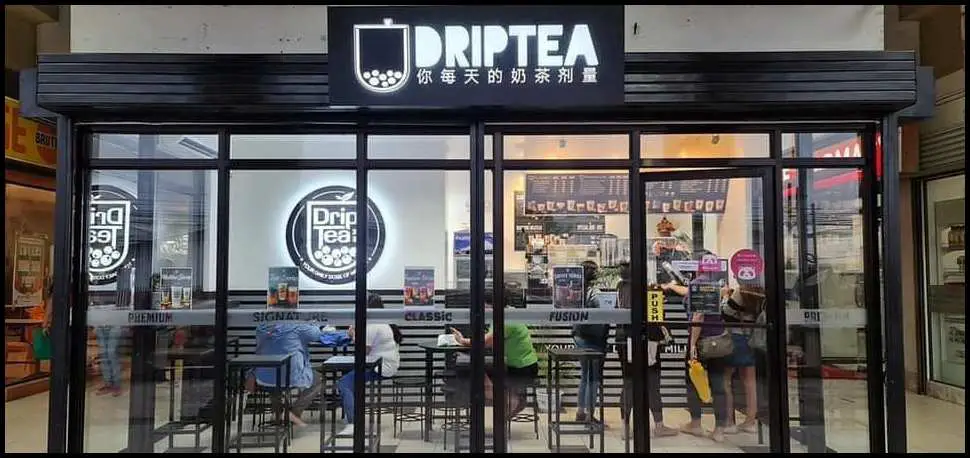 Driptea offers a variety of flavors made with quality ingredients that you can choose from, such as Cheese Latte, Dark Mocha, French Vanilla, and even Caramel Macchiato. Each flavor is carefully crafted to provide customers with a unique experience. Whether it's a cold or hot beverage, you can be sure that the flavor and texture are top-notch.
The Ambiance
Minimalist and modern, the ambiance of Driptea is what sets it apart from other milk tea shops. Its interiors are filled with wooden furniture and enough seating space for you to enjoy your drink while striking up conversations with friends. With its unique look and feel, you can be sure that this shop will easily stand out among other establishments in Cebu.
The Service
On top of its great ambiance, Driptea also offers excellent customer service which is one of the key factors that makes it stand out. The staffs are friendly and accommodating; they take their time to explain the different drinks that they offer and answer any questions you may have. They also make sure that the orders are served promptly.
Branches of Driptea in Cebu
Driptea Pelaez
Address: 40 Pelaez St, Cebu City, 6000 Cebu
Store Hours: 12 PM – 7 PM
Phone: 0967 600 8803
Driptea Tisa
Address: 8V2F+7J3, Katipunan St, Cebu City, Cebu
Store Hours: 11 AM – 9 PM
Phone: 0998 476 3132
Driptea Tree House
Address: R Aboitiz St, Cebu City, 6000 Cebu
Store Hours: 12 PM – 6 PM
Driptea Wireless
Address: Wireless, Hernan Cortes St, Mandaue City, 6014 Cebu
Store Hours: 11 AM – 8 PM
Phone: 0928 621 6706
Driptea Banawa Food and Milktea Station
Address: 8V7J+G29, R. Duterte St, Cebu City, Cebu
Store Hours: 12 PM – 10 PM
Phone: 0931 000 5887
Driptea Pardo
Address: 575 Poblacion, Cebu City, 6000 Cebu
Store Hours: 10 AM – 9 PM
Phone: 0961 630 5558
Driptea Tabok
Address: North Road Plaza, Tabok, Mandaue City, 6014 Cebu
Store Hours: 11 AM – 8:45 PM
Driptea Looc Mandaue
Address: Besides Cebuana Lhulier, A.C. Cortes Avenue Across UCLM, Mandaue City, 6014 Cebu
Store Hours: 9 AM – 9 PM
Phone: 0920 900 6804
Driptea Basak
Address: 7XP9+GFP, Basak-Sudtunggan Rd, Lapu-Lapu City, 6015 Cebu
Store Hours: 11 AM–8:45 PM
Driptea Marina Mall Lapu-Lapu
Address: Mactan Export Processing Zone 1, Block C, Ground Floor, Mactan Marina Mall, Lapu-Lapu City, 6015 Cebu
Store Hours: 9 AM – 9 PM
Phone: 0968 854 1958
Driptea Liloan
Address: Liloan, Cebu
Store Hours: 11 AM – 8:30 PM
Driptea Mandaue Centro
Address: 8WGV+RHF, P.J.Burgos, St, Mandaue City, 6014 Cebu
Store Hours: 12 PM – 8 PM
Phone: 0916 388 4268
Driptea Consolacion
Address: BGErmac Bldg, National Road, Consolacion, Cebu
Store Hours: 12 PM – 9 PM
Phone: 0967 301 6898
Whether you're looking for something hot or cold, they have something that will surely quench your thirst. Be sure to check them out and find out why Driptea is the milk tea shop of choice in Cebu.
The Menu
ICED COFFEE SERIES
Signature Coffee Drinks are specially handcrafted for you.
Caramel Macchiato
Cheese Latte
French Vanilla
Spanish Latte
Iced Coffee
Dark Mocha
CLASSIC MILK TEAS
Authentic Classic Milk Tea Drinks, consist of authentic flavors from Taiwan.
Pearl Milk Tea
Okinawa Milk Tea
Uji Matcha
Hokkaido Milk Tea
Thai Milk Tea
Wintermelon Milk Tea
PREMIUM MILK TEAS
Premium Milk Tea drinks are specially handcrafted by our CEO and Founder.
Chocolate Mousse
Oreo Cheesecake
Nutella Milk Tea
Brown Sugar Latte
Cheesecake Milk Tea
Black Wintermelon
SIGNATURE MILK TEAS
Signature Milk Tea drinks consist of signature powder and mixture.
Taro Cheesecake
Purple Taro
Cookie Dough
Red Chocolate
FUSSION DRINKS
Fussion Drinks are the signature fruit tea juice drinks.
Aurora Passion
Mango Sunset
Northern Yogurt
Sunrise Lychee
DARK COCOA SERIES
Cocoa Series is one of the best series we have here in Driptea.
Supreme Cocoa
Dark Oreo Mousse
MATCHA SERIES
Classic Uji Matcha with a twist.
Oreo Matcha
Matcha Black Mousse
Matcha Latte
THAI SERIES
Classic Thai Milk Tea drinks with a twist.
Thai Cheesecake
Thai Latte
Thai Black Mousse
COFFEE SERIES
Diptea's Signature coffee blends are specially handcrafted for customers who are coffee lovers!
Coffee Milktea
Brown Sugar Latte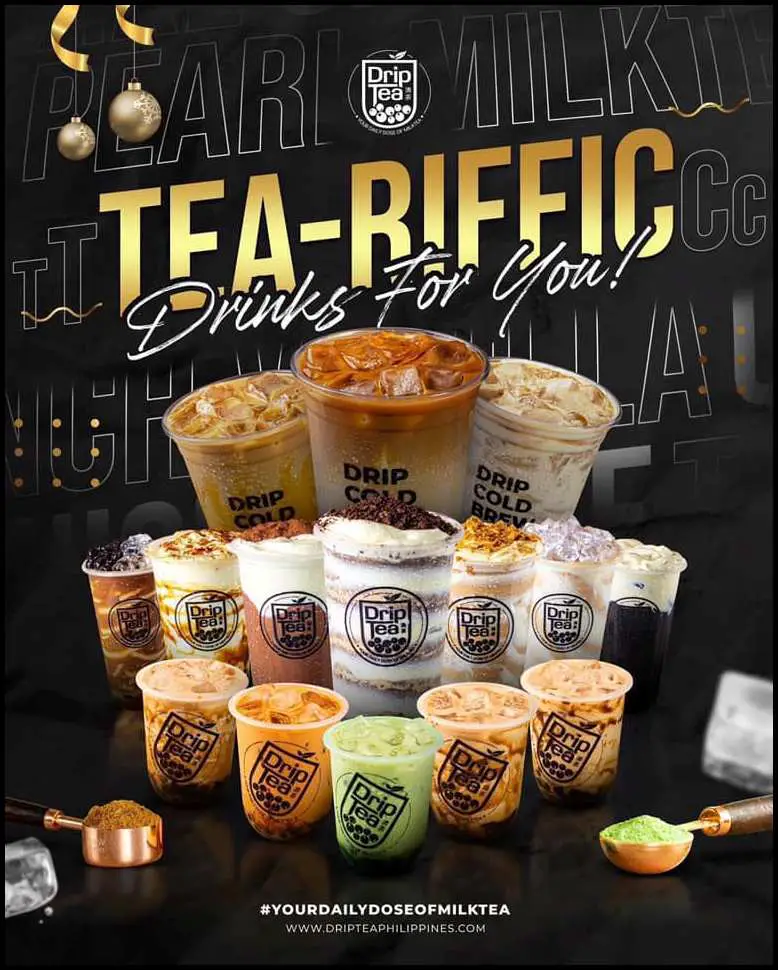 Thirsty? or Craving something to drink? Look no further, Driptea is here to satisfy your needs!
Contact Details
Website: https://dripteaphilippines.com/
Email: syncytiacorp@gmail.com
Phone Number: 0953 177 3443
Facebook: https://www.facebook.com/DripteaCebuMain/
SUMMARY
Cebuanos are known for their love of all things food, and this extends to their beverage preferences as well. While Cebuano cuisine is fairly diverse, one thing that Cebuano can agree on is their love of milk tea. This affection for milk tea has given rise to several local businesses, one of which is Driptea. Good thing that there is Driptea in the Philippines, a one stop shop for all your milk tea needs! With several branches located across Cebu City, Mandaue City and Lapu Lapu City, you can easily find a store near you.
Mission
To create a wide variety of tasty and refreshing milk tea drinks at high quality products for a healthier lifestyle at a reasonable price.
Vision
To provide and maintain the best milk tea made from the finest ingredient to cater to society's needs at their favorite flavor. Thus, to inspire and connect people around the globe.