We had lunch at Dessert Factory and really enjoyed the meal offerings available from their menu. The name itself suggests that the specialty are cakes, sweets and other desserts, but this cafe also has plenty of food items that can rival other restaurants in Cebu.
Also Read: Desserts at Cold Stone Creamery in Ayala Cebu
Located at the 2nd level of the Terraces in Ayala Center Cebu, Dessert Factory has long been a favorite among Cebuanos for their desserts. But my wife and I would keep visiting the restaurant whenever we are craving for pork, just because we feel that their boneless crispy pata is top-notch!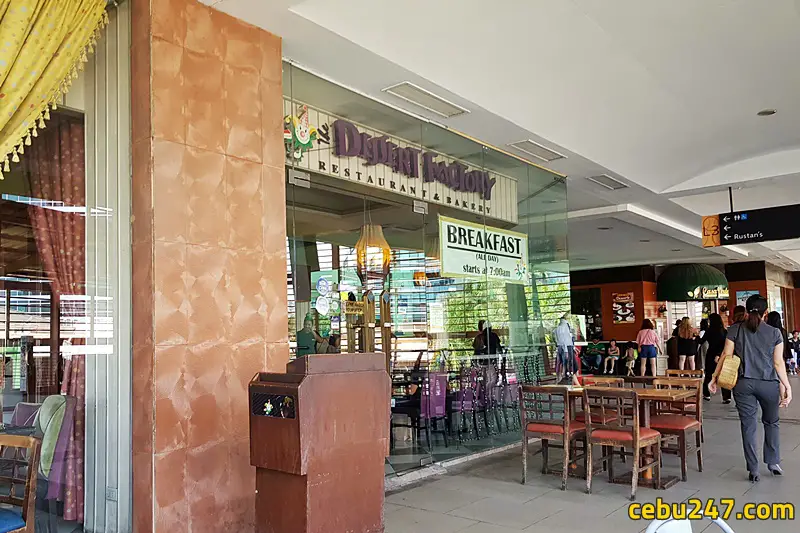 2nd level of The Terraces
Dining at Dessert Factory in the Terraces of Ayala Cebu
In another foodtrip feature, we would like to recommend the pork knuckles meal of Dessert Factory. During our stay in Cebu, we visited the restaurant about 3 times, and each time we ordered this delicious (and dangerous – highblood lol) meal.
To be honest, we initially planned on dining at Casa Verde which is just opposite of Dessert Factory. But there were plenty of people there and we did not want to wait in line so we ended up eating at the latter.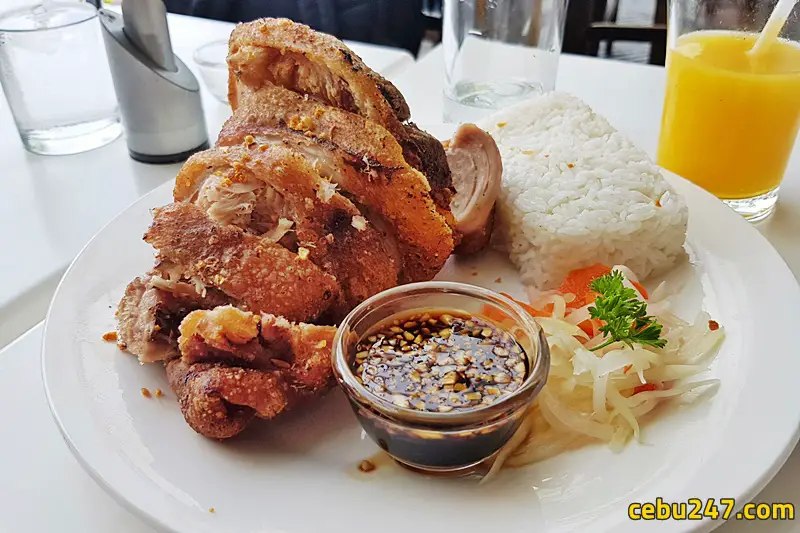 pork knuckles from Dessert Factory
Boneless Crispy Pata
I remember actually eating their Boneless Crispy Pata 6 to 7 years back and enjoyed it then. This time they are still consistent with the taste and crispiness of the fried dish. There's two servings, medium and large, of course, we chose the bigger one.
Consistency in taste and serving, this is one thing i noticed during three instances we dined at Dessert Factory branches ( two at their Ayala branch and once at their SRP branch).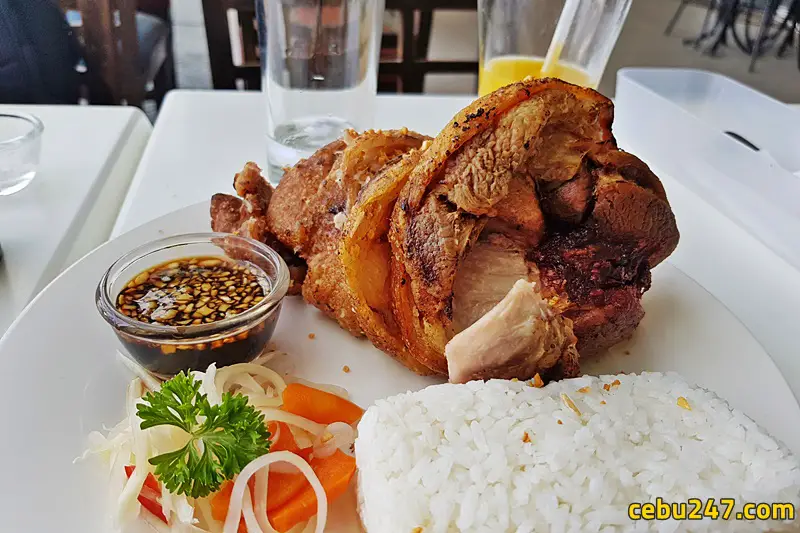 Grilled Pork Belly
During another lunch time, another meal we ordered was the Grilled Pork Belly. My brother had this one and this is also good.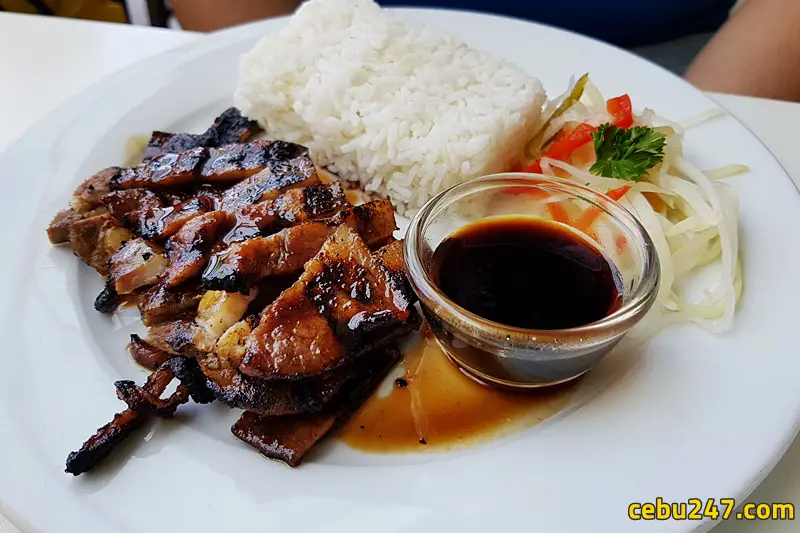 Grilled Pork Belly
Mango Shake – Mango Slush
Another thing we also recommend you ordering is their fresh and sweet mango slush shake. I normally inquire if the shakes are really ripe. After all, we are in Cebu where mangoes are a staple fruit.
I'm a bit picky when ordering shakes because sometimes they are not as ripe as I want them to be. But I was really satisfied with it. Order the one without the milk to really enjoy the ripeness. 🙂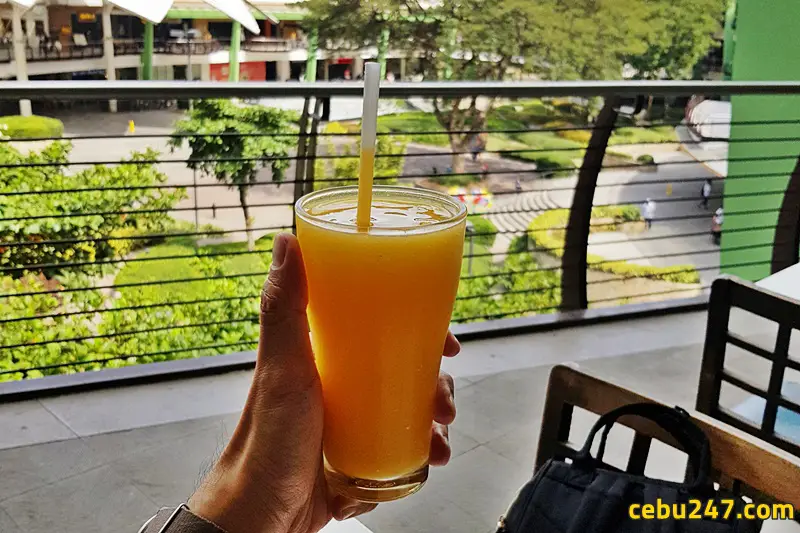 delicious ripe mango slush!
Other Food Items we Ordered
While the main highlight of our lunch were the ones above, we also ordered a few other dishes, which included the Factory Salad for appetizer, another pork meal – Grilled pork belly (really good also!) and Seafood Puttanesca.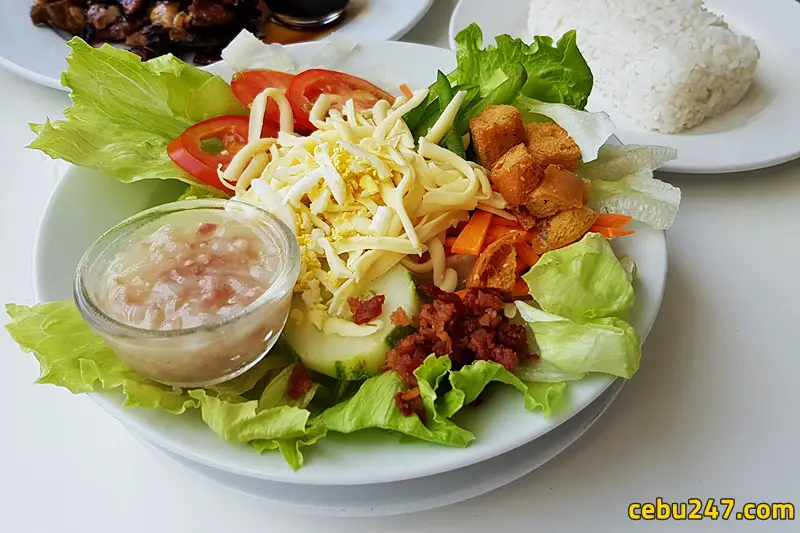 Factory Salad – Iceberg lettuce topped with tomatoes, cucumbers, carrots, bacon, egg, green peppers and cheese with Hot bacon dressing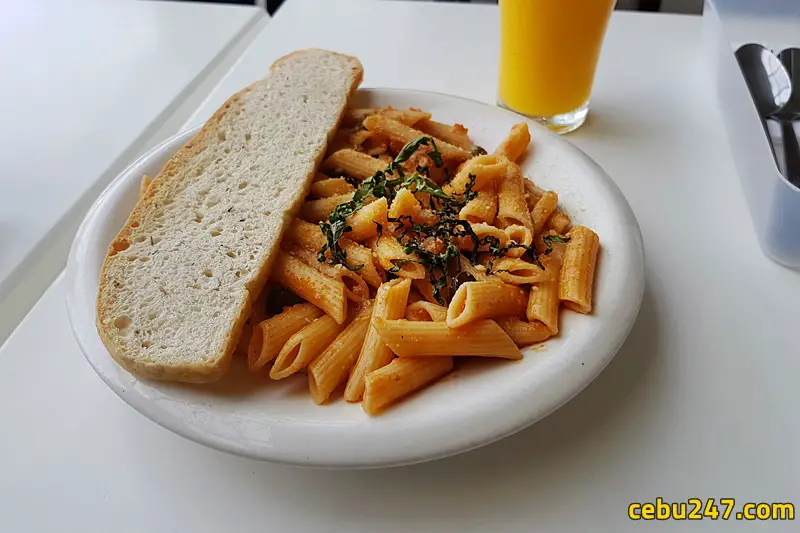 Pasta – Seasfood Puttanesca
Desserts
For desserts, we ordered two of their ice cream cakes – Banana Split Ice cream cake and the Mango Dream Pie.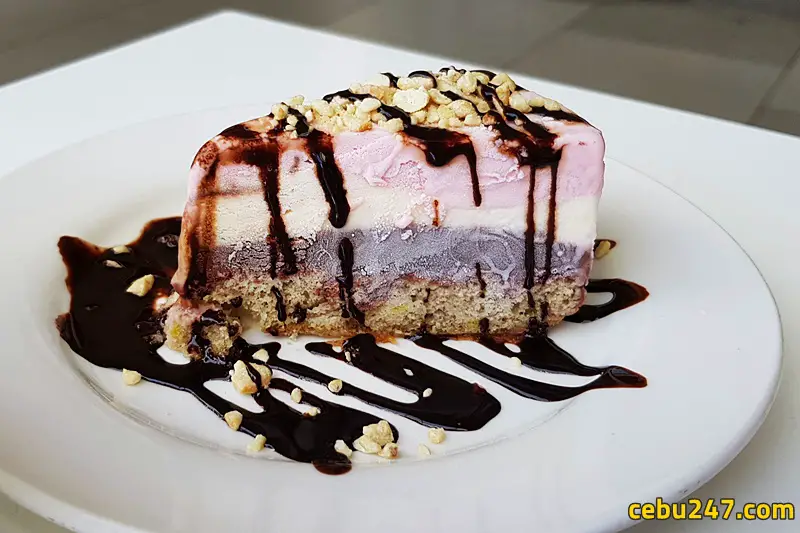 Banana Split Ice cream Cake – Banana cake covered with chocolate, vanilla, and strawberry ice cream finally topped with toasted nuts and fudge sauce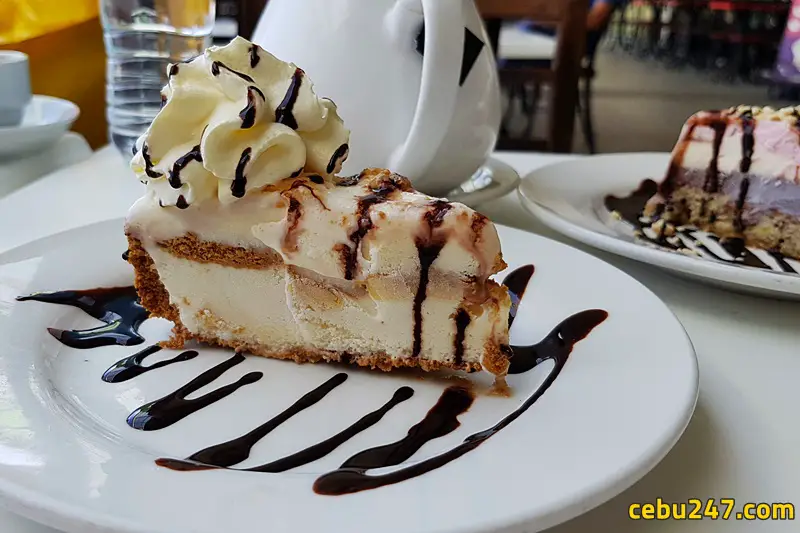 Mango Ice "Dream" Pie – just like a mango float but with a vanilla ice cream instead of whip cream
List of Dessert Factory Branches in Cebu
While we ate in two branches, here's a list of Dessert factory in Cebu. You can dine at the following places:
Ayala Center Cebu
Address: The Terraces, Cebu Business Park, Archbishop Reyes Ave, Cebu City
Phone: +63 32 233 2351
Lahug 
Address: SSY Business Center Salinas Dr, Cebu City
Phone: +63 32 260 7592
Ramos
Address: in front of Cebu Institute of Medicine
Phone: +63 32 231 9800
Parkmall
Address: Mandaue City
Phone: +63 32 345 9800
IL Corso Lifemall
Address: Cebu South Coastal Rd, Cebu City
Phone: +63 2689800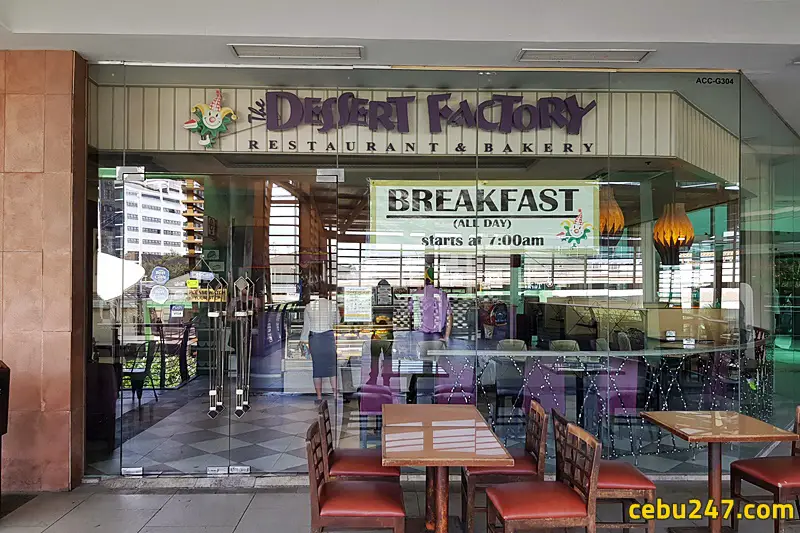 Dessert Factory in Ayala Terraces
While we also ordered desserts and other times, the highlight of our lunches at Dessert Factory have always been the main menu.
We wouldn't hesitate dining again at Dessert Factory especially if we are craving for some crispy pata. It's definitely something we recommend especially those craving for pork.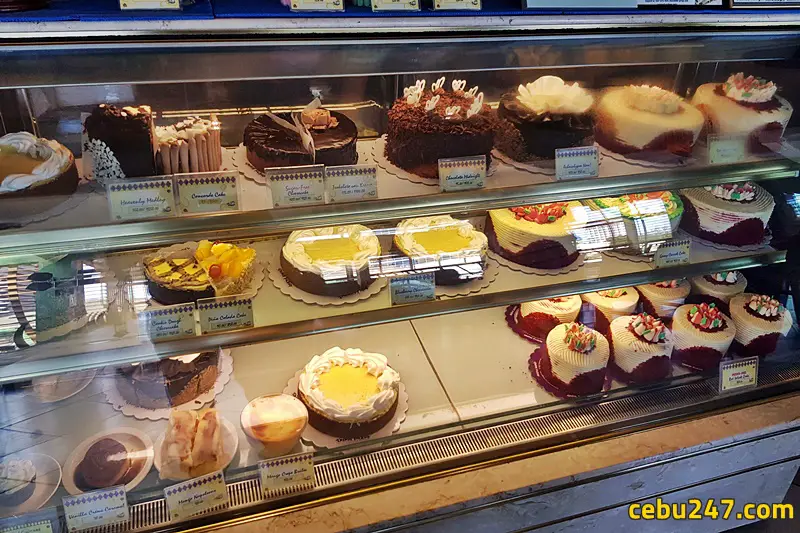 cakes at Dessert Factory
Contact Information
Address: The Terraces, Cebu Business Park, Archbishop Reyes Ave, Cebu City
Phone: +63 32 233 2351
Location Map
Please check out the map guide below of The Terraces in Ayala Center. Dessert Factory branch is located on the 2nd level – opposite Casa Verde. A level higher than BreadTalk