Chateau de Busay in Cebu is a stunning location for any celebration or special occasion. Surrounded by lush greenery, this luxurious estate provides the perfect setting for memorable events such as weddings, birthdays, anniversaries, and corporate gatherings. With its elegant interiors, scenic views, and impeccable service, Chateau de Busay ensures that every event is a dream come true.
Also Read: La Vie Parisienne Cafe in Lahug, Cebu
The chateau's team of experts can help you with all the details, from decor and catering to music and entertainment, making sure that your celebration is truly special. Whether you're looking for an intimate private gathering or a grand affair, Chateau de Busay will exceed your expectations and provide an unforgettable experience.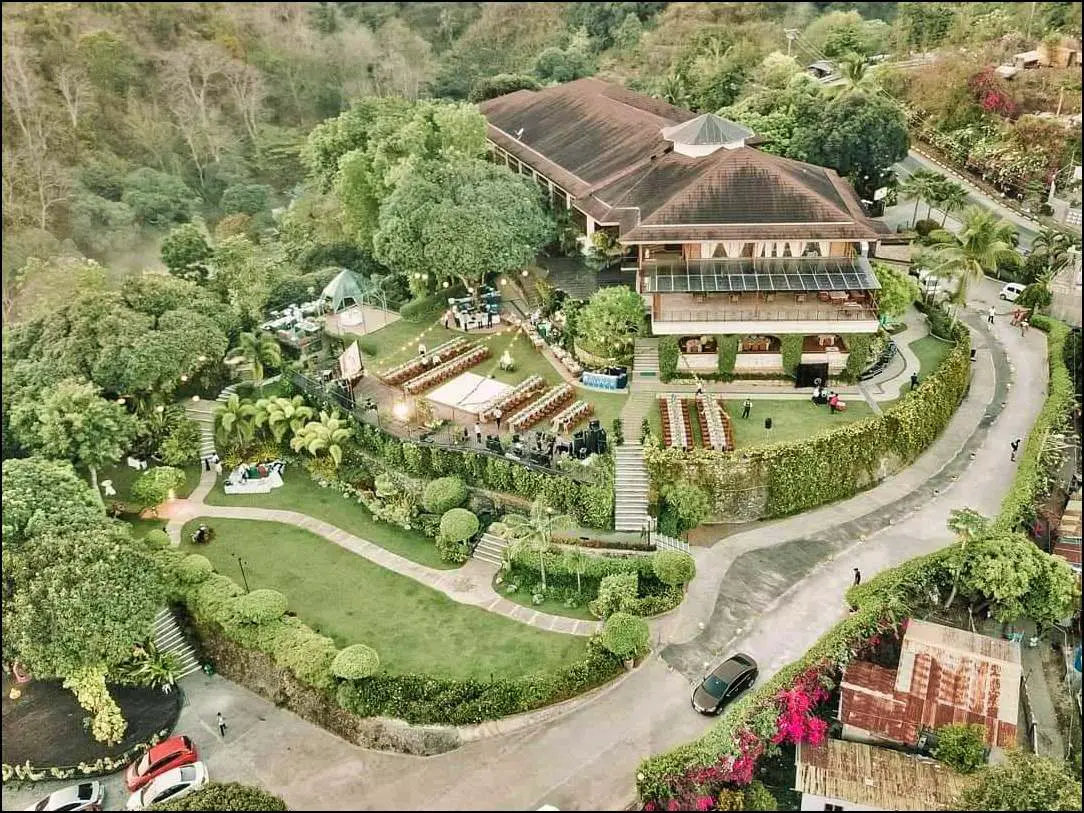 Who owns Chateau de Busay?
Chateau has been under the ownership and management of the family of late Cebuano businessman Victor Uy since 1991. The renovation and expansion of the Chateau were spearheaded by his wife Nonie in 2004 and 2013, resulting in gorgeous party areas suitable for intimate proposals and large-scale celebrations.
Also Read: Balay Sa Busay Restaurant: A Slice of Heaven in the Hills
Why is Chateau de Busay a great choice for celebrations?
Chateau de Busay offers an array of amenities and services to make your occasion as special as possible. The chateau can easily cater to events ranging from small private dinners to grandiose corporate gatherings, with plenty of options for décor, entertainment, and dining. Its on-site team will make sure that your celebration runs smoothly and is as stress-free as possible.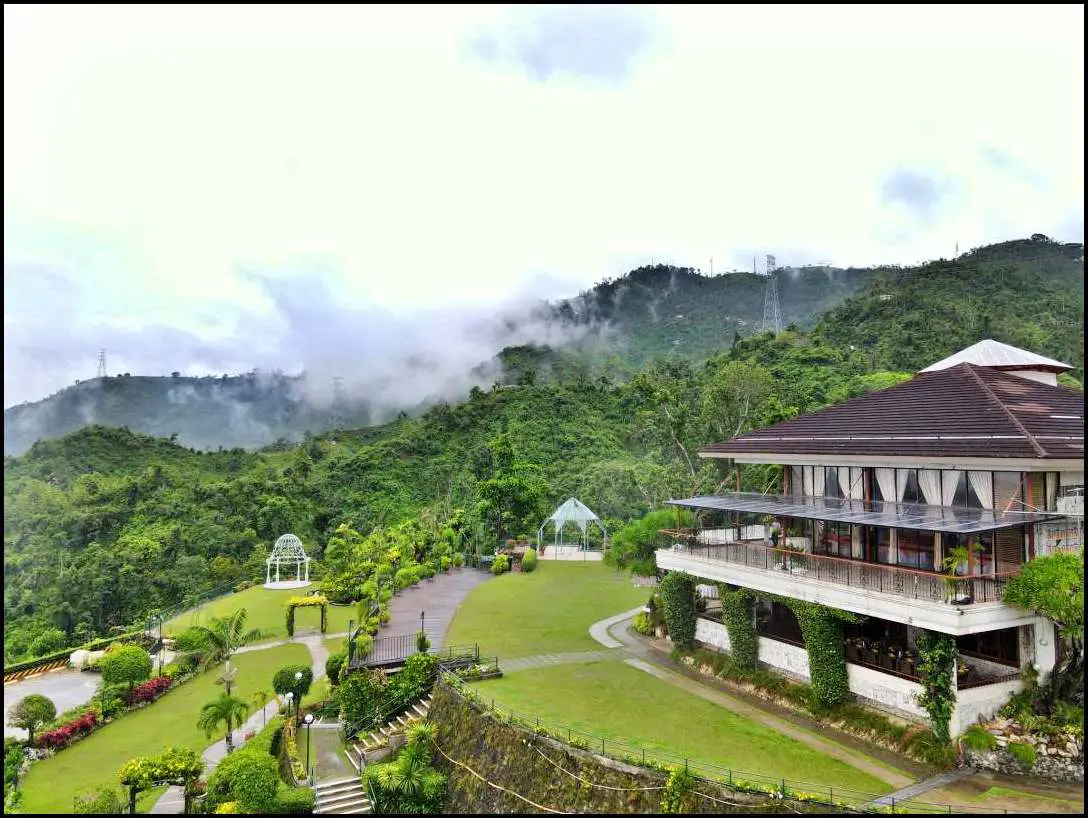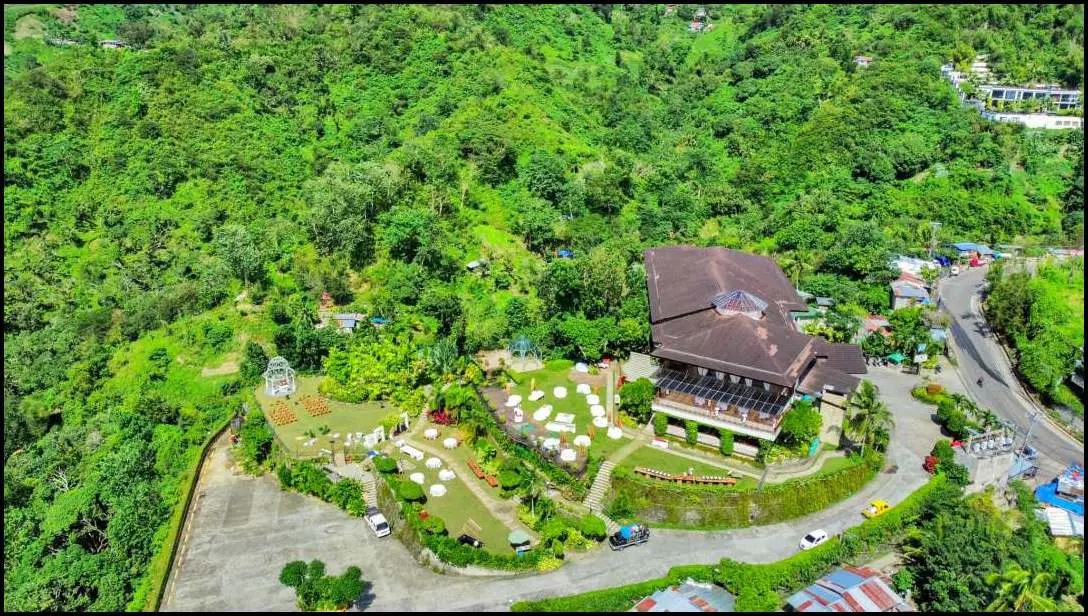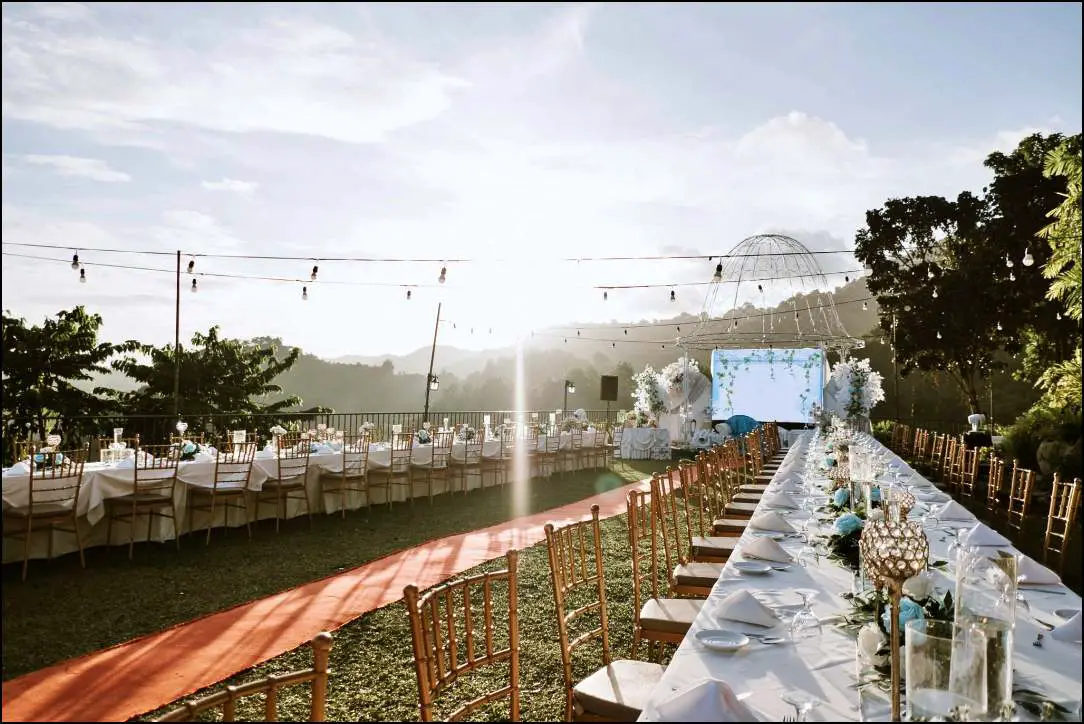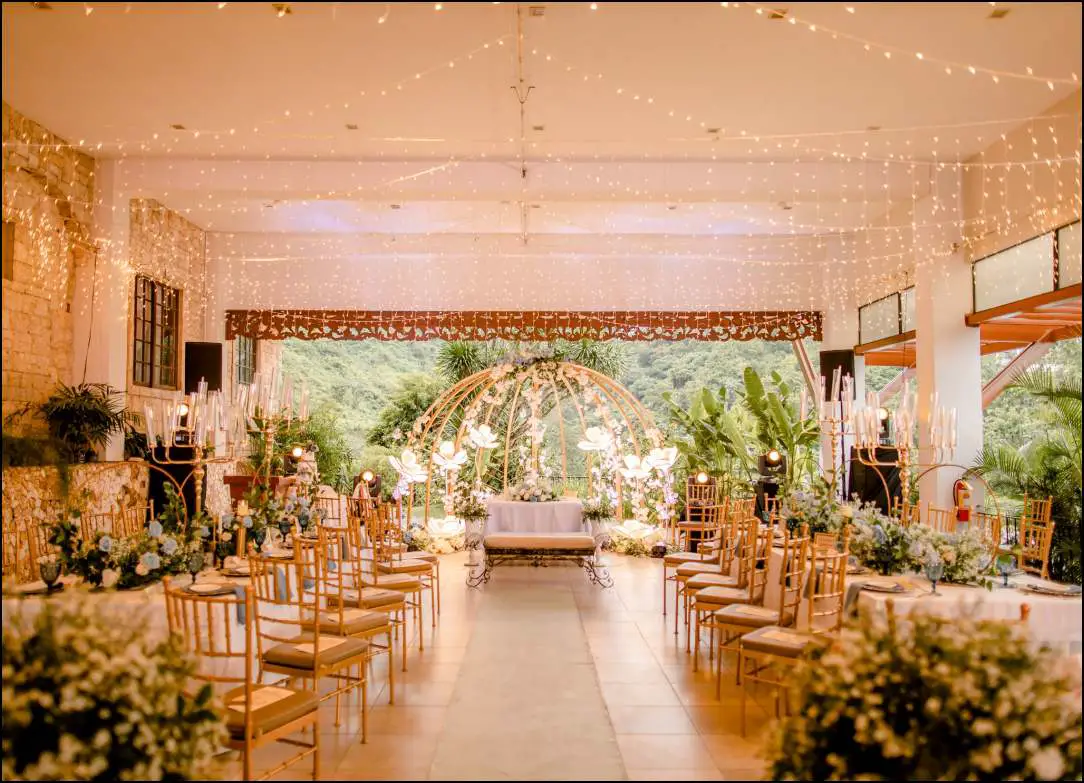 Chateau de Busay Restaurant
Chateau de Busay has great food. You can get delicious Angus steaks, fresh seafood from the Visayan seas, and vegetables from the hills of Busay. It is surrounded by nature and very special! The Chateau has a lot of different wines in their cellar. Guests have many delicious options to choose from.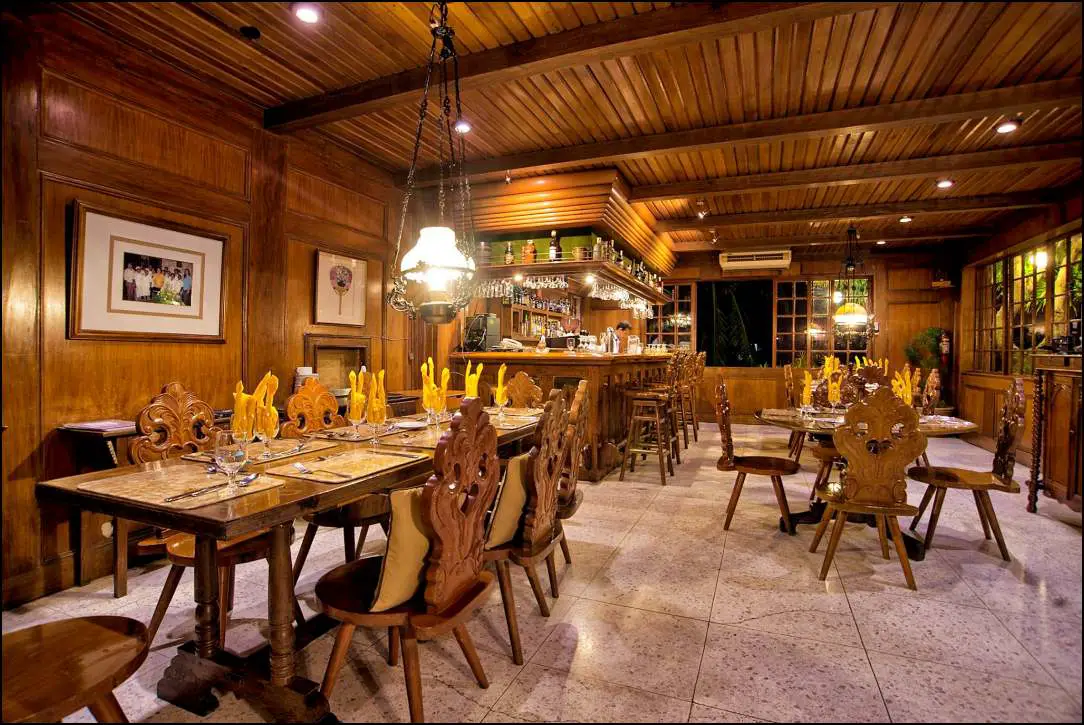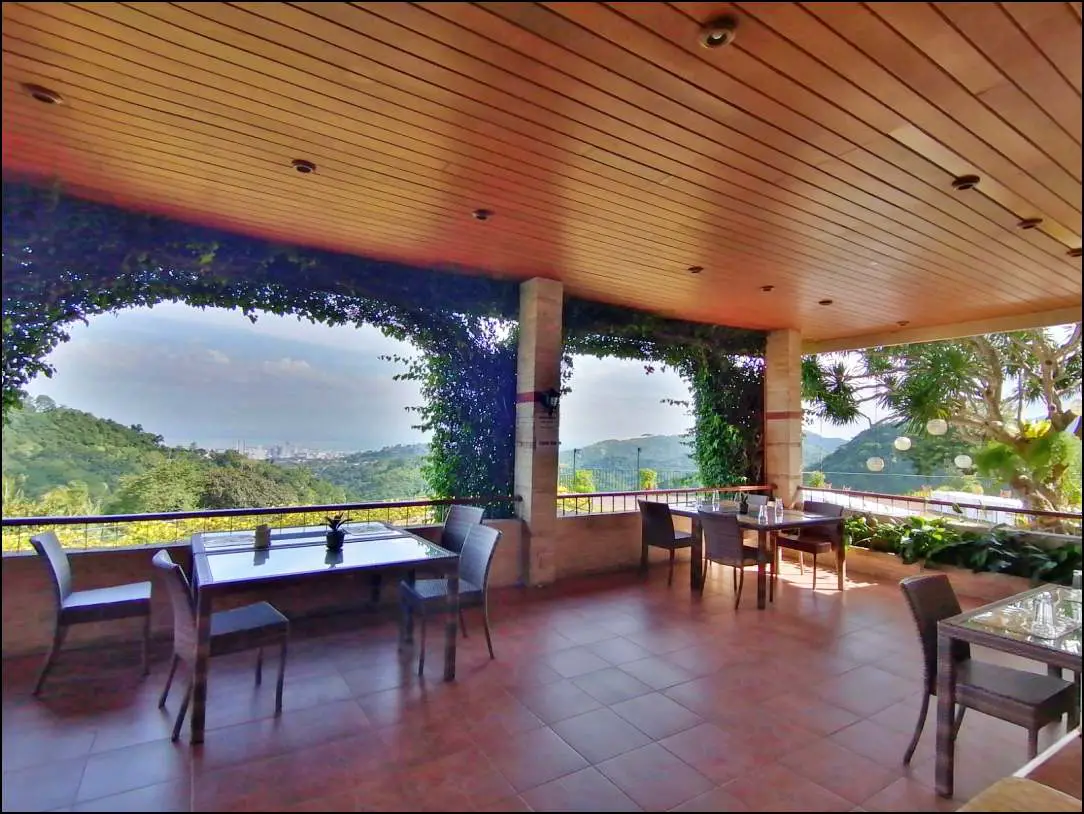 Operating Hours: 11:00 am to 11:00 pm.
Guest can choose to eat outside on the Veranda or inside in the air-conditioned dining room.
THE FOODS
Here are the top choices from the Chateau de Busay menu:
STEAK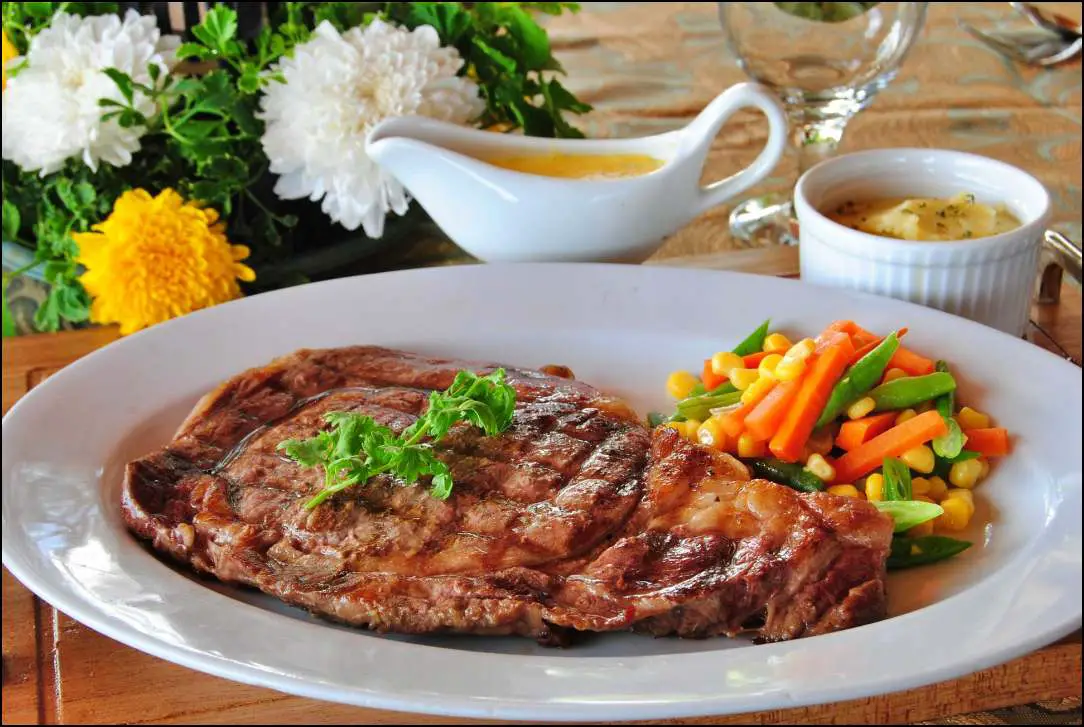 SEAFOOD PLATTER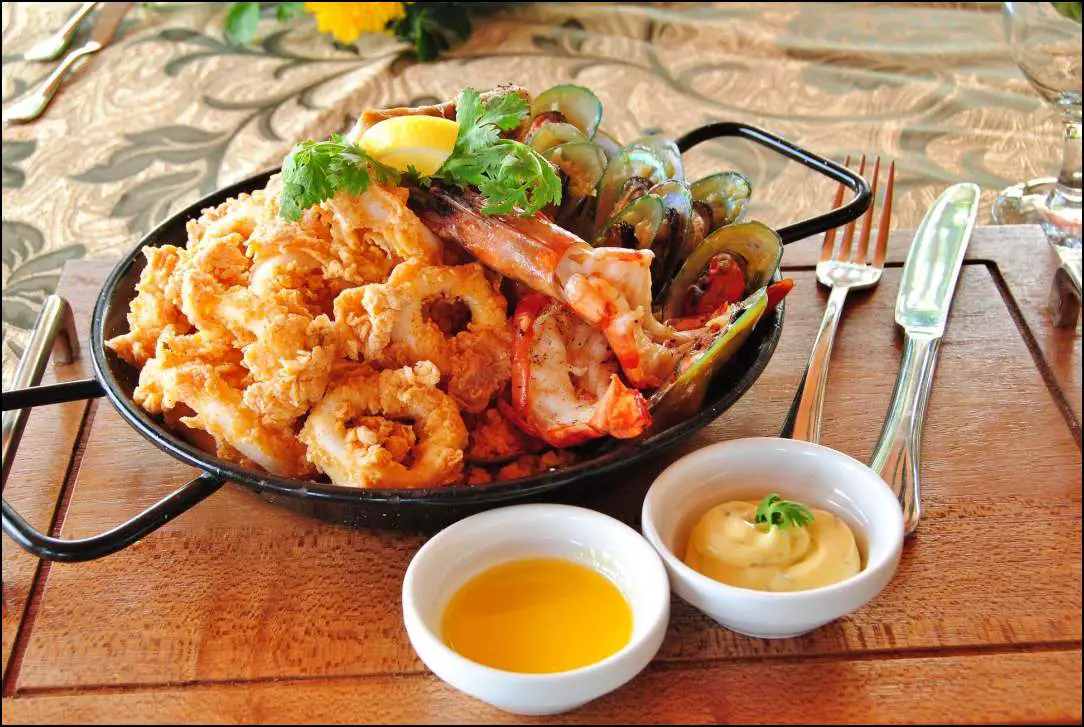 ROASTED GARLIC-INFUSED CHICKEN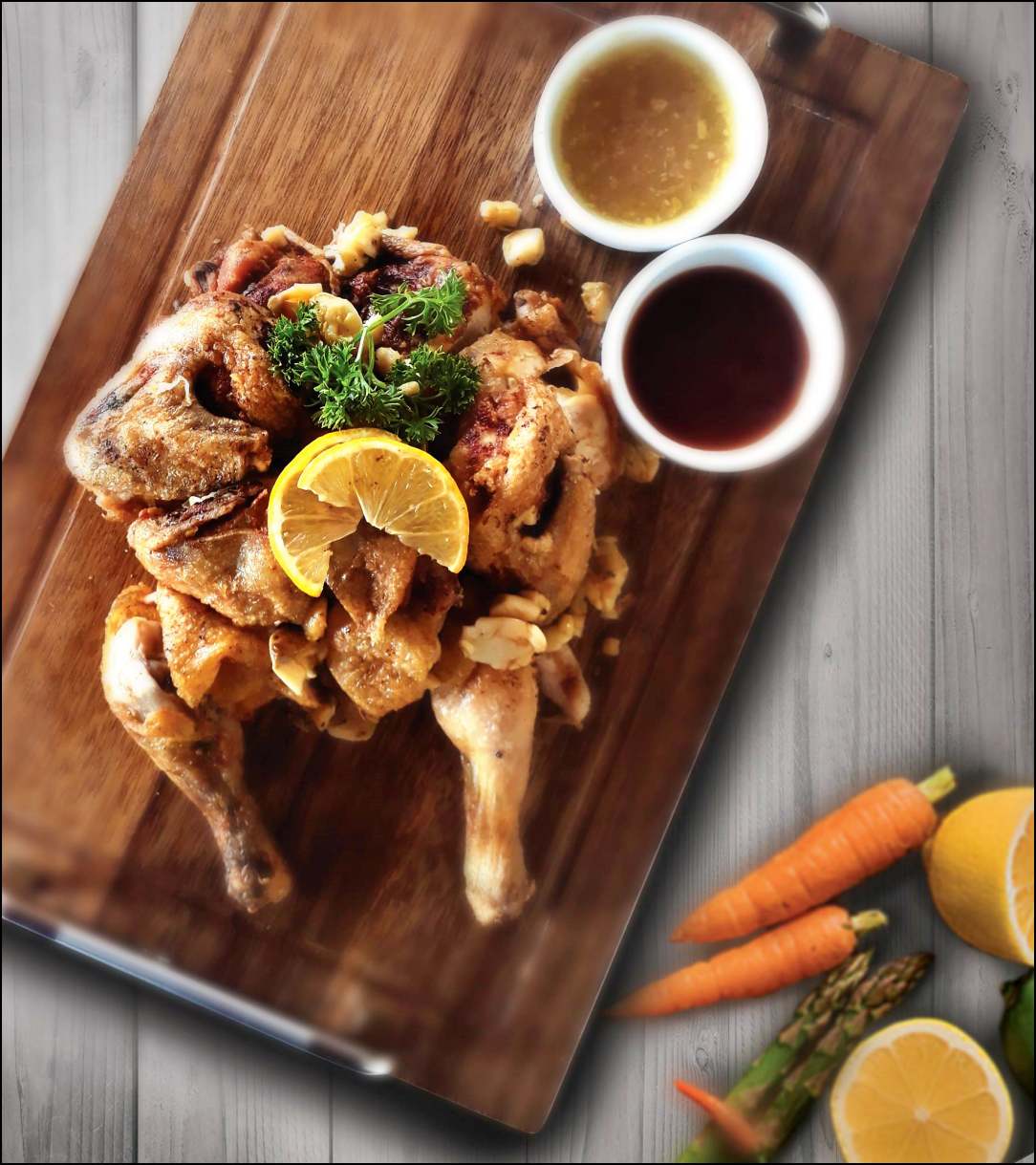 HUMBA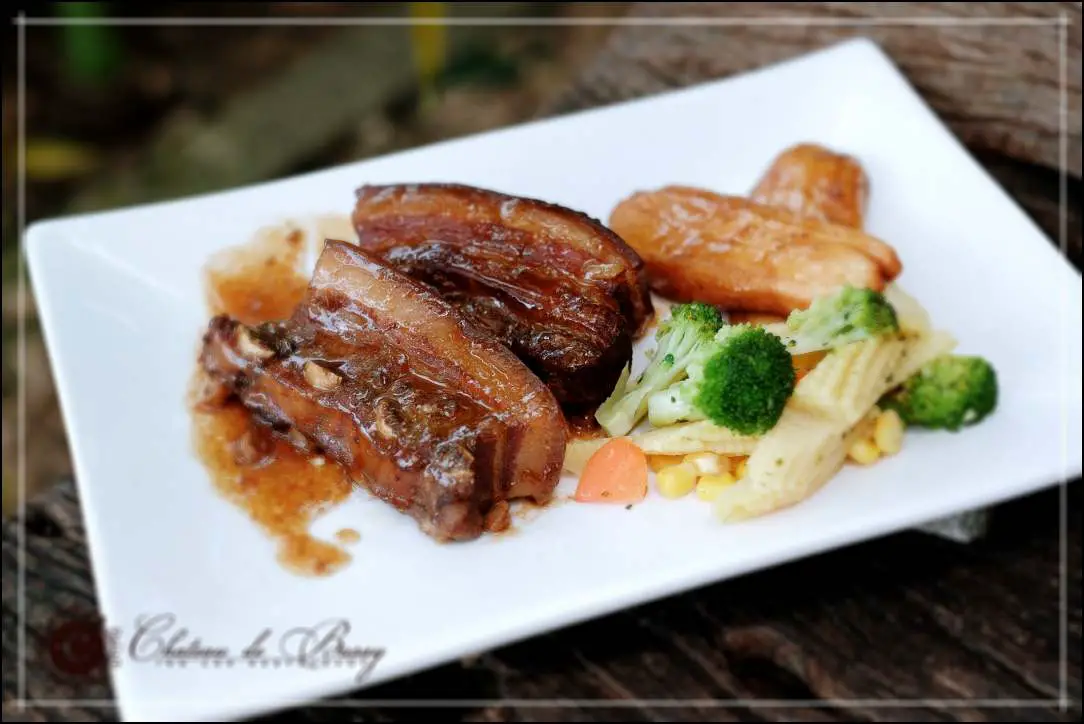 SEAFOOD PAELLA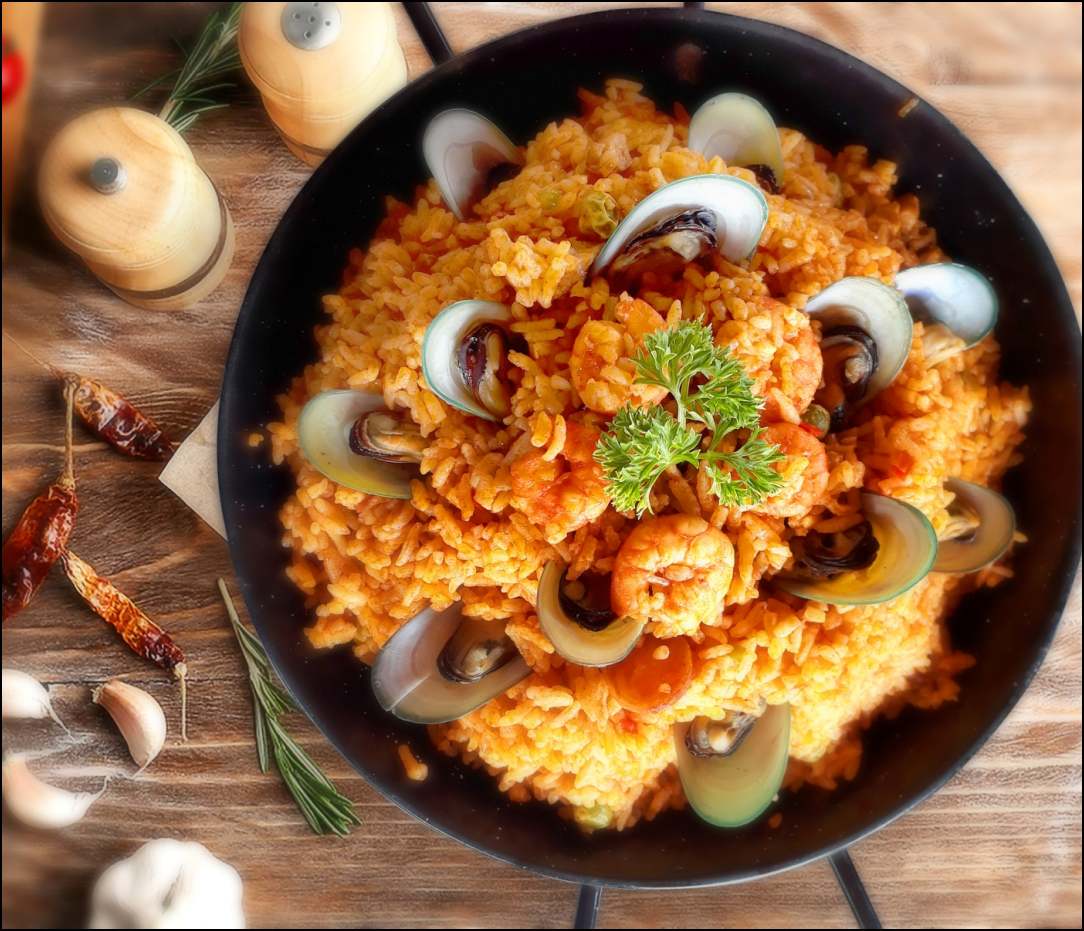 PIZZA DU CHATEAUX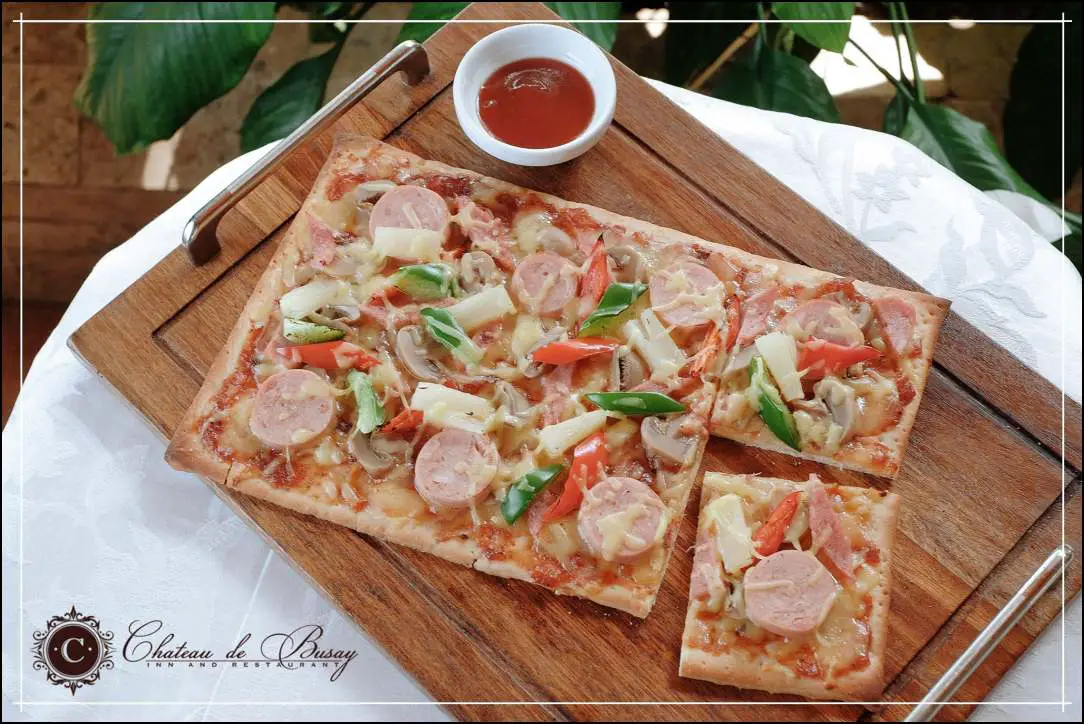 Chateau de Busay Rooms
You can spend a relaxing day reflecting and then retire to one of our seven fully furnished twin-sharing rooms equipped with air conditioning, hot and cold showers, cable TV, WiFi, and a complimentary breakfast for two. These amenities are included with your wedding event package to ensure that your stay at Chateau de Busay is a pleasant memory.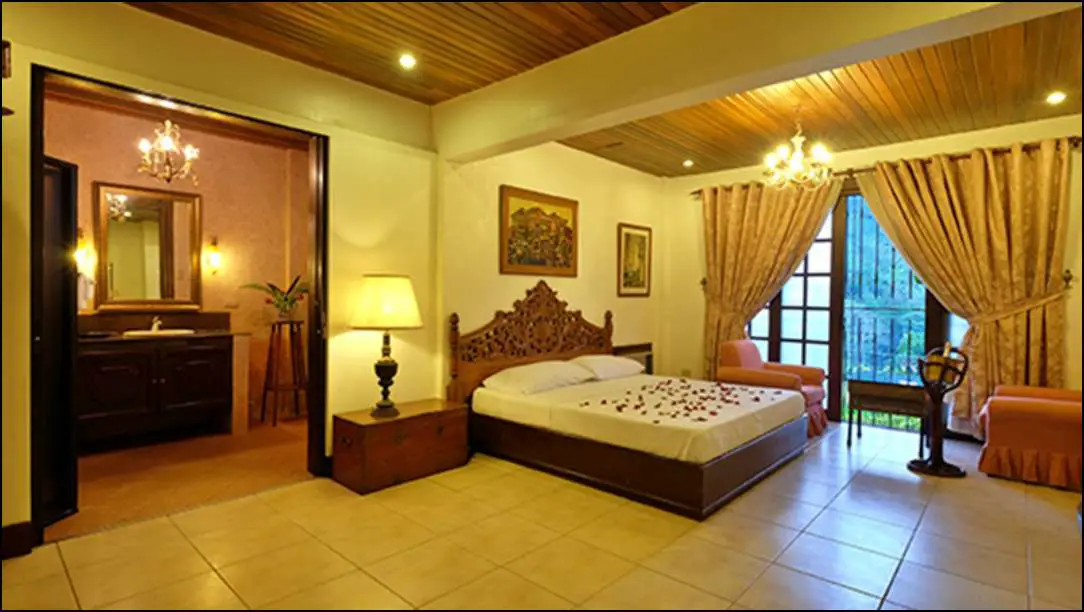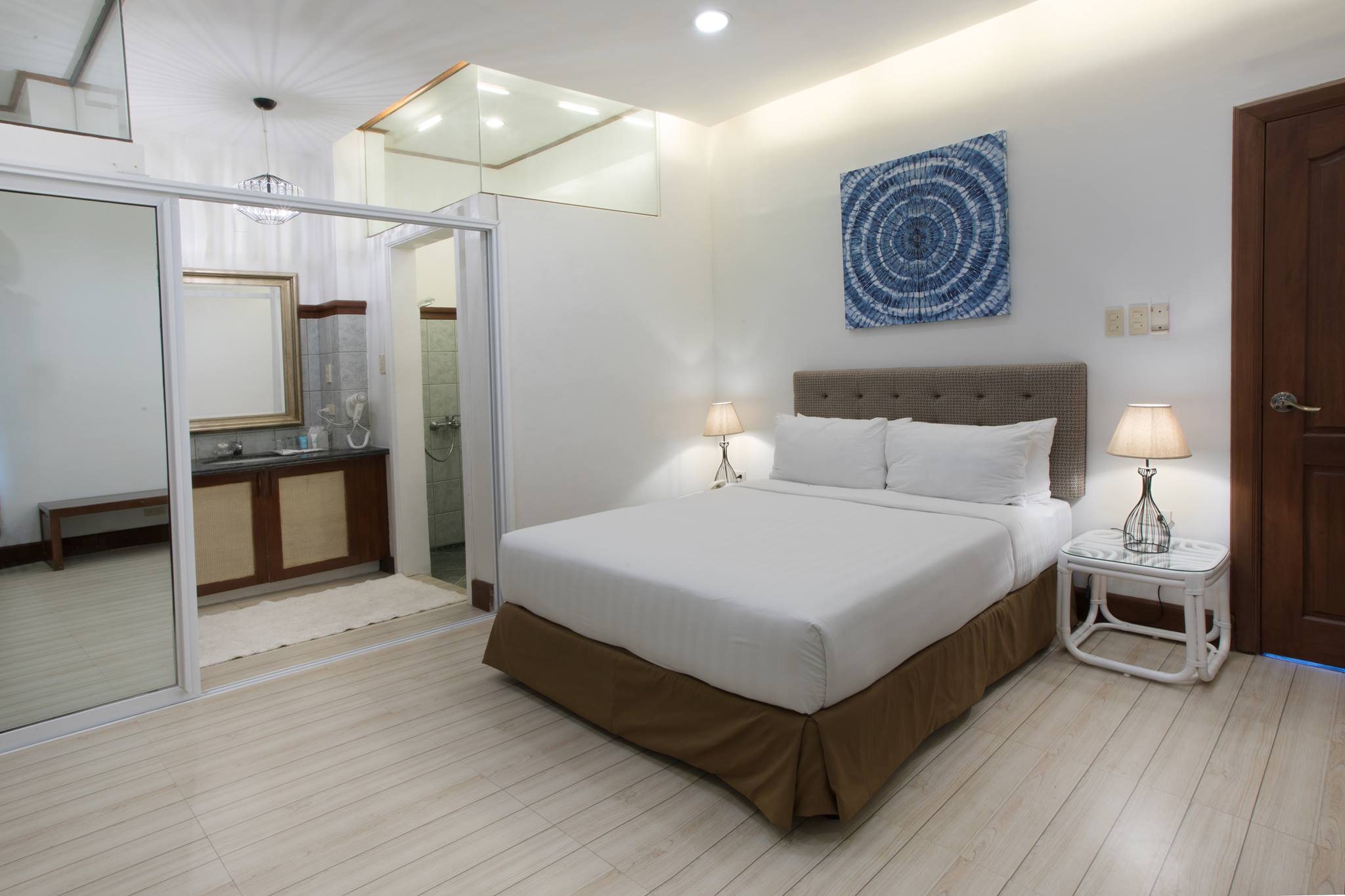 The Party Venues
There are 5 party venues available at Chateau de Busay:
City View Garden & Gazebo
City View Garden is a great place to have special events like weddings, sweet 16s and bridal showers. It can fit up to 350 guests and has a beautiful mountain view of the city. There is also a glass gazebo that is perfect for proposals or pictures of the bride.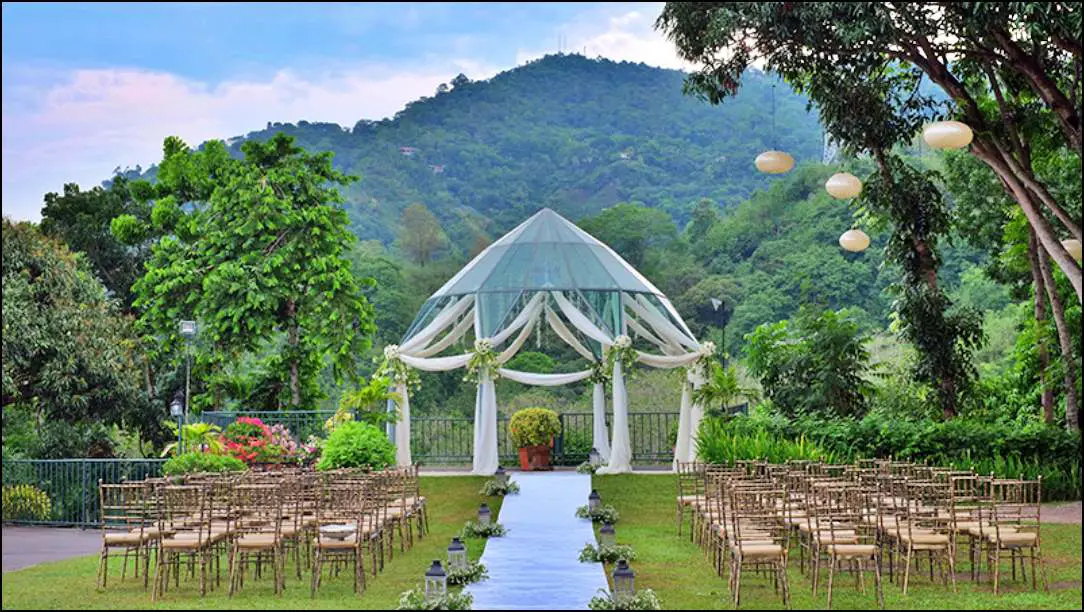 Lower Garden with Waterfalls Gazebo
The Lower Garden with Waterfalls_Gazebo is a great place to have a garden ceremony, wedding reception, or outdoor party. It can fit up to 200 people. The area has lots of plants and big trees which make it look nice.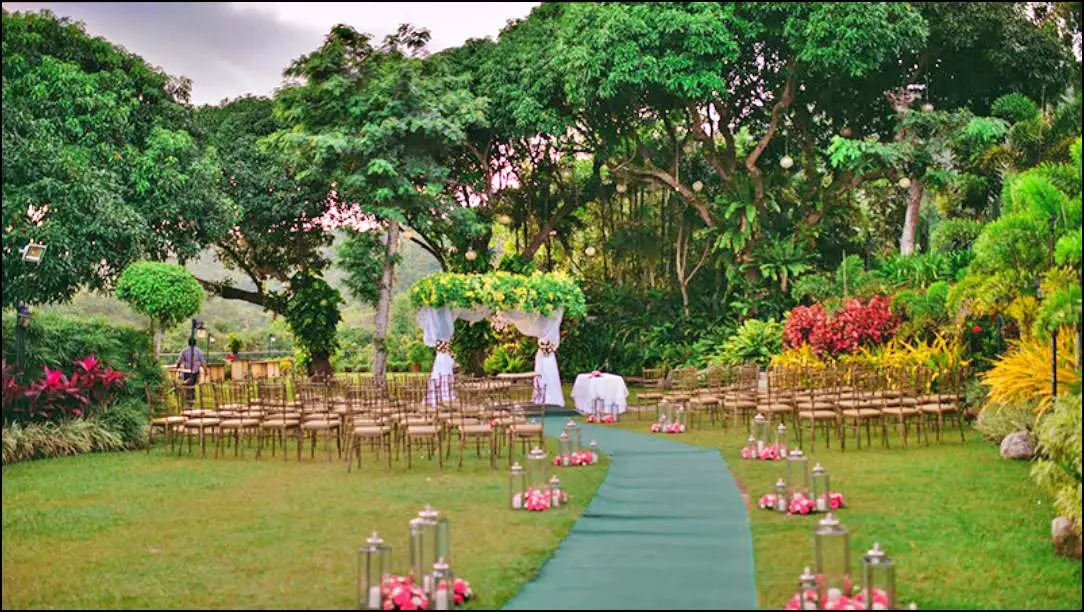 The Rooftop
The Rooftop is a great place for small parties with up to 100 people. It has both indoor and outdoor spaces. It is perfect for special occasions such as wedding anniversaries, baptisms, or your child's first birthday party.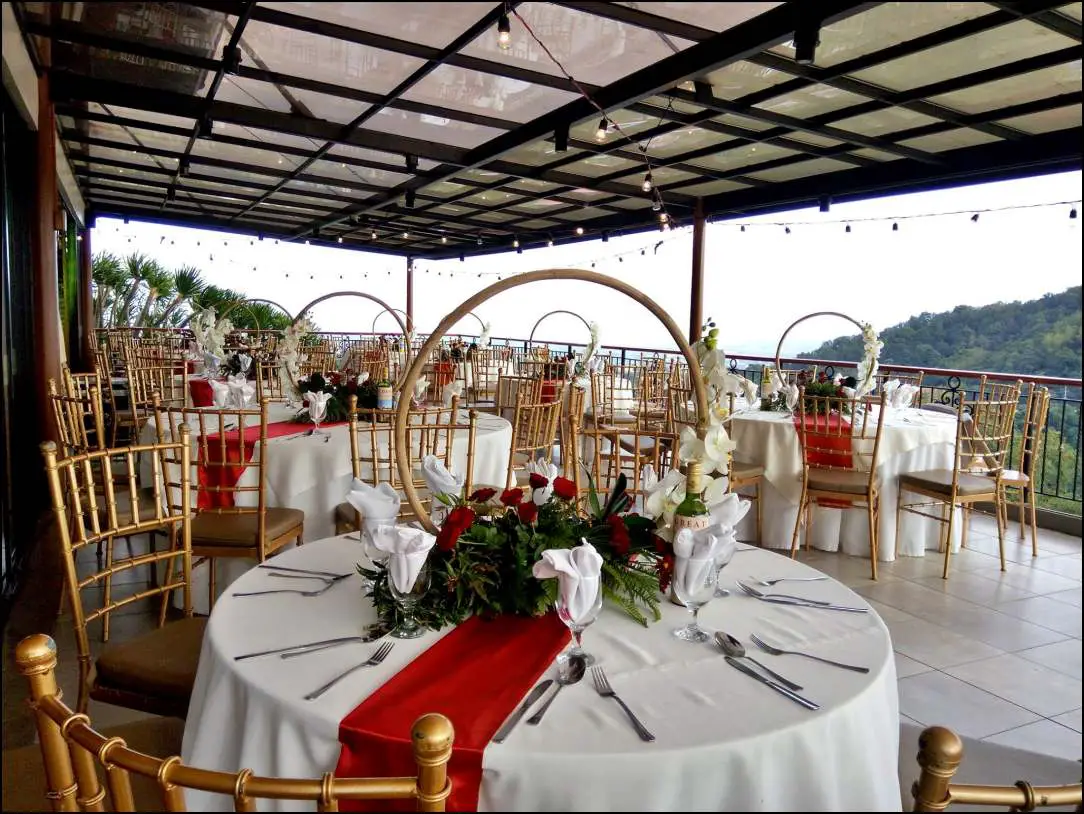 Garden Hall
The Garden Hall is an indoor place with 200 seats. It has Filipino decorations like old chandeliers, wooden carvings, and windows made of capiz shells.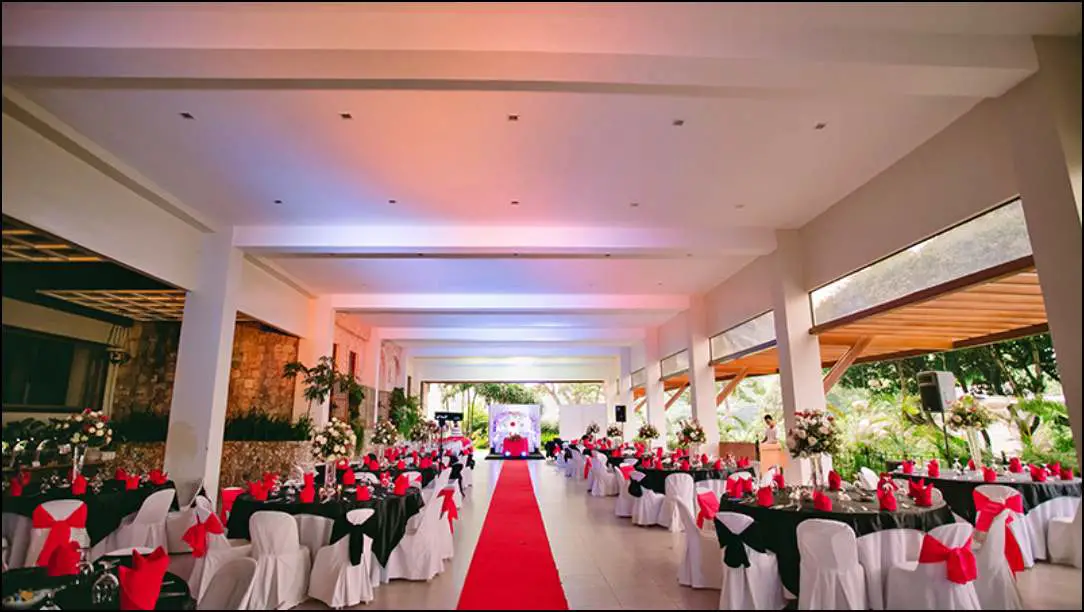 Upper Hall
The Upper Hall can fit 300 people. It can also be divided into smaller parts so it can fit up to 150 people. Even though it is inside, the windows show a lot of beautiful plants and nature. It looks like you're outside!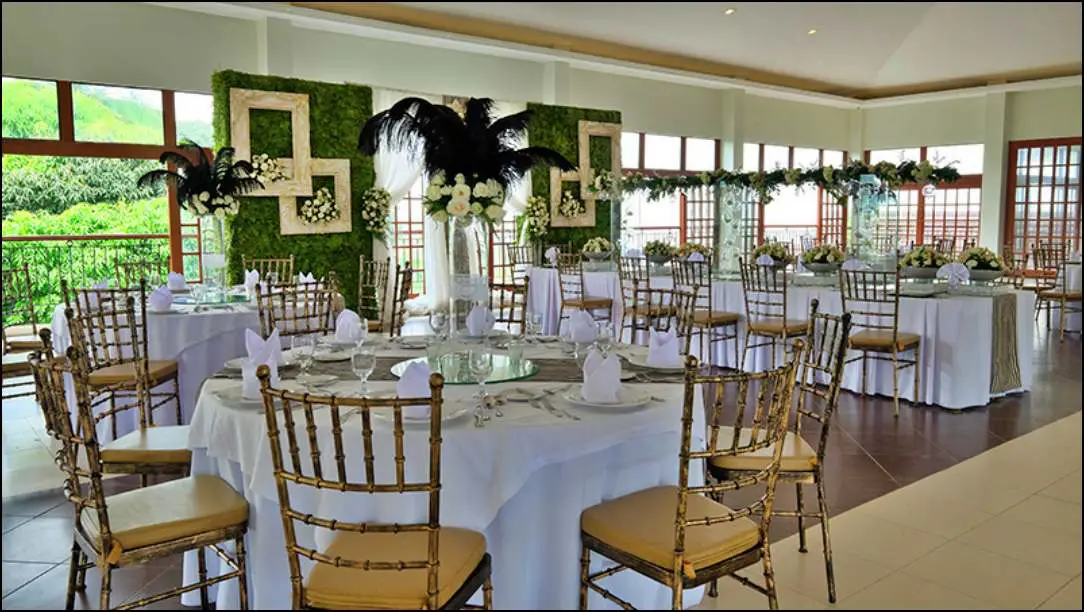 These venues make Chateau de Busay the perfect venue for any celebration. With its stunning scenery, impeccable service, and delicious food, it is sure to make your special occasion truly unforgettable. So come visit Chateau de Busay and have a celebration you'll never forget!
The Packages
Event Package
Event Rates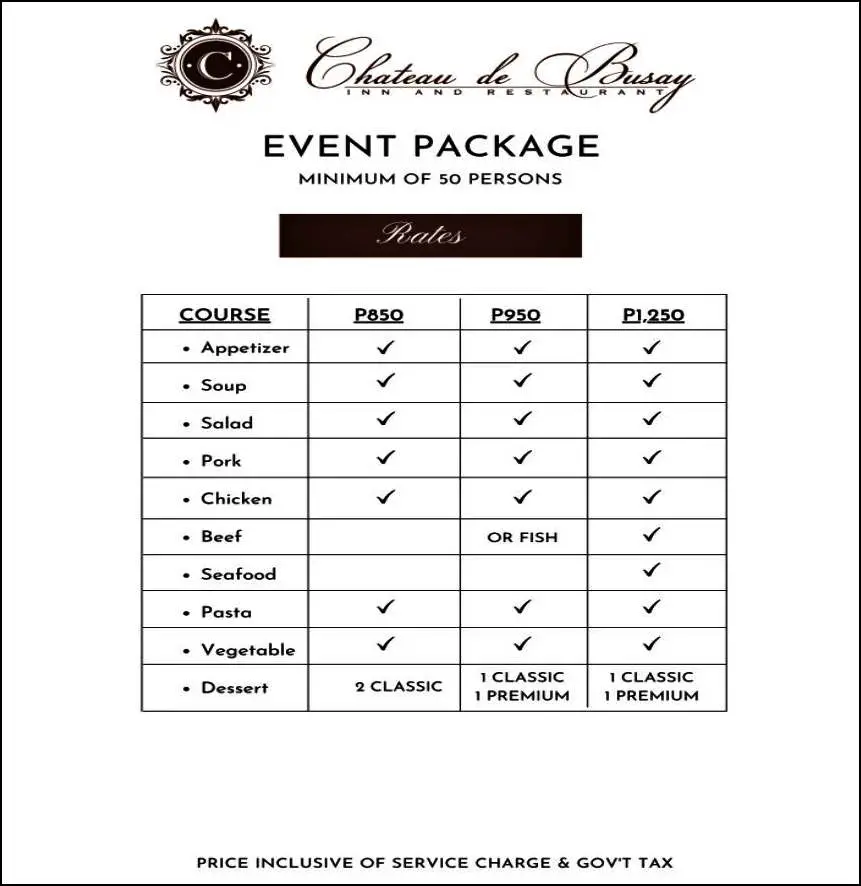 Event Package Inclusion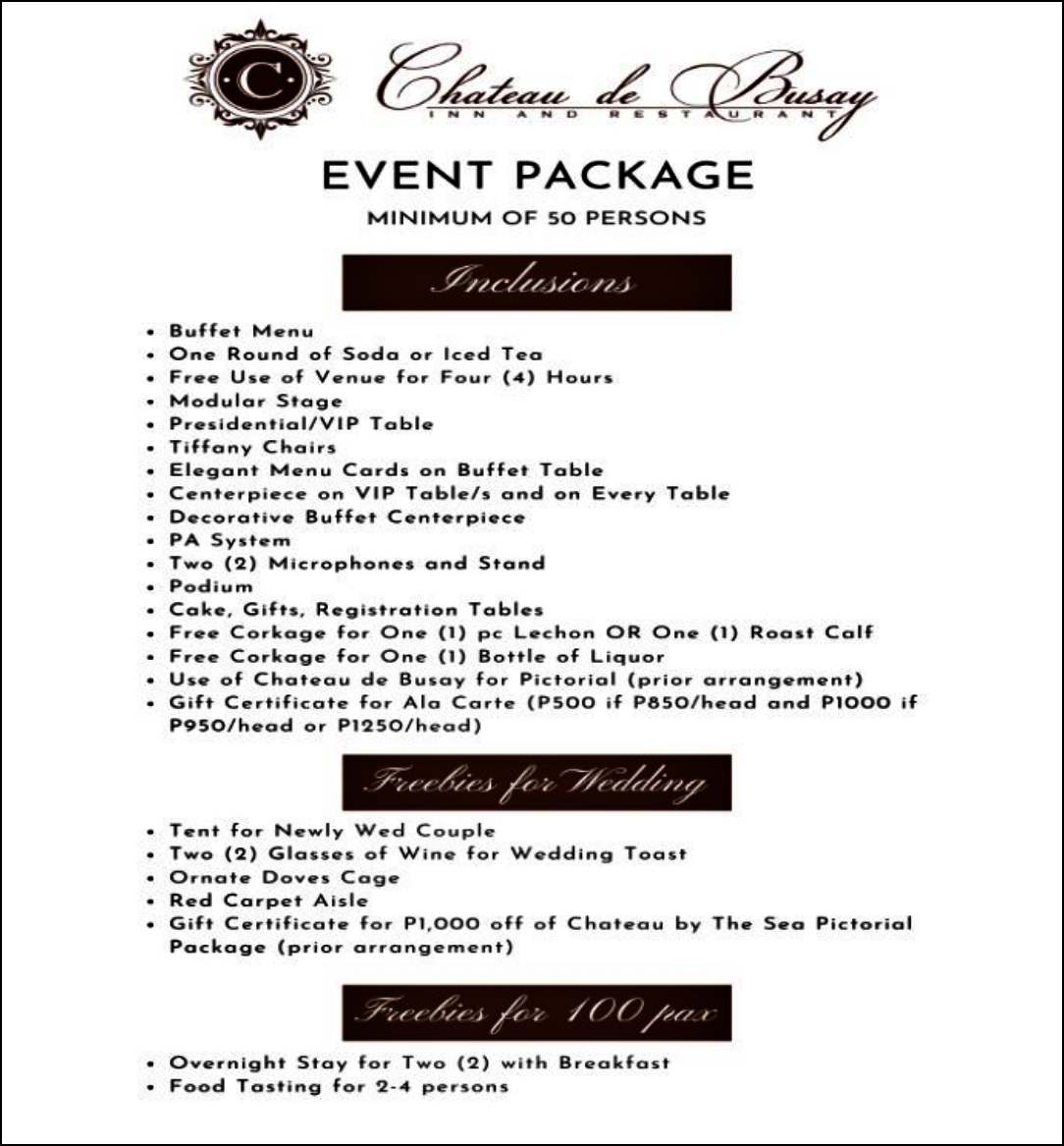 Buffet Menu Choices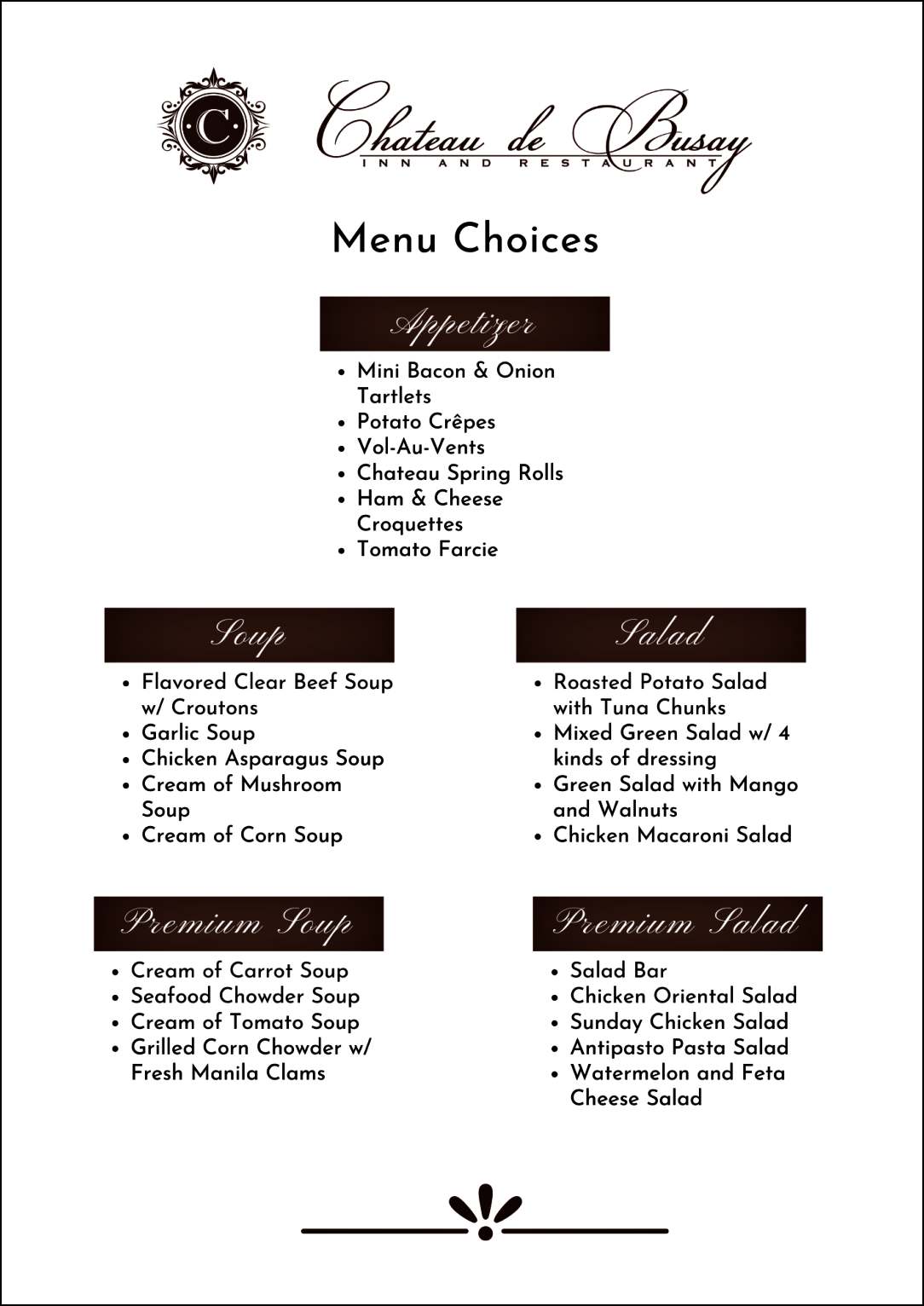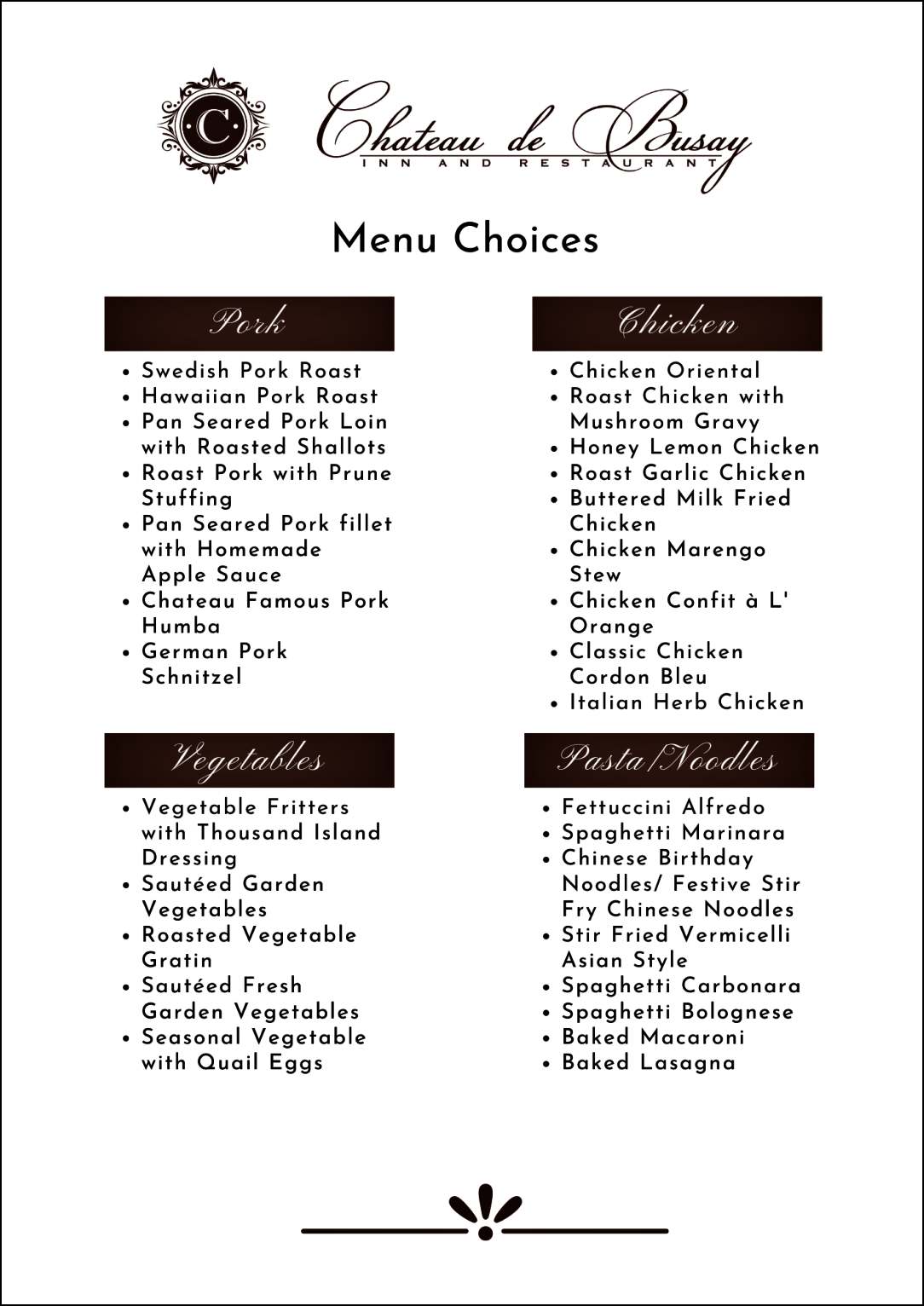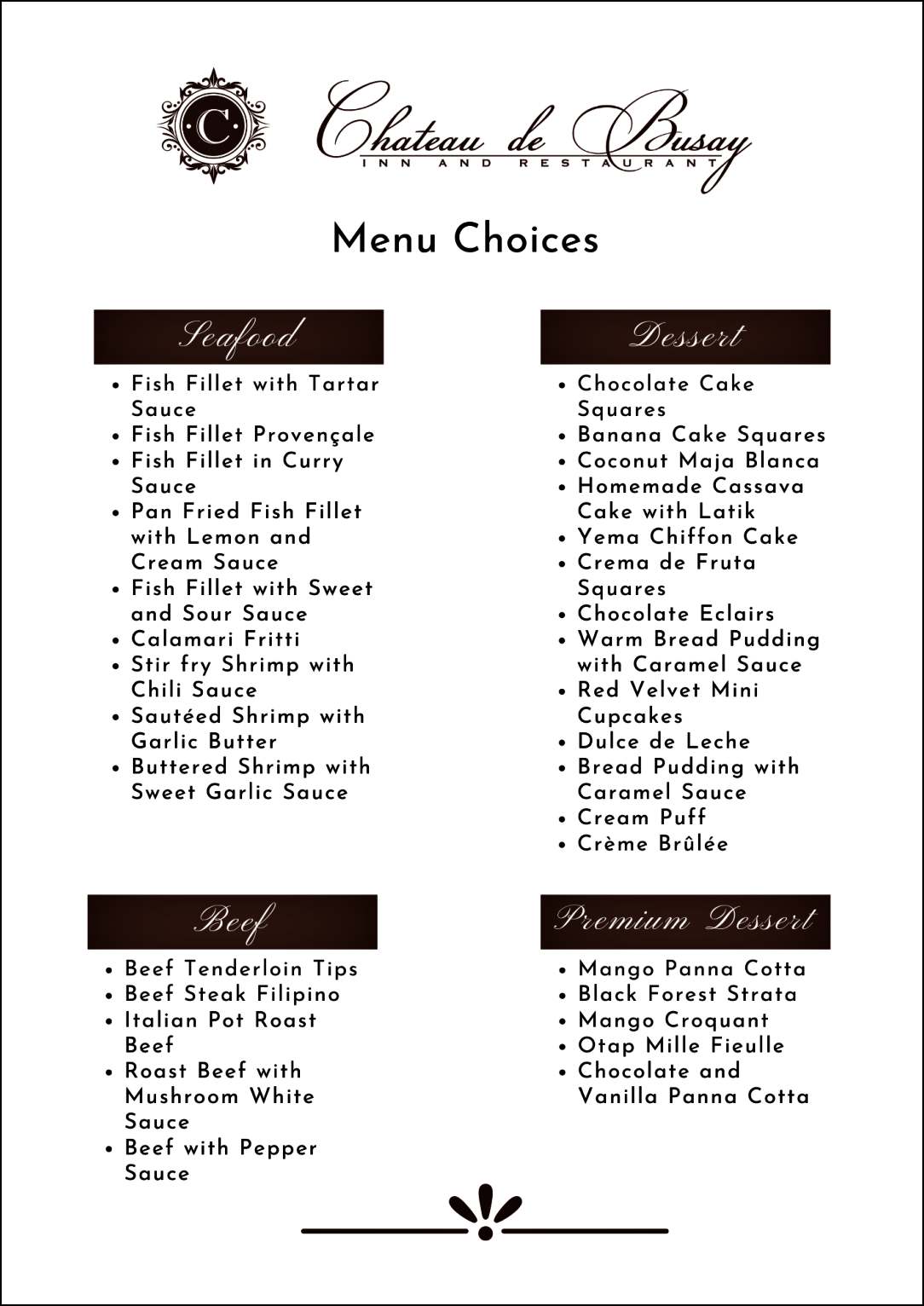 Intimate Event Package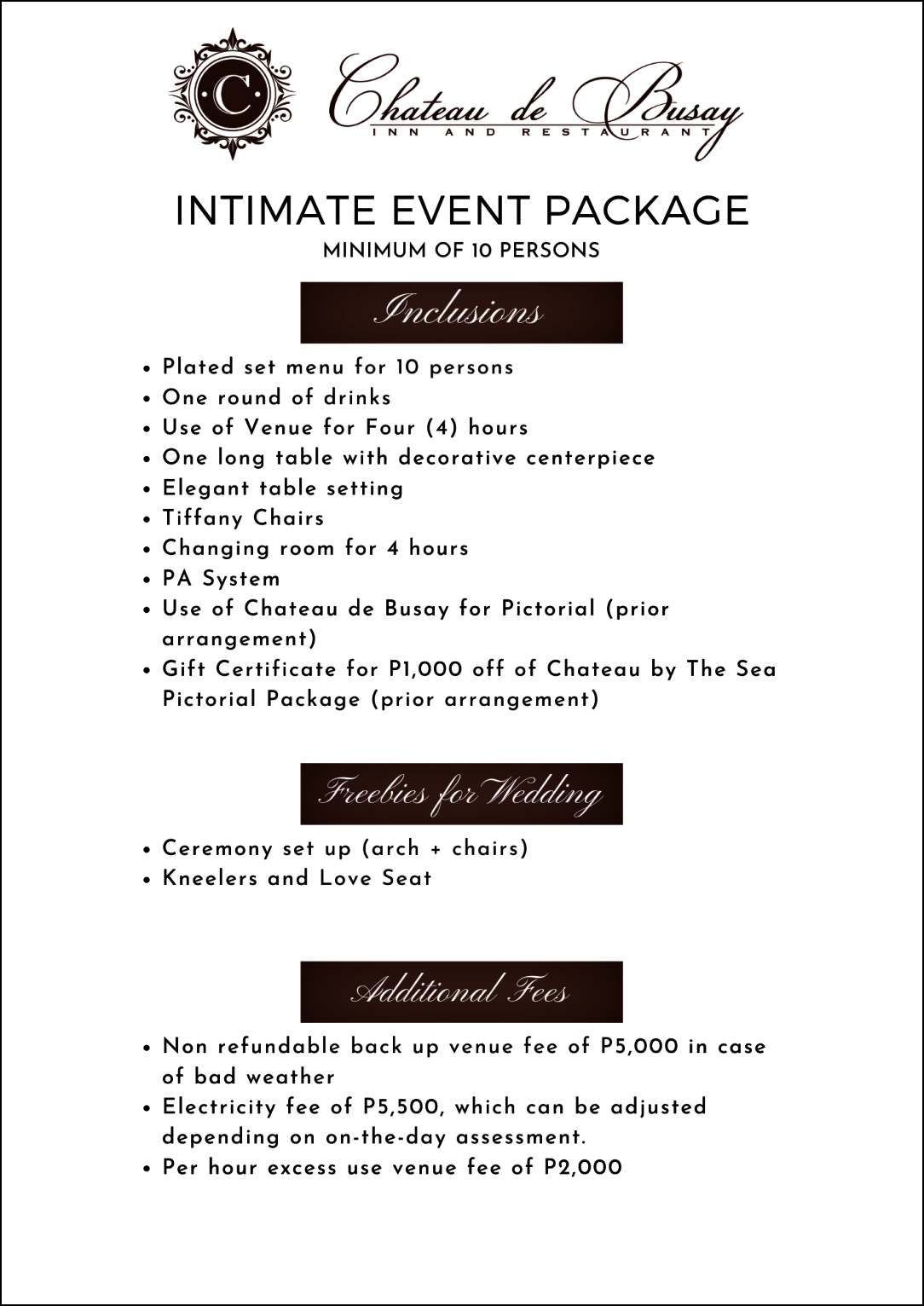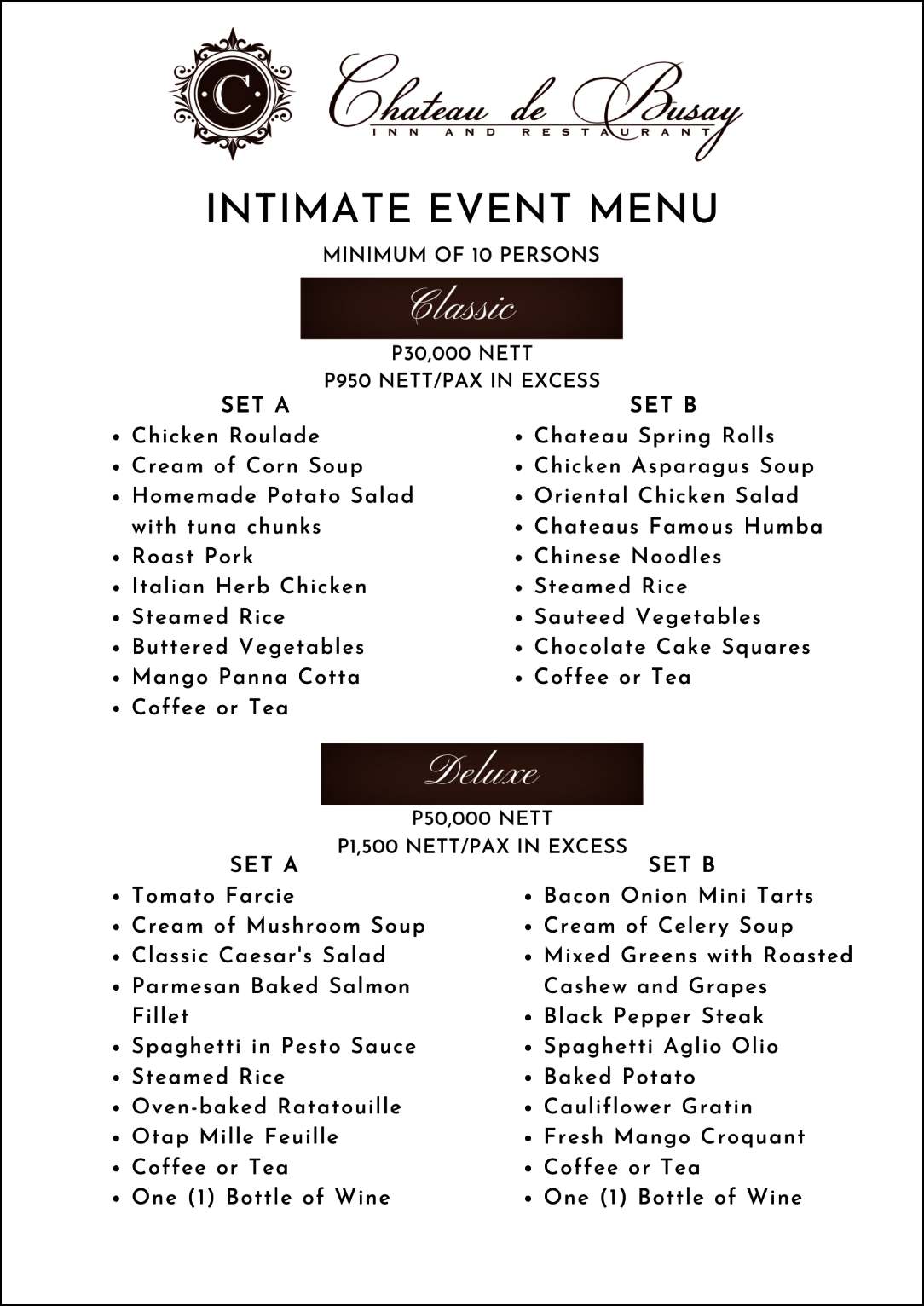 Proposal Package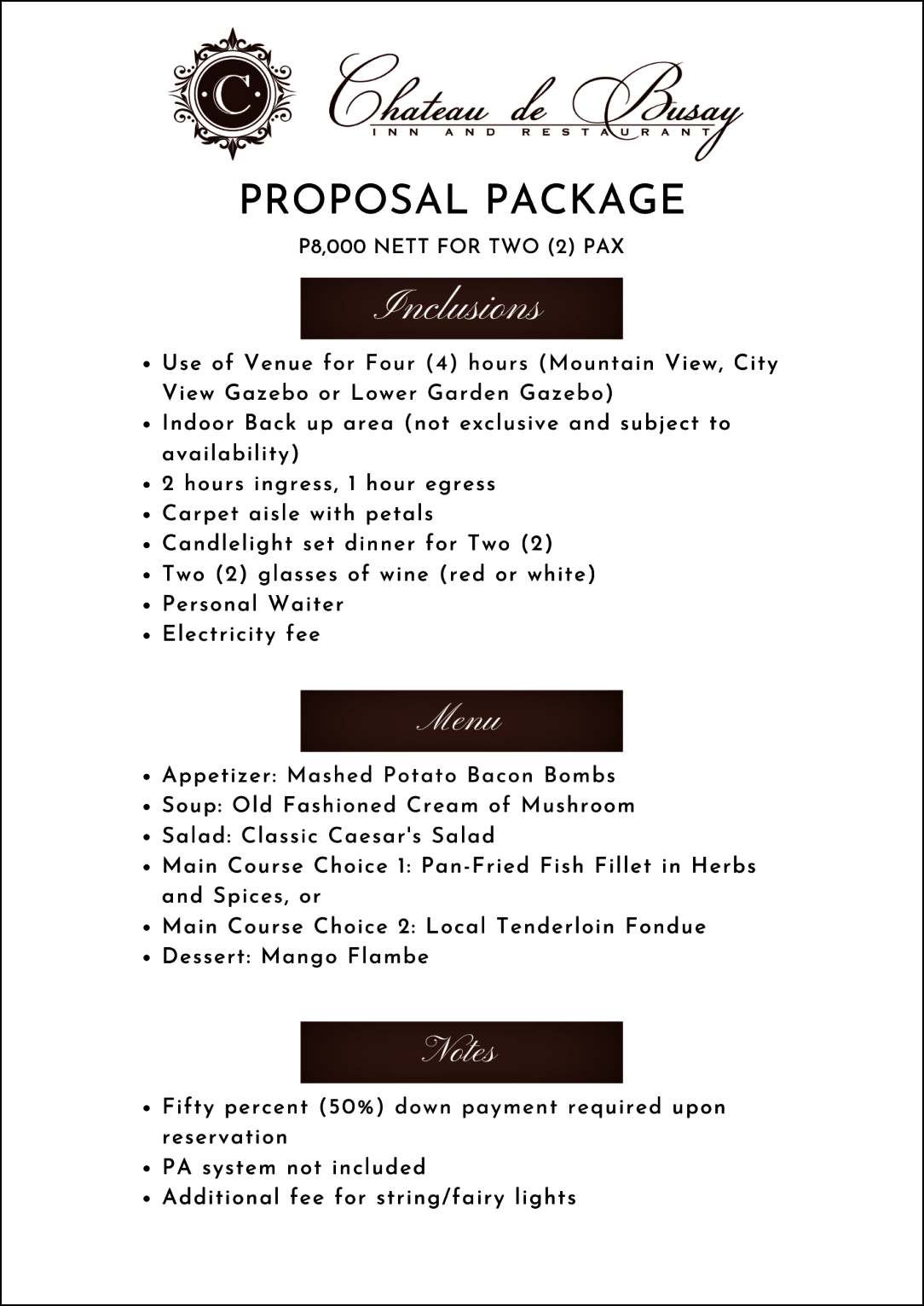 Romantic Dinner Package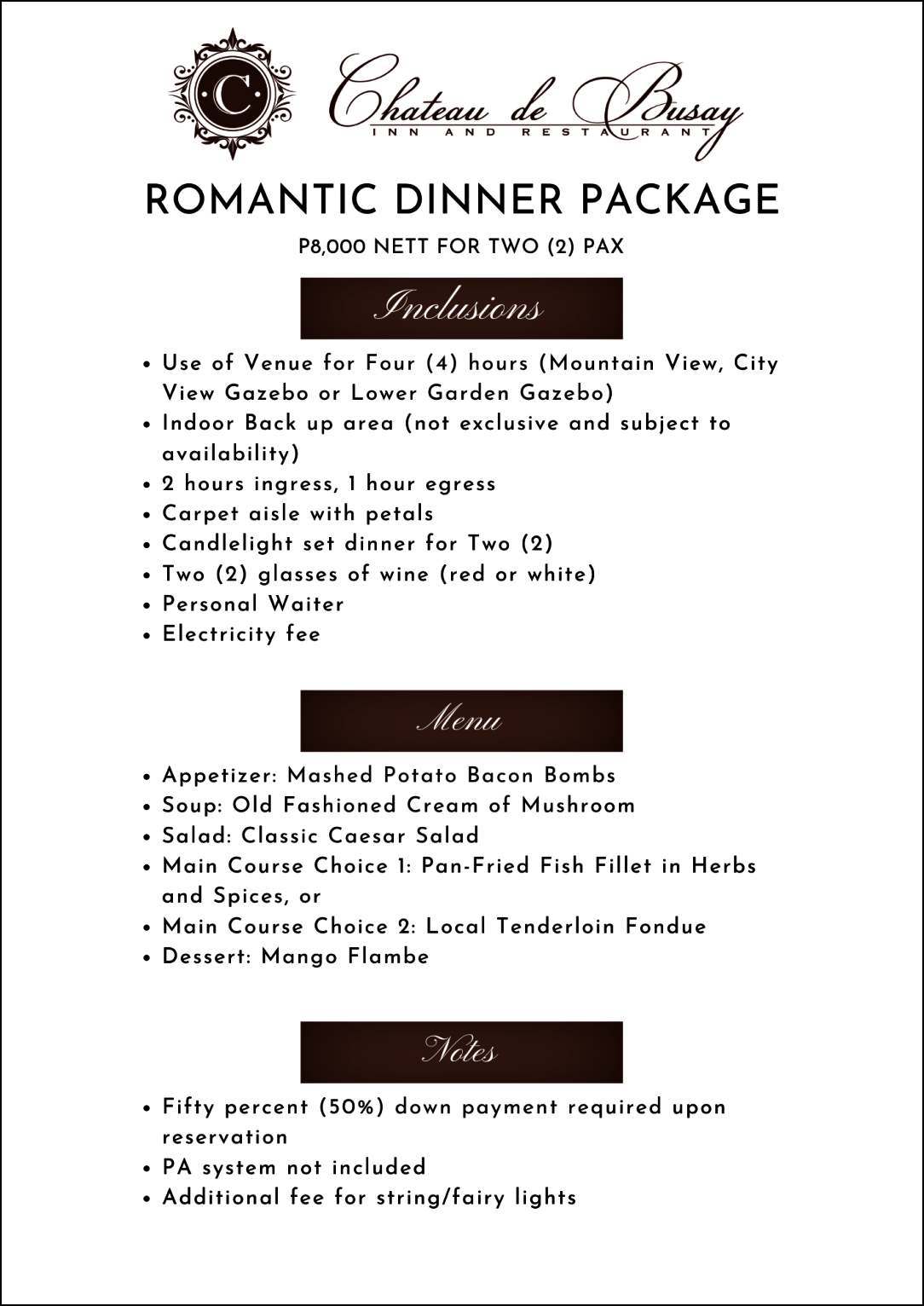 Pictorial Package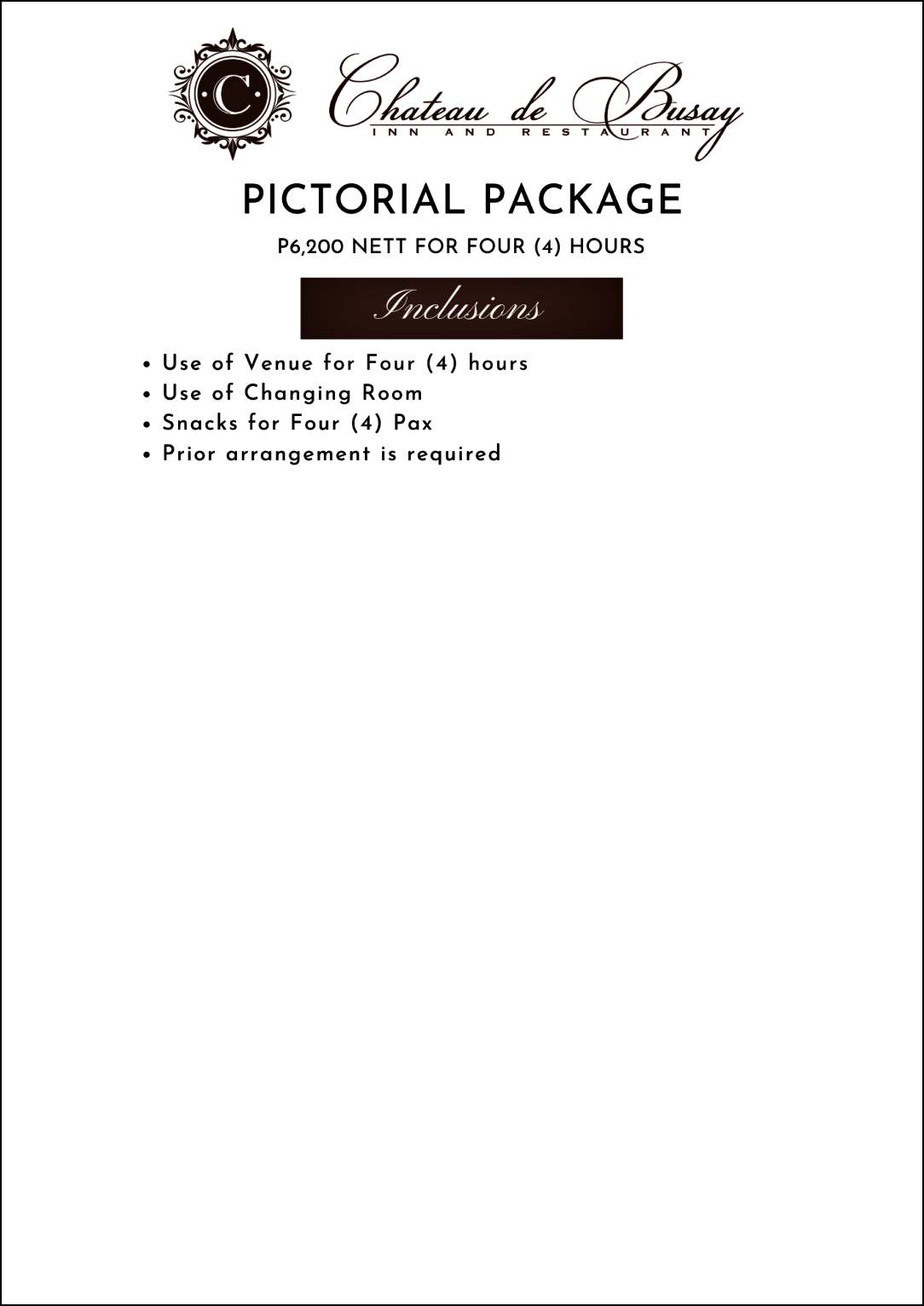 Whole Day Seminar Package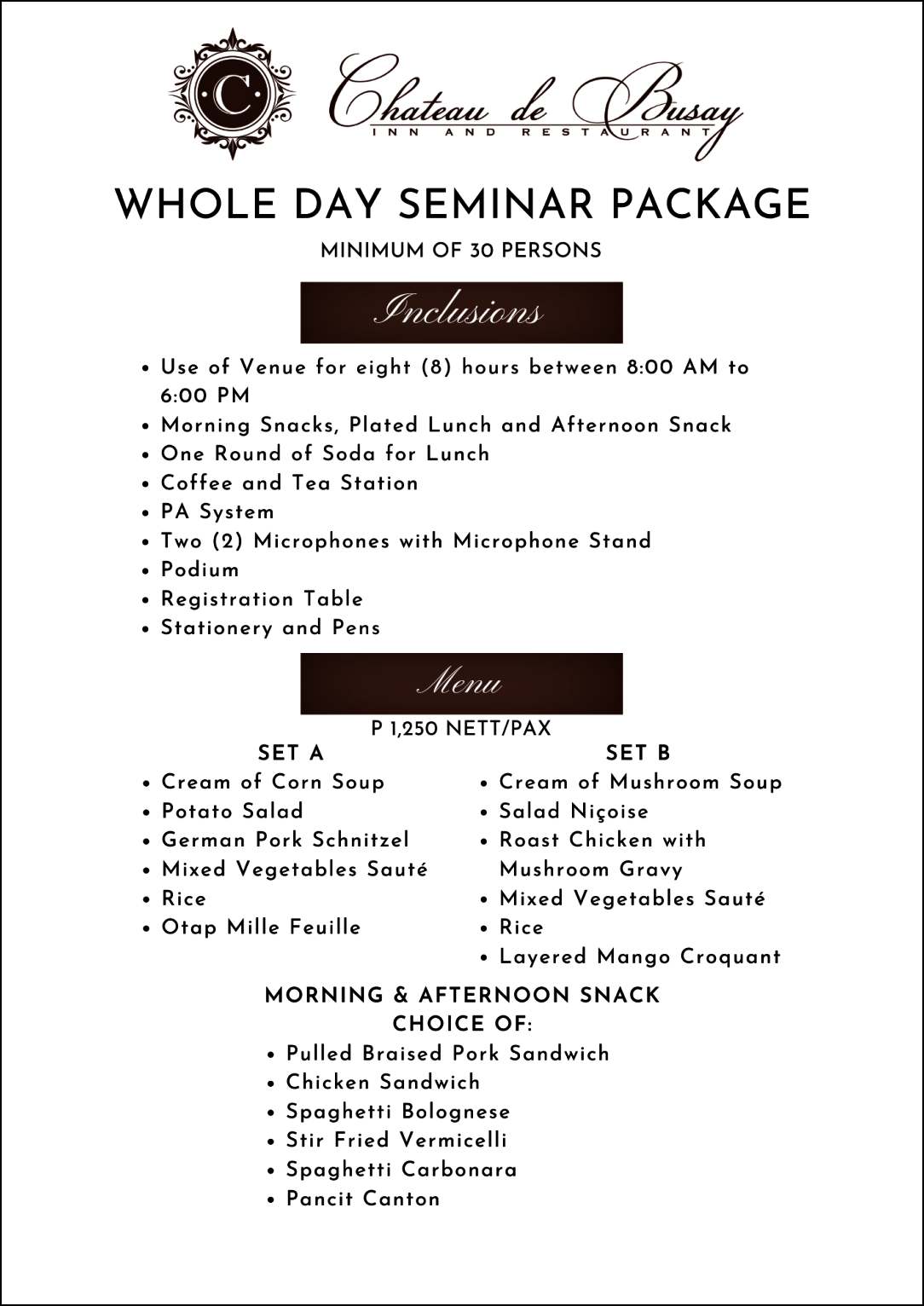 Mobile Bar & Cocktail Packages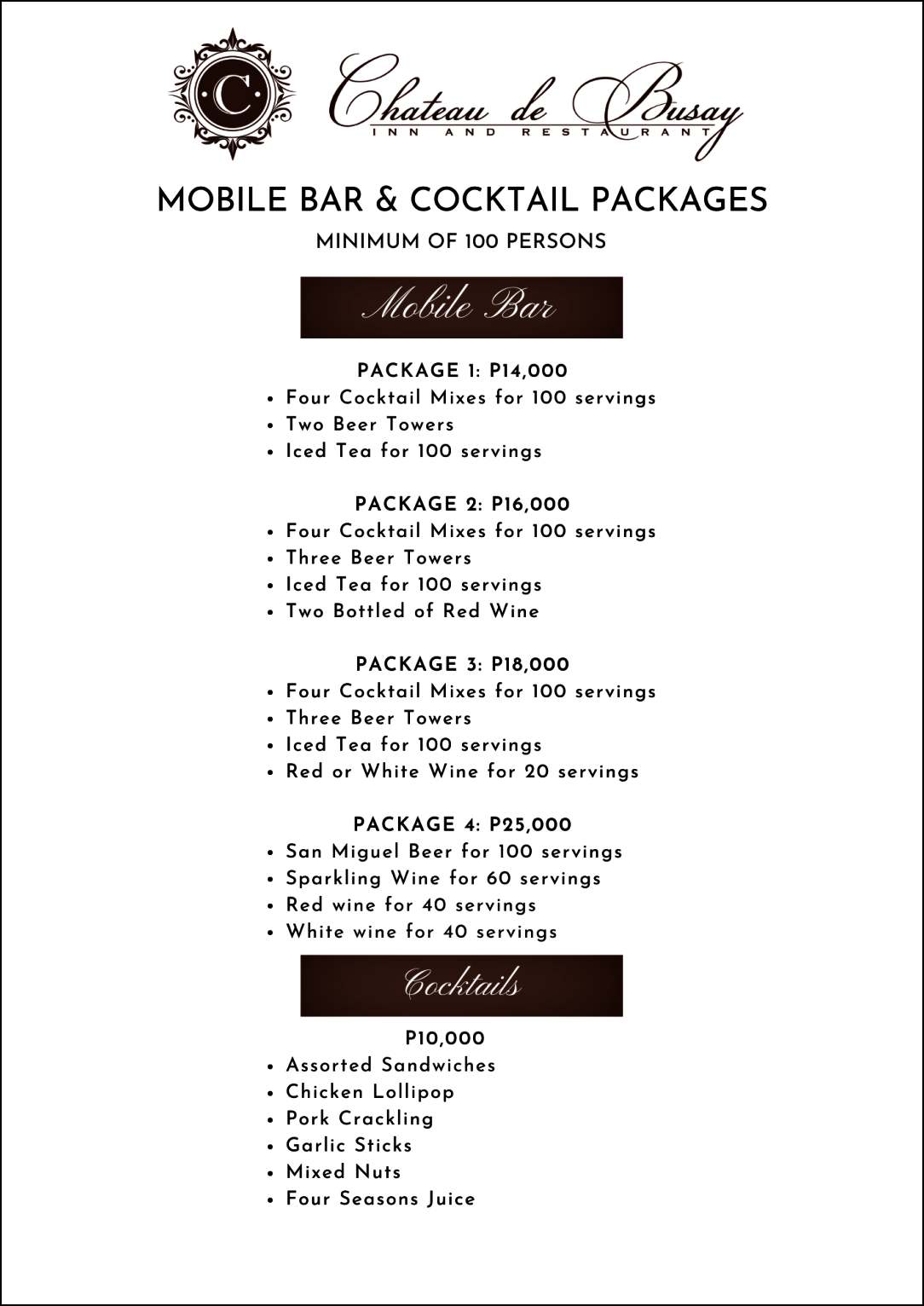 Other Fees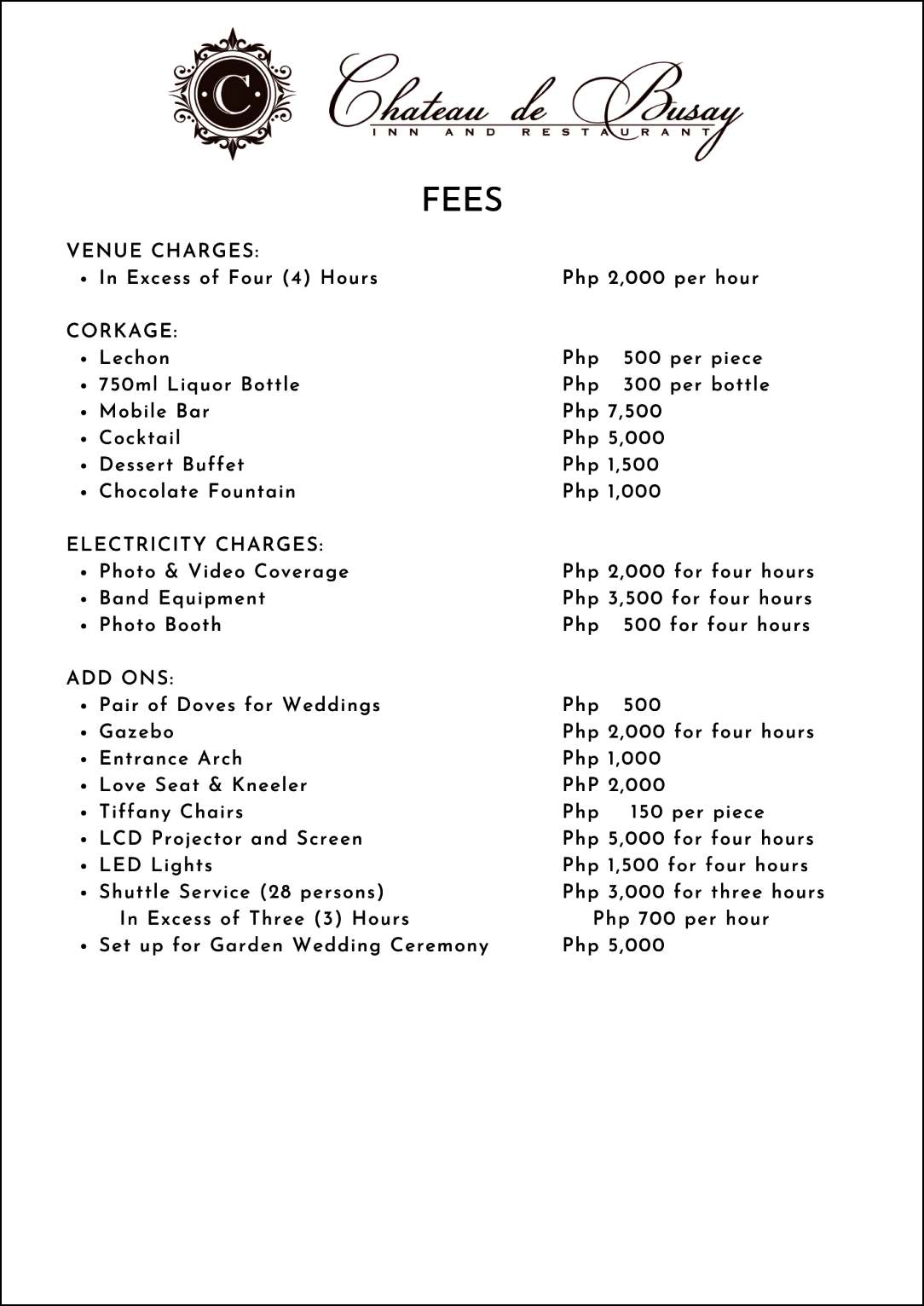 Summary
Chateau de Busay is the perfect place for any celebration! Surrounded by lush greenery and incredible views, it provides an elegant setting for your special occasion. Chateau de Busay has five different party venues to choose from, each with its own unique charm and beauty. From intimate proposals to grand affairs, they can help you create the ideal celebration. Enjoy delicious food and impeccable service, as well as packages to make your event truly special. Make sure your next celebration is an unforgettable one at Chateau de Busay.
Contact Information
Address: 9V6J+WJM, Lower Busay Nivel Hills, Cebu Transcentral Hwy, Cebu City, 6000 Cebu
Website: http://www.chateaudebusay.com.ph/
Phone Number: +63 32 401 0564
Email Address: chateaudebusay@gmail.com
Facebook Page: https://www.facebook.com/Celebrate.at.Chateau/
Hours: 11 AM – 11 PM (Monday – Sunday)
Google Map