Boy Lamaw was established in 2020 and it serves a variety of rice bowls or in Visayan term "Lamaw". There are many types of lamaw such as sisig lamaw, ngohiong lamaw, siomai lamaw and many more. The best thing about Boy Lamaw is that you can choose your own toppings and ingredients. So if you're ever in Cebu City, be sure to drop by Boy Lamaw and try their delicious rice bowls!
Also Read: Burritos and Mexican Food Bites at Ceburrito
Sisig Lamaw is a great dish to have when you're feeling hungry. It's a rice bowl dish that is usually served with steamed rice, siomai, and ngohiong. The sisig Lamaw is a great choice for those who are looking for something hearty and filling. Sisig is a very known viand which is composed of different kinds of pig's head parts mixed with spices and sometimes with chicken liver. Ngohiong is a rolled pork, and vegetables wrapped in flour paper and then fried to golden perfection. On the other hand, siomai is a type of dim sum composed of ground pork wrapped in wonton wrappers.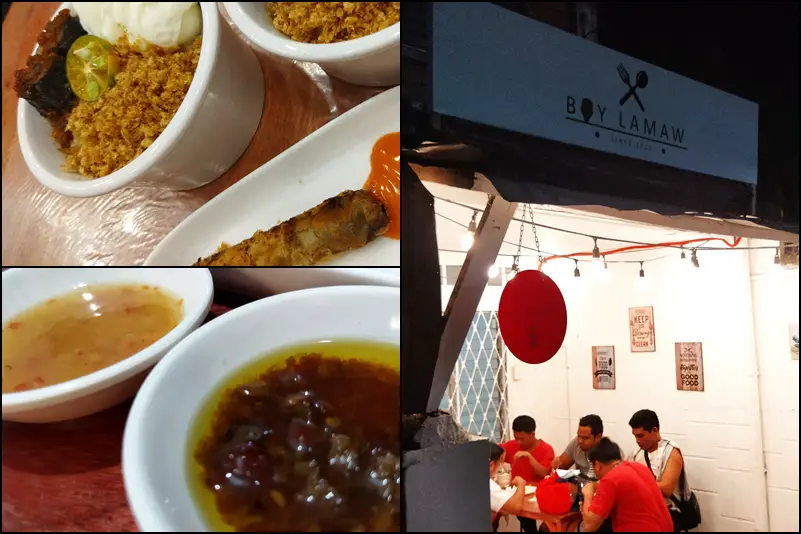 Boy Lamaw is Located at M. Velez Street, Guadalupe
This mini restaurant can be easily found as it's just on the sidewalk of M. Velez Street, Guadalupe. It is one of the main streets of Cebu City and many transportation vehicles pass by which is a good thing since it's easy to spot. You can also take pictures of the sisig lamaw which adds a nice touch to your Instagram feed! Boy Lamaw is open everyday from 10:00 AM – 9:00 PM so you're in for plenty of sisig and ngohiong goodness. It's just beside another mini restaurant- Amigo's Food Corner.
If you're ever craving for sisig lamaw, then head on down to Boy Lamaw and treat yourself with this delicious rice bowl dish! Enjoy the flavorsome siomai, sisig, and ngohiong all together in one hearty meal. It's definitely an experience that you won't forget. Come over now at M. Velez Street, Guadalupe and try Boy Lamaw.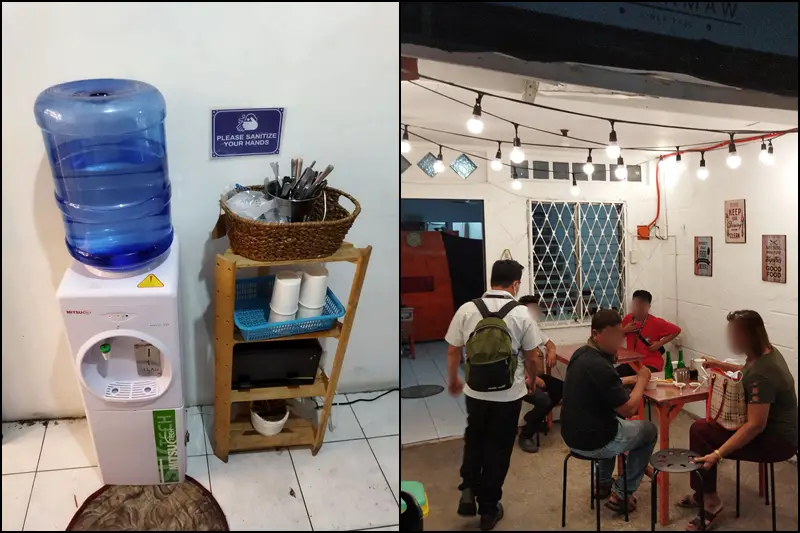 Ambiance of Boy Lamaw
This eatery's setup is like a small apartment that's been made into a place for people to dine. The tables were arranged properly and there was a good amount of space between them. The place also had several decorations hanging from the walls and shelves, adding a nice ambiance to the eatery.
Boy Lamaw is the perfect spot for anyone who wants to have a hearty meal that doesn't break their budget. So come over now at M. Velez Street in Guadalupe and try out sisig lamaw today!
Also Read: Heart-Warming Soups at Carlo's Batchoy in Osmeña Boulevard, Capitol Site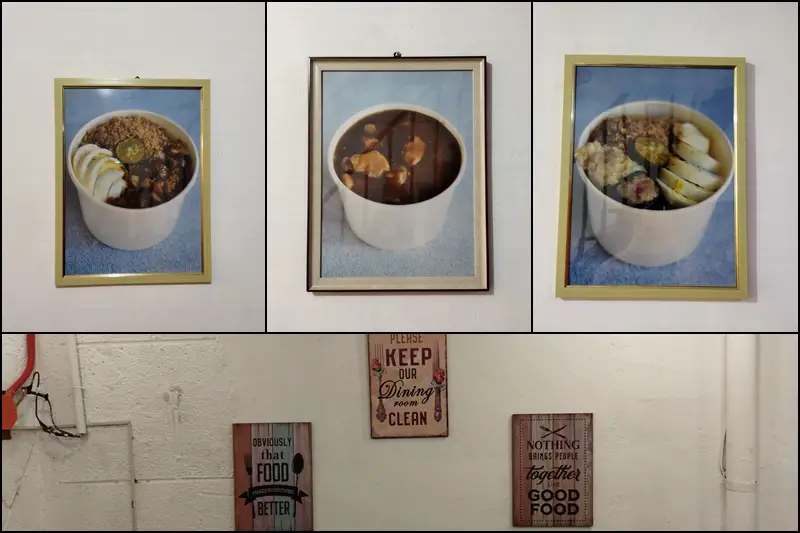 Rice Bowls and other Viands of Boy Lamaw
Boy Lamaw offers many types of rice bowls that will satisfy your hunger. The rice bowl is a composition of rice, viand and egg. They are also offering pork steamed rice. There are sisig lamaw, ngohiong lamaw, fried or steamed siomai lamaw and many other combinations that you can choose from. You can also customize your toppings to get the exact meal that you want. They have recently added a new viand, Chicken Adobo as toppings.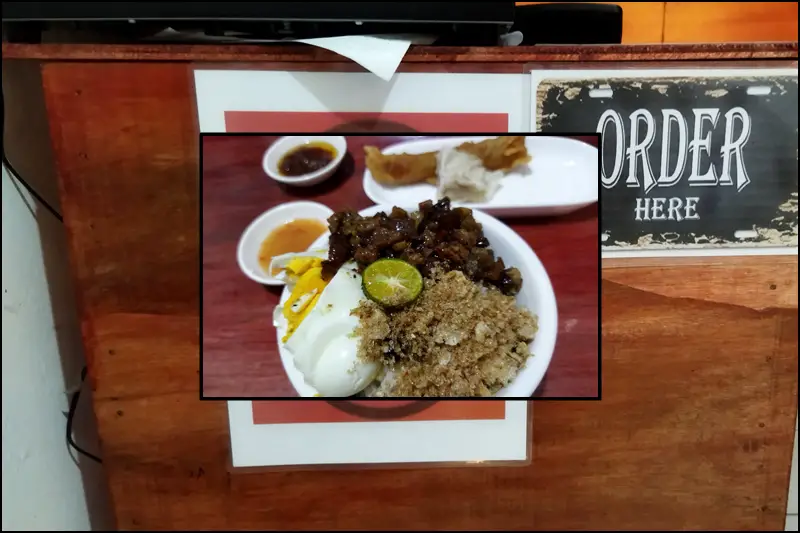 Rice Bowls
Chicken Adobo Lamaw
The chicken adobo lamaw is compirsed of rice, boiled egg, chicken adobo and of topped with crumbs of pork rinds (chicharon).
Siomai Lamaw
The siomai lamaw bowl offers different types of siomai like, chicken siomai, pork siomai or japanese siomai. You may also choose to order the "mix" siomai lamaw where you can choose two from the 3 that were mentioned. And these are also paired with a bowl of rice including 1 boiled egg and pork rinds toppings.
Sisig Lamaw
Last but not least, the Sisig lamaw, their best seller rice bowl. It's a pork type of viand that they serve which is seasoned very well and spicy! This rice bowl has small cuts of pork meat that is sauteed with spicy ingredients and is very tasty to the tongue. It's also combined with rice, one boiled egg, and bits of pork rinds to add a bit of crispiness which it makes it wholesome.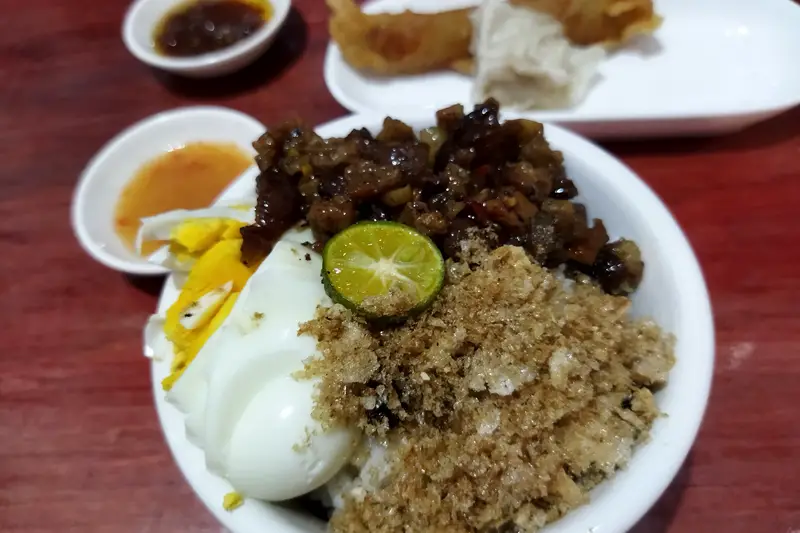 Steamed Pork Rice
Steamed Rice is another type of rice bowl that they offer. The pork is cooked with a traditional Filipino recipe made from soy sauce, black pepper, and other spices which makes it really flavourful. You may want to add an additional cup of rice as their savory sauce would make you want to eat more.
Ala Cartes, Sets, Drinks or Add ons
If you're craving for more than a rice bowl, Boy Lamaw also has other food to sell on their menu.
Aside from their signature rice bowls, you may order by piece or set to add to your meal. They also offer ala carte meals which are very good for those who want siomai, sisig, and ngohiong only. It's also affordable for people who want to have a meal in groups as they can each have a taste of this restaurant's menu.
Ngohiong
Ngohiong is one of Cebu's pride when it comes to food, it's a type of food that is similar to lumpia but with a twist. Ngohiong is made from deep-fried spring rolls that are filled with ground pork, shrimp, and chives. It's very flavourful and crispy to the bite!
Dynamite
Dynamite is a type of lumpia viand but has a green cayenne pepper or sometimes jalapenos that are also filled with a small amount of ground pork or beef and cheese. It is indeed a spicy type of finger food that Boy Lamaw offers.
Vegetable Lumpia
Vegetable Lumpia is best paired with any of the rice bowls as it provides more nutrients and vitamins on your plate. This is a vegetarian-friendly meal that Boy Lamaw offers. It's deep-fried spring rolls filled with sayote, carrots, garlic, onions and other vegetables.
Ube Cheese Turon
They also have Turon. It's a type of snack where a lumpia wrapper is used. This is best when it's hot because of the creamy cheese and ube fillings.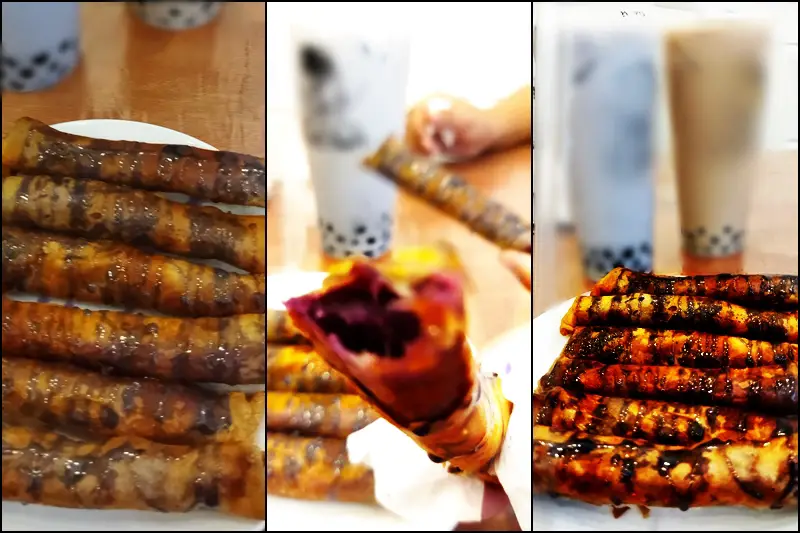 Also Read: Unwind at Cafe Berry and Enjoy their Tasty Milktea!
Summary
Boy Lamaw is best when it comes to Sisig Lamaw. It is located in M. Velez Street, Guadalupe, this place is open everyday from 10:00 AM – 9:00 PM and famous for their sisig and ngohiong rice bowls.
They serve different types of siomai like chicken siomai, pork siomai or japanese siomai which you can mix to your preference. Aside from the sisig lamaw, they also offer a variety of meals such as vegetable lumpia and dynamite (sili espada in lumpia wrapper).
If you're ever craving for any type of rice bowl or "lamaw" then head down to Boy Lamaw and enjoy the flavorsome viands! Enjoy the hearty meal without breaking your budget now!
Contact Information:
Boy Lamaw
Address: M. Velez st. 6000 Cebu City, Philippines
Contact Number: 0932 317 9161
Email: belanisojustine1@gmail.com
Facebook Page: Boy Lamaw
Google Location Map
Here's a map guide to the location of Boy Lamaw: