The renowned Monastery of the Holy Eucharist, famously known as Our Lady of Lindogon Shrine and more commonly referred to as Simala Parish Church or the popularly revered Simala Shrine, is a place of pilgrimage for Roman Catholics devoted to venerating the Virgin Mary in Sibonga, Cebu Philippines.
If you are looking for a unique yet inspiring experience while in Cebu, then Simala Church is the perfect destination. Located in a remote village of Lindogon Sibonga, it gives visitors an opportunity to marvel at its breathtaking panoramic landscape and view grandiose architecture steeped in religious symbolism. With its complex network of arches, statues, grottos and other decorations, it is no wonder why this mystic spot surrounded by lush greenery has been captivating thousands of visitors from around the globe. Read on to find out what makes Simala Church so special and all you need to know before your visit.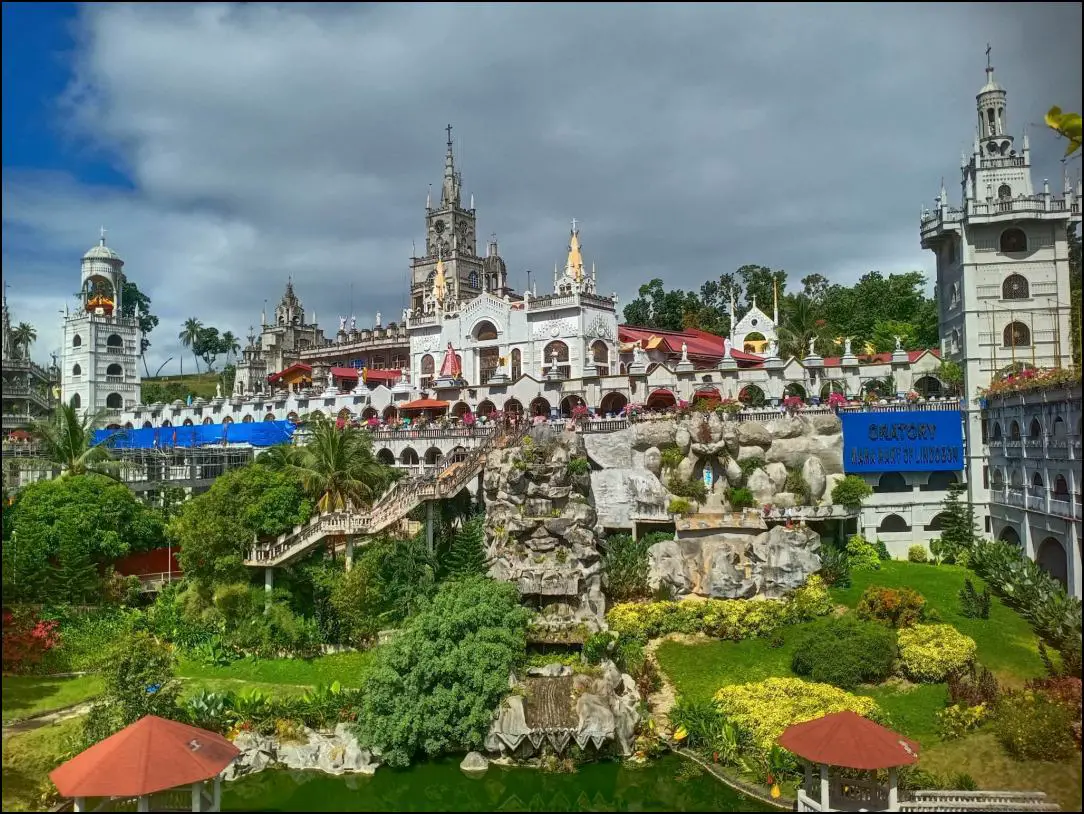 History
In 1998, the devout Marian Monks of Eucharistic Adoration from Pampanga constructed a sacred shrine to Mary – The Simala.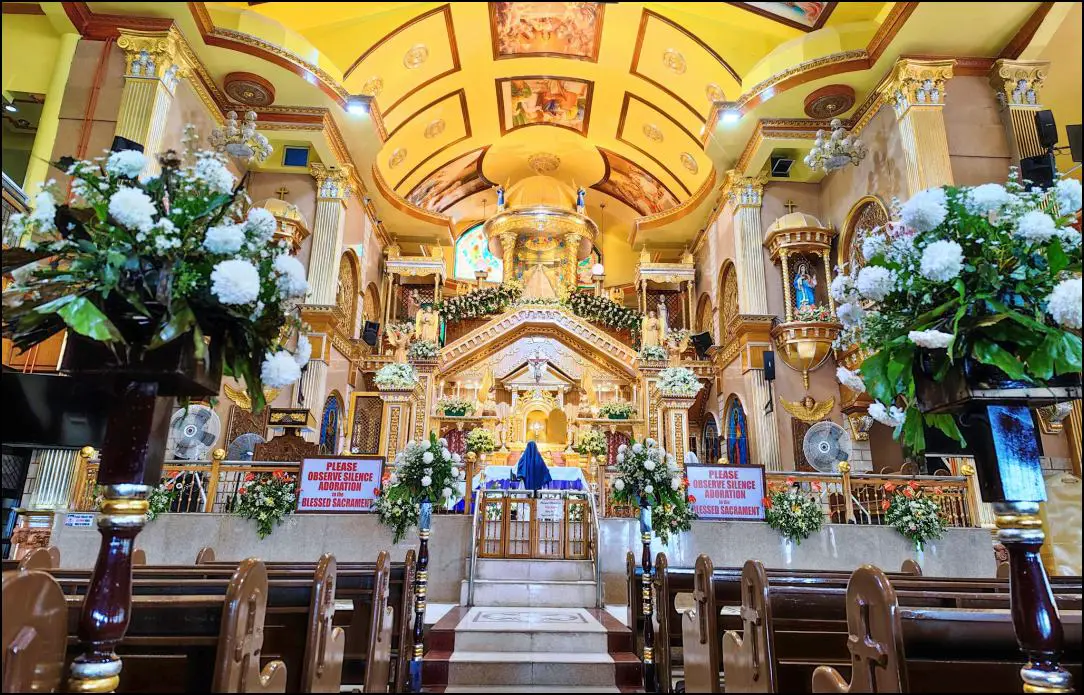 Cultural Significance
The venerated Simala Shrine is a popular pilgrimage site for ardent Roman Catholics, where the miraculous Our Lady of Lindogon statue resides. An incredible event occurred in 1998 when people from the area suffering from dengue were allegedly healed upon praying to the image. This astounding occurrence was then followed by four more occasions – most recently on September 8, 2016 – of reported tears streaming down its face. Devotees firmly believe that this iconic image holds extraordinary power and strength.
It is believed that the miraculous Our Lady of Fatima image was presented to the Marian Monks by Terry Brooks from Pampanga. Furthermore, it is thought that Ingko Niyong Villamor prophesied for Lindogon Hills–the eventual site of Simala Shrine–to become "hallowed" when a "wondrous white lady ruled over it"; and now, with the shrine in place, this prediction has been fulfilled.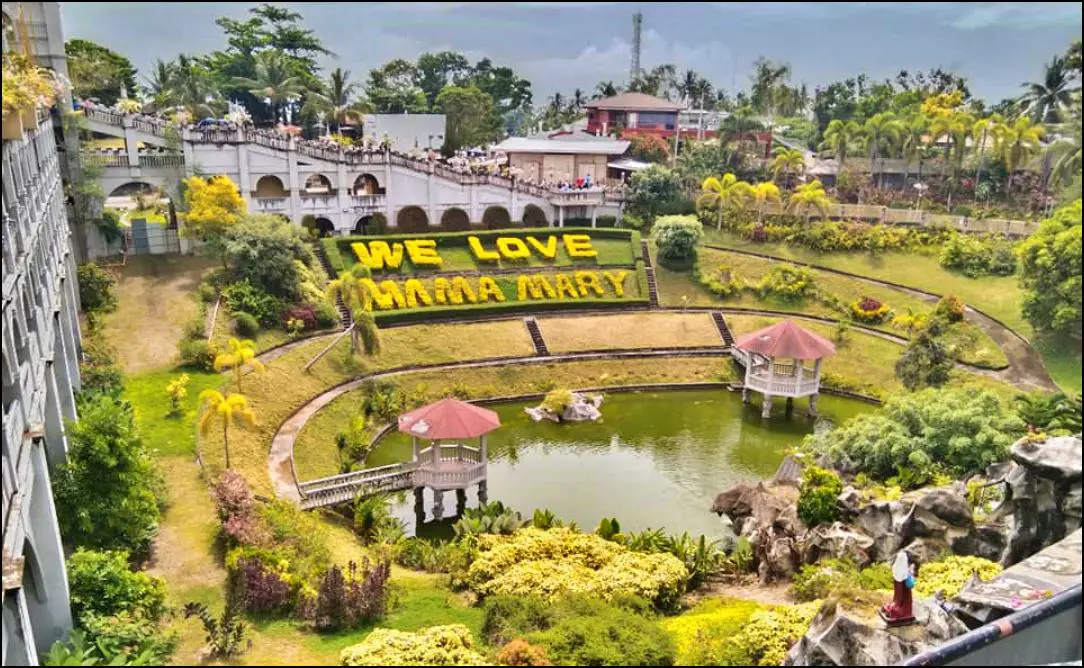 Who is the Founder of Simala Shrine?
The Marian Monks of Eucharistic Adoration (MMEA) are the founders of Simala Shrine.
How to Go to Simala Shrine
1. Make your way to the South Cebu Bus Terminal, conveniently located next to E-Mall.
2. Hop onto a Ceres bus and take the journey to Oslob. Inform the conductor that your destination is Simala, where you can visit the iconic Simala Church.
3. Get off at Simala, which is near 7Eleven.
4. For a comfortable and fast way to get to Simala Church, booking a habal-habal (motorcycle) ride is your best option to get to the location.
Things to Do in Simala Shrine
Here are some activities and must-dos for a fulfilling visit to Simala Shrine:
1. Feel the sacred presence of Mama Mary as you pay a visit to her statue at the heart of this church.
2. Discover the wonders of Mama Mary Museum.
3. Peruse testimonies of faithful followers whose prayers to the Blessed Virgin Mary were answered.
4. Illuminate the church from within and without by lighting a candle at the candle stand.
5. Reach out to Mama Mary with a heartfelt letter.
Frequently Asked Questions
1. What is Simala Church?
A: Simala Church, or the Monastery of the Holy Eucharist, is a Roman Catholic Marian shrine located in Sibonga town in Cebu province. It was founded by Marian Monks of Eucharistic Adoration (MMEA) and opened to the public in 1998. The impressive architecture, the colorful chapels, and the miraculous stories behind it make Simala Church a popular destination for tourists and pilgrims.
2. When is the best time to visit Simala Church?
A: The best time to visit the Simala Church is during Mama Mary's birthday (September 8) and during the week of the feast day celebration. During these special occasions, there will be a mass. Moreover, it is recommended to visit early in the morning or late in the afternoon to avoid large crowds.
3. Is there an entrance fee to visit the shrine?
A: There is no entrance fee to enter the shrine. However, donations are welcome as they help maintain the facilities of the church.
4. Are there any safety regulations that I need to observe while visiting Simala Church?
A: Yes, visitors of Simala Church are expected to observe a respectful and reverent attitude as it is a sacred place. Do not yell or run inside the church premises and avoid taking photos during religious services. Other than that, general safety protocols should also be observed such as wearing a face mask and keeping physical distance from others.
5. Is there a dress code in Simala Church?
A: Yes, there is a dress code for visitors of Simala Church. All visitors are expected to be modestly dressed in long pants and shirts with sleeves for men, and dresses or skirts that cover the knees for women. Shorts, sleeveless tops, and overly revealing clothing are not allowed. Headwear is also prohibited inside the shrine. Visitors are also encouraged to be quiet and respectful as a sign of reverence for this sacred place.
VIDEO: Philippines – Simala Shrine in Sibonga, Lindogon Cebu's Castle Church (Cebu)
Summary
A visit to the captivating Simala Shrine in Cebu is an experience unlike any other. This breathtaking sanctuary, nestled amidst lush greenery and adorned with intricate designs, is the perfect blend of spirituality and architectural splendor. As you journey through the sacred halls of this marvelous structure, you will be left in awe of its grandeur and the undeniable presence of divine energy. With various colorful, lively and eye-catching events held throughout the year, a trip to the Simala Shrine is always unique and unforgettable.
As an emblem of faith and devotion, Simala Shrine is a favorite destination for both pilgrims and tourists alike. So, when planning your next visit to Cebu, don't miss out on this divinely enchanting experience that awaits at the magnificent Simala Shrine.