Many Filipinos tend to try out different styles of cuisine and we're here to tell you that the Lebanese culture has a lot to offer. Shawarma is another classic meal that consists of chicken, beef, or sometimes lamb which are thinly sliced and marinated in spices then wrapped with warm flatbread including some veggies.
Also Read: Burritos and Mexican Food Bites at Ceburrito
We've found another area to have authentic food from the Middle East. Shawarma Gourmet – Cebu. They serve Falafels, Humus, and Shawarma are some of the most popular dishes from this part of the world that have made their way into Filipino restaurants. Falafel is deep-fried balls made of spiced chickpeas and can be served with pita bread and with their special sauce for an extra zing. Humus is a creamy dip made from boiled and mashed chickpeas, tahini, garlic, lemon juice, and olive oil which can easily be added as a side dish or condiment to other meals.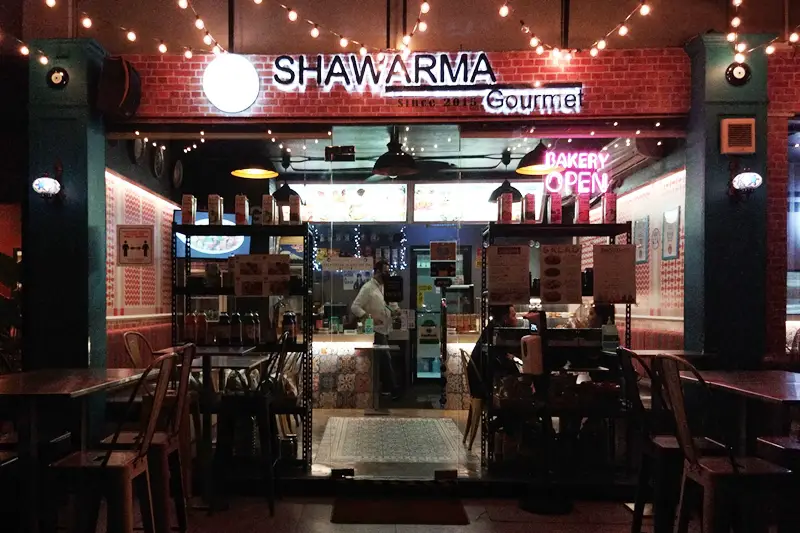 Shawarma Gourmet – Cebu is in Escario Central Mall
The restaurant is found inside Escario Central Mall at N. Escario Street, Cebu City. And they offer Shawarma, Falafel, and Humus. Shawarma is served with either chicken or beef and comes in a wrap with some veggies and tahini sauce. Falafels can be served as an appetizer or side dish. Humus can also be enjoyed as a dip for Falafel or Burritos, adding that extra zing to your meal.
Shawarma Gourmet – Cebu is the perfect place to enjoy these delicious Lebanese dishes! With its convenient location in one of Cebu's malls, you don't have to travel too far to get your Falafel fix! Stop by today and discover why their famous Humus or Falafels are a must-try!
Also Read: Unwind at Cafe Berry and Enjoy their Tasty Milktea!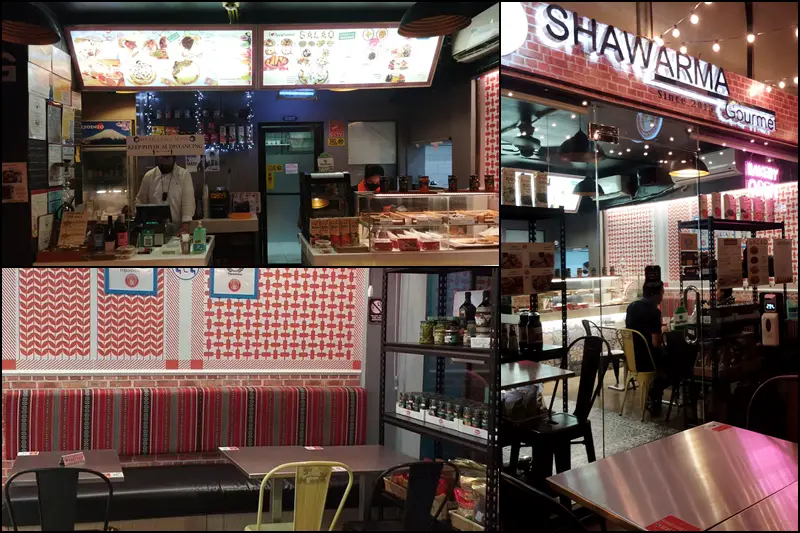 The Ambiance of their Restaurant
Shawarma Gourmet's indoor settings will greet you with a cozy spot to have a good meal. They have indoor seating and a is full of many imported products like canned food, bottled beverages, bagged treats, dates, spices, and many more which will give you an authentic experience. The friendly staff of Shawarma Gourmet will be more than happy to serve you fresh and delicious Falafel, Humus, and Shawarma dishes that are sure to please your taste buds. They also have a separate room that you can reserve for group meetings and dining!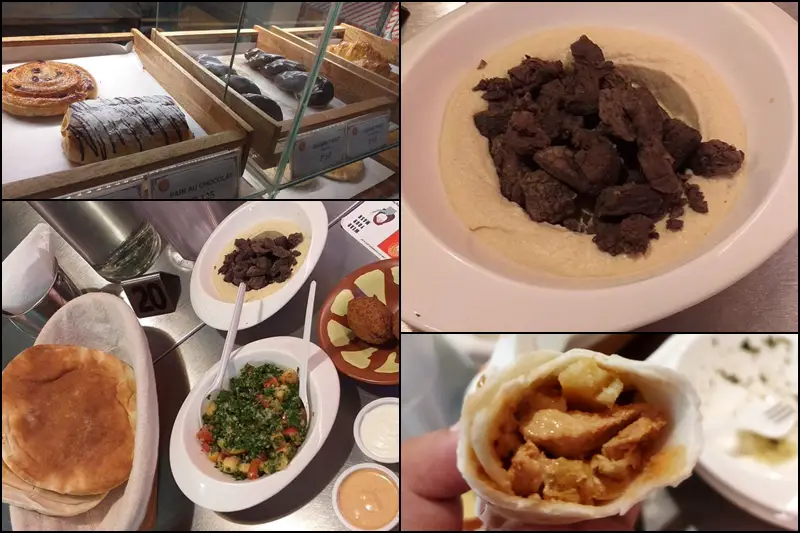 Shawarma Gourmet's Lebanese-themed Meals and Other Dishes
Shawarma Gourmet's best sellers are Falafel, Humus, and Shawarma dishes. Falafel is a deep-fried ball made of spiced chickpeas which can be served with pita bread and tahini sauce. Humus is a creamy dip made from boiled and mashed chickpeas, tahini, garlic, lemon juice, and olive oil. Shawarma is made with marinated meat from chicken or beef, they are thinly sliced, and then wrapped with warm flatbread including some veggies, their Chicken Shawarma is the most recommended by their friendly manager.
Appetizers
There's always an appetizer to boost your appetite and crave for the next munch! This restaurant offers Chicken Musakhan, Cheese Sambousek, Beef Sambousek, Kibbeh, Crispy French Fries, and last but not least, Falafels. You may order by piece or by set.
Rice Meals
For those who wanted to have a heavy meal, Shawarma Gourmet also offers rice meals. Mainly there are two options: Chicken Shawarma Rice Meal and one of their popular meal, Beef Shawarma Rice.
Salads
Customers may also order a healthy meal other than shawarma or falafels. The staff can prepare salads for diners who simply wanted more veggies than meat. They still have that touch of Lebanese for their salads.
Dips
This area of the menu is where we can enjoy different combinations of Humus. Humus is a food that is made from mashed chickpeas and its consistency can be manipulated by adding olive oil. If you haven't had this, it's recommended that you order the Regular Humus paired with pita bread.
Wraps
Their wraps are the highlights of the menu, there are 2 sections of it, regular wrap and premium wrap. Their regular wrap is their traditional shawarma wrap where you can choose Chicken or Beef. The premium wrap is a bit expensive as they use wheat bread for their wrap. There is one interesting premium wrap- Chicken Taouk Wrap which offers a different flavor because it's marinated in yogurt and spices.
Pizza
And they also serve Pizza meals for a larger group of diners, they have Shawarma Pizza of Chicken or Beef. They have chorizo pizza which is name Sujuk and on their menu is "Chef Style" where you can simply have cheese, Labneh (strained yogurt), Zaatar (thyme-oregano) or a combination flavored pizza.
Add Ons / Extras
Nothing beats their authentic sauce, you may order additional garlic, tahini sauces or even a spicy garlic sauce. If you want more bread, you can get additional bread, rice or Arabic croutons. They also offer veggies on a plate or veggie wraps.
Drinks
The meal won't be perfect if there are no drinks. Shawarma Gourmet offers juices, beers, soft drinks, and bottled water to quench your thirst. You can also try their different House Blends. There's a house blend lemon iced tea, fruit shakes or smoothies (depending on available fruit), Yogurt drinks, and Lebanese Coffee plus Dates.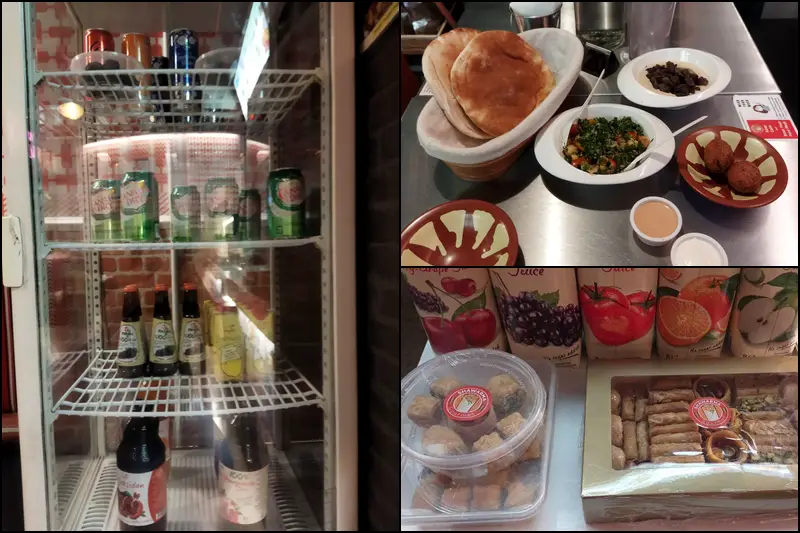 How to Order
Shawarma Gourmet is available for dine-in and take-out. However, if you're looking to have an authentic Lebanese meal, you may also contact them or order through Foodpanda or Grab. You may refer to their contact information.
Also Read: Enjoy Unlimited Chicken Wings, Rice and Fries at PAKU by Chef Binux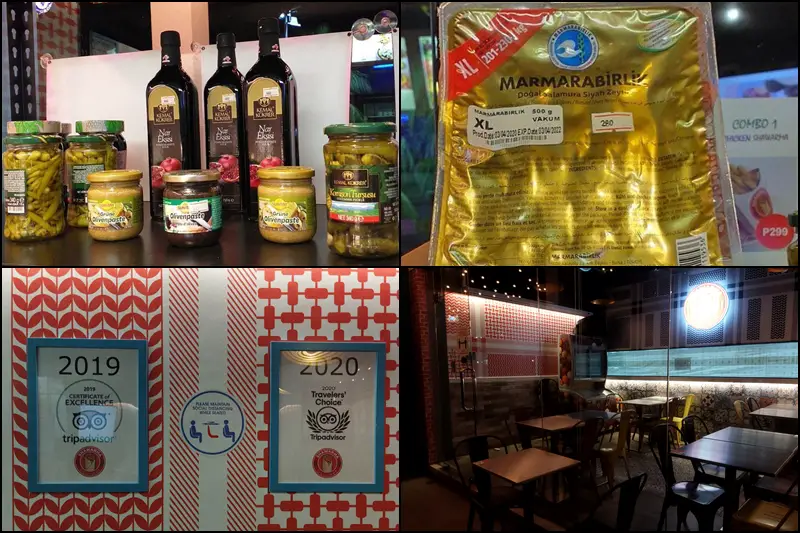 Summary
What are you waiting for? Try out the Falafel, Humus, and Shawarma dishes of Shawarma Gourmet – Cebu now! Located at Escario Central Mall, their indoor settings with cozy spots to have a good meal will be sure to make you feel welcome. Their best-selling Falafels, Humus, and Shawarma dishes are ready for you to enjoy whilst sampling their other delicious menu items such as Chicken Musakhan, Cheese Sambousek, Beef Sambousek, Kibbeh, and more! Not to mention- they are featured in Trip Advisor and have won an award. Be sure to visit today and get your Falafel fix! Bon appetit!
Contact Information
Sharma Gourmet – Cebu
Address: Escario Central Hotel, N Escario St, Cebu City, 6000 Cebu
Contact Numbers: 0995 456 7648
Email: joanalcudia@gmail.com
Facebook Page: Shawarma Gourmet – Cebu
Google Map Location
Here's a map guide to the location of Shawarma Gourmet – Cebu