Setting up your own PhilHealth Account has never been easier with this step-by-step guide that highlights everything from eligibility to submitting claims quickly and securely. Cut out long queues at physical locations, save time, and benefit from all the advantages associated with an active Internet connection – just follow this easy guide!
Also Read: List of PhilHealth Offices and Branches in Cebu
Get ready to make life simpler as we explore how to set up a PhilHealth Online Account for healthcare professionals today!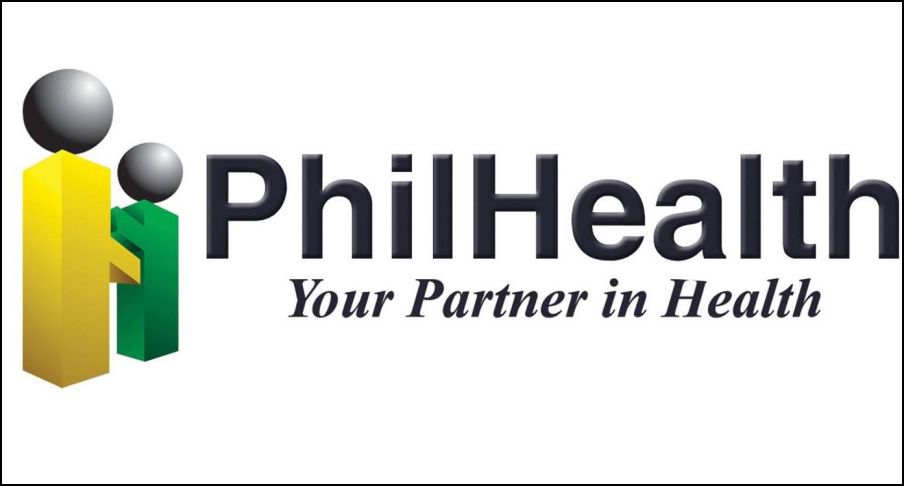 Benefits of Having a PhilHealth Account Online
Having a PhilHealth account online offers many benefits for users. The convenience of being able to access information about health insurance plans and accounts from your computer or mobile device is unparalleled. Plus, the digitalization of the process makes it much easier to manage your health accounts and keep track of important transactions.
With the availability of digital records, you can easily monitor any changes in policy and benefit eligibility too, plus receive real-time updates when benefits are added or eliminated. Moreover, with an online account, you can quickly verify payments and other procedures provided by PhilHealth's services, 24 hours a day, every day of the week so you never miss out on important information regarding your PhilHealth membership.
Overall, having a PhilHealth account online definitely gives users more control over their coverage and makes their experience with the service much smoother.
How to Set Up Your PhilHealth Online Account
PhilHealth is the national health insurance program of the Philippines. It provides health care coverage to all Filipinos, whether employed or not, in both the public and private sectors. PhilHealth members are entitled to various benefits, depending on their membership category.
One way to avail of PhilHealth benefits is to register for an online account. Here are the steps on how to set up your PhilHealth Online Account:
1. Go to the PhilHealth website: https://www.philhealth.gov.ph/, click first "Online Services" then Click "Register".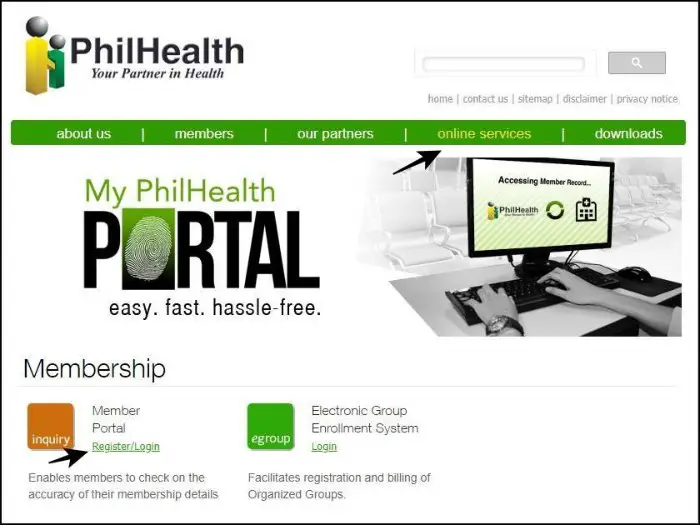 2. On the Member Portal, Click on "Create Account".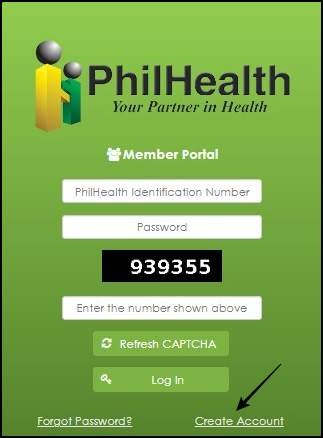 3. You will be redirected to Member Portal Account Creation. Make sure to fill out all the necessary information, input the CAPTCHA then click "Create Account".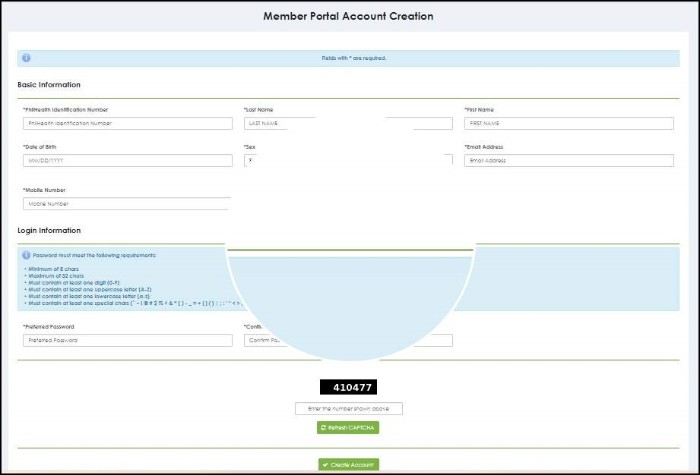 4. You will then receive a link to your registered email.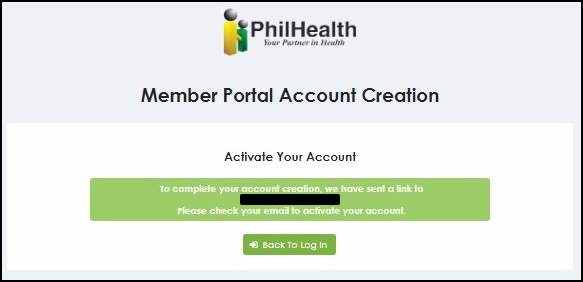 5. Click on the link on the email sent by PhilHealth to activate your account.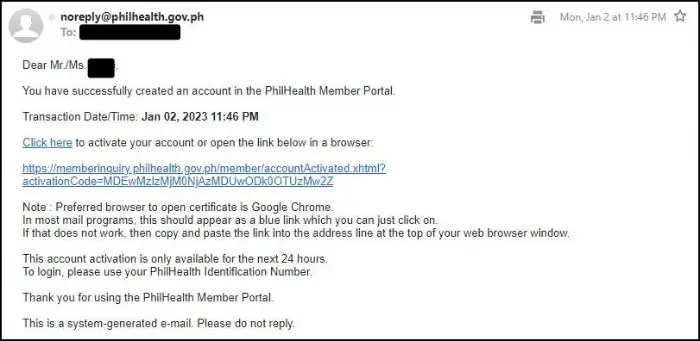 6. Once an account has been activated, you can log in to your PhilHealth account using your Philhealth number and newly created password. Input the Captcha and click "Log in".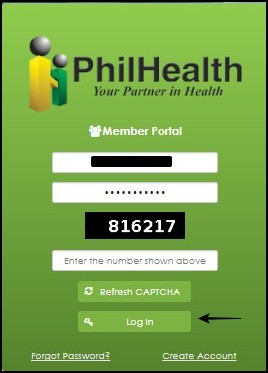 Setting up a PhilHealth Online Account is easy and can be done in just a few steps. With your account, you will be able to submit claims online easily and quickly. You will also be able to view the status of your claims, manage your profile, and more!
Frequently Asked Questions
1. What is PhilHealth and what does it do?
A: PhilHealth, or Philippine Health Insurance Corporation, is a government-funded health insurance system for Filipino citizens. It helps individuals and families pay for medical treatment when needed by providing financial assistance to those who need it.
2. What can I do with my PhilHealth online account?
A: With a PhilHealth online account, you can view your coverage information, pay premiums, and track the status of applications and payments. You can also use your account to view your PhilHealth membership information and update your personal information.
3. Is there a fee to set up an online account?
A: No, setting up an online account with PhilHealth is free of charge. It is a great way to manage your health insurance needs conveniently and securely.
4. What if I have more questions about my PhilHealth online account?
A: If you have any further questions, you can contact the PhilHealth Customer Service team directly by calling their hotline or visiting their website. They will be able to answer any other questions you may have.
5. How secure is the online account?
A: Your information and data stored in your PhilHealth online account will be protected by the latest security technology. All payments made through the platform are encrypted and secure.
6. Are there any other resources I can use to learn more about PhilHealth?
A: Yes, there are many helpful information sources available on the official PhilHealth website. These include FAQs, an online guide, and a comprehensive list of partners that can assist with PhilHealth-related services. You can also visit their social media pages for the latest updates from the organization.
7. Is there any way to access my account if I forget my password?
A: Yes, you can reset your PhilHealth online account password by clicking the 'forgot password' link on the login page. You will need to provide a valid email address associated with your PhilHealth account to reset it. Once the process is complete, you will be able to log in again.
Summary
Creating your PhilHealth account online is an important step for every Filipino citizen. It ensures that you are able to avail yourself of the benefits that this national health insurance program provides. It enables you to easily access important information such as policy coverage and payment details, as well as to make payments in a convenient and secure manner.
Through your PhilHealth account, you can enjoy free or subsidized medical services which may otherwise not be available to many individuals and families. Having a reliable online platform also means that healthcare agents or service providers have better visibility into customers' records, making enquiries easier and improving overall efficiency. Creating your PhilHealth account online is a must for all Filipinos so that they can enjoy the vast benefits of this health insurance system as well as improved convenience of maintaining their records.
Contact Information
Website: philhealth.gov.ph
Facebook Page: https://www.facebook.com/PhilHealthOfficial/
Callback Channel: 0917-898-7442 (PHIC)
Email: actioncenter@philhealth.gov.ph