Motorcycle City is one of the best places to get your motorcycle loan in Cebu. They offer low-interest rates and easy payment terms so you can get on the road and enjoy the wind in your hair. To apply for a motorcycle loan at Motorcycle City, simply fill out this online application form. 
Also Read: How to Apply Motorcycle Loan in DU EK SAM
After you submit your application, the friendly staff will review it and get back to you with requirements for what needs to be submitted next. Getting a motorcycle is the most practical way to travel in the Philippines. You can avoid the hassle of traffic and get from point A to point B without any problems.
After you fill out the online application form, they will do a background check. If they approve your loan, they'll reach out and let you know, at which point you can start talking about terms and conditions. You need to completely understand the contract before putting your name on it. If anything is unclear, always make sure to inquire. And once everything is sorted out…you get to go pick out your new motorcycle!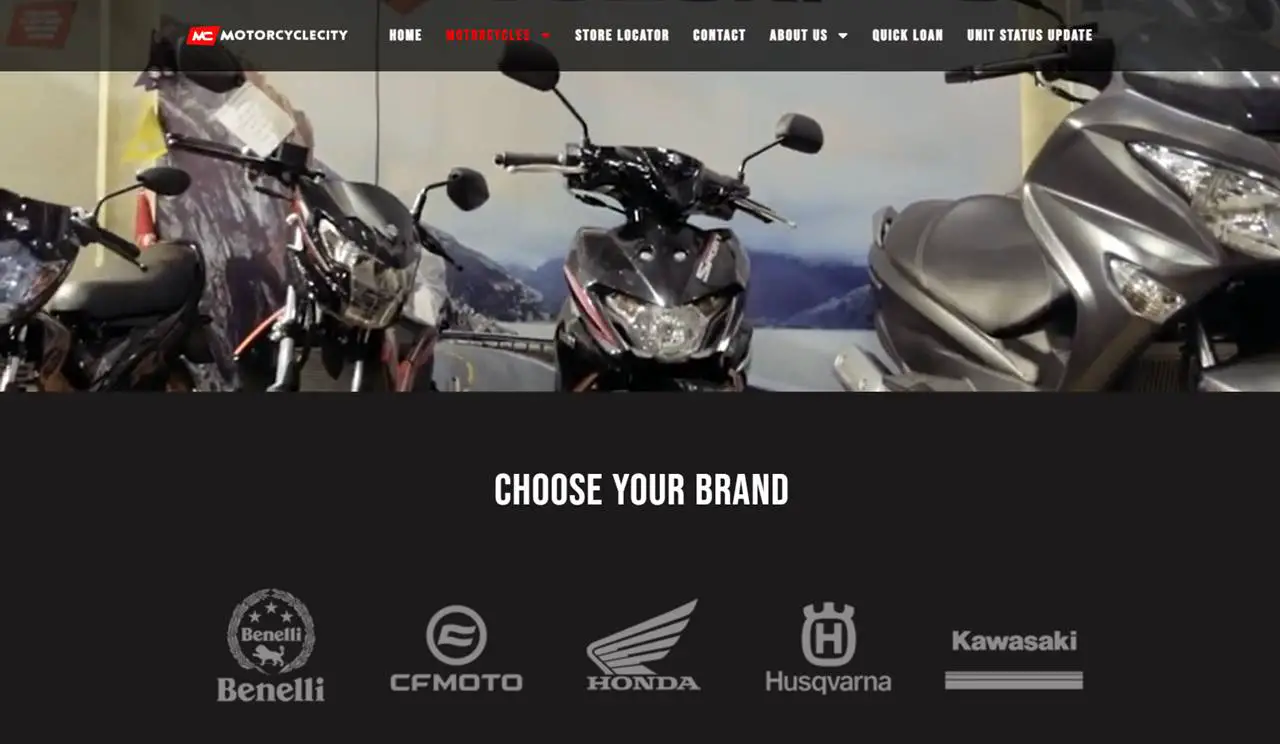 What is Motorcycle City?
At Motorcycle City, they understand that buying and servicing a motorbike is a big decision. Their sales agents and service personnel are eager to help motorbike enthusiasts and utility riders who want a pleasant, efficient, and transparent with your purchasing experience. With over ten stores in the past year, they've got you covered.
Motorcycle City is the best place to buy a motorcycle because they offer low-interest rates and easy payment terms. You can avoid traffic congestion and get where you need to go without any problems.
Maintenance Services Offered by Motorcycle City
In case you are wondering what are motorcycle services offered by Motorcycle City, here's a list:
Please check out the list below:
Tire change- It's important to change your tires when they get too bald. Driving on bald tires is dangerous and can lead to a blowout.
Maintain battery- Over time, the battery in your car will start to lose its charge and will eventually die. To avoid this, you need to regularly maintain your battery. This includes cleaning the terminals.
Replace parts- You can use a replacement part to fix an old or broken one.
Change the oil- Replacing the dirty, used oil in your engine with fresh, new oil.
Engine Tune-up- If you want to keep your car running smoothly, regularly getting tune-ups is key. Not only will it clean the engine, but also improve its overall performance.
They offer a wide variety of Motorcycle Brands and Models at MotorcycleCity.
BENELLI MODEL RANGE
VZ 125 i
TNT 135
RFS 150 i
302 S Standard
302 S Limited
502 C
TRK 502
Leoncino 500
Leoncino 500 Trail
TRK 502 X
TNT 600 i
SUZUKI MODEL RANGE
Suzuki Smash 115
Suzuki Burgman 200
Suzuki Burgman 400
Suzuki Raider 150
Suzuki Skydrive 150
Suzuki Gixxer 150
Suzuki Smash
Suzuki Avenis
Suzuki Shooter
CFMOTO MODEL RANGE
125 ST PAPIO
150 NK
300 NK
300 SR
400 NK
400 GT
650 NK
650 GT
650 MT
700 CL-X Heritage
700 CL-X Sport
800 MT Sport
800 MT Touring
HUSQVARNA MODEL RANGE
200 SVARTPILEN
401 SVARTPILEN
401 VITPILEN
KTM MODEL RANGE
200 DUKE
200 RC 2022
390 RC
390 DUKE
390 ADVENTURE
790 DUKE
790 ADVENTURE
790 ADVENTURE R
ROYAL ENFIELD MODEL RANGE
Meteor 350 Fireball
Meteor 350 Supernova
INTERCEPTOR 650 CANYON RED
INTERCEPTOR 650 BAKER EXPRESS
INTERCEPTOR 650 MARK 2
Continental GT 650 ROCKER RED
Continental GT 650 VENTURA
Continental GT 650 MR CLEAN
Himalayan 400
VESPA MODEL RANGE
S 125 EURO 3
PRIMAVERA S 150
SPRINT S 150
PRIMAVERA RED 150
SPRINT 150
SPRINT S 150 WITH TFT
GTS SUPER SPORT 300
SEI GIORNI 300
GTS SUPER TECH 300
YAMAHA MODEL RANGE
Mio Sporty
Mio I125 S
Mio Soul I125
Mio Soul I125 S
Mio Gear
Mio Gear S
Mio Gravis
Mio Aerox 155
Mio Aerox 155 S
NMAX
YZF-R15 M
XMAX ABS
YZF-R3
MT-15
MT-03
Yamaha R3
Yamaha Serow 250
Yamaha Fazzio
Yamaha Soul 115
Yamaha Sniper 150
Yamaha SR400
Yamaha XMAX
Yamaha XSR150
Yamaha XSR900
Yamaha XTZ125
Yamaha YZ250
KYMCO MODEL RANGE
KYMCO
KYMCO AK550
KYMCO DOWNTOWN 350 TCS
KYMCO KRV 180I DDS
KYMCO KRV 180I TCS
KYMCO KAGARDOR 150 EURO 3
KYMCO VISA R 110 ROYAL (SPOKE)
KYMCO X-TOWN CT 300I
KYMCO XCITING S 400I
KYMCO XCITING 300I ABS
KYMCO LIKE 150I NOODOE
KYMCO LIKE 150I ABS
KYMCO RACINGKING 180I
KYMCO SUPER 8 150 EURO 3
KYMCO X-TOWN 300 FI
KYMCO LIKE 125 ITALIA
KYMCO VISA R 110 (MAGS) COMMUTER EURO 3
KYMCO X-TOWN 300I NOODOE
A complete list of available motorcycles, including prices and specifications, can be found on their website. You may check it out here: https://motorcyclecity.com.ph/motorcycle/
For more information, please see the contact information below.
Contact number: 0905 409 7818
Email Address: http://www.motorcyclecity.com.ph/
Address: Unit A-1, Go Shen Building, 1047 Kalubihan, Cebu City, Cebu
Their business hours are Monday through Saturday, 8:30 AM to 5:30 PM.
Qualifications
Before you can apply for a motorcycle loan in Motorcycle City, make sure you meet the qualifications below.
You must be a Filipino citizen.
A valid mobile number is required.
You must be at least 18 years old.
The only forms of identification that will be accepted are a passport, driver's license, or TIN ID.
To qualify, you must make ₱15,000 monthly and have no current loans with Motorcycle City.
Requirements
To apply for a motorcycle loan from Motorcycle City, you will need:
An application form must be completed in full before we can begin processing your request.
Two current ID photos that are either 1×1 or 2×2 (company-issued or government-issued)
Motorcycle City will need either your residence certificate or proof of billing with your name on it.
To apply for a loan, you will need documentation of your income.
Payslips and a certificate of employment that attests to your length of service.
If you own your business, please bring documentation of your registration and income tax returns.
Please find attached three months' worth of bank statements.
Steps on how to Process Motorcycle Loan from Motorcycle City Cebu
Step 1: Fill out the online application form here – https://motorcyclecity.com.ph/quick-loan/
Please double-check that you have entered the correct information before continuing to avoid any delays in processing.
Step 2: After you have submitted your initial documents, They will need to perform a credit check. Once that is completed with no issues, they will then ask for additional documentation needed for your application.
Step 3: After getting approval from the credit check, you will then be asked to submit the documents listed below:
You will need two recent, high-quality ID photos that are either 1×1 or 2×2 to complete this process.
Provide proof of billing (VECO, MCWD, or phone bill)
Current employment certificate
Your three most recent payslips.
The down payment you make for the motorcycle you desire.
Step 4: Once the documents are verified and approved, you will then be asked to go to the nearest Motorcycle city dealer and bring with you your downpayment for the motorcycle that you want.
Step 5: Your Motorcycle will be released. To avoid penalties, make sure to pay your motorcycle installment payment on your due date.
IMPORTANT: if you default on your loan, Motorcycle city will repossess your motorcycle.
You can view this Cebuano vlogger which will show us the entire process of getting a motorcycle at Motorcycle City.
https://www.youtube.com/watch?v=D1wFpxMexus
At Motorcycle City, they have a wide variety of motorcycle financing options for you to choose from. For example, you can choose between fixed or flexible terms depending on your needs. Not to mention, they have low down payment options so you can begin with minimal hassle. If you want peace of mind, get pre-approved financing before starting the process–that way, you'll know exactly how much money they are willing to loan you.
Frequently Asked Questions
1. How much is the downpayment for a motorcycle in Motorcycle city?
The downpayment is between 10,000 to 20,000.
2. Where can I order parts and accessories for my motorcycle?
Motorcycle City has an official Shopee account. You can click on the link or be directed to their Official Shopee Mall page here – https://shopee.ph/motorcyclecityph?page=0
3. Where can I check the status of my OR/CR?
Motorcycle City has got your back. You can click on the link to check the status of your OR/CR here – http://keymotors.com.ph/unit-search-page/
4. How to Locate the nearest Motorcycle City motorcycle dealer?
You can find the nearest dealer branch by clicking on the link below here – https://motorcyclecity.com.ph/store-locator/
5. When will be the first change oil for our motorcycle?
The first change oil will be on the 500th kilometer or you can refer to the manual that will come with your motorcycle when it's released.
Motorcycle City Loan Installment Review
At Motorcycle City, you can choose how often you'd like to make payments on your motorcycle loan. You can choose a monthly installment with minimum payment plans, but you have to make sure you abide by the terms of your installment plan.
Just be mindful that if you're late on a payment, it'll cause some issues down the road. I was able to get my motorcycle in 2-3 days.
Motorcycle City's customer service was excellent and I would recommend taking out a loan from them. The whole process was hassle-free and it felt like a breeze getting the requirements done because the company is flexible when it comes to serving their customers