Getting a motorcycle loan in DU EK SAM Cebu is easy and convenient. There are many financial institutions that offer motorcycle loans with competitive interest rates. You can apply for a loan online or in person at any of the DU EK SAM Cebu branches.
Once your application is approved, you will be given a loan contract to sign. Make sure to read the contract carefully before signing it.
Also Read: How to Apply Motorcycle Loan in Motortrade
Motorcycles are one of the most popular methods of transportation in the Philippines. In addition to being a convenient and affordable way to get around, motorcycles can also be a great investment. If you're thinking about purchasing a motorcycle, you may be wondering how to apply for a loan.
After you submit your application to the motorcycle dealer, they will do a background check. If they approve your loan, they'll reach out and let you know, at which point you can start talking about terms and conditions. You must understand everything in the contract before signing; if something isn't clear, make sure to ask questions or negotiate for better rates. And once everything is sorted out on paper…you get to go pick out your new motorcycle!
Please check out the details below about the process of applying for a motorcycle loan via DU EK SAM (DES).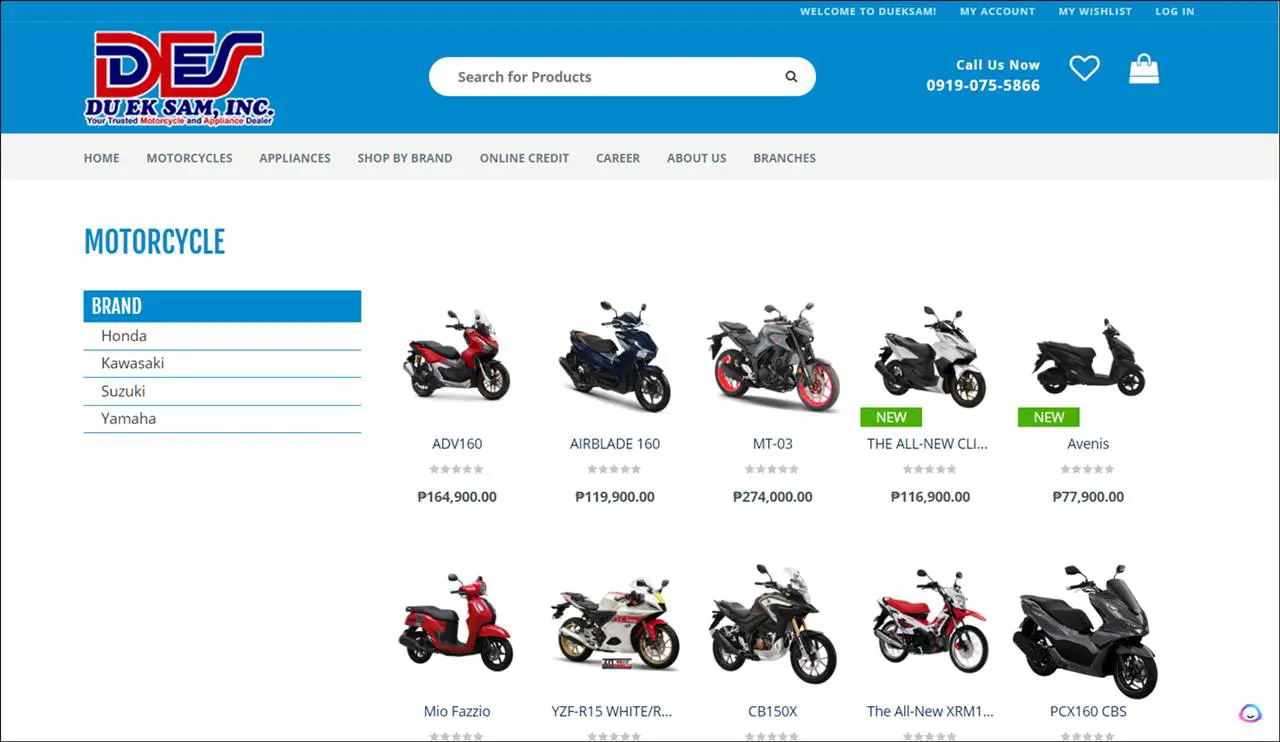 What is DU EK SAM, INC?
DU EK SAM, INC, Inc. opened in 1979 as a copra trader but eventually transformed into a hardware retailer. However, when the Philippine government decided to place regulations on the coconut industry during Marcos' rule, our family business was forced to close. To make ends meet, we started selling appliances and motorcycles instead–requiring a large amount of money for startup costs.
The appliance and motorcycle company now known as DU EK SAM, INC. was established on June 26, 1979, in honor of the Chinese name of the family patriarch Samuel Du. The principal office was located at Jagna, Bohol but today, 282 branches (and counting) are spread throughout Luzon, Visayas, and Mindanao. The company sells a wide variety of products including motorcycles appliances furniture, power products, and spare parts.
At DU EK SAM DES, we understand that finding the right motorcycle financing option is important to our customers. That's why we offer a variety of options, like fixed or flexible terms and low down payment options. Plus, you can even apply for pre-approved financing so there are no surprises down the road. We want to make sure you're happy with your purchase – from start to finish!
Maintenance Services Offered by DU EK SAM, INC Cebu
DU EK SAM, INC Cebu offers a wide range of maintenance services for your motorcycle. We have a team of highly trained and experienced mechanics who can take care of all your motorcycle needs. Whether you need a simple oil change or a more complex repair, we're here to help.
Change the oil – Replacing dirty, used oil in your engine with fresh new oil.
Tune-up – Think of tune-ups as preventative medicine for your car. Not only will it fix what's already broken, but getting ahead of any future issues is key to maintaining a smooth ride.
Replace parts – A replacement part can be used to repair an old or broken one.
Tire change – Driving on bald tires is not only incredibly dangerous, but it can also result in a blowout. To avoid this, be sure to change your tires as soon as you notice they are starting to wear down.
Maintain battery – Without fail, the battery in your car will slowly stop working and eventually die if it is not properly maintained. To prevent this from happening, you need to clean the terminals regularly.
Types of Motorcycle Brands and Models in DU EK SAM
DU EK SAM, INC has a huge range of motorcycles and models on offer. Check out our list below:
Honda
ADV160
AIRBLADE 160
THE ALL-NEW CLICK160
CB150X
The All-New XRM125 DSX (Special Edition)
PCX160 CBS
PCX160 ABS
CRF250 RX
RS125
CRF300 RALLY (2021)
Dio
CLICK 125i
CLICK 150i
CBR150R (2021)
CRF300L
SUPRA GTR150
CBR150R
XR150L
CRF150L
CRF250L
CRF250 RALLY
RS125 Fi
XRM125 MOTARD
XRM125 DSX
XRM125 DS
WAVE110R
WAVE110 ALPHA
TMX SUPREMO 3rd Gen
TMX125 ALPHA
ADV150
AIRBLADE 150
PCX 150
GENIO
BEAT PREMIUM
BEAT FASHION SPORT
BEAT STREET
KAWASAKI
CT150 (2021)
CT100 WITH MOBILE CHARGING PORT
CT125 WITH MOBILE CHARGING PORT
KLX150BF (2021)
ROUSER RS200 ABS (2020)
Dominar 400
KLX 230
KLX 150L
KLX 140
Z125
BARAKO II (KICK)
CT100
CT100B
CT125
CT150
ROUSER NS160 FI
FURY 125RR
FURY 125R
ROUSER RS200
ROUSER NS200 FI
ROUSER NS125
SUZUKI
Avenis
SMASH 115 – Disc-Drum
GIXXER 250
GIXXER SF 250
SKYDRIVE CROSSOVER
BURGMAN STREET
RAIDER J115 Fi (Spokes)
GIXXER 150
RAIDER J CROSSOVER
RAIDER R150Fi
RAIDER R150 CARB
RAIDER J115 Fi (Mags)
SMASH 115 – Drum-Drum
SHOOTER 115 Fi
GIXXER Fi
GSX-R150
GSX-S150
SKYDRIVE SPORT
SKYDRIVE 125 Fi
YAMAHA
MT-03
Mio Fazzio
YZF-R15 WHITE/RED
Mio Gear S
Mio Gear
Mio Gear S FindURTrip
MIO i 125s MATTE BLACK (2021)
MIO SOUL I 125S
MIO SOUL I 125S
MIO GRAVIS
MIO AEROX S findURtrip
MIO AEROX S MONSTER (2021)
NMAX ABS (2022)
WR155R
MIO i 125s GRAY (2021)
XMAX 300 (2021)
SNIPER 155R
SNIPER 155
XSR155
MT-15
SEROW250
XTZ 125
FZI
ALL NEW SZ
VEGA FORCE i
SNIPER 150
SIGHT SPOKE
SIGHT CAST
YTX 125
YZF-R3
YZF-R15 SILVER/BLACK
XMAX
SNIPER 150 DOXOU
MIO AEROX DOXOU
MIO AEROX S
MIO i125
MIO i125s
MIO SOUL i125
MIO AEROX
A complete list of available motorcycles, including prices and specifications, can be found on their website. You may check it out here: https://www.dueksam.com.ph/motorcycles
Qualifications
The qualifications you will need to meet if you want to apply for a motorcycle loan in DU EK SAM, INC Cebu are as follows:
You must be a Filipino citizen.
You must provide a valid mobile number
You must be 18 years of age or older.
You will need a government-issued ID such as a passport, driver's license, or TIN ID.
You must gross at ₱15,000 monthly and have no previous loans with DU EK SAM, INC to qualify.
Note: Make sure that you are eligible for financing before you apply for a loan.
Requirements
To purchase a motorcycle from DU EK SAM, INC, you will need the following:
completed application form
Two recent ID photos measuring 1×1 or 2×2 (company-issued or government-issued)
DU EK SAM will need either your residence certificate or proof of billing with your name on it.
To apply for a loan, you will need proof of salary:

A certificate of employment that includes information about your length of service and payslips.
If you're self-employed, please bring your business registration papers and ITR.
Please provide copies of your bank statements from the past 3 months.
Procedure: How to Process Motorcycle Loan from DU EK SAM, INC Cebu
To get a motorcycle loan from DU EK SAM, INC, you can either visit one of their branches or apply online through their website. Applying for a loan online is quick and easy; you'll get an instant approval decision. Once your loan is approved, you can choose to have the funds transferred to your bank account or pay for your motorcycle directly at any DU EK SAM branch.
Applying for a loan with DU EK SAM, INC is speedy and straightforward, no matter if you elect to do so via their website or in person at any of their many branches located across the country. Remember to bring these requirements:
Step 1: Fill out the application form. You can access the application form online here: https://www.dueksam.com.ph/credit?model=1459
To avoid any delays in processing your loan, be sure to fill out the form with accurate information.
Step 2: After you have submitted your initial documents, DU EK SAM, INC will conduct a credit check. If there are no issues with your credit score, you will be asked to submit additional documentation for your application.
Step 3: Once you are cleared and you are qualified to get a loan, submit the following requirements to the DU EK SAM, INC office:
Two recent, high-quality ID photos that are either 1×1 or 2×2
Provide proof of billing (VECO, MCWD, or phone bill)
Up-to-date certificate of employment
Three months of your most recent payslips.
Your down payment for your chosen motorcycle.
Step 4: Once your documents have been reviewed and approved, you must be prepared to make a downpayment with cash as your first payment.
Step 5: After you make the first downpayment, DU EK SAM, INC will release the motorcycle of your choice to you.
Step 6: To avoid any penalties, please make sure to pay your next motorcycle installment payment on the specified date.
Please Note: Your motorcycle could be repossessed if you do not follow the terms and conditions in your loan agreement.
This is the end of our guide on how to get a motorcycle loan from DU EK SAM, INC. As you can see, it's easy and quick to apply for one of our loans – whether you do it in person or online. The only thing left to do now is to make sure that you have all the requirements ready so that we can process your application as quickly as possible!
Video: Filipino Vlogger Shares Experience Getting a Motorcycle Installment Plan in DU EK SAM, INC
This video will show you what you need to get an installment plan for buying a motorcycle through DU EK SAM, INC. A Pinoy shares his experience visiting a DU EK SAM office to get his motorcycle:
DU EK SAM, INC has many motorcycle financing options from which you can choose. For example, you can decide between fixed or flexible terms based on your requirements. Additionally, they have low down payment options to make it simpler for you to get started. If you want, you can even apply for pre-approved financing so that way there are no surprises later, and know precisely how much money we will loan you.
Frequently Asked Questions
FAQs about DU EK SAM, INC Cebu's motor plans
1. What is the down payment on a motorcycle in DU EK SAM?
At DU EK SAM, INC, you will pay around 10,000 to 20,000 PHP as a downpayment to get a motorcycle loan.
2. How long will the Official Receipt and Certificate of Registration (OR/CR) be released for my motorcycle?
After your loan is approved and you have completed all requirements, the OR/CR (loan approval notice) will be sent to you. It may take 2-3 days once all documents are complete.
3. Is there a penalty if I miss a payment?
If you don't make a payment on time, you will be charged a late fee. The amount of the fee will depend on your loan agreement.
4. What is a normal down payment percentage on a motorcycle?
At DU EK SAM, INC, the minimum down payment for a motorcycle is 10%. However, the amount can vary depending on the type of bike you're looking to purchase.
5. What is the best beginner bike?
There is no one-size-fits-all answer to this question, as the best beginner bike for you will depend on your specific circumstances. Please check with DU EK SAM agent so they can give you the best advice.
6. How to Locate the nearest DU EK SAM, INC motorcycle dealer?
You can find the nearest dealer branch by visiting this URL link – https://www.dueksam.com.ph/branches
Summary
DU EK SAM, INC is a good option if you're looking for a motorcycle loan in Cebu. They have a wide selection of motorcycles to choose from and the staff is helpful and friendly. The approval process is quick and easy, although the interest rates may be higher than what you're hoping for. Overall, though, my experience with DU EK SAM, INC was positive and I would recommend them to others.
For more details, please get in touch with DU EK SAM, INC, or go to your local dealer today.