Manila Foodshoppe is a Chinese restaurant located in Cebu and has been open for more than 50 years. It is popular in Cebu for its delicious foods. The restaurant offers traditional Chinese cuisine with a modern twist, featuring an extensive range of dishes prepared by experienced chefs and served in a comfortable and welcoming ambiance.
Also read: List of 10 Dove Street Branches in Cebu
Cebu is already a popular destination for tourists and its popularity as a tourist hub has been growing rapidly in recent years. Manila Foodshoppe is very well known to travelers, locals and expats. They may not be the biggest restaurant in Cebu, but they are certainly one of the most popular.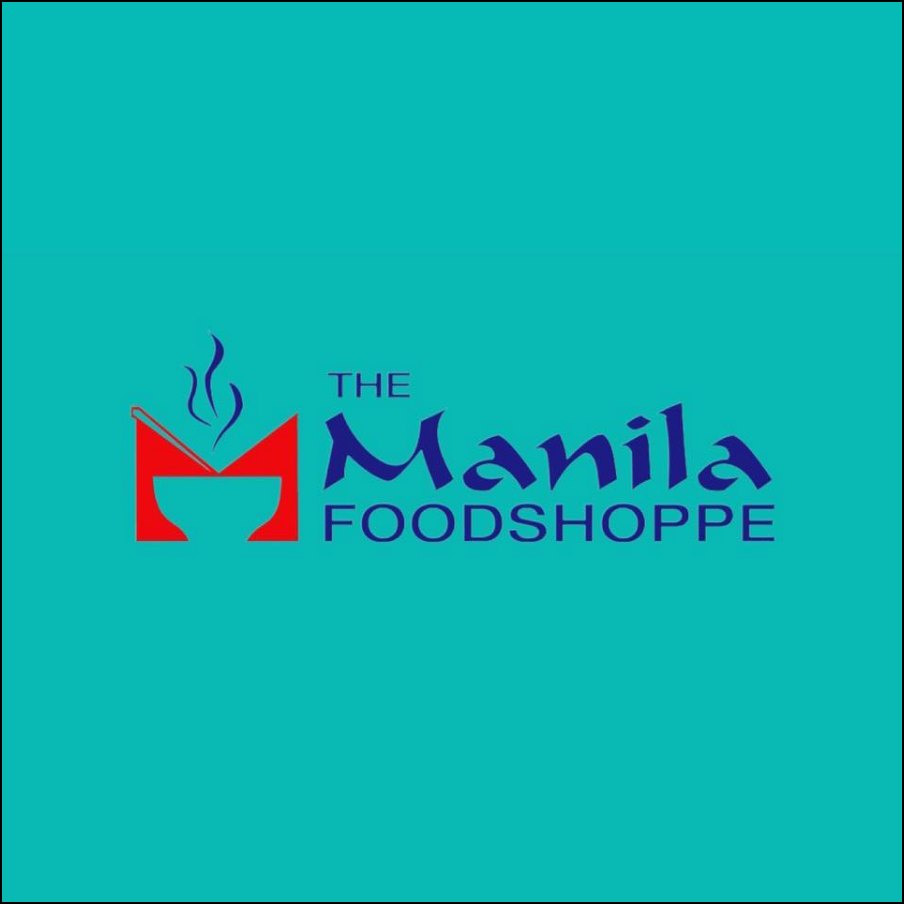 Chinese Restaurant in Cebu
For Cebuano, Manila Foodshoppe is the go-to choice for Chinese cuisine. The restaurant has been serving up delicious dishes since it first opened its doors in Cebu City, and it has become a beloved fixture in the community. What makes the restaurant so special is its commitment to using only the freshest ingredients and traditional cooking methods. This ensures that each dish is packed with flavor and nutrients. When it comes to choosing a Chinese restaurant, Cebuano always go for Manila Foodshoppe.
Ambiance
The restaurant has a casual atmosphere, and the menu features traditional Filipino dishes. The food is cooked to order. The restaurant is usually crowded, but there is usually a table available. Manila Foodshoppe is a great place to eat if you are looking for a delicious meal at a reasonable price.
Service
Service is an important part of the Manila Foodshoppe experience. The team members are passionate about food and are dedicated to providing each customer with a positive experience. From the moment you walk in the door, you will be greeted by a friendly face. They will take the time to answer any questions you may have and make sure your order is just right. Their goal is to make sure you leave our restaurant satisfied.
Quality
The restaurant only uses the freshest ingredients in all of its dishes, and it never cut corners when it comes to preparation. The customers can taste the difference, and they keep coming back for more. Quality is also important because it helps to ensure customer satisfaction. They want the customers to be happy with their experience from start to finish, and that starts with providing them with food that meets their expectations. When the customers are happy, they know they've done their job. Quality is a top priority at the Manila Foodshoppe, and it always will be.
Branches of Manila Foodshoppe
There are 6 branches of Manila Foodshoppe across Cebu. They are strategically located in the locations that are most convenient for both locals and tourists. The branches offer the same great quality of food as in the main restaurant, so no matter which branch you visit, you can expect a wonderful experience.
Manila Foodshoppe – South Town Centre
Address: 7R8V+Q6C, south, Talisay, Lalawigan ng Cebu
Hours: 10 AM to 8 PM
Phone: (032) 273 8008
Manila Foodshoppe – Manalili
Address: Manalili St, Cebu City, Cebu
Hours: 9 AM to 8 PM
Phone: (032) 253 0229
Manila Foodshoppe – Escario
Address: Address: Siomai Queen City, Capitol Square, N Escario St, Cebu City, 6000 Cebu
Hours: 9:30 AM to 10 PM
Phone: (032) 255 5505
Manila Foodshoppe – Fuente
Address: Address: Osmeña Blvd., Cebu City 6000, 6000
Hours: 10 AM to 9 PM
Phone: (032) 253 3303
Manila Foodshoppe – Parkmall
Address: 8WFM+RVM, Ouano Ave, Tipolo, Mandaue City, Cebu
Hours: 10 AM to 9 PM
Phone: (032) 345 5505
Manila Foodshoppe – SM Cebu
Address: SM City Cor Cabahug And Kaoshiung St, 6000, Juan Luna Ave Ext, Cebu City, Cebu
Hours: 10 AM to 9 PM
Phone: (032) 231 8008
Manila Foodshoppe Menu
Check the complete Manila Foodshoppe menu for its famous dishes. They pride themselves on providing a variety of options so that everyone can find something they enjoy.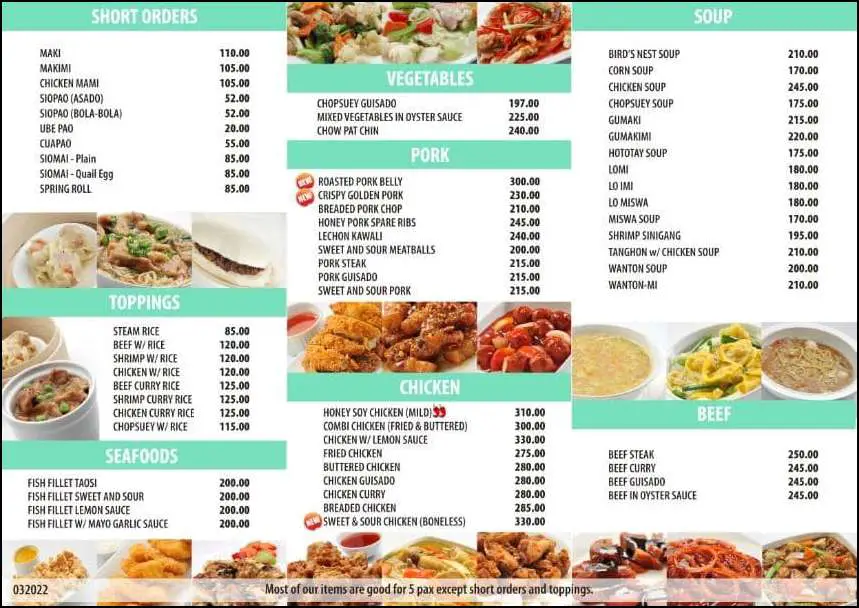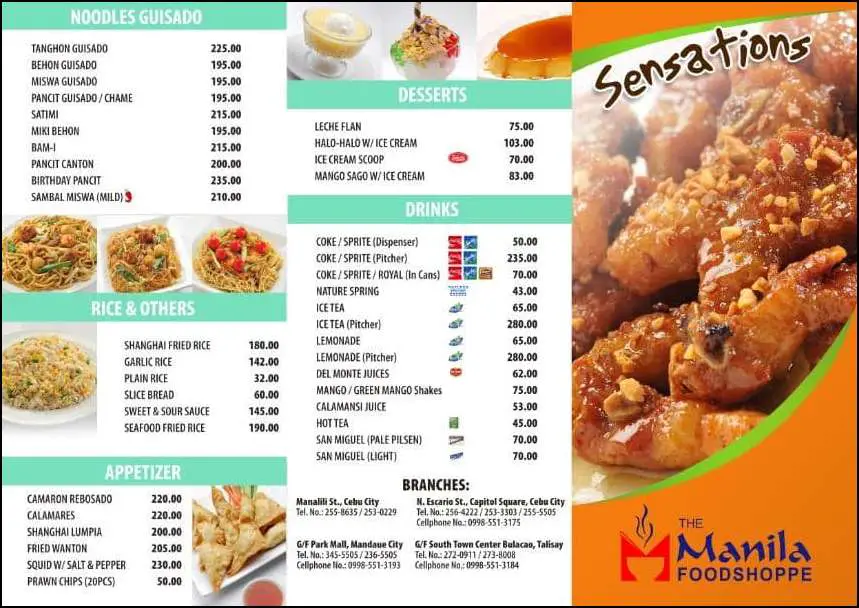 PORK
Roasted Pork Belly
Crispy Golden Pork
Breaded Pork Chop
Honey Pork Spare Ribs
Lechon Kawali
Sweet and Sour Meatballs
Pork Steak
Pork Guisado
Sweet and Sour Pork
CHICKEN
Honey Soy Chicken
Combi Chicken (Fried & Buttered)
Chicken with Lemon Sauce
Fried Chicken
Chicken Guisado
Chicken Curry
Breaded Chicken
Sweet and Sour Chicken (Boneless)
BEEF
Beef Steak
Beef Curry
Beef Guisado
Beef in Oyster Sauce
VEGETABLES
Chopsuey Guisado
Mixed Vegetables in Oyster Sauce
Chow Pat Chin
SEAFOOD
Fish Fillet Taosi
Fish Fillet Sweet and Sour
Fish Fillet Lemon Sauce
Fish Fillet with Mayo Garlic Sauce
SOUP
Bird's Nest Soup
Corn Soup
Chicken Soup
Chopsuey Soup
Gumaki
Gumakimi
Hototay Soup
Lomi
Lo Imi
Lo Miswa
Miswa Soup
Shrimp Sinigang
Tanghon with Chicken Soup
Wanton Soup
Wanton-Mi
TOPPINGS
Steam Rice
Beef with Rice
Shrimp with Rice
Chicken with Rice
Beef Curry with Rice
Shrimp Curry with Rice
Chicken Curry with Rice
Chopsuey with Rice
SHORT ORDERS
Maki
Makimi
Chicken Mami
Siopao (Asado)
Siopao (Bola-Bola)
Ube Pao
Cuapao
Siomai – Plain
Siomai – Quail Egg
Spring Roll
NOODLES GUISADO
Tanghon Guisado
Behon Guisado
Miswa Guisado
Pancit Guisado / Chame
Satimi
Miki Behon
Bam-I
Pancit Canton
Birthday Pancit
Sambal Miswa
RICE & OTHERS
Shanghai Fried Rice
Garlic Rice
Plain Rice
Slice Bread
Sweet & Sour Sauce
Seafood Fried Rice
APPETIZER
Camaron Rebosado
Calamares
Shanghai Lumpia
Fried Wanton
Squid with Salt & Pepper
Prawn Chips (20 pcs)
DESSERTS
Leche Flan
Halo-Halo with Ice Cream
Ice Cream Scoop
Mango Sago with Ice Cream
DRINKS
Coca-Cola Products
Ice Tea
Lemonade
Del Monte Juices
Mango / Green Mango Shakes
Calamansi Juice
Hot Tea
San Miguel (Pale Pilsen)
San Miguel (Light)
What are you waiting for? Head on over to Manila Foodshoppe for an amazing and authentic experience. Their top-notch quality of food, coupled with the friendly and helpful staff, visits to the Restaurant unforgettable. Enjoy!
Summary
Cebuano have always been known to be food lovers. They love to try different kinds of cuisine and one of their favorites is Chinese food. Cebu is home to many Chinese restaurants, which offer a wide variety of dishes that Cebuano can choose from and Manila Foodshoppe is one of the best. Due to the high demand for their food, Manila Foodshoppe has opened several branches scattered all over Cebu to give Cebuano more options and convenience. With their various locations comes the same great quality of food as in the main restaurant, so no matter which branch you visit, you can expect a wonderful experience.
Contact Information
Facebook Page: https://www.facebook.com/themanilafoodshoppe
Phone Number: 0998 551 3175