When it comes to pristine white sand beaches and crystal-clear turquoise waters, the Philippines is blessed with numerous tropical gems. Among these treasures is Lambug Beach, a hidden paradise nestled in the charming town of Badian, Cebu. Lambug Beach offers visitors a serene and picturesque escape from bustling city life, making it a perfect destination for those seeking some time off and just enjoying the sea breeze.
Lambug Beach boasts a mesmerizing stretch of white sand that is as soft as powder beneath your toes. The pristine, unblemished sands create a stunning contrast against the vibrant blue tones of the ocean. Whether you're lounging under the shade of a tree, building sandcastles with your loved ones, or simply strolling along the shore, the velvety texture of the beach invites you to immerse yourself in its pleasing nature. The white sand beach of Lambug is a true tropical paradise, offering a serene and rustic setting for relaxation and creating great memories.
Also Read: Burritos and Mexican Food Bites at Ceburrito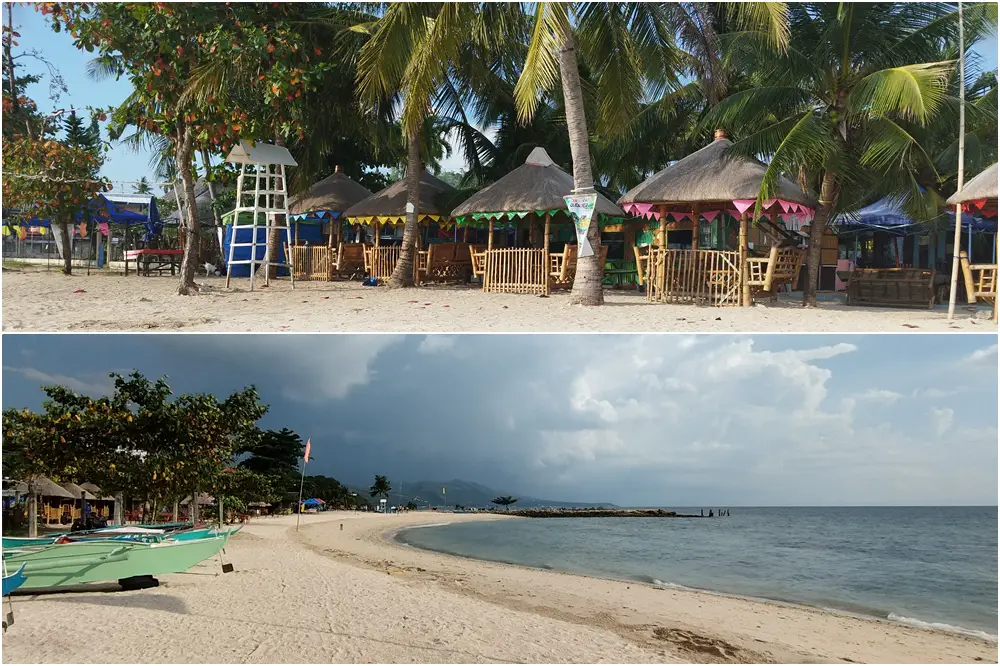 Location and Accessibility
Lambug Beach is situated in the southwestern part of Cebu Island, approximately 105 kilometers away from Cebu City. Getting to Lambug Beach from the city can be done by either a private vehicle or public transportation. Traveling by bus from the Cebu South Bus Terminal to Badian town takes around 3 to 4 hours, followed by a short tricycle ride to the beach, you may consider renting a motorcycle or a vehicle to arrive faster. While the journey may seem long, the reward of Lambug Beach's destination is very worthwhile.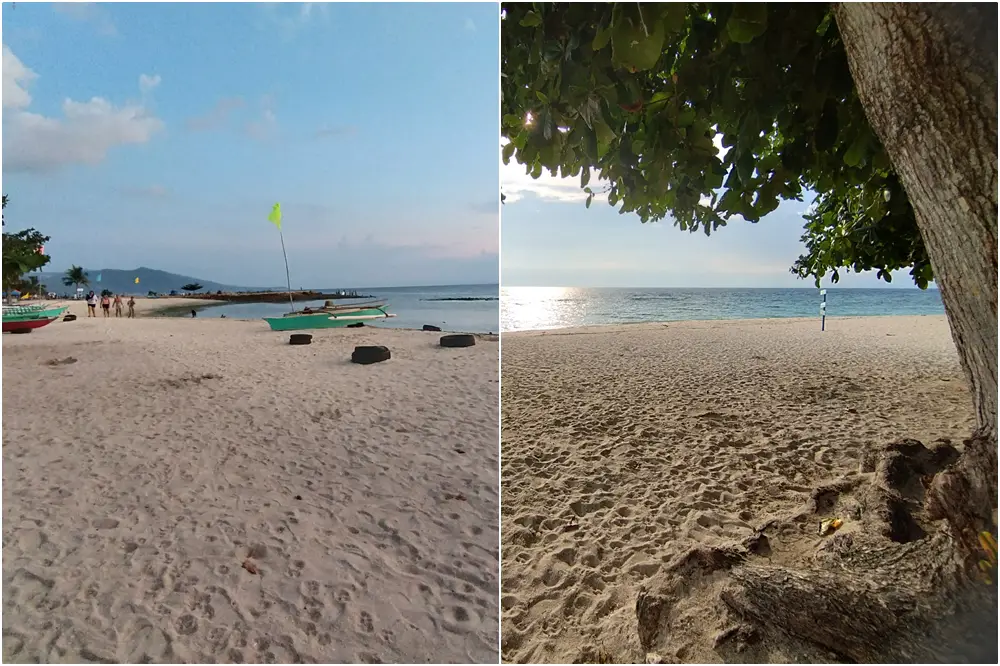 Natural Beauty and Serene Atmosphere
As soon as you set foot on Lambug Beach, you'll be greeted by a breathtaking sight. The beach boasts a long stretch of pure white sand that rivals some of the best beaches in the world. The azure waters of Cebu gently lap against the shoreline, inviting visitors to take a refreshing dip or engage in various water activities such as swimming, snorkeling, and kayaking. The absence of large crowds and commercial establishments ensures a peaceful and unspoiled atmosphere, allowing visitors to truly connect with nature and relax in the tranquil surroundings.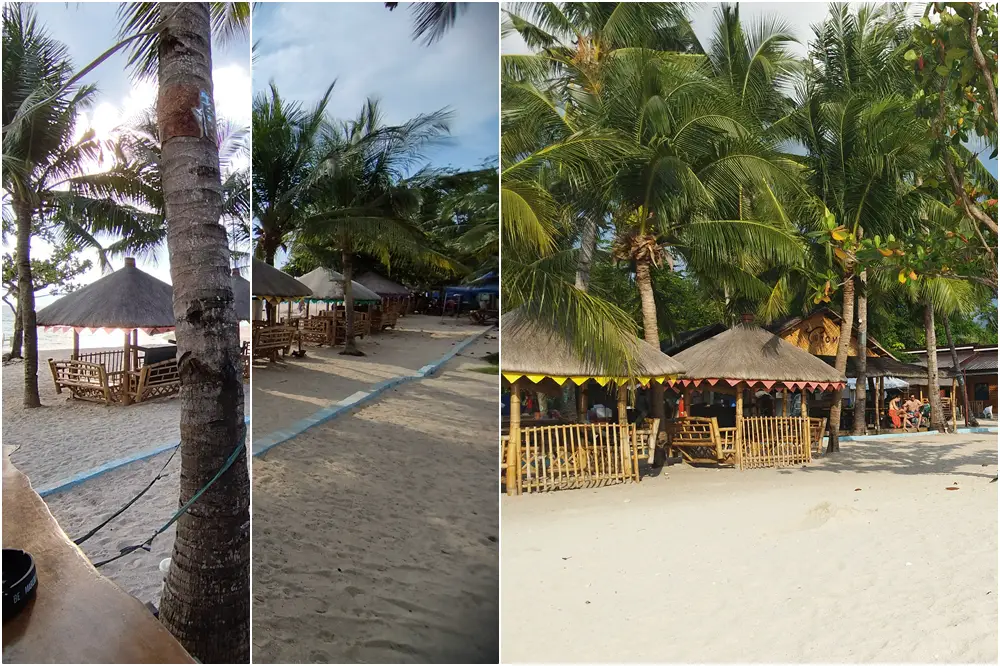 Stunning Sunsets and Majestic Views
One of the highlights of a visit to Lambug Beach is witnessing the majestic view of the stun, may it be sunrises or sunsets. As the golden hour approaches, the sky transforms into a breathtaking canvas of vibrant tones, casting a warm glow over the entire beach. During sunset, watching the sun sink into the horizon while the waves gently crash against the shore is a magical experience that should not be missed. Additionally, the beach offers mesmerizing views of the surrounding lush green hills, providing a stunning backdrop for taking photos and treasuring memories.
Camping and Room Accommodations
For those seeking an immersive beach experience, Lambug Beach offers camping options. Setting up a tent along the beach allows you to spend the night under a starry sky, with the sound of the waves, it is a great way to immerse yourself in a deep slumber. It's also a fantastic opportunity to connect with nature and enjoy a bonfire with families, friends, and loved ones. If camping isn't an option for you, there are also a few beachside resorts and guesthouses or rooms nearby that offer comfortable accommodations for visitors.
Also Read: Rice Bowls and More at Boy Lamaw in Velez Street
Exploring Nearby Tourist Attractions
Lambug Beach serves as a gateway to other exciting attractions in Badian. One of the must-visit sites nearby is the famous Kawasan Falls, crystal-clear turquoise waters that flow gracefully over limestone cliffs, creating a mesmerizing sight. Adventurous travelers can also try canyoneering in Kawasan, a thrilling activity that involves jumping off waterfalls, swimming through rivers, and trekking through scenic canyons. The town of Badian itself is worth exploring, with its laid-back charm and hospitable locals that make you don't want to leave.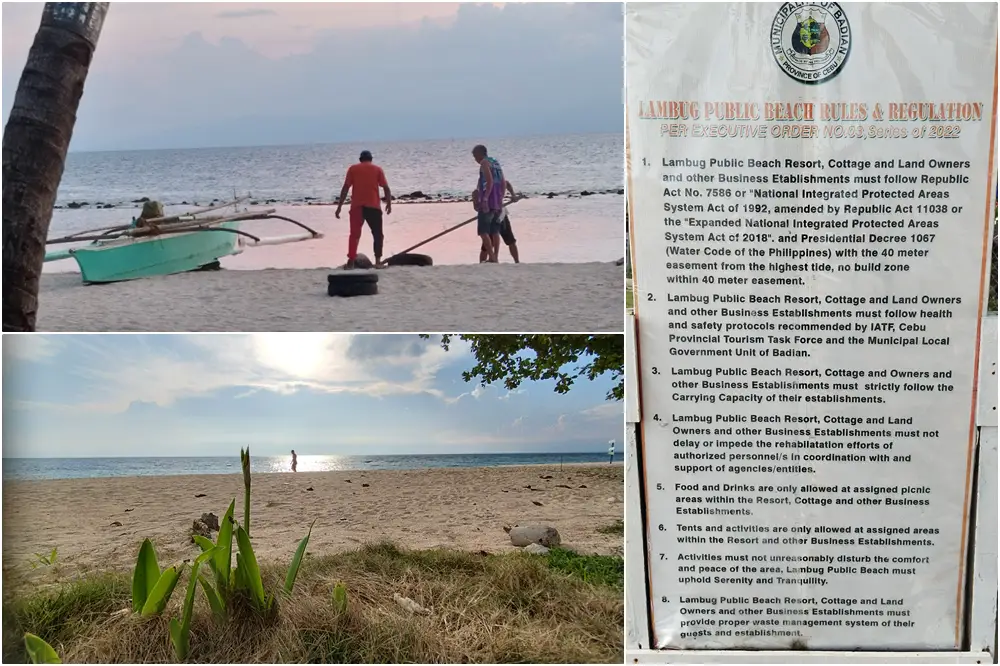 Preserving Lambug Beach
With its increasing popularity, it is crucial to maintain the ecological balance and preserve the natural beauty of Lambug Beach. This is one reason why Lambug Beach, a public spot does not have many commercial establishments so travelers or visitors are able to experience the natural state of this tourist attraction. Visitors are encouraged to practice responsible tourism by properly disposing of trash, refraining from damaging corals and marine life, and respecting the local community and their traditions. This way, we can ensure that future generations can also enjoy the pristine beauty of this coastal beach.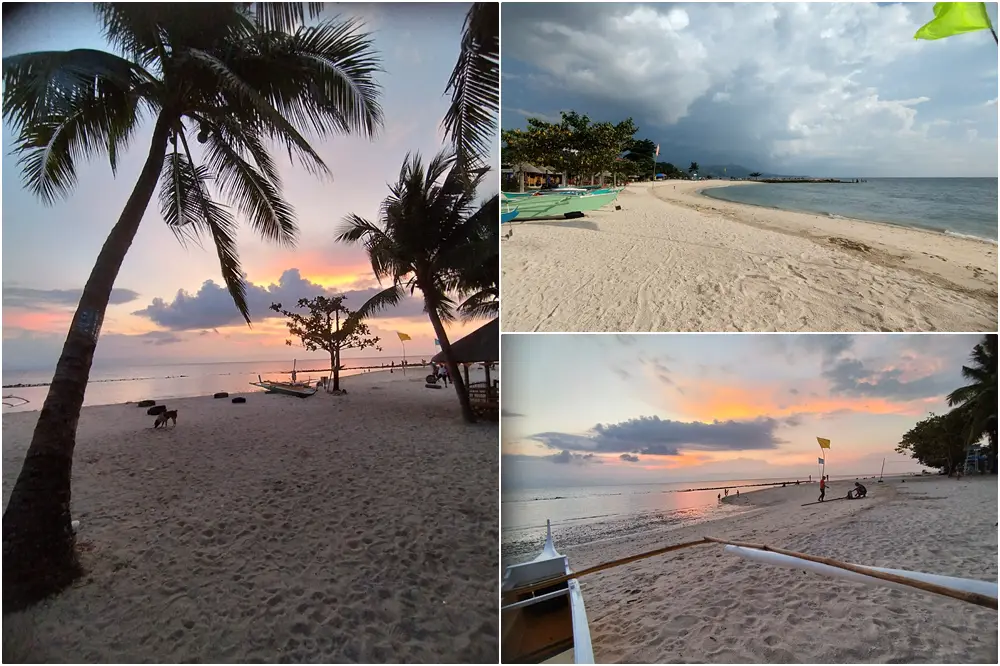 Tips and Guides
Research and Plan Ahead: Familiarize yourself with the location, transportation options, and nearby amenities. Make sure to check the weather forecast and plan your visit accordingly.
Pack Beach Essentials: Don't forget to bring sunscreen, a hat, sunglasses, and a beach towel to protect yourself from the sun. Additionally, pack appropriate swimwear, a change of clothes, and water shoes if needed.
Stay Hydrated and Bring Snacks: It's important to stay hydrated, especially in a tropical environment. Carry a reusable water bottle and bring light snacks to keep yourself energized throughout the day.
Practice Responsible Tourism: Respect the natural beauty of Lambug Beach by disposing of trash properly and refraining from damaging corals or marine life. Respect the local community, their traditions, and follow any guidelines or regulations in place.
Consider Timing: To avoid large crowds, it's advisable to visit Lambug Beach on weekdays or during non-peak seasons. Early mornings or late afternoons can offer a more tranquil experience.
Bring Cash and Essential Items: There might be limited ATMs or facilities in the vicinity, so it's recommended to carry enough cash for your expenses. Additionally, bring essentials such as insect repellent, a first aid kit, and any personal medications you may require.
Arrange Transportation: Determine your preferred mode of transportation to Lambug Beach in advance. Whether it's a private vehicle or public transportation, ensure you have a clear understanding of the routes and schedules.
Respect the Environment: Help preserve the beauty of Lambug Beach by avoiding littering and leaving only footprints. Respect the wildlife and marine ecosystems by refraining from touching or disturbing them.
Embrace the Experience: Finally, relax, unwind, and fully immerse yourself in the beauty of Lambug Beach. Appreciate the serenity, stunning landscapes, and create lasting memories in this coastal paradise.
Also Read: Shawarma Gourmet: Authentic Lebanese Restaurant in Escario Central Mall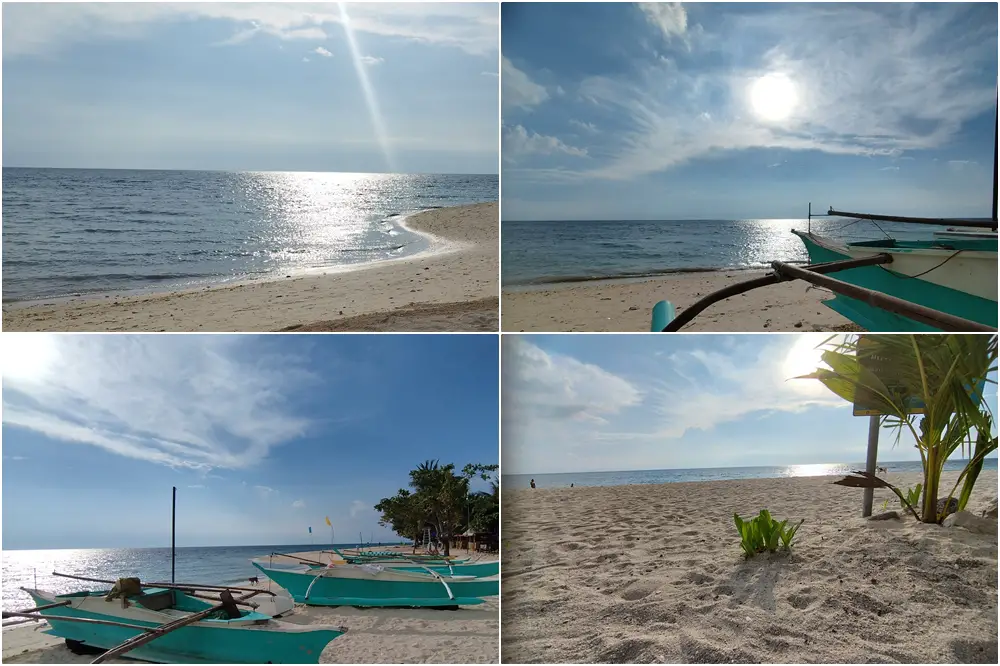 Conclusion
Lambug Beach in Cebu, Philippines, is a tropical paradise that offers a tranquil and picturesque retreat from the hustle and stress of everyday life. With its pristine white sand, crystal-clear waters, stunning sunsets, and serene atmosphere, it captivates the hearts of all individuals who visit. The absence of crowds and commercialization allows for a truly immersive experience, allowing you to connect with nature and create lasting memories.
Whether you're seeking relaxation, water activities, or a chance to reconnect with nature, Lambug Beach has it all. Make sure to include Lambug Beach in your travel plans and experience the unspoiled beauty of this hidden gem in the Philippines.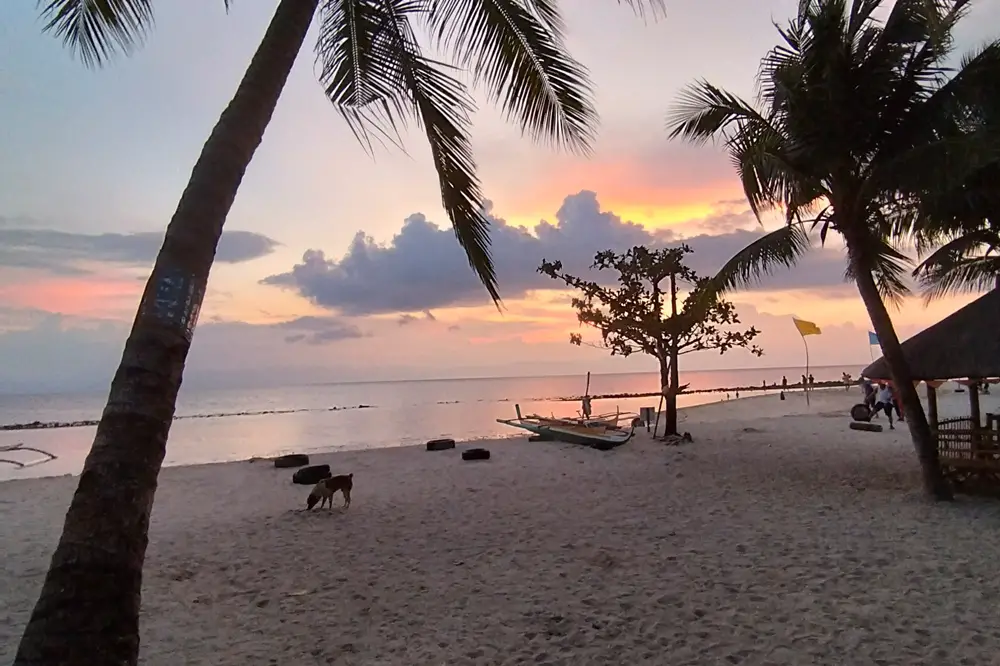 Google Map Location
Here is a map location of Lambug Beach, Badian.