I enjoyed every bit of the Frozen Yogurt I bought at Fancie! This is a yogurt cart stand located at the Upper Ground Level of SM City Cebu. Fancie is one of the brands by Fruitas Holdings Inc. which are famous for the Fruitas fruitshakes. They have expanded to a yogurt brand offering healthy delights to the public.
Also Read: Dinner at Shakey's in SM City Cebu
The shop prides itself in offering a dessert/snack that is packed with calcium while adding real bits of fruits and sweets on top at an affordable cost. I was happy to have tried it one afternoon while I was strolling at the mall.

Healthy Yogurt Snack: Fancie Stand in SM Cebu
It was a normal afternoon at the shopping mall in SM City Cebu. I was looking for a Christmas Gift that can be used by a female or a male. It was pretty exhausting thinking that it had to be used by either gender… not to mention if they will like it or not. But I had to move fast because time was running out and I might get caught in traffic if I spent more time searching.
I decided to buy a travel pillow as a gift that can be used by a boy or a girl. I was so drained from all the searching, thinking and legwork of finding for the perfect gift. I needed energy and I wanted something sweet so I thought of having a fruit shake but when I was strolling around what surprised me was a fancy stall with a bright colored pink theme. So I went closer.
To my surprise, I wanted shake but I ended up wanting frozen yogurt instead. And it's been a long time that I've had yogurt. So, "WHY NOT?"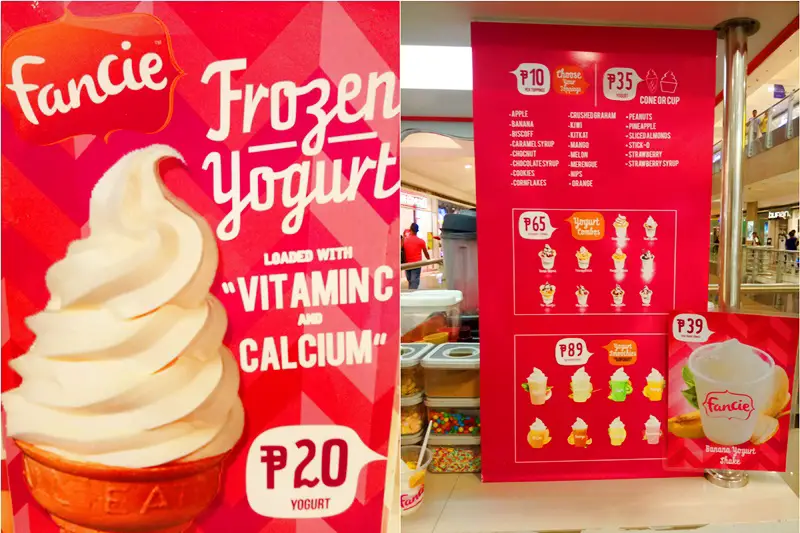 Frozen Yogurt Menu
There's a wide variety of options to choose from- Of course, the base is yogurt and you can choose a plain yogurt in a cup or if you prefer on a cone.

FroYo Toppings
You might like the regular yogurt with many toppings to pick and add on top of your cup. Size 10 Oz.

FroYo Combos
Another selection is the Frozen Yogurt combos, you can choose two types of flavor-combination to match your taste. Size 12 Oz.

FroYo Smoothies
And lastly, you may like the type of yogurt that's been blended into smoothies with an added flavor mix. Size 16 Oz.

Conclusion
There was too many to choose from and I'm already craving for a treat. I wanted strawberry as a personal preference and had always been my choice but I asked the attendant what people usually get and was told to get a mango topping.
She was right! I just realized that strawberry was tangy in flavor. So I had to compensate that sweet-sour flavor from the yogurt by adding mango toppings which were perfect for my yogurt.
As of this writing, the prize and size are displayed through text and picture.
Additional Info:
Current Branches:
Lucky China Town Mall
SM City Marilao
SM City Baguio
SM City Cebu
Address: Upper Ground Level (near Penshoppe and Bench Outlets), SM City Cebu – Juan Luna Avenue, North Reclamation Area, Cebu City, Cebu, Philippines
Website: http://fruitasholdings.com/
Facebook: https://www.facebook.com/FruitasShakes/
Google Map Location
Below is a map guide to SM City Cebu. The Fancie Frozen Yogurt shop is located at the Upper Ground Level, center part of the mall, near Penshoppe store.