Have you ever tried Filipino food? If not, then you're missing out! Did you know that Cebu has a lot of delicious and traditional flavors that you can taste and lot of restaurants to choose from. Just like AA BBQ in Cebu, a popular restaurant that specializes in Cebuano-style barbecued meats. Not only for Cebuano but also for all the people who want to savor the flavors of Cebu.
Also Read: List of Phat Pho Branches in Cebu
AA BBQ is a beloved Cebu institution, serving up heaping plates of grilled meats and seafood to locals and tourists alike. The restaurant has been in business for more than 10 years, and its popularity shows no signs of waning. The restaurant is especially well-known for its succulent pork, which is marinated overnight and then cooked over charcoal until it is melt-in-your-mouth tender.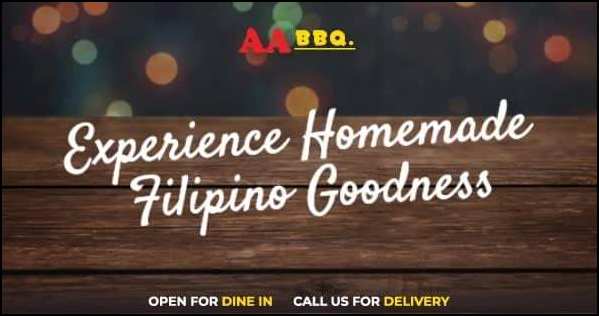 AA BBQ in Cebu
AA BBQ is a Cebuano restaurant that specializes in roasted meats. The restaurant is known for its unassuming exterior, but AA BBQ's simple facade belies the deliciousness of its food. The meats are roasted over an open fire, and the resulting smoky flavor is paired with a variety of dipping sauces. It is also a popular choice for budget-minded diners. So whether you're in the mood for roasted chicken or grilled pork, AA BBQ is sure to have something to satisfy your hunger.
Ambiance
When it comes to barbecues, there's nothing quite like an AA BBQ. The decor is casual yet stylish, and the overall vibe is one of relaxed elegance. AA BBQ also takes care to provide ample seating so that guests never have to wait for a table. This attention to detail creates an environment where guests can truly relax and enjoy their meals. There's also outdoor seating for those who want to enjoy their meal with a view of Cebu.
Service
The staff at AA BBQ are always willing to help with whatever you need, and they make sure that your order is correct before it leaves the kitchen. The service is one of the things that makes AA BBQ a great place to eat. You can always count on the staff to be polite and attentive, and they will do everything they can to make sure you have a great dining experience.
Quality of Foods
The food at AA BBQ is delicious and reasonably priced. The meats are cooked to perfection and served with a variety of dipping sauces. The menu also includes several vegetable dishes, as well as some unique Filipino desserts.
Price
The price range is quite reasonable for the quality of food served in a restaurant that has been so well-loved by Cebuanos and visitors alike.
Branches of AA BBQ in Cebu
There are multiple branches of AA BBQ in Cebu, so you're sure to find one that's convenient for you. Each branches are very accessible and can be found in the following locations:
AA BBQ Minglanilla
Address: 6RX3+M86, Natalio B. Bacalso S National Hwy, Talisay, Cebu
Hours: 7 AM – 9 PM
Phone: (032) 272 9995
AA BBQ & Grill Pardo
Address: 7VG2+9H7, Cebu City, Cebu
Hours: 9 AM – 9 PM
Phone: 272-9995/ 09423466470
AA BBQ Ranudo
Address: 108 V. Ranudo St, Cebu City, 6000 Cebu
Hours: 10 AM – 7 PM
Phone: 341-3218/ 09228254168
AA BBQ Guadalupe
Address: Cebu City, 6014 Cebu
Hours: 10 AM – 9 PM
Phone: 412-4911/ 09338256442
AA BBQ AS Fortuna
Address: 8WV8+2J8 Suico Gabuya Bldg, 909 A. S. Fortuna St, Mandaue City, 6014 Cebu
Hours: 11 AM – 11 PM
Phone: 416-7272/ 09228114363
AA BBQ Soong
Address: M.L. Soong 1′, 2 M.L. Quezon National Highway, Maribago, Lapu Lapu City, Cebu
Hours: 11 AM – 11 PM
Phone Number: 272-4163/ 09227314048
AA BBQ Basak LLC
Address: Maximo V. Patalinghug Jr. Avenue, Lapu Lapu City, Cebu
Hours: 10 AM – 8:30 PM
Phone: 266-1592/ 09327824272
AA BBQ North Reclamation
Address: 8WGQ+4F2, Ouano Avenue, North Reclamation, Mandaue City, 6014 Cebu
Hours: 10 AM – 9 PM
Phone: 503-4345/ 09228324168
The Menu
There are a lot of delicious dishes to choose from at AA BBQ.
PORK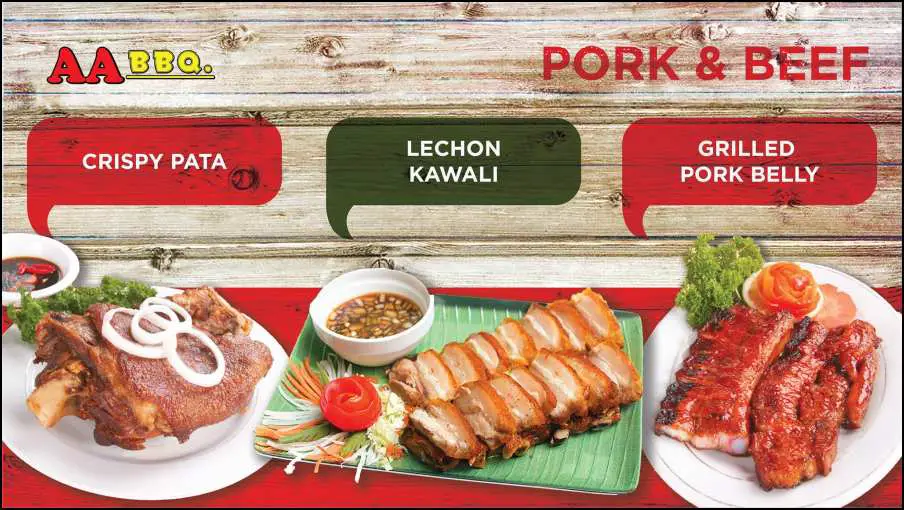 Pork Barbecue
Chorizo
Pork Belly
Pork Sisig
Bicol Express
Pork Sinigang
Lechon Kawali
Crispy Pata
CHICKEN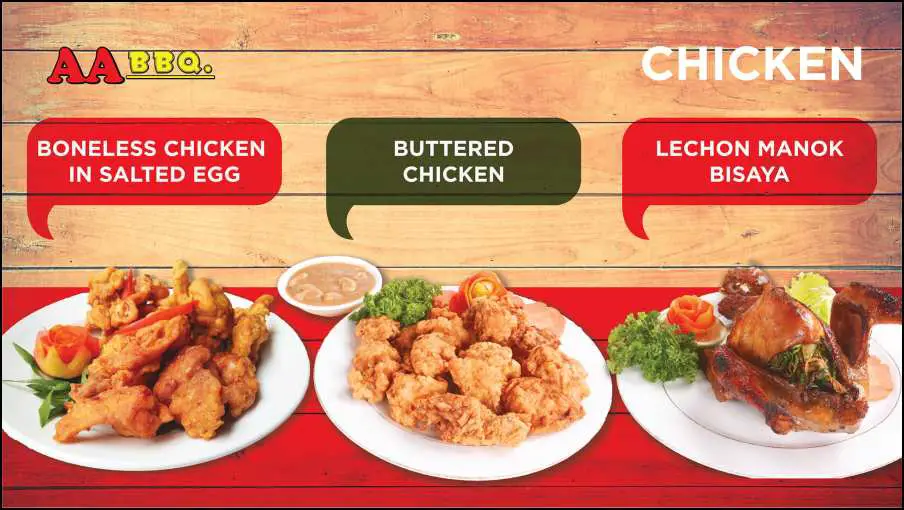 Buttered Chicken
Chicken Curry
Korean Chicken
Chicken Tinola
Chicken Adobo
Lechon Manok
BEEF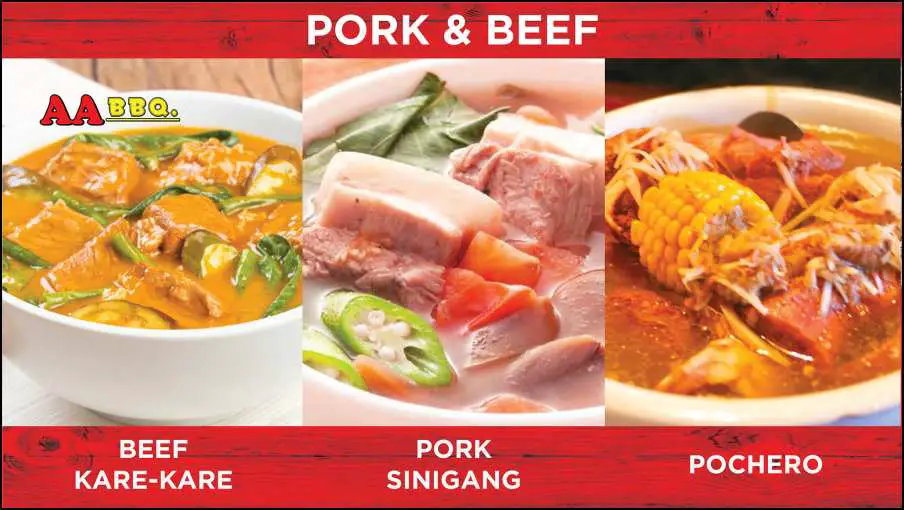 ROLLS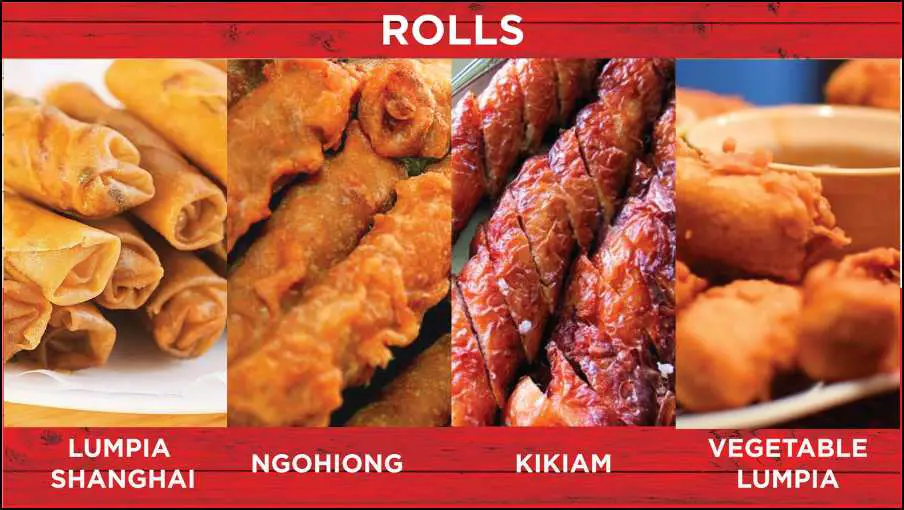 Lumpia Shanghai
Vegetable Lumpia
Ngohiong
Kikiam
NOODLES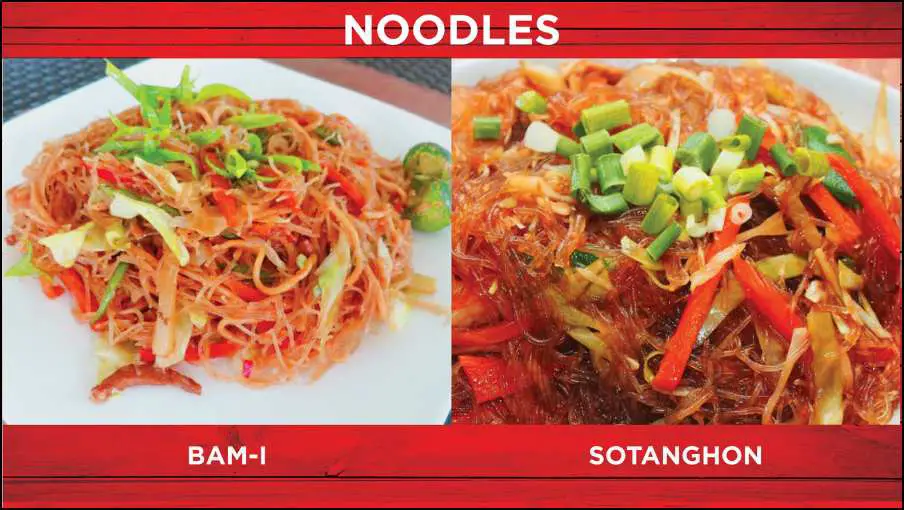 Pancit Guisado
Pancit Canton
Sotanghon
Bam-I
Cha-Bihon
SEAFOODS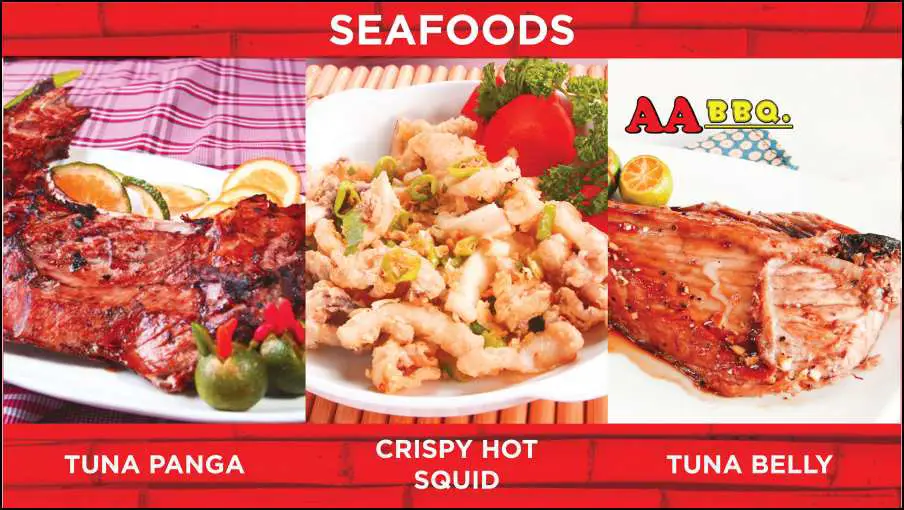 Shrimp Sinigang
Shrimp Fried with Garlic/Butter Garlic
Calamares
Crispy Hot Squid
Sizzling Bangus
Grilled Bangus
Bangus with Garlic
Shell Soup Punaw
Shell Soup Halaan
Steamed Fish Pampano
Tuna Panga
Tuna Belly
Camaron Rebosado
VEGETABLES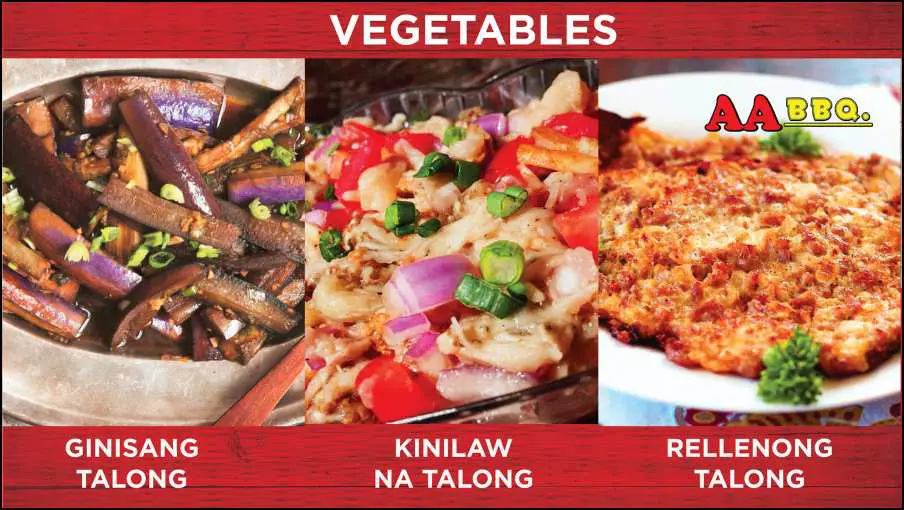 Pinakbet
Spicy Vegetable
Chopsuey
Adobong Kangkong
Talong Torta
Talong Kinilaw
Rellenong Talong
Adobong Talong
Cabbage with Garlic
DRINKS
4 Seasons
Mango Orange
Lime Cucumber
Iced Tea
Fruit Shake
What are you waiting for? Gather your friends and family and head to an AA BBQ near you for an unforgettable meal. With its delicious food, traditional ambiance, friendly service, and reasonable prices, it's guaranteed to satisfy everyone. Enjoy the best barbecue in Cebu – dine at AA BBQ!
Contact Information
Phone Number: 0922 845 2168
Email Address: aabbq_cebu@yahoo.com
Facebook Page: https://www.facebook.com/theoriginalaabbq
AA BBQ accepts events and reservations. So if you're planning a party or gathering, contact them for more information about their services. You can also check their Facebook page or email them for more information. For an unforgettable dining experience, visit AA BBQ today!
SUMMARY
Cebu is one of the most popular tourist destinations in the Philippines, and for good reason. The city is renowned for its beautiful beaches, friendly locals, and delicious food. AA BBQ is one of Cebu's most famous restaurants, and it's known for its grilled meats and fresh seafood. The restaurant is also known for its family-friendly atmosphere. AA BBQ offers a wide variety of dishes, from pork barbecue to fried chicken to seafood. A restaurant that caters to all tastes.
This AA BBQ is not just convenient for locals, but also for tourists. With eight branches located in different parts of the city, it's easy to find an AA BBQ branch that's convenient for you. With its delicious food, traditional ambiance, friendly service, and reasonable prices, it's guaranteed to satisfy everyone. Visit AA BBQ today for an unforgettable dining experience. AA BBQ has a lot to offer.