Cebu is known for its beautiful beaches and fascinating attractions, but did you know that there are also spectacular waterfalls waiting to be discovered? If you're an adventure-seeker, visiting the waterfalls of Cebu is a must-visit experience that will take your breath away.
The province boasts several hidden gems, each with its unique charm. From the grandiose multi-tiered Kawasan Falls in Badian to the mystical Tumalog Falls in Oslob, you'll never run out of options. Whether you desire to take a refreshing swim in the cool waters or simply marvel at the stunning natural sights, you'll be captivated by the sheer beauty of these waterfalls. You don't want to miss out on this awe-inspiring adventure.

Why the Waterfalls in Cebu are a Must-Visit?
Cebu is a captivating destination with natural wonders to be explored. Its picturesque waterfalls are the epitome of beauty, from panoramic vistas at Kawasan Falls and Tumalog Falls to tranquil turquoise pools amid invigorating mists that transport visitors into an immersive haven. These magical scenes create memories for anyone seeking adventure in the Philippines.
1. A Break From the Beach Scene
Cebu is known for its beautiful beaches, but sometimes, it's nice to take a break from the salty seawater and explore the inner landscapes of the island. The waterfalls in Cebu offer a refreshing and serene ambience that is quite different from the beach scene. Imagine dipping your toes in the cool, fresh water while listening to the sound of cascading waterfalls. It's a relaxing experience that can take your mind off the stresses of everyday life.
2. A Chance to Connect with Nature
Cebu's waterfalls are nestled within the lush greenery of the island. It's the perfect opportunity to connect with nature and take in the natural beauty of Cebu. Moreover, waterfalls are often located in remote areas, away from the city's hustle and bustle, which means they are less crowded than beaches. You can be at one with nature, take beautiful photos, and perhaps even have a picnic or a mini-bonfire with friends.
3. A Chance to Support the Local Economy
Aside from the aesthetic and relaxation benefits, visiting the waterfalls in Cebu also contributes to the local economy. Most of the waterfalls are located in small towns in Cebu, and visiting them supports the local communities. You can hire a local guide, buy souvenirs, and even try the local delicacies. It's a great way to give back to the community while also having a good time.
4. A Chance to Challenge Yourself Physically
Some of the waterfalls in Cebu require a hike to reach them, and hiking can be a fun challenge for adventure-seekers. The trails leading to some waterfalls can be steep, rocky, and slippery, but reaching the destination is often rewarding. Once you reach the top, you'll be greeted with an awe-inspiring view of the waterfall. Moreover, hiking can also be a fun exercise for people who love to stay active and fit.
5. It Has a Variety of Waterfalls to Explore
Unlike other destinations that have only one or two waterfalls, Cebu has a variety of them, each with its own unique beauty. For example, Kawasan Falls in Badian is known for its bright turquoise water, while Tumalog Falls in Oslob has a unique curtain-like formation. What's more, each waterfall has its own charm and history, which makes them worth exploring. You'll never run out of reasons to visit them all.
10 Must-Visit Waterfalls in Cebu
Here are the top 10 must-visit waterfalls in Cebu:
1. Mantayupan Falls
Located in the town of Barili, this 98-meter waterfall is one of the tallest in Cebu. Known for its clean and cool waters, it's a popular spot for swimming, picnics, and relaxation. You can enjoy swimming and hiking at waterfalls surrounded by cliffs covered with vines and high-altitude tropical forests. Don't forget to bring your camera to capture the stunning views of the falls and the surrounding vegetation.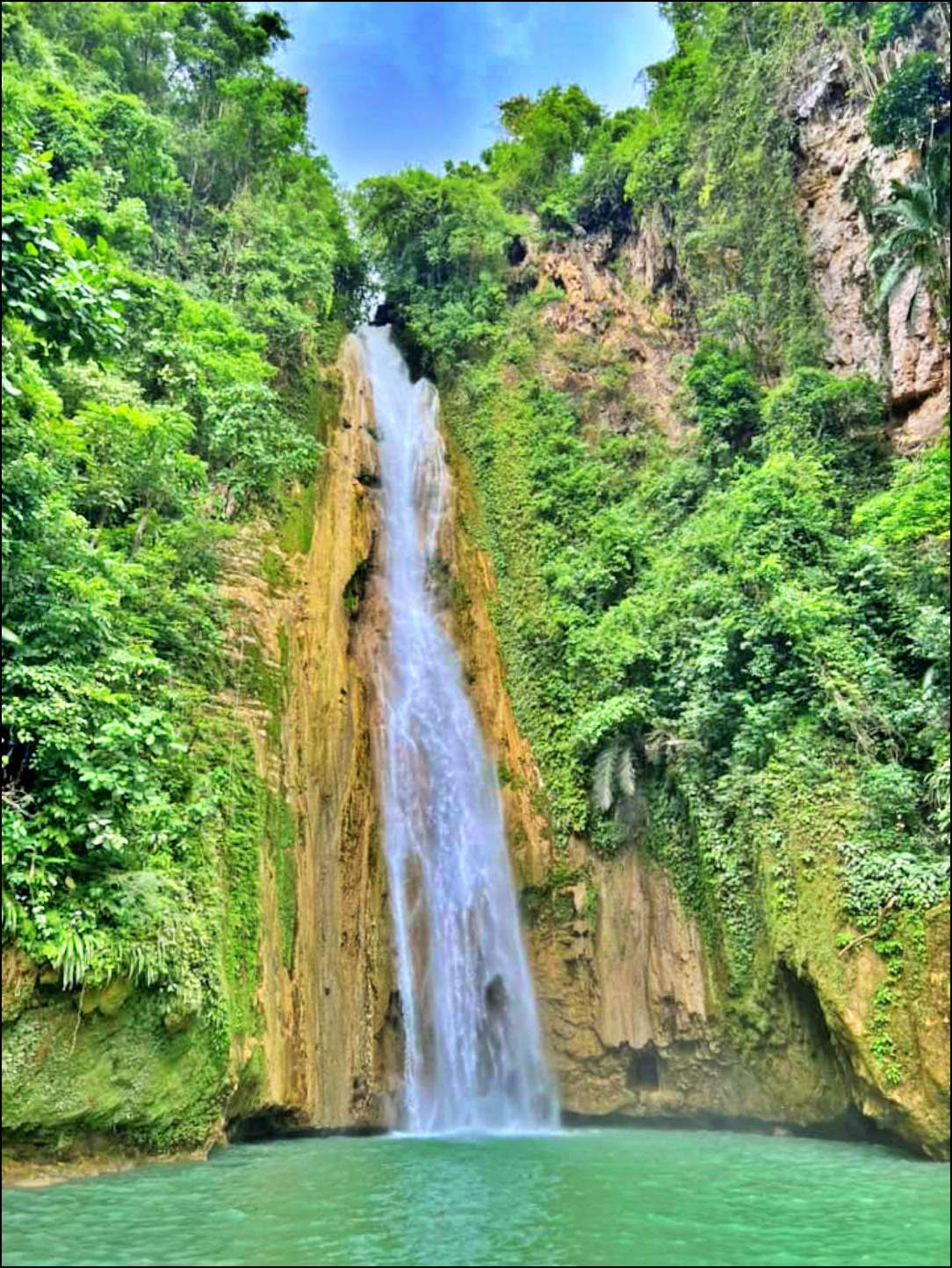 Address: Cebu, Barili, Unnamed Road、
Hours: 7 AM – 5 PM (Monday – Sunday)
2. Ka-Tinggo Falls
Located in the town of Catmon, this 6-tiered waterfall is a hidden gem that's worth the trek. The trek to the waterfall is a bit challenging, but the natural beauty that surrounds it is all worth it. The tranquil blue-green waters and verdant forest make it a perfect spot for a peaceful retreat.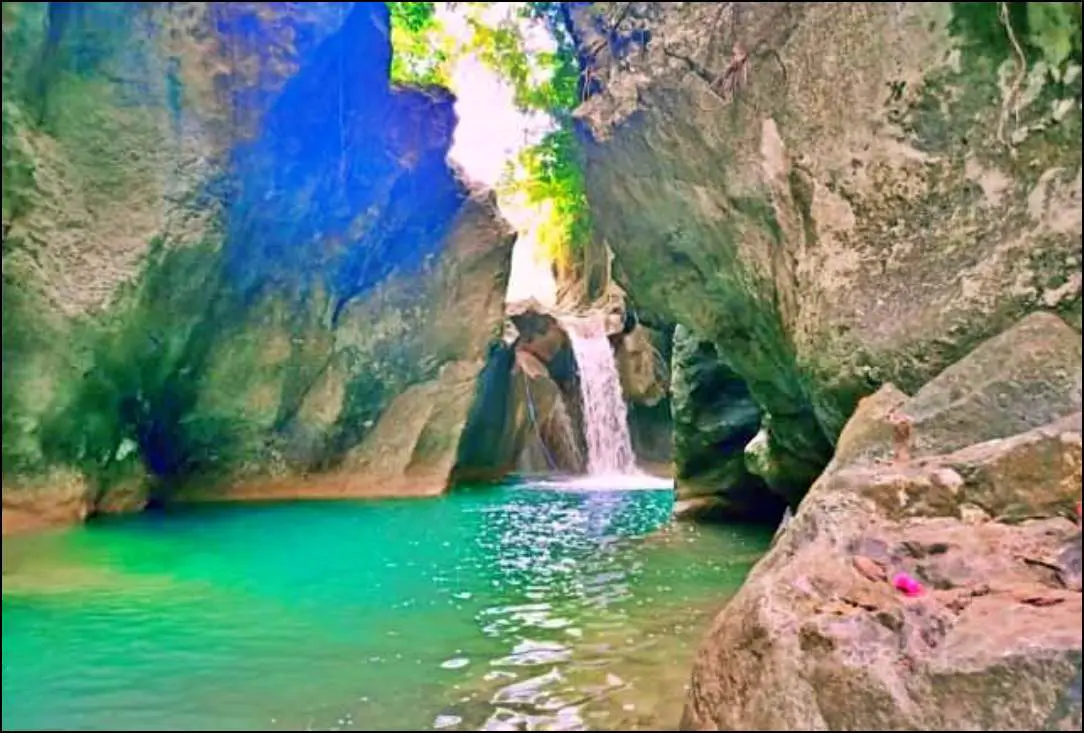 Address: PX8G+327, Catmon, Cebu
Phone: 0923 553 7427
Hours: 8 AM – 5 PM (Monday – Sunday)
3. Cambais Falls
Located in the town of Alegria, A serene and isolated waterfall situated in a lush forest, featuring a pool that is frequently used for swimming and diving off the nearby cliffs. With its crystal-clear waters, surrounded by lush vegetation, you'll be sure to unwind and connect with nature's beauty in no time.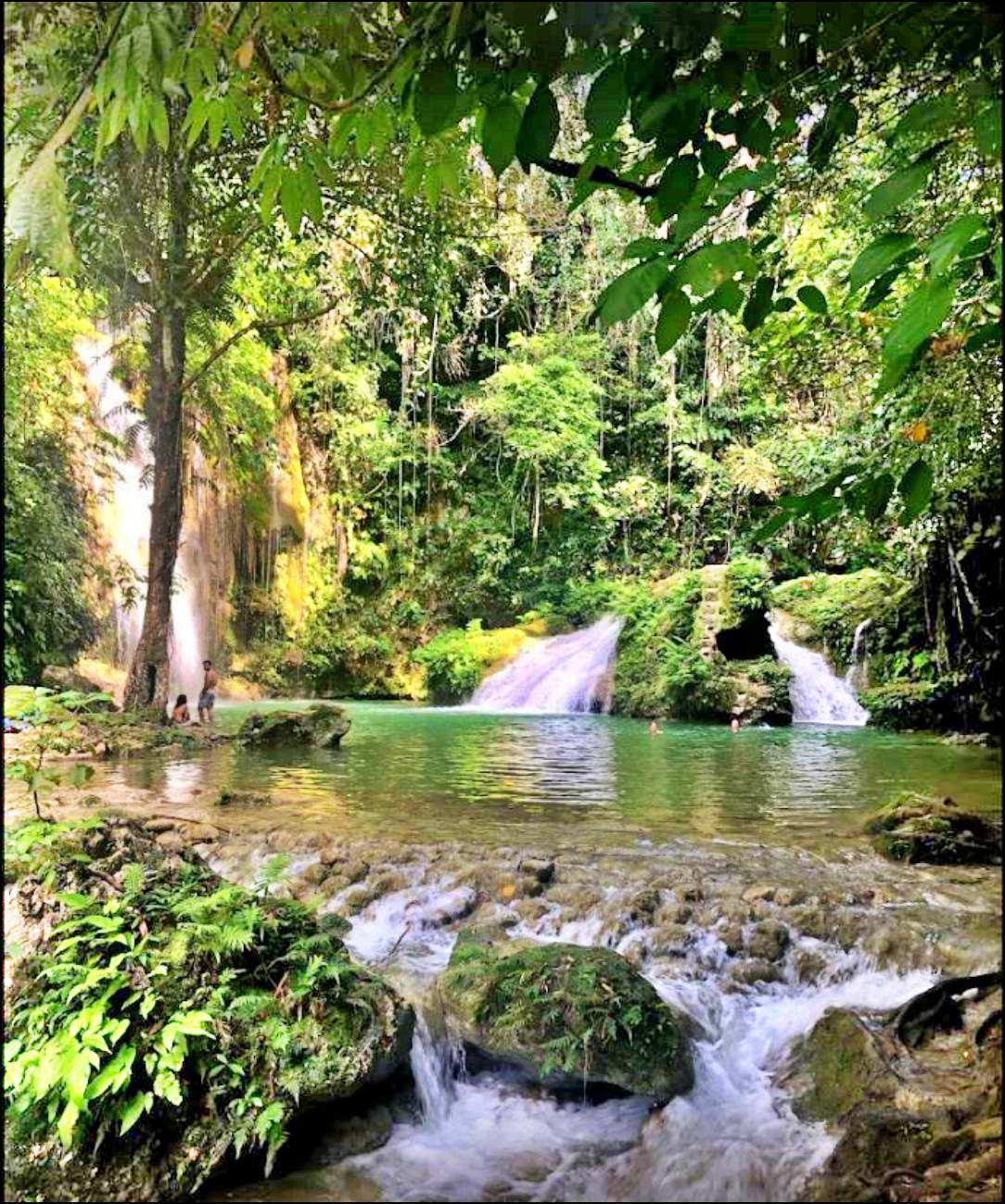 Address: P9XQ+9PJ, Alegría, Cebu
Hours: 9 AM – 4 PM (Monday – Sunday)
4. Kawasan Falls
This multi-tiered waterfall, located in the town of Badian, is undoubtedly one of the most popular waterfalls in Cebu. With its turquoise waters and cliff diving spots, it's a favorite among adventure-seekers. But if you're looking for something more laid-back, there are also bamboo rafts available for rent.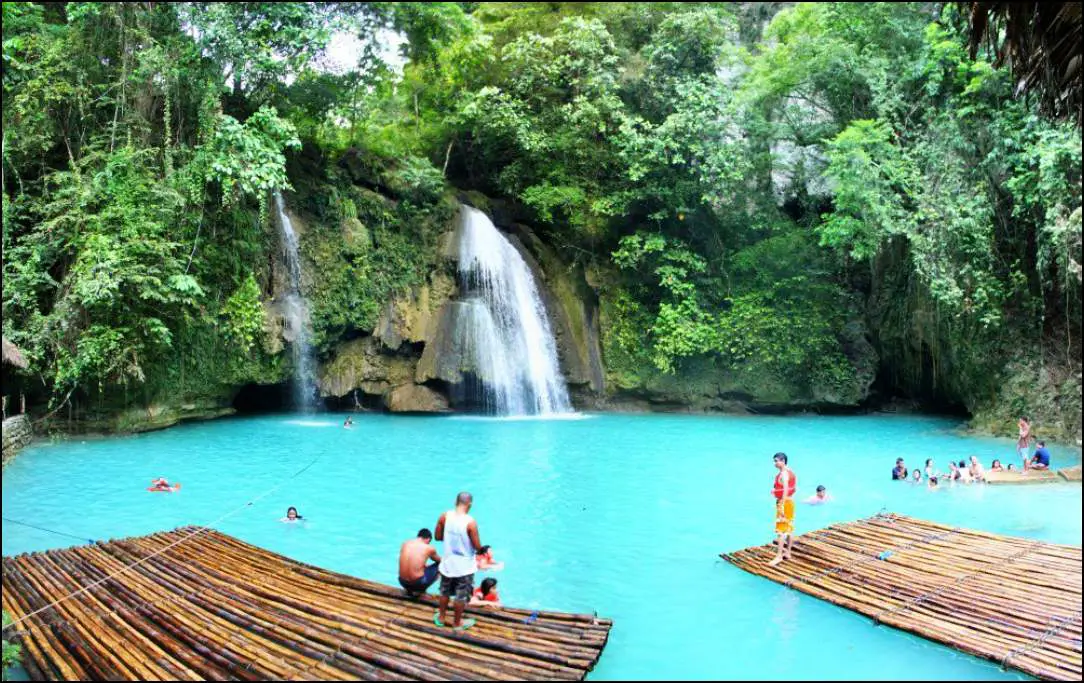 Address: Alegría, Cebu
Phone: 0936 408 6417
5. Bugnawan Falls
Tucked away in the town of Ginatlian, Cebu, this hidden gem is a great spot for those who love non-commercial and less crowded waterfalls. With its crystal-clear waters, surrounded by towering trees and a small cave, it's a perfect spot for an adventure day trip.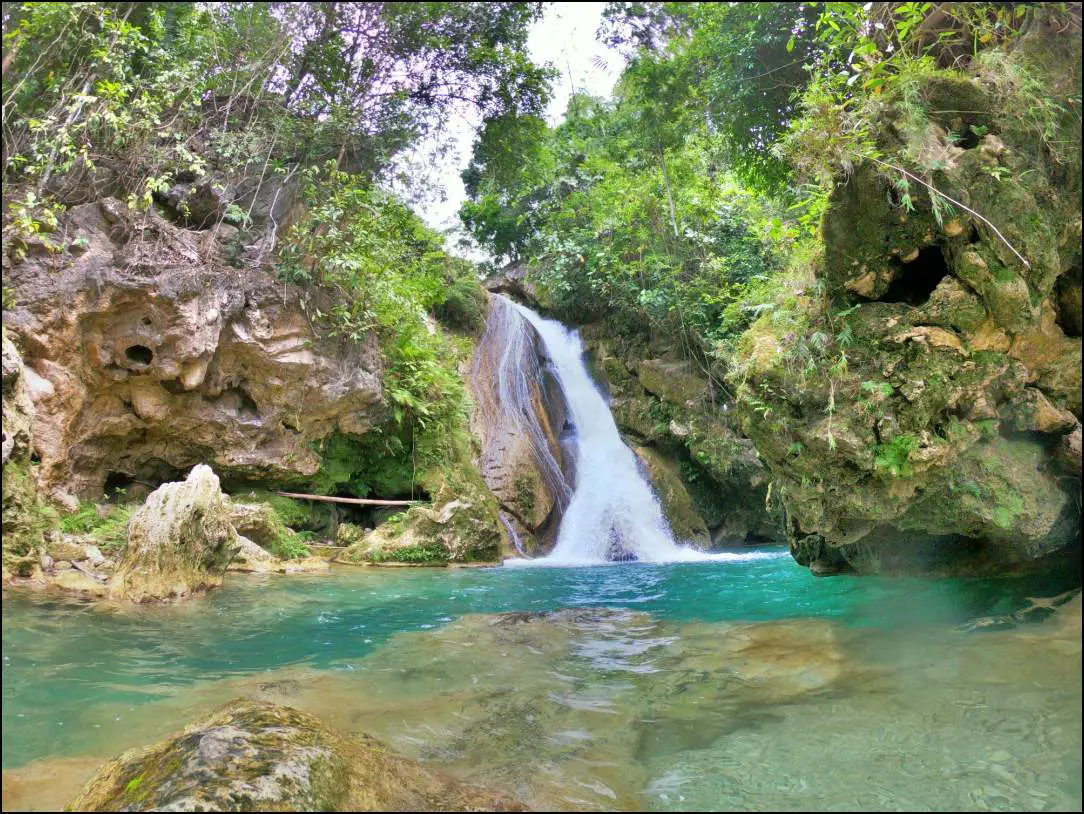 Address: H9H5+FWG, Ginatilan, Cebu
Hours: 9 AM – 5 PM (Monday – Sunday)
6. Cancalanog Falls
This beautiful and popular waterfall is located in the town of Alegria. The trek to the falls is a bit challenging, but once you reach the destination, the stunning scenery makes the journey worth it. Be sure to bring your swimming gear and a waterproof camera to capture your memories.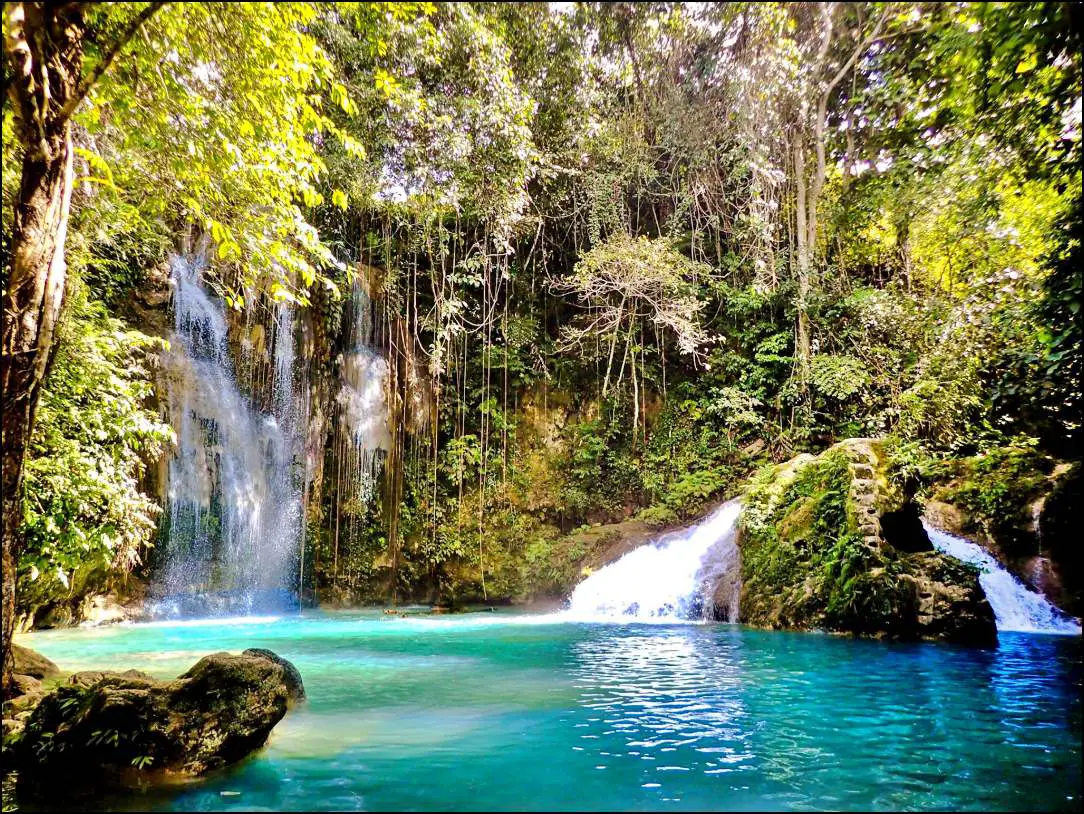 Address: Q9FJ+265, Unnamed Road, Alegría, Cebu
7. Binalayan Hidden Falls
As the name suggests, this waterfall is a hidden treasure located between the towns of Samboan and Ginatilan. Take a short hike to reach a hidden swimming spot located beneath a large waterfall, where you can access ledges for jumping. The trek to the falls may be a bit challenging, but once you arrive, you'll be rewarded with a sight of a mysterious cavern and crystal-clear water perfect for swimming.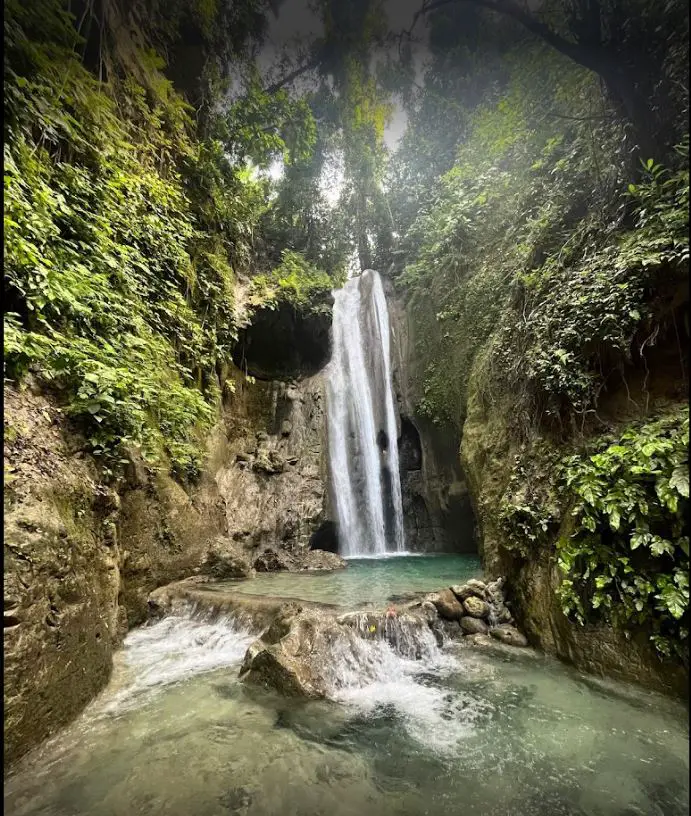 Address: G872+QX2, Samboan, Cebu
Hours: 8 AM – 5 PM (Monday – Sunday)
8. Tumalog Falls
Known for its unique curtain-like formation, this waterfall in Oslob is a must-visit destination. The waters are famous for their soft and gentle flow, making it a popular spot for relaxation. This jungle location with a waterfall and wading pool is a popular spot for photography.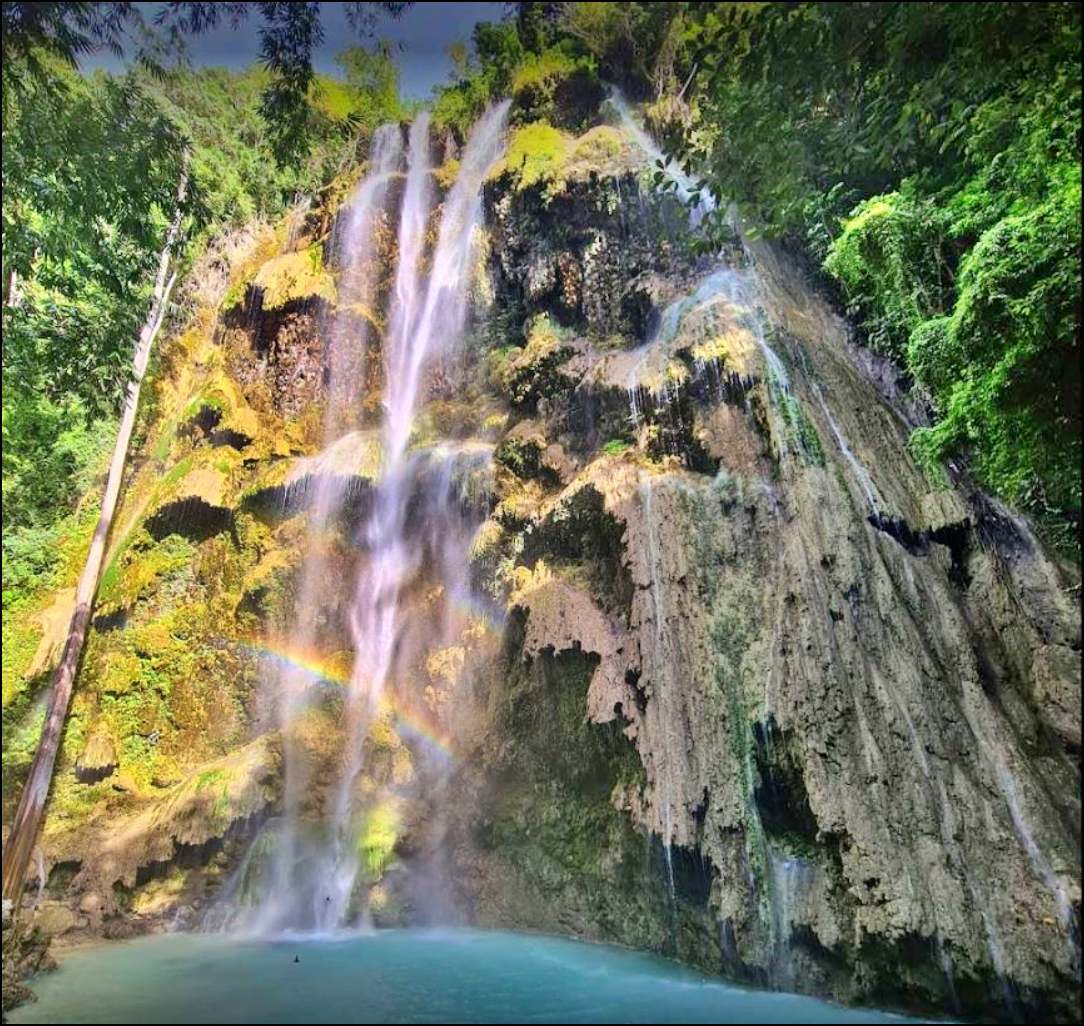 Address: Brgy Natalio Bacalso Avenue, Oslob, Cebu
Phone: 0943 415 0072
Hours: 7 AM – 4 PM (Monday – Sunday)
9. Aguinid Falls
Dubbed as Cebu's "ultimate waterfall adventure," the Aguinid Falls in Samboan boasts over 5 stunning terraces. With its exhilarating water slides and dips, expect an adrenaline-packed adventure that will leave you with memories to last a lifetime.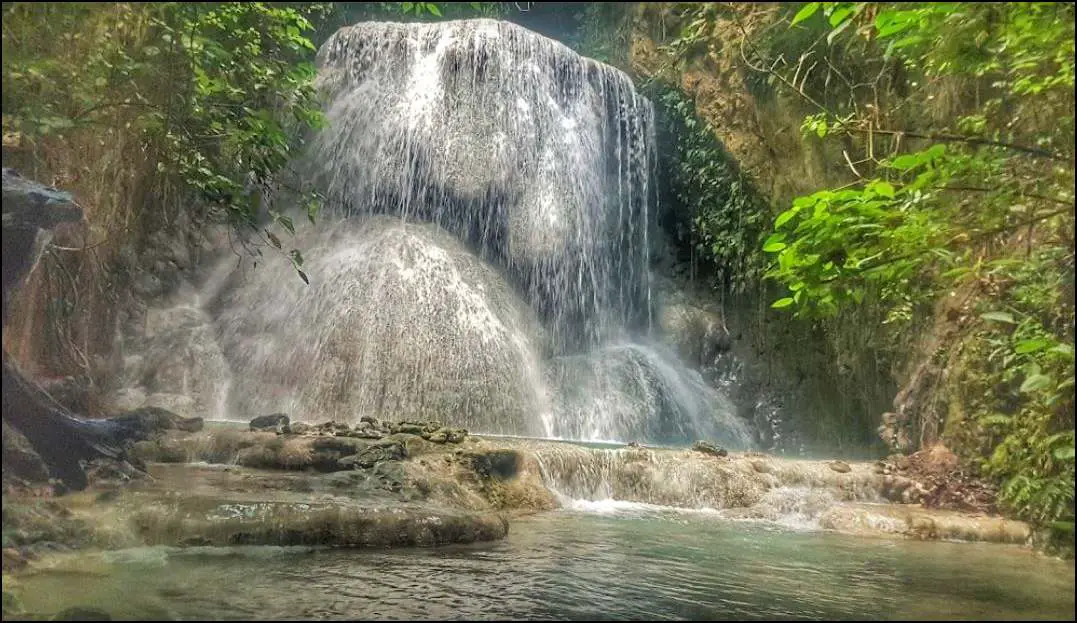 Address: G852+3Q7, Samboan, Cebu
Hours: 6:30 AM–5:30 PM (Monday – Sunday)
10. Balay'g Sawa Falls
Located in the highlands of Samboan, this waterfall is considered one of the most majestic and stunning waterfalls in Cebu. The falls' clear and icy waters are surrounded by verdant greenery and a refreshing natural pool perfect for swimming.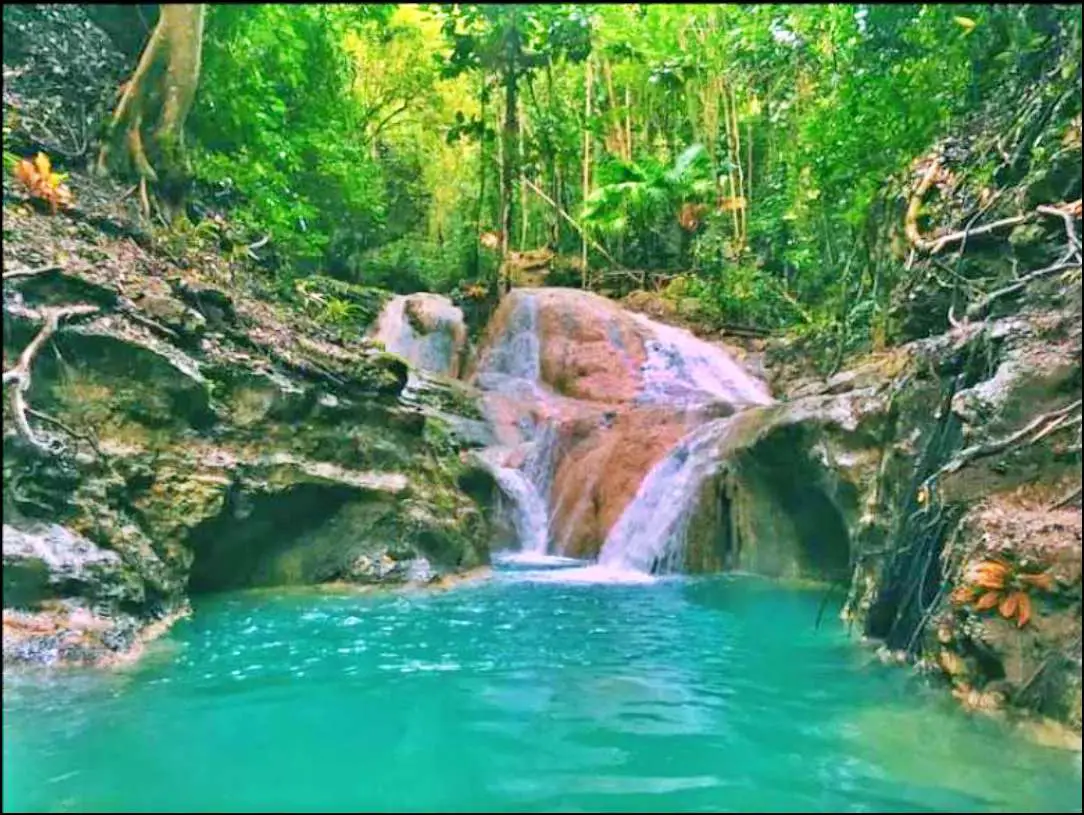 Address: G887+7R6, Samboan, Cebu
These waterfalls provide an amazing opportunity to explore the inner beauty of Cebu and connect with nature. Each waterfall has its own unique features – from tranquil pools surrounded by lush greenery to powerful cascades of water, there's something for everyone.
TIPS on Visiting Waterfalls in Cebu
Wear proper clothing and footwear as some of the trails to the waterfalls may be slippery.
Bring your own food and drinks, as most waterfall areas do not have cafeterias or restaurants.
Pack light and bring only necessary items to make the hike easier.
If a guide is available, always hire one for safety and to learn more about the waterfall's history.
Be respectful of the environment, avoid touching or disturbing wildlife, and take your trash with you when you leave.
Make sure to follow local regulations, such as those pertaining to swimming and taking pictures.
By following these tips, you can make sure that your trip to Cebu's waterfalls is a safe and enjoyable one.
Frequently Asked Qustions
1. Are there any tips I should keep in mind while hiking?
A: Yes, always bring enough water and snacks, wear proper clothing and footwear suitable for the terrain, use a map or GPS device if available, and stay on designated trails. You should always be aware of your surroundings and take precautions when necessary.
2. Is there anything else I should know before visiting the waterfalls?
A: It's always a good idea to research the area beforehand and be aware of local regulations, as well as any potential dangers. Additionally, be sure to stay on designated trails and never attempt to explore areas that may pose an undue risk. Remember to respect the environment, be mindful of the wildlife, and have a great time!
3. What is the best time of year to visit the waterfalls in Cebu?
A: The best time of year to visit Cebu's waterfalls is during the dry season, which usually lasts from February to May. This is when the water levels are at their highest and you can expect more sunshine and clear skies.
4. Is it possible to take a tour of the waterfalls?
A: Yes, many local tour operators offer guided tours of Cebu's waterfalls. These tours usually include transportation, guide services, and other activities like swimming and cliff jumping. Be sure to book in advance for the best rates and availability.
5. Are there any special tips for taking photographs of the waterfalls?
A: Yes, photographers should always use a tripod to ensure steady shots, as well as a polarizing filter to reduce reflections and enhance color. It's important to be aware of your surroundings when taking pictures, respect wildlife and their natural habitats, and never trespass on private property and be sure to take plenty of pictures and enjoy your time.
Video: Must visit waterfalls in the Philippines!
Please watch this video to learn more about some of the must-visit waterfalls in Cebu, Cebu. The breath-taking views of cascading water over rocky cliffs provide a spectacular view that is sure to take your breath away!
Summary
The waterfalls in Cebu are a must-visit for anyone seeking adventure, relaxation, or a new experience. They offer a chance to connect with nature, support local communities, challenge oneself physically, and marvel at the island's natural beauty. Going to the waterfalls in Cebu will not disappoint, and it is an experience that you'll always remember. So, make sure to include it in your itinerary when you plan your trip to Cebu.