TNT is a cellular service of Smart Communications in the Philippines. TNT is known for low-cost promos for Text, Call and Surfing. Use the TnT promo's for greater call and text experience.
Also: List of Globe Promo for Texting, Calling and Surfing 2020
In cases you are looking for TalknText unli calls, unli texts, or unli surf promos, please see the list of offers we've compiled below.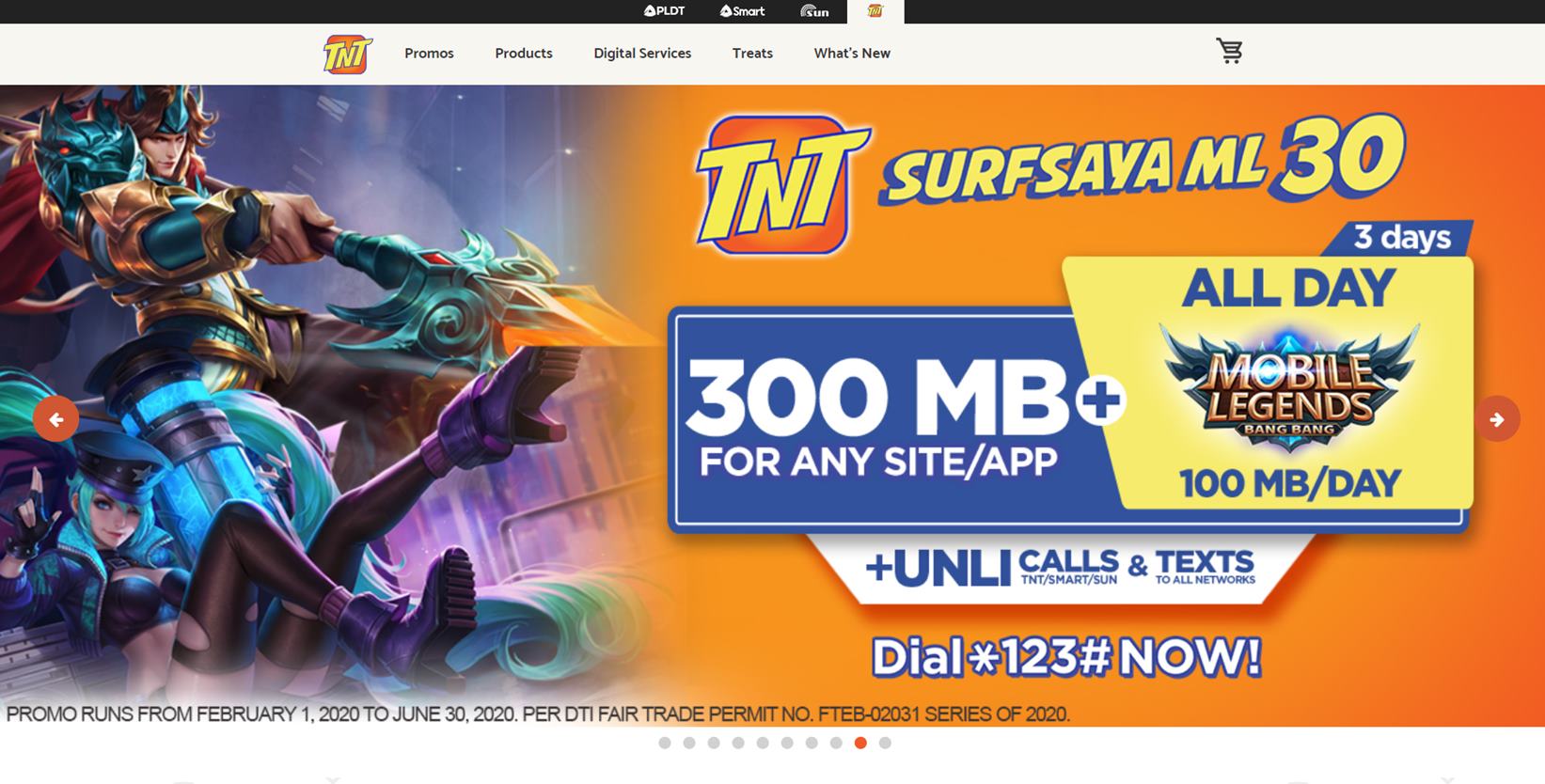 How to Subscribe to TnT Call, Text And Surf Offers
Below are the list of Call, Text and Surf packages from TNT:
List of promos for Call and Text
TNT Sangkatutok 30 valid for 4 days
45 minutes of call to TNT, Smart
Text STOK30 to 4545
TNT Sangkatutok 15 valid for 2 days
20 minutes of call to TNT, Smart
Text STOK15 to 4545
TNT Piso Unlitext valid for 30 mins
Unlimited texts to TNT, Smart
Text PISO to 4545
TNT Unlitxt to ALL 20 valid for 2 days
Unlimited texts to all networks
Text UA20 to 4545
TNT UnliTxt 150 valid for 30 days
Unlimited texts to TNT, Smart
150 minutes of call to TNT, Smart, Sun
150 texts to all networks
30 MB data of apps access
Text U150 to 4545
TNT Sangkatutex 60 valid for 7 days
1000 texts to TNT, Smart
Text STEX60 to 4545
TNT Sangkatutex 15 valid for 2 days
200 texts to TNT, Smart
Text STEX15 to 4545
TNT Unli Txt 10 valid for 1 day
Unlimited texts to TNT, Smart
Text U10 to 4545
TNT GaanTxt 20 valid for 2 days
Unlimited texts to all networks
Text GT20 to 4545
TNT Gaan Txt 10 valid for 1 day
Unlimited texts to all networks
Text GT10 to 4545
TNT Gaan Unlitext Plus 15 valid for 1 day
Unlimited texts to all networks
60 minutes of call to TNT, Smart, Sun
100 MB data for Facebook, Viber, Twitter, Clash of Clans, and Dubsmash access
Text GU15 to 4545
TNT Unli Talk and Text 20 valid for 1 day
Unlimited calls to TNT, Smart, Sun
Unlimited texts to all networks
30 MB data for selected apps
Text T20 to 4547
TNT Unlitxt Plus 20 valid for 2 days
Unlimited texts to TNT, Smart, Sun
30 minutes of call to TNT, Smart, Sun
Unlimited Facebook access
Text TP20 to 4545
TNT Unlitext Plus 10 valid for 1 day
Unlimited texts to TNT, Smart
10 minutes of call to TNT, Smart
50 texts to all networks
Text TP10 to 3545
TNT Gaan Unli Trio Plus valid for 1 day
Unlimited texts to TNT, Smart, Sun
10 minutes of call to TNT, Smart
Text TRI15 to 4545
TNT Araw Araw Load 30 valid for 3 days
Unlimited texts to TNT, Smart
10 minutes of call daily to TNT, Smart
10 minutes daily internet surfing
Text AL30 to 4545
TNT TriNet 300 valid for 30 days
Unlimited texts to TNT, Smart, Sun
300 minutes of call to TNT, Smart, Sun
30 MB data for internet access
Text TRINET300 to 247
TNT Katok-At-Tex25 valid for 1 day
Unlimited calls to TNT networks
Unlimited texts to TNT, Smart
Text KT25 to 4545
TNT Unlitxt ALL+Unli Tropa Call valid for 1 day
Unlimited texts to TNT
Unlimited texts to all networks
Text AP20 to 4545
TNT Unlitext Extra 30 valid for 3 days
Unlimited texts to TNT, Smart
15 minutes of call to TNT, Smart
Text U30 to 4545
TNT Gaan ALL-IN-ONE 15 valid for 1 day
150 texts to all networks
15 minutes of call to TNT, Smart
Text GA15 to 4545
TNT Gaan ALL-IN-ONE 20 valid for 1 day
200 texts to all networks
20 minutes of call to TNT, Smart
Text GA20 to 4545
TNT Gaan ALL-IN-ONE 30 valid for 2 days
300 texts to all networks
30 minutes of call to TNT, Smart
Text GA30 to 4545
TNT Gaan ALL-IN-ONE 55 valid for 3 days
550 texts to all networks
55 minutes of call to TNT, Smart
Text GA55 to 4545
TNT Patok-O-Tex 30 valid for 2 days
60 texts or minutes of call to TNT, Smart
Text TOT30 to 4545
TNT Patok-O-Tex20 valid for 1 day
40 texts or minutes of call to TNT, Smart
Text TOT20 to 4545
TNT Patok-O-Tex15 valid for 1 day
30 texts or minutes of call to TNT, Smart
Text TOT15 to 4545
TNT Alden Load 15 valid for 1 day
Unlimited calls to TNT, Smart
Text ALDEN15 to 4547
TNT Maine Load 30 valid for 5 days
Unlimited texts to all networks
Text MAINE30 to 3545
TNT List of promos for Mobile Data and Internet Surfing
TNT All Out Surf 30 valid for 2 days
300 MB mobile data
Free Facebook Access (100 MB/day)
Unlimited texts to all networks
30 minutes call to TNT, Smart or Sun
To register: text ALLOUT30 or AOS30 to 4545
TNT Surf Saya 20 valid for 2 days
100 MB mobile data
Free Facebook & Messenger Access (100 MB/day)
Unlimited texts to all networks
Unli call to TNT, Smart or Sun
To register: dial *123# ➔ SURFSAYA ➔ FB ➔ 100MB, 2 days, P20
TNT Surf Saya 30 valid for 3 days
300 MB mobile data
Free Facebook & Messenger Access (100 MB/day)
Unlimited texts to all networks
Unli call to TNT, Smart or Sun
To register: dial *123# ➔ SURFSAYA ➔ FB ➔ 300MB, 3 days, P30
TNT Surf Saya 99 valid for 7 days
1.5 GB mobile data
Free Facebook & Messenger Access (100 MB/day)
Unlimited texts to all networks
Unli call to TNT, Smart or Sun
To register: dial *123# ➔ SURFSAYA ➔ FB ➔ 1.5GB, 7 days, P99
TNT Surf Saya 199 valid for 30 days
2 GB mobile data
Free Facebook & Messenger Access (200 MB/day)
Unlimited texts to all networks
Unli call to TNT, Smart or Sun
To register: dial *123# ➔ SURFSAYA ➔ FB ➔ 2GB, 30 days, P199
TNT AllNet 20 valid for 2 days
50 MB mobile data
Unlimited call & text to all networks
To register: dial *123# ➔ Other Offers ➔ ALLNET 20
TNT Surf Saya AllNet 40 valid for 2 days
100 MB mobile data
Free Facebook & Messenger Access (100 MB/day)
Unlimited call & text to all networks
To register: dial *123# ➔ SURFSAYA ➔ ALLNET ➔ 100MB, 2 days, P40
TNT Surf Saya AllNet 55 valid for 3 days
300 MB mobile data
Free Facebook & Messenger Access (100 MB/day)
Unlimited call & text to all networks
To register: dial *123# ➔ SURFSAYA ➔ ALLNET ➔ 300MB, 3 days, P55
TNT Surf Saya AllNet 149 valid for 7 days
1.5 GB mobile data
Free Facebook & Messenger Access (100 MB/day)
Unlimited call & text to all networks
To register: dial *123# ⤍ SURFSAYA ⤍ ALLNET ⤍ 1.5GB, 7 days, P149
TNT Surf Saya AllNet 319 valid for 30 days
2 GB mobile data
Free Facebook & Messenger Access (200 MB/day)
Unlimited call & text to all networks
To register: dial *123# ⤍ SURFSAYA ⤍ ALLNET ⤍ 2GB, 30 days, P319
TNT Surf Saya ML 20 valid for 2 days
100 MB mobile data
100 MB/day for Mobile Legends Access
Unlimited texts to all networks
Unlimited trinet calls
To register: dial *123# ⤍ SURFSAYA ⤍ ML ⤍ 100MB, 2 days, P20
TNT Surf Saya ML 30 valid for 3 days
300 MB mobile data
100 MB/day for Mobile Legends Access
Unlimited texts to all networks
Unlimited trinet calls
To register: dial *123# ⤍ SURFSAYA ⤍ ML ⤍ 300MB, 3 days, P30
TNT Surf Saya ML 99 valid for 7 days
1.5 GB mobile data
100 MB/day for Mobile Legends Access
Unlimited texts to all networks
Unlimited trinet calls
To register: dial *123# ⤍ SURFSAYA ⤍ ML ⤍ 1.5GB, 7 days, P99
TNT Surf Saya ML 199 valid for 30 days
2 GB mobile data
200 MB/day for Mobile Legends Access
Unlimited texts to all networks
Unlimited trinet calls
To register: dial *123# ⤍ SURFSAYA ⤍ ML ⤍ 2GB, 30 days, P199
TNT Surf Saya All-in 45 valid for 2 days
100 MB mobile data
100 MB/day for Facebook, Mobile Legends, Instagram
Unlimited calls & texts to all networks
To register: dial *123# ⤍ SURFSAYA ⤍ ALL-IN ⤍ 100MB, 2 days, P45
TNT Surf Saya All-in 60 valid for 3 days
300 MB mobile data
100 MB/day for Facebook, Mobile Legends, Instagram
Unlimited calls & texts to all networks
To register: dial *123# ⤍ SURFSAYA ⤍ ALL-IN ⤍ 300MB, 3 days, P60
TNT Surf Saya All-in 159 valid for 7 days
1.5 GB mobile data
100 MB/day for Facebook, Mobile Legends, Instagram
Unlimited calls & texts to all networks
To register: dial *123# ⤍ SURFSAYA ⤍ ALL-IN ⤍ 1.5GB, 7 days, P159
TNT Surf Saya All-in 349 valid for 30 days
2 GB mobile data
200 MB/day for Facebook, Mobile Legends, Instagram
Unlimited calls & texts to all networks
To register: dial *123# ⤍ SURFSAYA ⤍ ALL-IN ⤍ 2GB, 30 days, P349
TNT Giga Video 50 valid for 3 days
1 GB mobile data
1 GB/day for YouTube, iWanTv, iFlix, Cignal, NBA
Unlimited texts to all networks
To register: dial *123# ⤍ GIGA ⤍ VIDEO ⤍ 1GB, 3 days, P50
TNT Giga Video 99 valid for 7 days
2 GB mobile data
1 GB/day for YouTube, iWanTv, iFlix, Cignal, NBA
To register: dial *123# ⤍ GIGA ⤍ VIDEO ⤍ 2GB, 7 days, P99
TNT Giga Video 299 valid for 30 days
4 GB mobile data
1 GB/day for YouTube, iWanTv, iFlix, Cignal, NBA
To register: dial *123# ⤍ GIGA ⤍ VIDEO ⤍ 4GB, 30 days, P299
TNT Giga Video 399 valid for 30 days
6 GB mobile data
1 GB/day for YouTube, iWanTv, iFlix, Cignal, NBA
To register: dial *123# ⤍ GIGA ⤍ VIDEO ⤍ 6GB, 30 days, P399
TNT Giga Video 499 valid for 30 days
8 GB mobile data
1 GB/day for YouTube, iWanTv, iFlix, Cignal, NBA
To register: dial *123# ⤍ GIGA ⤍ VIDEO ⤍ 8GB, 30 days, P499
TNT Giga Video+ 75 valid for 3 days
1 GB mobile data
1 GB/day for YouTube, iWanTv, iFlix, Cignal, NBA
Unlimited texts to all networks
Unlimited trinet calls
To register: dial *123# ⤍ GIGA ⤍ VIDEO+ ⤍ 1GB, 3 days, P75
TNT Giga Video+ 149 valid for 7 days
2 GB mobile data
1 GB/day for YouTube, iWanTv, iFlix, Cignal, NBA
Unlimited texts to all networks
Unlimited trinet calls
To register: dial *123# ⤍ GIGA ⤍ VIDEO+ ⤍ 2GB, 7 days, P149
TNT Giga Video+ 449 valid for 30 days
4 GB mobile data
1 GB/day for YouTube, iWanTv, iFlix, Cignal, NBA
Unlimited texts to all networks
Unlimited trinet calls
To register: dial *123# ⤍ GIGA ⤍ VIDEO+ ⤍ 4GB, 30 days, P449
TNT Giga Video+ 549 valid for 30 days
6 GB mobile data
1 GB/day for YouTube, iWanTv, iFlix, Cignal, NBA
Unlimited texts to all networks
Unlimited trinet calls
To register: dial *123# ⤍ GIGA ⤍ VIDEO+ ⤍ 6GB, 30 days, P549
TNT Giga Video+ 649 valid for 30 days
8 GB mobile data
1 GB/day for YouTube, iWanTv, iFlix, Cignal, NBA
Unlimited texts to all networks
Unlimited trinet calls
To register: dial *123# ⤍ GIGA ⤍ VIDEO+ ⤍ 8GB, 30 days, P649
TNT Giga Stories IG+FB 50 valid for 3 days
1 GB mobile data
1 GB/day for for Instagram, Facebook, and TikTok
To register: dial *123# ⤍ GIGA ⤍ STORIES (IG+FB) ⤍ 1GB, 3 days, P50
TNT Giga Stories IG+FB 99 valid for 7 days
2 GB mobile data
1 GB/day for for Instagram, Facebook, and TikTok
To register: dial *123# ⤍ GIGA ⤍ STORIES (IG+FB) ⤍ 2GB, 7 days, P99
TNT Giga Stories IG+FB 299 valid for 30 days
4 GB mobile data
1 GB/day for for Instagram, Facebook, and TikTok
To register: dial *123# ⤍ GIGA ⤍ STORIES (IG+FB) ⤍ 4GB, 30 days, P299
TNT Giga Stories IG+FB 399 valid for 30 days
6 GB mobile data
1 GB/day for for Instagram, Facebook, and TikTok
To register: dial *123# ⤍ GIGA ⤍ STORIES (IG+FB) ⤍ 6GB, 30 days, P399
TNT Giga Stories IG+FB 499 valid for 30 days
8 GB mobile data
1 GB/day for for Instagram, Facebook, and TikTok
To register: dial *123# ⤍ GIGA ⤍ STORIES (IG+FB) ⤍ 8GB, 30 days, P499
TNT Giga Games 50 valid for 3 days
1 GB mobile data
1 GB/day for Mobile Legends, Arena of Valor, Clash of Clans and Clash Royale
To register: dial *123# ⤍ GIGA ⤍ GAMES ⤍ 1GB, 3 days, P50
TNT Giga Games 99 valid for 7 days
2 GB mobile data
1 GB/day for Mobile Legends, Arena of Valor, Clash of Clans and Clash Royale
To register: dial *123# ⤍ GIGA ⤍ GAMES ⤍ 2GB, 7 days, P99
TNT Giga Games 299 valid for 30 days
4 GB mobile data
1 GB/day for Mobile Legends, Arena of Valor, Clash of Clans and Clash Royale
To register: dial *123# ⤍ GIGA ⤍ GAMES ⤍ 4GB, 30 days, P299
TNT Giga Games 399 valid for 30 days
6 GB mobile data
1 GB/day for Mobile Legends, Arena of Valor, Clash of Clans and Clash Royale
To register: dial *123# ⤍ GIGA ⤍ GAMES ⤍ 6GB, 30 days, P399
TNT Giga Games 499 valid for 30 days
8 GB mobile data
1 GB/day for Mobile Legends, Arena of Valor, Clash of Clans and Clash Royale
To register: dial *123# ⤍ GIGA ⤍ GAMES ⤍ 8GB, 30 days, P499
TNT Super Combo 20 valid for 2 days
50 MB mobile data
Unli text to TNT/Smart/Sun
Unli call to TNT/Smart/Sun
To register: text SC20 to 4545
TNT Super Combo 30 valid for 3 days
200 MB mobile data
Unli all net texts
60 mins trinet calls
To register: text SC30 to 4545
TNT Super Combo 70 valid for 5 days
300 MB mobile data
Unli trinet calls & texts
To register: text SC70 to 4545
TNT Panalo Combo 30 valid for 3 days
200 MB mobile data
Unli all net texts
60 mins trinet calls
To register: text PC30 to 4545
TNT Panalo Combo 60 valid for 7 days
500 MB mobile data
Unli all net texts
100 mins trinet calls
To register: text PC30 to 4545
TNT Panalo Data 30 valid for 2 days
500 MB mobile data
200 MB/day for Facebook & Messenger
To register: text PDATA30 to 4545
TNT Panalo Data 60 valid for 5 days
1 GB mobile data
Unli all net texts
To register: text PDATA60 to 4545
TNT All Day 10 valid for 1 day
Internet surfing except video streaming and downloading, up to 100MB
To register: text ALLDAY10 to 4545
TNT All Day 20 valid for 1 day
All day access to all sites and apps except video streaming and downloading, up to 800MB
To register: text ALLDAY20 to 4545
TNT All Day 30 valid for 2 days
Access to all sites and apps except video streaming and downloading, up to 500MB per day
To register: text ALLDAY30 to 4545
TNT Gaan Surf 5 valid for 1 day
15 MB mobile data
To register: text GAANSURF5 to 4545
TNT Gaan Surf 10 valid for 1 day
50 MB mobile data
100MB for YouTube, Mobile Legends, & Facebook
To register: text GAANSURF10 to 4545
TNT Gaan Surf 15 valid for 2 days
100 MB mobile data
100MB for YouTube, Mobile Legends, & Facebook
To register: text GAANSURF15 to 4545
TNT Gaan Surf 20 valid for 3 days
200 MB mobile data
100MB for YouTube, Mobile Legends, & Facebook
To register: text GAANSURF20 to 4545
TNT Gaan Surf 30 valid for 5 days
300 MB mobile data
200MB for YouTube, Mobile Legends, & Facebook
To register: text GAANSURF30 to 4545
TNT Gaan Surf 50 valid for 7 days
500 MB mobile data
200MB for YouTube, Mobile Legends, & Facebook
To register: text GAANSURF50 to 4545
TNT Gaan Surf 150 valid for 30 days
1.5 GB mobile data
750MB for YouTube, Mobile Legends, & Facebook
To register: text GAANSURF150 to 4545
TNT Surf Max 50 valid for 1 day
Full internet access to all websites, applications, and downloads up to 800MB
To register: text SURFMAX50 to 4545
TNT Surf Max 299 valid for 7 days
Full internet access to all websites, applications, and downloads up to 800MB per day
To register: text SURFMAX299 to 4545
TNT Surf Max 999 valid for 30 days
Full internet access to all websites, applications, and downloads up to 800MB per day
To register: text SURFMAX999 to 4545
TNT Tropa 150 valid for 15 days
100MB per day access to Facebook, Twitter, Viber & COC
60 mins calls to TNT/Smart/Sun daily
Unlitext to all networks
To register: text TROPA150 to 4545
TNT Facebook 10 valid for 3 days
200MB per day access to Facebook or Messenger
To register: text FACEBOOK10 to 4545
TNT Facebook 50 valid for 7 days
500MB per day access to Facebook or Messenger
To register: text FACEBOOK50 to 4545
TNT Facebook 99 valid for 30 days
1.5 GB data for Facebook or Messenger
To register: text FACEBOOK99 to 4545
TNT Youtube 99 valid for 30 days
1.5 GB data for Youtube Streaming
To register: text YOUTUBE99 to 4545
TNT Clash of Clans 99 valid for 30 days
1.5 GB data for Clash of Clans
To register: text COC99 to 4545
TNT Super Talk 10 valid for 1 day
Unlimited call to TNT/Smart/Sun
50 texts to all networks
Free FB and Messenger up to 100MB/day
To register: text ST10 to 4545
TNT Sangkatutok 15 valid for 2 days
20 minutes of call to TNT & Smart
To register: text STOK15 to 4545
TNT Sangkatutok 30 valid for 4 days
45 minutes of call to TNT & Smart
To register: text STOK15 to 4545
TNT Unlitxt 2 All 20 valid for 2 days
Unlimited texts to all networks
To register: text UA20 to 4545
TNT Unlitxt 2 All Plus 25 valid for 3 days
Unlimited texts to all networks
60 mins calls to TNT/Smart/Sun
To register: text UA25 to 4545
TNT Unlitxt 2 All Plus 50 valid for 5 days
Unlimited texts to all networks
150 mins calls to TNT/Smart/Sun
To register: text UA50 to 4545
TNT Unlitxt 2 All 300 valid for 30 days
Unlimited texts to all networks
300 mins calls to TNT/Smart/Sun
To register: text UA300 to 4545
TNT Unlitxt 150 valid for 30 days
30 MB mobile data
Unlimited texts to TNT & Smart
150 mins calls to TNT/Smart/Sun
To register: text U150 or UTP150 to 4545
TNT Sangkatutex 15 valid for 2 days
200 texts to TNT & Smart
To register: text STEX15 to 4545
TNT Sangkatutex 60 valid for 7 days
1000 texts to TNT & Smart
To register: text STEX60 to 4545
TNT Unli Txt 10 valid for 2 days
Unlimited texts to TNT, Smart and Sun
To register: text UT10 to 4545
TNT Gaan Txt 10 valid for 1 day
Unlimited texts to all networks
To register: text GT10 to 4545
TNT Gaan Txt 20 valid for 2 days
Unlimited texts to all networks
To register: text GT20 to 4545
TNT Gaan Unlitext Plus 15 valid for 1 day
Unlimited texts to all networks
60 minutes of call to TNT, Smart, Sun
100 MB data for Facebook, Viber, Twitter, Clash of Clans, and Dubsmash access
To register: text GU15 to 4545
TNT Unli Talk and Text 20 valid for 2 days
Unlimited texts to all networks
Unlimited calls to TNT, Smart, Sun
100 MB data for Tropa apps
To register: text T20 to 4547
TNT Unli Talk and Text 100 valid for 7 days
Unlimited texts to all networks
Unlimited calls to TNT, Smart, Sun
100 MB data for Tropa apps
To register: text T100 to 4547
TNT Unlitext Plus 10 valid for 1 day
Unlimited texts to TNT & Smart
10 minutes of calls to TNT & Smart
50 texts to all networks
To register: text TP10 to 3545
TNT Unlitext Plus 20 valid for 2 days
Unlimited texts to TNT, Smart & Sun
30 minutes of calls to TNT, Smart & Sun
100MB/day Facebook access
To register: text TP20 to 4545
TNT Gaan Unli Trio Plus 15 valid for 1 day
Unlimited texts to TNT, Smart & Sun
10 minutes of calls to TNT & Smart
To register: text TRI15 to 4545
TNT Araw Araw Load 30 valid for 3 days
Unlimited texts to Smart and TNT
10 minutes of calls daily to TNT and Smart
10 minutes daily internet surfing
To register: text AL30 to 4545
TNT TriNet 300 valid for 30 days
Unlimited texts to Smart, TNT & Sun
300 minutes of calls to TNT, Smart and Sun
30 MB data for internet access
To register: text TRINET300 to 2477
TNT Katok-At-Tex 25 valid for 1 day
Unlimited calls to TNT partner
Unlimited texts to TNT, Smart
To register: text KT25 to 4545
TNT Unlitxt ALL+Unli Tropa Call 20 valid for 1 day
Unlimited texts to all networks
Unlimited call to TNT
To register: text AP20 to 4545
TNT Unlitext Extra 20 valid for 3 days
Unlimited texts to Smart, TNT & Sun
20 mins calls to TNT/Smart/Sun
50 all net texts
100MB/day of Free Facebook, Twitter, Viber, CoC and Dubsmash
To register: text U20 to 4545
TNT Unlitext Extra 30 valid for 3 days
Unlimited texts to Smart and TNT
15 minutes of call to TNT & Smart
To register: text U30 to 4545
TNT Gaan ALL-IN-ONE 15 valid for 1 day
150 texts to all networks
15 minutes of call to TNT & Smart
To register: text GA15 to 4545
TNT Gaan ALL-IN-ONE 20 valid for 1 day
200 texts to all networks
20 minutes of call to TNT & Smart
To register: text GA20 to 4545
TNT Gaan ALL-IN-ONE 30 valid for 2 days
300 texts to all networks
30 minutes of call to TNT & Smart
To register: text GA30 to 4545
TNT Gaan ALL-IN-ONE 55 valid for 3 days
550 texts to all networks
55 minutes of call to TNT & Smart
To register: text GA55 to 4545
TNT Patok-O-Tex 15 valid for 1 day
30 texts or minutes of call to TNT, Smart
To register: text TOT15 to 4545
TNT Patok-O-Tex 20 valid for 1 day
40 texts or minutes of call to TNT, Smart
To register: text TOT20 to 4545
TNT Patok-O-Tex 30 valid for 2 days
60 texts or minutes of call to TNT, Smart
To register: text TOT30 to 4545
TNT Alden Load 15 valid for 1 day
Unlimited calls to TNT & Smart
To register: text ALDEN15 to 4547
TNT Maine Load 30 valid for 5 days
Unlimited texts to all networks
To register: text MAINE30 to 3545
TNT Alden & Maine 15 valid for 1 day
Unlimited texts to TNT
60 minutes call to TNT, Smart or Sun
100 MB for Facebook, Twitter, Viber, Clash of Clans and Dubsmash
To register: text AM15 to 4545TNT Piso Unlitext valid for 30 mins
Unlimited texts to TNT and Smart
To register: text PISO to 4545
TNT Kamustext 20 valid for 1 day
50 local and international texts
To register: text KT20 to 433
TNT Babad 20 valid for 3 days
Unlimited texts to all networks
200 MB per day for Facebook, Mobile Legends, Instagram and TNT Babad apps (Available to selected areas only)
To register: text TC20 to 4545
Unli Txt 10 valid for 1 day
Unlimited texts to TNT, Smart
To register: text U10 to 4545