Pocket-friendly meal options are constantly sought-after by many Filipinos. Silogan ni Gian is the answer to this need. This eatery is one of the most popular food eateries in Cebu City, serving traditional Filipino dishes at an affordable price. The eatery aims to bring the best of local flavors to its customers, making their meal experience more enjoyable.
Silogan Ni Gian with its great-tasting food, reasonable prices, and friendly staff make it the perfect meal option for families and friends. It specialized in Silog meals. Silog meals are Filipino breakfasts consisting of garlic fried rice, sunny-side-up eggs, and your choice of meat (longganisa, tocino, tapa, or daing na Bangus).  Not all people can afford a two-course meal in a restaurant for breakfast or lunch, but with Silogan Ni Gian, they can enjoy the same deliciousness and quality at an inexpensive price.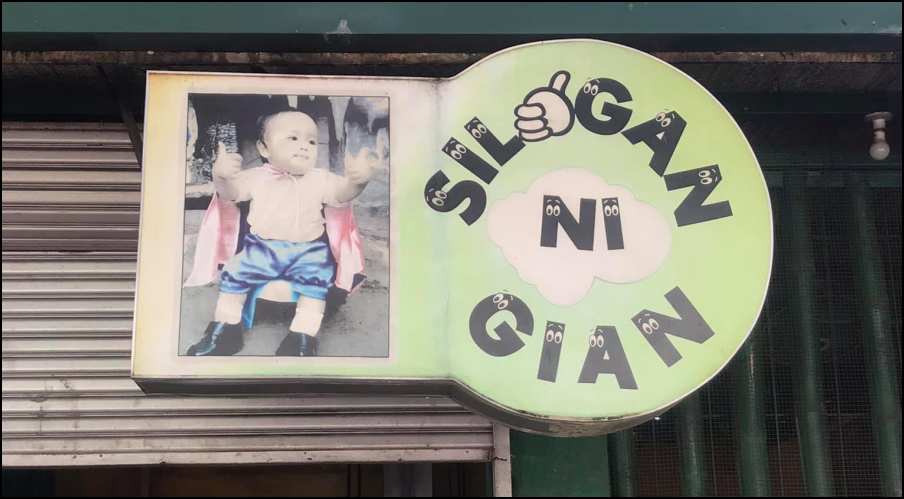 Talk of the Town
Everyone in Cebu especially the students knows about Silogan Ni Gian and its tasty food. The restaurant is constantly busy, with people from all walks of life coming to enjoy a delicious meal at an affordable price. With its convenient location and delightful dishes, it's no surprise that Silogan Ni Gian has become one of the most popular eateries in Cebu City. The restaurant offers a wide variety of Filipino dishes, making it a great option for those who are looking for a taste of home. In addition, the restaurant is known for its friendly and attentive service. Students can often be found enjoying a meal with friends or family.
The owner chose to open their branch near universities or schools to cater to students and other individuals looking for a budget-friendly meal. We are all aware that the prices of foods are very expensive but Silogan Ni Gian remains true to its promise of providing Filipino meals at an affordable price. With their goal to provide great-tasting food at an accessible rate, Silogan Ni Gian has become a go-to spot for students and locals alike.
Branches of Silogan Ni Gian in Cebu
Stores are open 24 hours a day, seven days a week. Locations are very accessible, especially to students.
Silogan Ni Gian – Banilad
Address: 8WW7+W6F, Banilad Gov. M. Cuenco Avenue, Cebu City, Cebu
Store Hours: 24 hours
Silogan Ni Gian – Urgello
Address: 53 J. Urgello St, Cebu City, 6000 Cebu
Store Hours: 24 hours
Phone: 0977 032 5820
Silogan Ni Gian – Gorordo
Address: 2 Gorordo Ave, Cebu City, 6000 Cebu
Store Hours: 24 hours
Phone: 0922 219 7083
Silogan Ni Gian – Kasambagan
Address: 8WQ7+R3M, J Panes St., Kasambagan/Banilad, Cebu City, 6000 Cebu
Store Hours: 24 hours
Phone: (032) 511 6738
Silogan Ni Gian – Mabolo
Address: 8W95+H7G, Cardinal Rosales Ave, Cebu City, 6000 Cebu
Store Hours: 24 hours
Silogan Ni Gian – San Antonio, Cebu
Address: 8V2X+CGV, Junquera St, Cebu City, Cebu
Store Hours: 24 hours
Silogan Ni Gian – Capitol
Address: 8V8R+3WP, Cebu City, Cebu
Store Hours: 24 hours
Silogan Ni Gian – Talamban
Address: Silogan Ni Gian, 9W27+MH3, Florencio Drive, Cebu City, Cebu
Store Hours: 24 hours
The Menu
Here are the famous dishes that Silogan Ni Gian offers.
THE SILOG MEALS – Perfect for breakfast or a late-night snack, these silog meals are a classic Filipino favorite. Choose from your preferred meat and pair it up with garlic-fried rice and sunny-side-up or scrambled eggs.
Porksilog – Porkchop with Egg
Sardinesilog – Sardines with Egg
Longsilog – Longganisa with Egg
Hotsilog – Hotdog with Egg
Chosilog – Chorizo with Egg
Sisigsilog – Sisig with Egg
Hamsilog – Ham with Egg
Skinlesssilog – Skinless with Egg
Tapsilog – Tapa with Egg
Bangsilog – Bangus with Egg
Baconsilog – Bacon with Egg
Cornedsilog – Corned Beef with Egg
Burgersteaksilog – Burger Steak with Egg
Chickensilog – Chicken with Egg
Beefloafsilog – Beefloaf with Egg
Tempurasilog – Tempura with Egg
Spanishsardinessilog – Spanish Sardines with Egg
Spamsilog – Spam with Egg
These silog meals are served with fried rice or plain rice of your choice.
TUNASILOG
Flakes in oil silog – Flakes in oil tuna with egg
Hot & Spicy silog – Hot & spicy tuna with egg
Mechado silog – Mechado tuna with egg
Lechon Paksiw silog – Lechon paksiw tuna with egg
Caldereta silog – Caldereta tuna with egg
Afritada silog – Afritada tuna with egg
Adobo silog – Adobo tuna with egg
Bicol Express silog – Bicol Express tuna with egg
EXTRAS
Hotdog
Chorizo
Tocino
Ham
tapa
Bacon
Beefloaf
Burgersteak
Longganiza
Chicken Skin
Flakes in oil tuna
Hot & Spicy tuna
Mechado tuna
Lechon Paksiw tuna
Caldereta tuna
Afritada tuna
Adobo tuna
Bicol express tuna
OTHERS
Juice
Iced Tea
Pancit Canton
Noodles
Noodles with egg
Plain Rice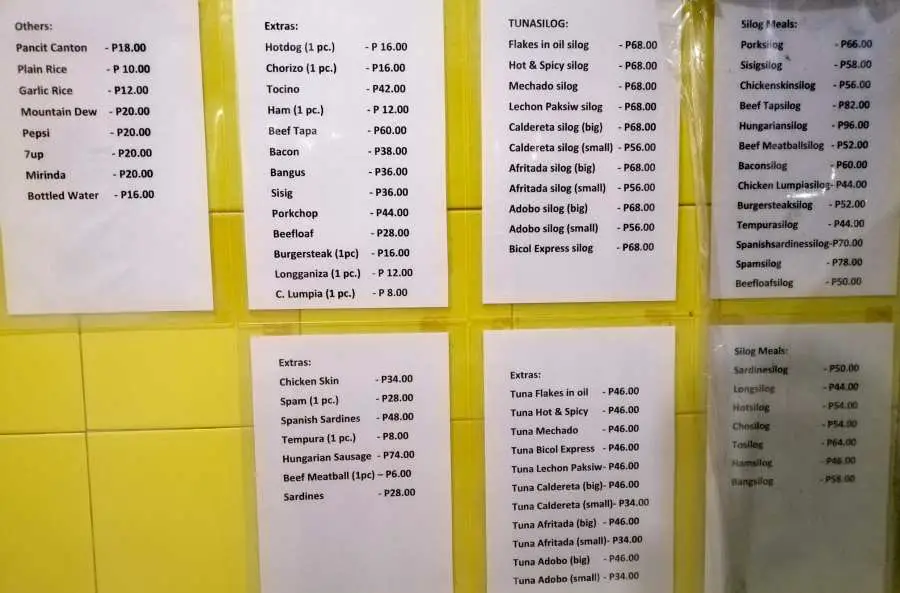 What are you waiting for? Visit any of Silogan Ni Gian's branches and try their delicious dish. Let us all support our local businesses, especially the small ones. Eat with them, enjoy your meals and help promote Cebu's food culture!
Summary
Breakfast is the most important meal of the day, so it's important to have something good and nutritious. That is why Silogan Ni Gian offers delicious, budget-friendly Filipino dishes that are sure to satisfy your craving for comfort food. With branches all around Cebu, you can be sure that there will always be a place to have breakfast near you. A small eatery that delivers big flavors and is definitely worth a visit and tries! We know that the foods they served can be cook at home but what is really special about Silogan Ni Gian is the price and convenience.
As they say, don't judge the book by its cover. Silogan Ni Gian may look like an ordinary, small store but its food is nothing short of amazing. Try any of their dishes, be it the famous silog meals or the extras and you won't regret it. So what are you waiting for? Visit a branch right away.
Contact Information
Facebook Page: Silogan Ni Gian
Phone Number: 032 3406470
For inquiries, please contact them on Facebook or the phone number provided above.