Camotes Island is a small archipelago located in the central Philippines. The island is home to several small villages, each with its own unique culture and traditions. The island is also a popular tourist destination, due to its beautiful beaches and clear waters. If you plan to travel from to Cebu to Camotes via OceanJet ferry, please check out the list of schedules below.
Also Read: OceanJet Cebu to Tagbilaran, Bohol Ferry Schedule 
Camotes Island is a great place to relax and enjoy the company of friends and family. There are several activities to keep you busy, such as swimming, sunbathing, fishing, and hiking. You can also explore the island's many caves and cliffs.
If you're looking for a place to escape the hustle and bustle of city life, then Camotes island is the perfect destination for you. So, what are you waiting for? Come and experience the beauty of Camotes island today!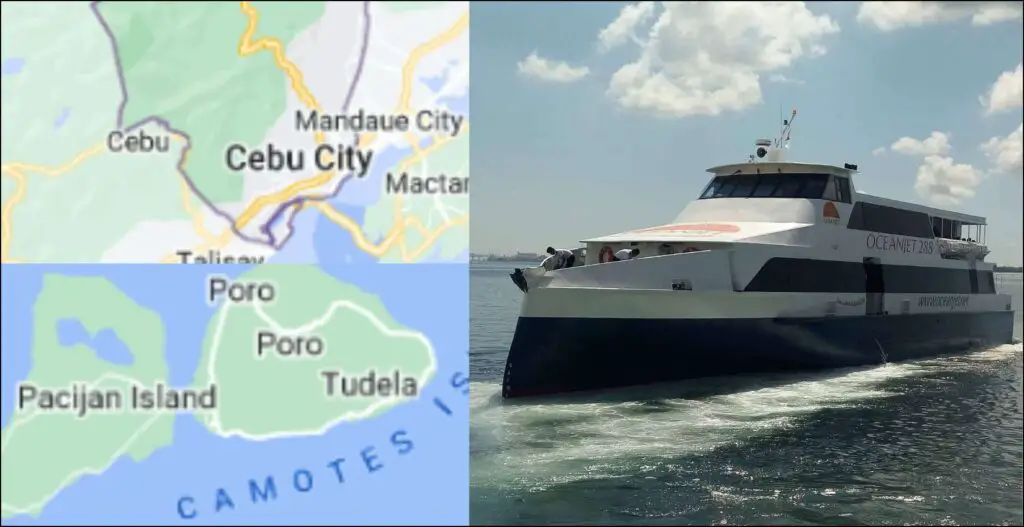 Where is Cebu?
Cebu is the Philippines' second-largest metropolis, located in the Central Visayas region. It's a popular tourist destination with beautiful white sand beaches, crystal blue seas, and friendly residents. The white sand beaches of Moalboal, Bantay Island, Camotes Island, and many other places may be found! Cebu also has several historical monuments, including Basilica Minore del Santo Niño (the country's oldest Catholic cathedral), which was built in 1583.
Where is Camotes Island?
Camotes Island is a group of islands located in the central Philippines. The largest island, Poro, is home to the majority of the population. Camotes Island is known for its beautiful scenery and sandy beaches. It is a popular destination for tourists, who come to enjoy the island's quiet atmosphere and clear waters. The island is also home to several historical sites, including the ruins of a Spanish fort. Camotes Island is a popular destination for both Filipino and international visitors.
What is OceanJet?
OceanJet is a high-speed ferry service that operates in the Philippines. It currently has a fleet of 12 vessels, which service routes between the islands of Mindanao, Visayas, and Luzon. The company offers both regular and express services, with journey times of between 4 and 10 hours.
OceanJet is known for its reliability and comfortable onboard experience, with spacious seats and plenty of legroom. The company also offers a range of meal and drink options for passengers to enjoy during their journey. Whether you're looking to get from A to B quickly and efficiently, or you're just wanting to relax and enjoy the ride, OceanJet is the perfect option.
What are the Schedule and rates of the OceanJet Trip from Cebu to Camotes Island?
There are 2 trips to going to Camotes island via Oceanjet 6 am and 3 pm only. so be sure to be at the Cebu port an hour before the trip. The travel time is approximately 1 hour and 30 minutes depending on the sea conditions.
ETD / Origin
ETA / Destination
Regular Fare
6:00 AM CEBU 7:30 AM CAMOTES
Open Air / Tourist Class PHP 500 Business Class PHP 800
3:00 PM CEBU 4:30 PM CAMOTES
Open Air / Tourist Class PHP 500 Business Class PHP 800

How to Get from Cebu to Camotes Island via OceanJet Boat?
The OceanJet departs from Cebu Pier 1 and arrives in Poro port Camotes. Just simply taking public transportation going to Cebu City Pier 1. Upon arriving at Cebu Pier 1 follow the steps below:
Buy tickets via the OceanJet booth.
Let your ticket be validated by the attendant.
Ride the Lite Ferries boat.
Video: Cebu to Camotes Island Trip
Check out this video of a walkthrough and an experience going to Camotes Island
Frequently Asked Questions
1. What to present during boarding?
Please show a government-issued photo identification that matches the name on your ticket at check-in. Check-ins must be made at least 30 minutes before departure.
2. Can the ticket be transferred to another person?
The purchase of a JetBlue air flight is not transferable. Whatever the ticket's name is should match the actual IDs shown at check-in.
3. Is there a full refund if the voyage is canceled?
OceanJet shall refund the total value of the ticket. However, if you cancel your journey on a normal voyage and buy a full-fare alternative, you will not receive a complete refund. For refunds, OceanJet will charge surcharges.
4. Is there a refund if the ticket is returned?
Yes. However, you will not receive a full refund. If the ticket has not yet been checked in, you can get a refund of 80% of the purchase price; that is if the airline does not depart. A refund of 60% of the ticket value may be obtained on demand if you do not check in and the carrier departs.
5. How much hand-carried baggage is allowed per passenger on board the Carrier?
Only one hand-carried baggage is allowed per passenger. Hand-carried baggage must contain valuables and must not exceed fifteen (15) kilograms. It should have a dimension that must not exceed 25 cm x 35 cm x 40 cm.
6. Are pregnant women allowed to be on board the Carrier?
Pregnant women shall be allowed to board the carrier if they are less than or equal to 24 weeks or 6 months to a full term with a medical certificate attesting their fitness to undertake sea travel. They must sign a waiver of liability in favor of the carrier and must present, upon boarding the vessel. Otherwise, the carrier reserves the right to deny them boarding of the vessel. Pregnant women with more than the allowable pregnancy period may be denied boarding.
7. If sick, can a passenger board the carrier?
If the passenger is found to have a contagious disease, he or she will be denied boarding. For passengers with minor ailments, a medical clearance from a physician or any competent medical practitioner must be presented. Before traveling on board the carrier, the passenger should consider the health of other passengers.
Summary
The OceanJet is the best way to get from Cebu to Camotes Island. The trip takes about 1 hour and 30 minutes, and there are 2 trips per day and it is a very fast and convenient way to travel from Cebu to Camotes Island.
The journey is smooth and comfortable, and the views of the Philippines coastline are simply breathtaking. Whether you're traveling for business or pleasure, the OceanJet Ferry is the ideal way to get to your destination quickly and hassle-free.
Contact Information
Cebu Main Office
Address: Pier 1, CPA Bldg., Cebu City, Cebu Philippines
Phone Number: +63(32)255-7560, Sun: 0922-857-5500, Globe: 0917-638-0000
Email: customerservice@oceanjet.net
Website: http://www.oceanjet.net/