The FastCat Ferry service offers daily trips between Cebu and Bohol, via Cebu Pier 3 to Tubigon Pier, so you can choose the schedule that works best for you. And with a travel time of just 1.5 hours, the FastCat Ferry is one of the fastest ways to get from Cebu to Bohol.
The FastCat Ferry offers comfortable passenger seating and plenty of space for luggage. So whether you're traveling for business or pleasure, the FastCat Ferry is the perfect way to get from Cebu to Bohol. So if you're looking to take a trip to Bohol, make sure to check out the FastCat ferry schedule and book your tickets in advance!
The FastCat Cebu to Bohol Ferry Schedule is subject to change without notice, so please check with the ferry company for the most up-to-date information.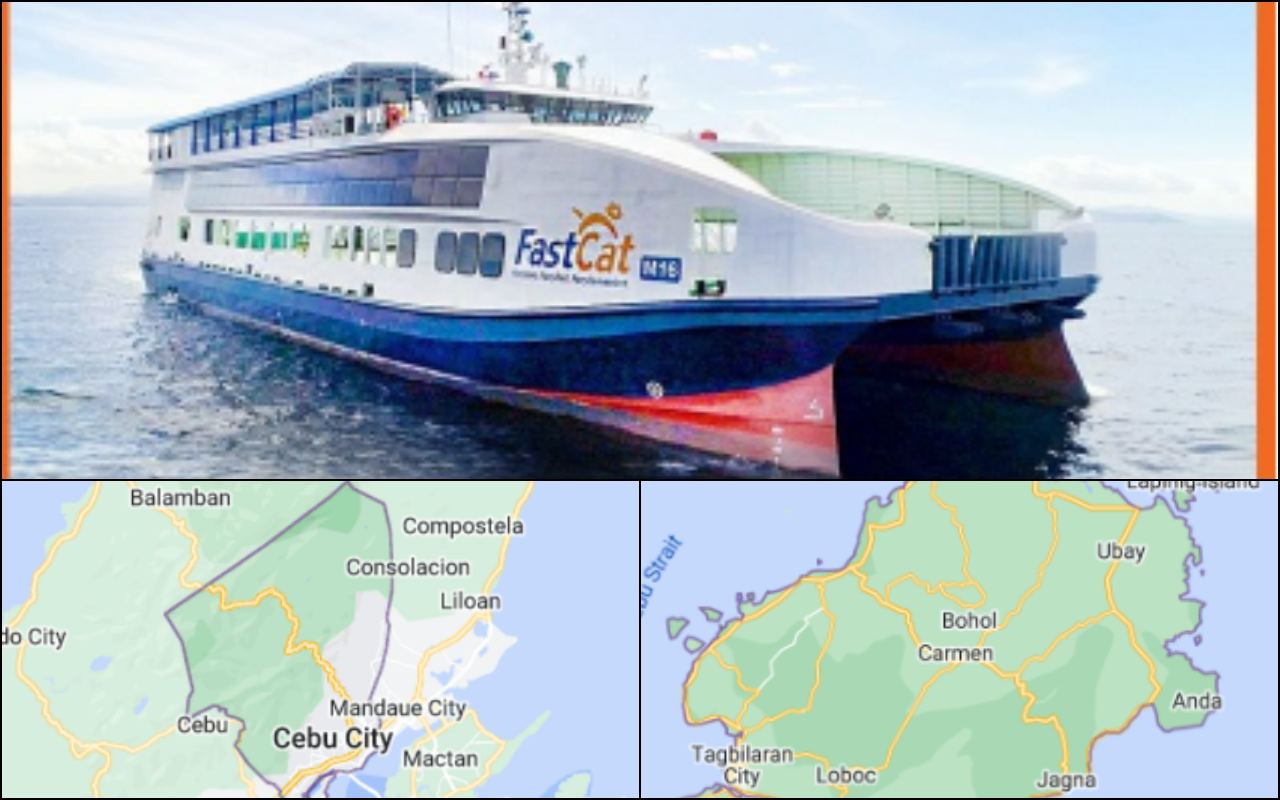 Where is Cebu?
Cebu is the second-largest city in the Philippines, located in the Central Visayas region. It is a popular tourist destination known for its white-sand beaches, clear waters, and friendly people.
Where is Bohol?
Bohol is an island province located in the Central Visayas region. It is best known for its white-sand beaches, clear waters, and friendly people. Bohol is also home to the Chocolate Hills, a unique geological formation consisting of more than 1,200 cone-shaped hills.
What is FastCat?
FastCat is a high-speed ferry service that operates between the islands of Cebu and Bohol. The FastCat ferry schedule is subject to change without notice, so please check with the ferry company for the most up-to-date information.
What is the Schedule of the FastCat Trip from Cebu to Tubigon Bohol?
There are 4 trips daily from Cebu Pier 3 port to Tubigon Bohol Port. Please check the details below on the exact scheduled trips:
| | |
| --- | --- |
| CEBU | TUBIGON |
| DEPARTURE | ARRIVAL |
| | |
| 1:30 AM | 3:00 AM |
| 7:30 AM | 9:00 AM |
| 1:30 PM | 3:00 PM |
| 8:00 PM | 9:30 PM |
For more information and updated schedule, please visit the FastCat website schedule here.
How to Get from Cebu to Tubigon Bohol via FastCat Boat?
The FastCat boat departs from Cebu City and arrives in Tubigon, Bohol. The FastCat terminal in Cebu is located on Cebu Pier 3. To get to the terminal, you can take a taxi from anywhere in Cebu City.
The fare should be around PHP 100-200. And if you're staying in Lapu-Lapu or just arrived at Mactan Airport, the taxi fare going to Cebu Pier 3 should be around PHP 200 – 350.
The FastCat trip from Cebu to Tubigon Bohol takes about 2 hours. Upon arrival in Tubigon Bohol, you will need to take a tricycle to your hotel or resort. The fare for the tricycle is around PHP 150 per person.
After arriving at Cebu pier 3. Follow the few steps below to get inside the FastCat Boat.
Buy tickets via the FastCat booth or via Online.
Let your ticket be validated by the attendant
Ride the FastCat Boat.
How Much is the FastCat Cebu to Tubigon Bohol Ferry Fare?
SEAT CLASSIFICATION
FULL FARE
STUDENTS
SENIOR CITIZENS / PWDS
(WITH VALID ID'S)
CHILDREN (3-7 YEARS OLD)
CHILDREN (BELOW 3 YEARS OLD)
BUSINESS CLASS
P 410
P 276
P 246
P 173
FREE
PREMIUM ECONOMY
P 370
P 248
P 221
P 155
FREE
ECONOMY
P 330
P 220
P 197
P 138
FREE

How much is the FastCat Fare with Vehicle
If you plan to bring your vehicle (Bike, motorcycle, or car), you can do so, please check the cost of the vehicles below:
| | |
| --- | --- |
| CLASSIFICATION | PRICE |
| BICYCLE (5) | P 312 |
| BICYCLE WITH SIDECAR (1) | P 624 |
| MOTORCYCLE (2) | P 1,440 |
| LIGHT CARS/MULTICAB/OWNER | P 2,507 |
| VAN/PICK-UP/SUV/SEDAN | P 3,131 |
Video: Cebu to Bohol Trip via FastCat
Please check this video as an American showing what's inside the ferry. This video shows an experience riding the FastCat boat from Cebu Pier 3 to Tagbilaran Port. He and his family travelled via FastCat from Cebu to Bohol Ferry. This video will give you a better insight about the process of the 1-hour ride boat:
Frequently Asked Questions
1. Where can we purchase tickets in FastCat Ferry?
FastCat's booths may be found at the port terminals to purchase tickets. You may also make reservations through our website (www.fastcat.com.ph) or tghe online partner pinoytravel.com.ph, as well as biyaheroes.com
2. If the trip was canceled, are tickets refundable?
In an unfortunate case that a trip was canceled due to the unavailability of the vessel, the ticket will be refunded to the passenger in full.
In the case of trips being canceled owing to inclement weather, tickets will be applied to the following available trip after the ban has been lifted by Philippine Coast Guard authorities.
3. What documents do I need to present if I will board my vehicle on the vessel?
One must present the following documents:
Copy of the Official Receipt of the vehicle
Copy of the Certificate of Registration of the vehicle
A valid ID of the driver issued by the Government
4. What items are not allowed inside the vessel?
For public security and safety, the following are prohibited inside the vessel:
Free-roaming / uncaged animals
Any deadly weapon or firearm
Explosive devices/chemicals
Corrosive substances
Hand-carried flammable substances
5. Is food available for sale at the vessel?
Yes, there is a snack bar on the aircraft where meals may be purchased.
6. How early shall I be for my Trip?
Passengers should have purchased their tickets at least 45 minutes (45) before the departure time and be in place 30 minutes before departure.
For rolling cargoes, please be at the port at least two (2) hours before your trip.
Summary
Bohol is a great place to relax and enjoy the beauty of beaches as well as other famous attractions like the Chocolate Hills. And what better way to get there than by taking the FastCat ferry which features 4 trips daily from Cebu to Bohol.
Cebu-Bohol FastCat is a new ferry service that promises to cut travel time between the two islands from the current four hours to just two. FastCat is one of the leading ferry operators in the Philippines.
So why not give FastCat a try for your next trip to Bohol? With its convenient schedules and affordable fares, it's sure to be a fast and hassle-free way to travel between Cebu and Bohol!
Contact Information
Cebu FastCat Ferry
Address: Arellano Blvd cor McArthur St. Brgy.San Roque, GP Bldg.Pier 2, Cebu City
Telephone Number: 09086199108
Email:cebu.port@fastcat.com.ph
Website: https://www.fastcat.com.ph/
Facebook Page: https://www.facebook.com/FastCatOfficial