Filipinos who want to take advantage of the DSWD educational cash assistance program can access the online registration link provided by the Department of Social Welfare and Development. There is no more walk-in process so everyone needs to download a QR code in order to access an application form online. Students or their parents/guardians need to fill out this information and then wait for a text message from DSWD for the schedule appointment to pick up the cash benefit.
To apply for the program, applicants need to register online with DSWD. You can do this by scanning a QR code, emailing the DSWD office, or accessing a link portal and entering your personal information. Please follow the steps below to use the registration link.
Please be aware that every DSWD Field office throughout the Philippines has a unique URL. Thus, you need to check the DSWD website and Facebook Page for your specific province to know how register online. For your convenience, we have compiled all of these links below.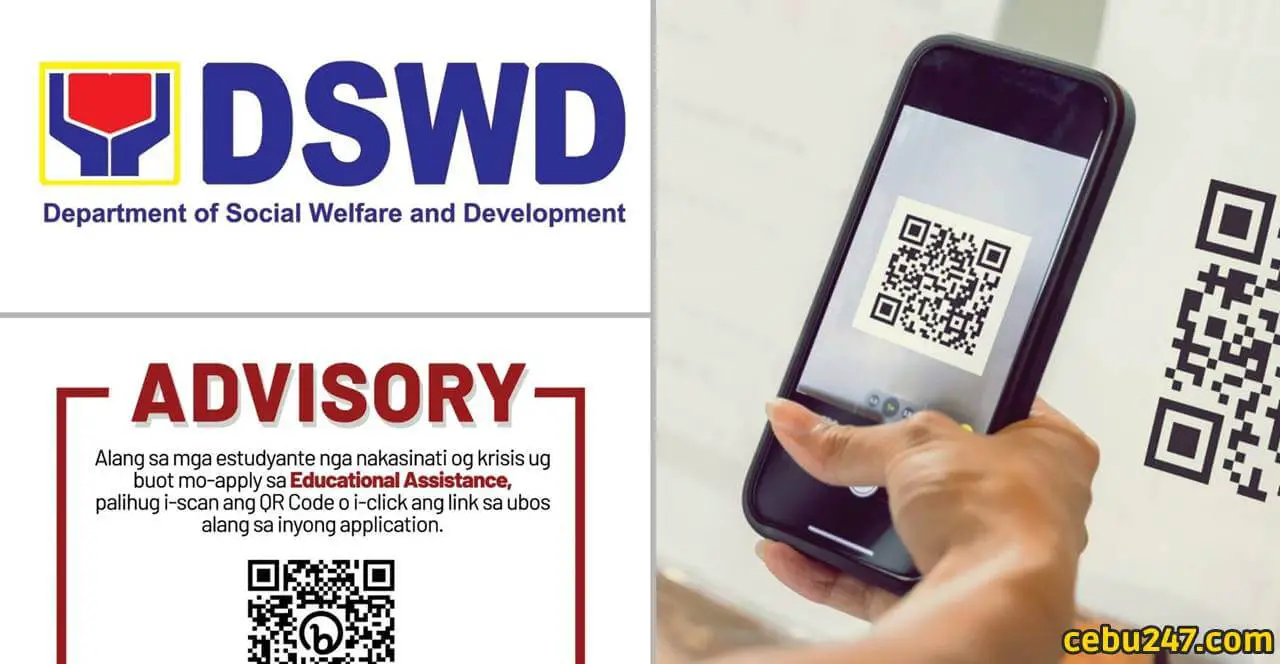 What is the AICS Educational Cash Assistance by DSWD?
The DSWD's AICS is a program that aims to assist individuals in crises. This initiative assists individuals who are in difficult circumstances as a result of such factors as illness or death in the family.
This benefit is only accessible to individuals and families that are struggling financially. This helps the individual or family get back on their feet for a short period of time. The advantage of this is that it provides a financial sum for Death Assistance, Medical Assistance, or Education Assistance. Poor students can receive this DSWD scholarship for themselves during this school year.
What is the QR Code for DSWD Online Registration Form for Cash Assistance?
The DSWD Online Registration Form is a form that must be completed by individuals who want to apply for the Cash Assistance program. Personal information such as name, contact information, and home address are all required on the form.
To apply for the AICS, you must complete a form and provide paperwork. Before submitting their papers at the designated place, applicants will need to get a confirmation text message from the DSWD office. If you want to take advantage of the AICS program, this application form is vital.
What information should I enter in the DSWD Cash Assistance Application Form?
You will be asked to enter your name and contact information, plus other details about your school and parent/guardian information.
Choose your Category
Location to Collect the Allowance
Basic Personal Information
Student Address
School Information
Parents/Guardian Information
Upload School Document
Step by Step Guide: How to Get the DSWD Registration Link Online
Given a large number of visitors on the first day of cash distribution, government officials have made adjustments to make the application process easier. As a result, those who only have appointments and Walk-ins are no longer eligible to apply for DSWD Cash Assistance.
Depending on your nearest Field Office, the process to start may involve filling out an online registration form and supplying your information. You also have the choice of scanning a QR code of the application form. Lastly, you can email selected DSWD field offices.
Step 1: Go to the Registration Link QR Code of the DSWD Field Office in Your Province
You'll need to go to the designated URL link (Google Doc form) on the internet. Please review the list below to see how you may access the QR code or registration link, depending on your device.
Note: Sometimes the website form link is temporarily closed. So you have to check back again when it will be reopened. One key thing to note here is to stay updated on the latest announcements from your local DSWD field office based on their Facebook Page announcements.
Step 2: After you have accessed the QR Registration Link, Fill out the Details.
Please make sure that you fill out the details in the form accurately, especially your mobile number and contact information.
Step 3: DSWD will send an SMS Confirmation Message for Appointment Schedule and Location.
You will only be able to submit your documents at the DSWD office if you have received a confirmation text message. Be sure to double-check your information for accuracy before sending it off.
Step 4: Bring your requirements on the day of the appointment.
Applicants who do not have all of their qualifications must be turned away; please double-check that you have everything you need before leaving for your appointment.
Step 5: DSWD will interview you and review your application.
After you submit your application to the DSWD, social welfare workers will inspect it. There will also be an interview to verify the accuracy of the information you provided on your application and to learn more about your personal circumstances. If they decide you're eligible, they'll grant you a financial benefit.
Directory of DSWD Field Office Branch Facebook Pages
Please follow the FB Page of your DSWD Field Office to stay updated on the latest announcements. Here are the links to the official FB pages:
Each of the URL and QR codes may be updated every week so please make sure to follow the Facebook Page of your local DSWD office.
Frequently Asked Questions
Below are some of the frequently asked questions about the DSWD Educational Cash Assistance form:
1. How to make an appointment for DSWD Cash Assistance?
You must first acquire a QR code from the DSWD office, which you can use to register online. After you've registered, you'll have to wait for a text message response from the DSWD telling you when and where your appointment will be. You won't be able to go to the DSWD's headquarters or document filing location unless you have an official confirmation.
2. Is there a long queue during the cash assistance pick-up?
The length of the queue will depend on how many people are applying and how many staff members are available. However, it's wise to come early as the office usually gets more crowded later.
3. What requirements should I bring?
Depending on your specific circumstances, you will probably need to submit different types of documentation like proof of identity, birth certificate, residency, and income. In some cases, you may also be required to provide additional information such as bank statements or other supporting documents.
4. How much is the amount of cash grant?
The amount of financial aid you get will be determined by your situation and the school level at which you'll be enrolled. It can range from 1000 PHP to 4000 PHP.
5. How soon will I receive the DSWD cash grant?
After you have been interviewed by a DSWD social welfare officer and approved, you will receive cash assistance on the day of your appointment.
6. Is this a monthly cash assistance? 
No. The DSWD Cash Assistance may only be used once during a school year.
8. I cannot access the registration QR code link?
You must wait until the DSWD Field Office reopens the link. Because there are already numerous applicants, they usually close the form. Updates on when the form will be reopened may be found on their Facebook page.
Summary
Please follow the steps above to learn how you can submit your online registration for DSWD assistance. You can obtain a QR code from the DSWD office to register online. After you have registered, the Department of Social Welfare and Development will send you a text message with your appointment date and time.
If you don't have a confirmed text message, you won't be able to visit the DSWD facility or submit your paperwork.
The documents you'll need differ depending on your circumstances, though in most cases you will have to show identification and an enrollment statement from your school.
On the day of your appointment, you will be interviewed by a DSWD social welfare officer and then paid cash assistance.