Disability, whether it's a loss or impairment of physical or mental functions, is an eventuality that most people do not consider until it directly impacts them or a loved one. Such a life-altering circumstance can significantly affect an individual's capacity to work and subsequently their financial stability. The Government Service Insurance System (GSIS) empathetically acknowledges the potential financial implications of disability.
Also read: How to Apply SSS Disability Claim Online
In response, GSIS offers a Disability Benefit, a form of financial aid designed to support those unable to work either temporarily or permanently due to a disability. The primary objective of this benefit is to alleviate the monetary strain often associated with income loss. Once an application for the GSIS Disability Benefit is submitted, GSIS will assess the nature and extent of the disability. The evaluation will consider the duration of the inability to work and the actual loss of income. Medical standards will also be used to evaluate the claim.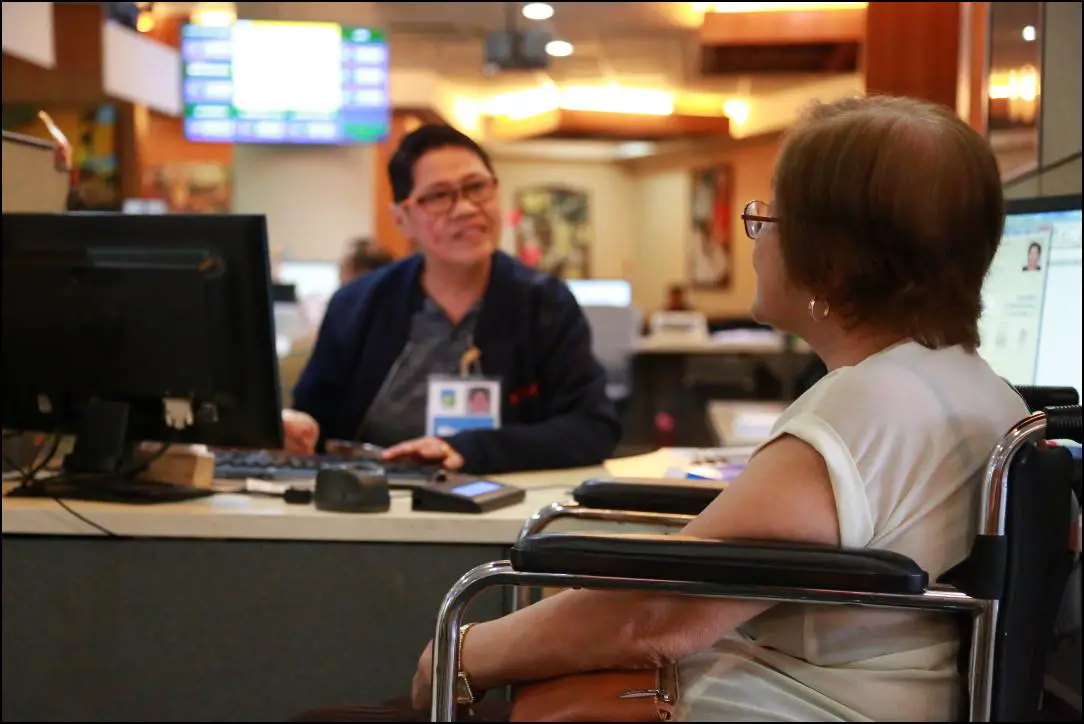 Actual loss of income is calculated based on the number of days the member was on leave without pay (LWOP), starting from the date of disability and including the entitlement period based on medical assessment. It's important to note that there is a time limit for filing a claim under RA 8291. The claim for this benefit must be filed within four years from the date of the disability.
What is RA 8291?
Under RA 8291, individuals who have worked in the government for at least 15 years and are at least 60 years old can retire. However, they cannot be permanent total disability pensioners. The law also states that the last three years of service don't need to be continuous.
What are the Types of Disability Benefit?
A. Permanent Total Disability (PTD)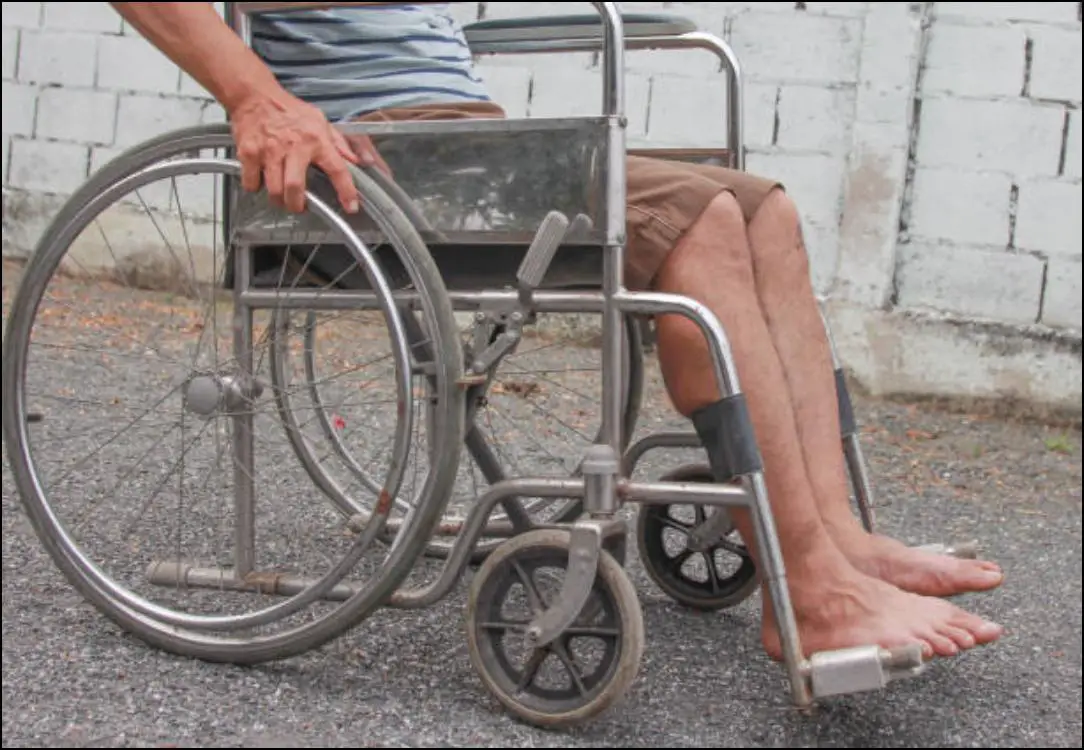 A classification of disability that refers to complete, irreversible, and permanent incapacitation due to injury or disease, rendering a member incapable of working or participating in any profitable activity, thereby leading to income loss. The following conditions are considered total and permanent disabilities:
Complete blindness
Loss of two limbs at or above the ankle or wrists
Complete and permanent paralysis of two limbs
Brain damage resulting in incurable imbecility or insanity
Other cases deemed suitable by GSIS.
Benefits of PTD
Members who become permanently and totally disabled are eligible for lifetime monthly income benefits equivalent to the basic monthly pension (BMP), effective from the onset of disability. In addition, if they were in service at the time of disability and had contributed a total of 180 monthly payments, they will receive a one-time cash payment equivalent to 18 times the BMP.
On the other hand, separated members who have served for at least three years and become permanently and totally disabled but did not make at least 180 monthly contributions prior to the disability will receive a cash payment only. This payment is equivalent to 100% of their average monthly compensation for each year of service with paid contributions, but it should not be less than twelve thousand pesos (Php12,000.00).
B. Permanent Partial Disability (PPD)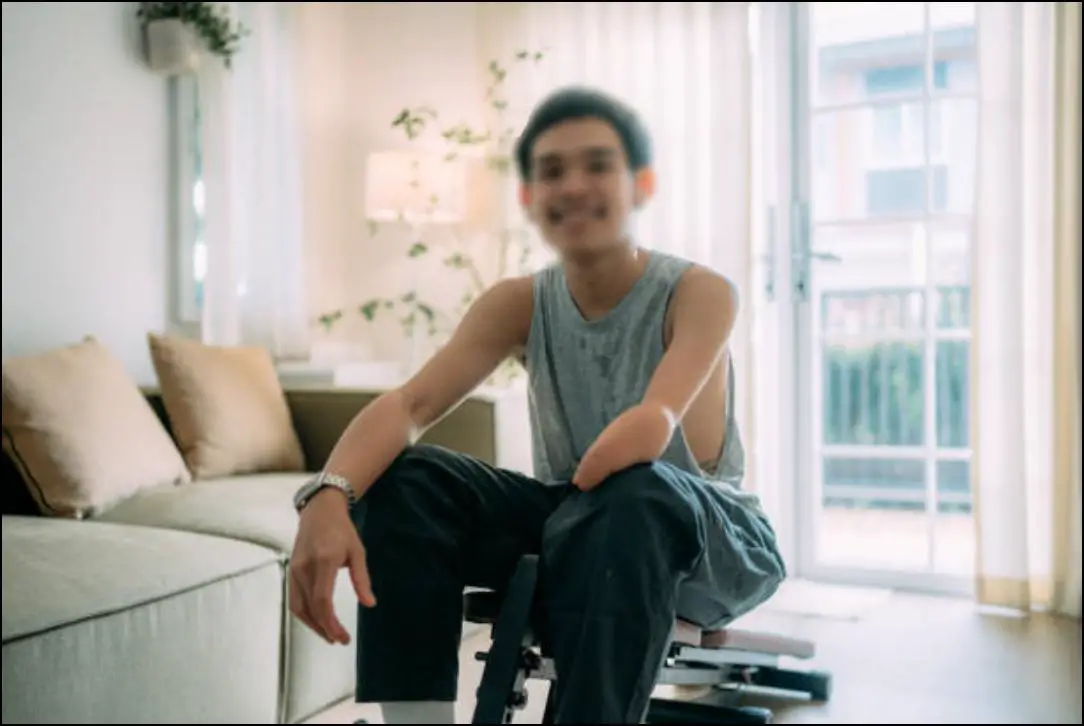 A type of disability that occurs due to the complete and permanent loss of use of certain body parts, resulting in an inability to work for a limited time.
These body parts can include:
any finger
one arm
one foot
any toe
one hand
one leg
one or both ears
hearing of one or both ears
sight of one eye
Other cases deemed suitable by GSIS.
Benefits of PPD
The duration of eligibility for PPD is determined after a comprehensive medical evaluation, but it will not exceed 12 months for the same disability. Only the period of leave without pay, which is incurred during the entitlement period and duly certified by the authorized officer of the members' employing agency, is considered for compensation.
The calculation of the PPD benefit involves dividing the basic monthly pension (BMP) by 30 days and then multiplying the result by the number of compensable calendar days of leave without pay. This calculation provides the amount of the PPD benefit.
C. Temporary Total Disability (TTD)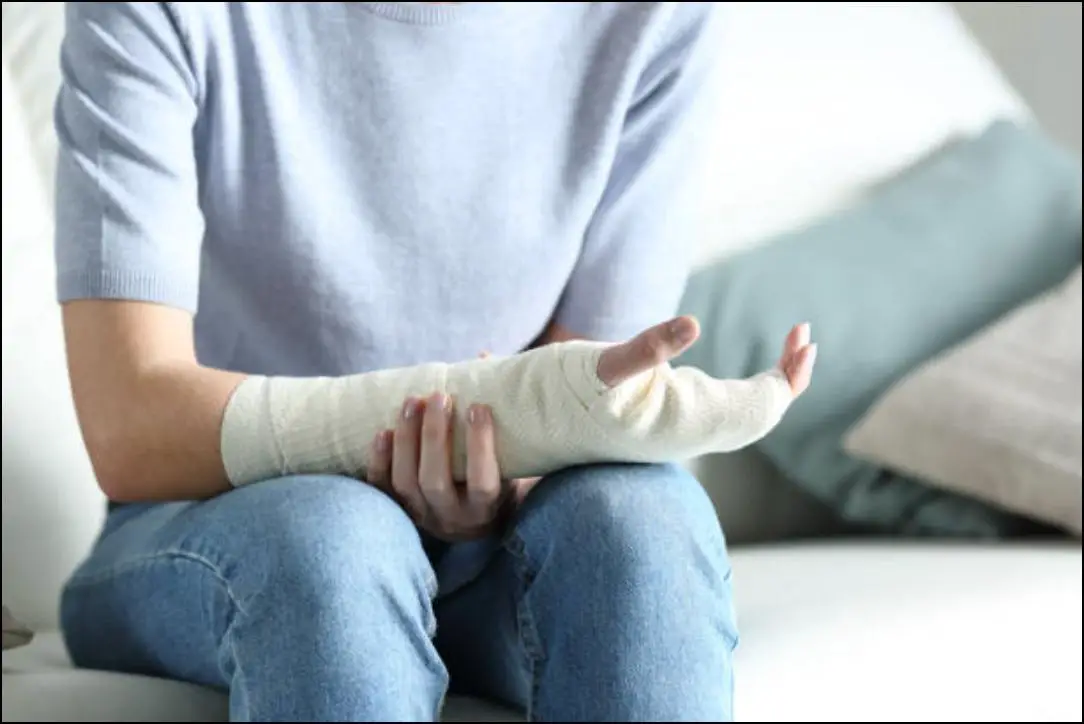 Temporary Total Disability (TTD) is a classification of disability that occurs when physical and/or mental abilities are impaired but can potentially be rehabilitated or restored to normal function. This type of disability results in a temporary inability to work or participate in any profitable activity.
Benefits of TTD
GSIS may extend the payment of TTD benefits up to a maximum of 240 days, subject to medical evaluation.
The duration of eligibility for TTD benefits is determined after a comprehensive medical evaluation and proof of actual loss of work leading to income loss. This is calculated based on the actual number of leave days without pay, which must be verified by an authorized officer from the member's place of employment. However, this benefit period should not exceed 120 days within a single calendar year.
If the disability requires more extensive treatment extending beyond 120 days, GSIS may extend the TTD payment but not beyond a total of 240 days. Only leave days without pay incurred during the benefit period are compensable.
The entitlement begins on the fourth day of disability. The TTD benefit amount is computed by multiplying 75% of the member's daily salary by the number of disability days based on medical evaluation, but it should not exceed 240 days for the same situation. The calculated daily salary should not be less than Php70.00 and should not exceed Php340.00 per day.
Who Can Avail the GSIS Disability Benefit?
All active government employees who have suffered from a non-work-related illness, organ loss, or injury can avail of the TTD and PPD benefits, especially if they have Leave of Absence Without Pay (LWOP) that extends beyond their entitlement period.
The following conditions must also be met:
The member must be in service at the time of disability;
The member must have made contributions for at least 180 months prior to the disability;
For those who are separated from service, they must have:
Made contributions for at least 36 months within the five-year period immediately before the disability.
What are the Requirements for GSIS Disability Benefit?
To apply for disability benefits, the following forms need to be properly filled out and submitted:
Report of Injury/Sickness form (1 original copy)
Form for Income Benefit Claim for Payment, Parts I and II (1 original copy)
Form for Hospitalization Claim for Payment, Parts I, II and III (1 original copy)
Note: Additional documents may be requested by the Medical or Legal Evaluator.
A. Contactless Submission Methods
There are several ways to submit these forms without physical contact:
Send them via postal mail or courier service.
Email them through your Agency Authorized Officers (AAO) or Liaison Officers (LO) to the specified email address of your GSIS Handling Branch/Department.
Alternatively, you can use your personal email address to send them to the designated email address of your GSIS handling Branch/Departments. It's preferred that you use the email address on file with your GSIS records.
Also read: How to Claim PhilHealth Benefits in Hospital Bill
Application Process: Step-by-Step Guide
Application Process via Email through Agency Authorized Officers (AAOs) or Liaison Officers (LOs):
Here's a step-by-step guide on how to apply:
Step 1: Prepare the necessary documents:
Fill out the Claim Application Form.
Complete the Report of Injury/Sickness form (1 original copy).
Fill out the Form for Income Benefit Claim for Payment, Parts I and II (1 original copy).
Complete the Form for Hospitalization Claim for Payment, Parts I, II and III (1 original copy).
Here is the Sample of Disability Benefits Income Benefits Claim for Payment Form: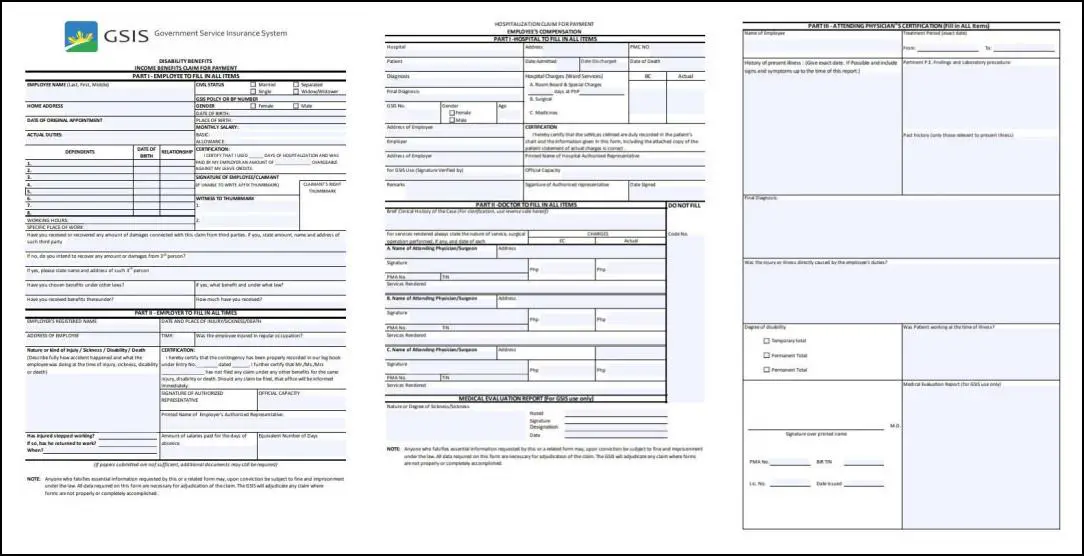 Step 2: Ensure that the email attachments are in a readable format and that the file size doesn't exceed 4MB. If the file size is too large, you can send multiple emails.
Step 3: Include a clear photo of yourself holding the completed application form and your UMID card (or two valid IDs if you don't have a UMID card).
Step 4: Save the Application Form and photos as JPEG or PDF files.
Step 5: Email the documents to the designated email address of your GSIS handling branch. The subject line of your email should follow this format: GSIS_TYPE OF CLAIM_BP NO_LAST NAME_FIRST NAME_AGENCY NAME.
For example: "GSIS_DISABILITY CLAIM_2000123456_DELA CRUZ_JUAN-CGO CDO".
Step 6: Wait for a confirmation email from GSIS with a tentative loan computation.
Remember to keep all original documents until your claim has been processed and approved.
Tips for an Effective Disability Claim
Understand the Process: Before starting your claim, familiarize yourself with the entire process. Understand what is considered a disability, the eligibility criteria, and the benefits available.
Gather All Necessary Documents: Ensure you have all the necessary documents ready before initiating the claim process. This includes medical records, employment information, and any other required forms.
Complete Application Forms Accurately: Fill out all forms accurately and completely. Incomplete or inaccurate information can delay the processing of your claim or even result in denial.
Provide Detailed Medical Information: The more detailed your medical information, the better. Include all relevant medical records, doctor's notes, test results, and a detailed description of how your disability affects your daily life.
Consistent Treatment Records: Regularly visiting your healthcare provider and keeping up with your treatments not only helps your health but also strengthens your claim as it shows the ongoing nature of your disability.
Honesty is Key: Be honest about your condition and its effects on your life. Exaggerating or downplaying your symptoms can harm your credibility and potentially your claim.
Follow Deadlines: Be aware of all deadlines and make sure to submit your claim and any additional paperwork on time.
Keep Copies of Everything: Keep copies of all forms, medical records, and correspondence related to your claim. This will be useful if there are any questions or issues later on.
Seek Professional Help if Needed: If the process becomes overwhelming, consider seeking help from a professional such as a disability lawyer or advocate.
Patience and Persistence: The process can be long and may require appeals. Stay patient and persistent, and don't get discouraged if your claim is initially denied. Many successful claims are awarded on appeal.
Video: GSIS Old Age Pensioners, GSIS Disability/Survivorship Pensioners and their Benefits.
Watch this video and learn about the benefits available to GSIS old age pensioners, disability/survivorship pensioners. The video explains how you can avail of the disability benefit if you are a GSIS member or widow/widower of an active GSIS member. This is important information for all GSIS members and pensioners
Summary
Struggling with a disability can be challenging, particularly when it impacts your ability to work and support yourself financially. The GSIS Disability Benefit offers financial aid to members facing permanent or temporary physical or mental impairments that prevent them from working. This benefit aims to ease the financial strain that comes with lost income or reduced earning capacity. If you find yourself in this situation, make sure to explore and utilize the GSIS Disability Benefit to help you navigate this difficult time.
Contact Information
Address: Leon Kilat St., Brgy. Kalubihan, Cebu City, 6000
Email: mvpeenriquez@gsis.gov.ph, gsiscebu@gsis.gov.ph
Website: gsis.gov.ph
For Provincial Calls: 1-800-8-847-4747 (for Globe subscribers)
or 1-800-10-8474747 (for Smart subscribers)