Globewest Finance Corporation is a lending company that offers cash loans to people and businesses in Cebu. Their cash loan service is ideal for those who need quick access to funds, such as entrepreneurs starting new projects or families requiring emergency funds.
You can start the application process by visiting the nearest branch in Cebu and submitting your loan requirements. Download an Application Form from their website, then fill it out and submit it along with any other required documents.
Also Read: How to Apply 123 Finance Group Cash Loan
The next step is a pre-qualifying interview phone call. After that, you will submit requirements and then finally receive loan approval via text or phone call. The entire process should take 1 hour to 7 working days.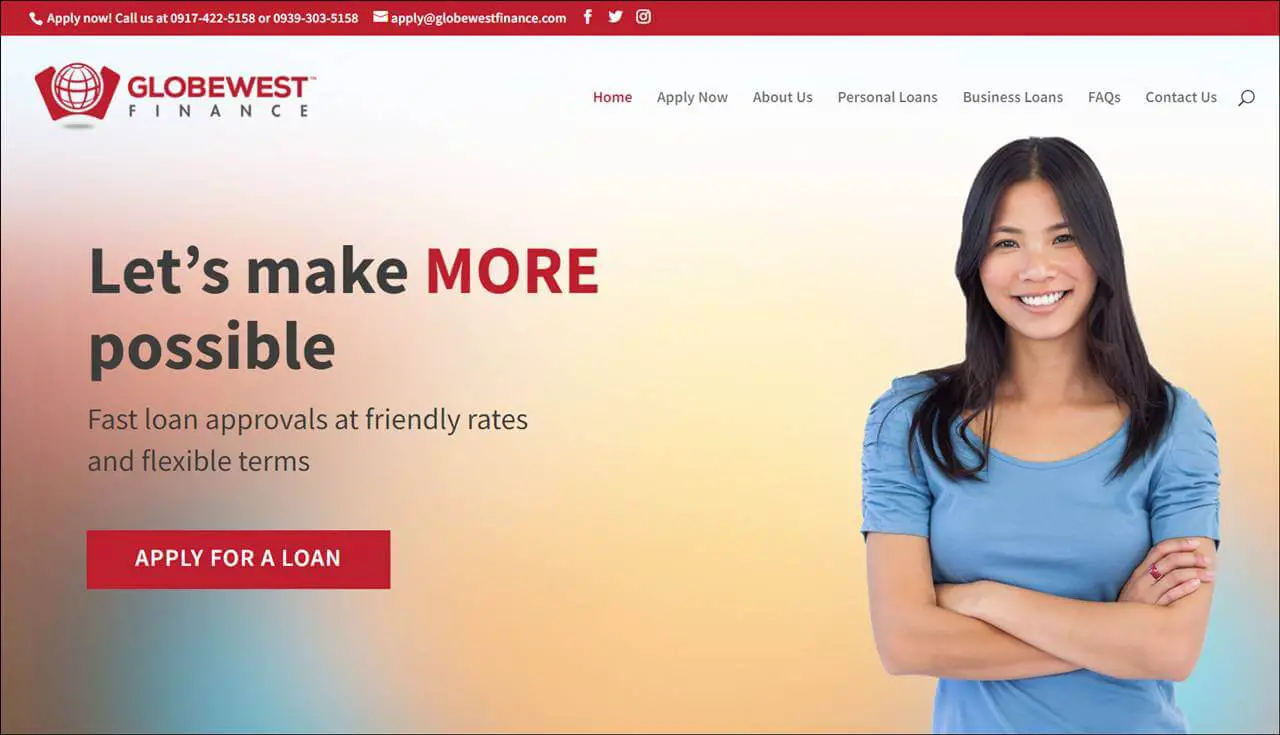 Qualifications
To be eligible, you must be a Filipino citizen between the ages of 21 and 65.
Employees must have kept their current role for a minimum of 3 months.
The salary range must be at least ₱7,000 per month.
Has an existing company landline phone & personal mobile.
They will also be asking for a copy of a billing address under your name as proof that you are living at the address that you provided if none you may provide a substitute as long as your landlord/landlady will sign as proof that you're staying/renting at their apartment.
Note * If working under an agency, provide an Original Certificate of Employment or Employee ID issued by the Agency.
Benefits of choosing Globewest compared to other lending companies
There are no hidden charges – With Globewest, you'll be aligned with clear and transparent tariffs as well as charges. There are never any fees that come out of nowhere–all transactions will appear on your statements.
The convenient payment term for the loan – Conditions and payment methods can be customized to better suit your needs. You can make payments in instalments or choose a lump-sum method, depending on what is more convenient for you.
Benefits for clients with good credit history – They give credit benefits like lower interest rates and bigger loan amounts to customers with good reputations, and in return, those customers stick around.
Discount program -Get extra money by inviting a friend; the more referrals you make, the more you earn. You may simply inform the loan officer when your friend applies or you can do this online by sending Globwest a message together with the complete name of your friend by clicking on this link: https://globewestfinance.com/contact-us/
Mission
They help Filipinos improve their lifestyles, grow their businesses, and grab opportunities by providing loans fast and on friendly terms.
Vision
They are an honest and reliable company that builds strong relationships with our clients so that we can help them during difficult times.
Types of Loans in GlobeWest Lending Company
At GlobeWest, they offer different types of personal loans to meet your needs.
A loan from 10,000 to 120,000 pesos is available to employees with a co-founder and permanent employment. Flexible terms ranging from 3 to 12 months.
A Microloan is a perfect solution when you have unexpected expenses or bills. With a minimum amount of P5,000 and a maximum of P15,000, our short-term loans range from 3 to 6 months.
This is an ideal loan for anyone requiring additional money. Without needing a co-borrower, you have a more straightforward qualification process. You can borrow up to P25,000-P30,000 and the term ranges from 3 to 6 months.
If you are a licensed and practicing doctor, we offer loans from P10,000 to P300,000 that come with terms from 3 to 18 months.
If you are a family member of an OFW, you can avail of this loan. The amount you can borrow will depend on the monthly allotment and contract of the OFW.
SSS pensioners who are active can apply for a loan. The amount of the loan will depend on the monthly pension. Terms range from 3 to 18 months.
For students and migrant workers applying for a visa, you may be eligible to borrow up to P2,000,000.
Types of Business Loans from Globewest
Business loan
For small and medium business owners in need of financial aid. They can loan from PHP 1000,000 to PHP 1,000,000.
Check discounting
This is for small and medium business owners and individuals who need to encash their post-dated checks. They can also turn post-dated or on-date checks into cash.
Receivables discounting
This is for small and medium business owners who are in need for bridge financing. They can turn short-term credit sales and purchase orders into cash.
Requirements
To begin processing your request, a completed application form must be submitted.
Globewest will need either your residence certificate or proof of billing with your name on it.
Provide proof of billing (VECO, MCWD,
Steps to Apply for a Globwest Cash Loan
1. To complete the form, either do it online or go to a branch office.
2. Schedule a phone interview.
3. Make sure to submit all required paperwork. The specific documents you'll need vary depending on the loan type.
4. You will need to wait until the loan is assessed and approved before continuing.
5. They will contact you about your loan approval via text or phone call, so please make sure to let us know if your contact number changes.
3 Qays to Process the Loand Application
They have three ways that you can apply.
First is the Online Application
Submit the form by filling it out online.
Screening phone interview
Requirements submission
Final evaluation
Loan approval
Second is the Branch Application
Please fill out the form at your nearest branch.
Qualifying interview in the branch
Requirements submission
Final evaluation
Loan approval
Third is the Phone application
Phone interviews were administered to pre-qualify candidates.
Complete the form at your nearest location.
Submission of requirements
Final Evaluation
Loan Approval
Globewest Office Locations in Cebu
Mactan
Address: 209 2/F Sebastiane Hotel Bldg. ML Quezon Natl Highway Lapulapu, Cebu
Landline (032) 495-1502
Cellphone: 0977-8439838
Ayala
Address: B1 Cebu IT Tower
Cebu Business Park, Cebu
Landline: (032) 412-2149
Cellpone: 0917-6312001
Mabolo
Address: GND Arcade Panagdait Mabolo, Cebu
Landline: (032) 238-4181
Cellphone: 0917-6312002
Subangdaku
Address: 117 KRC Bldg. Lopez Jaena St. Subangdaku Mandaue, Cebu
Landline: (032) 343-8471
Cellphone: 0917-3046432
i2, Cebu IT Park
Address: G/F Serviced Offices i2 Bldg., Asiatown IT Park Lahug, Cebu
Landline: (032) 415-1428
Cellphone: 0917-6225657
i1, Cebu IT Park
Address: G/F i1 Bldg. Asiatown IT Park Lahug, Cebu
Landline: (032) 415-1427
Address: 0917-6345909
CJRS, Cebu IT Park
Address: G/F CJRS Bldg. Asiatown IT Park Lahug, Cebu
Landline: (032) 416-4471
Cellphone: 0917-6312000
Video: GlobeWest Loan Application
Check out this quick video that discusses the steps for applying for a loan from GlobeWest:
This video will walk you through the entire process and insights from the vlogger about the GlobeWest loan application process.
Frequently Asked Questions
1. How much can I loan?
Depending on your ability to make payments, the amount you can loan from Globewest will differ. They are willing to be flexible with the amount you can pay back. The maximum loan amount varies depending on the type of loan. Clients who have maintained good credit may be eligible for higher maximums with each subsequent loan.
2. How do I pay for my amortization?
Depending on the type of loan you have, you may be able to pay in any of our partner payment centres below:
7 ELEVEN
Bayad Center
Cebuana Lhullier
ECPAY
LBC
MLHuillier
Palawan Pawnshop
RD Pawnshop
Alternatively, they may require your payroll ATM card or post-dated checks.
3. What is Globewest's interest rate?
The interest rate for your loan will be determined by the type of loan and its requirements.
4. How long will it take for my application to be processed?
It may take anywhere from 1 hour to 7 working days for applications to get approved, depending on your information and how complete the requirements are.
5. How will I know if my loan application has been approved?
Globewest will contact you to let you know whether your loan has been approved, so please make sure we have your most up-to-date phone number.
6. If I pay off my entire balance before it's due, can I get some money back?
If you choose to pay your loan off early and meet the credit, term, and type requirements, you may be eligible for a rebate.
Summary
The release of funds from Globewest is comparatively fast, it will 24 hours or less if all requirements are complete. What I love most about GlobeWest, aside from their reliable service, is the flexible payment terms. Their various payment schemes are designed with customers' needs and convenience as top priorities. Before you take out a personal loan, consider how you'll use the funds and how you'll be able to pay back the money (with interest).
When taking out a personal loan, be sure to get quotes and compare interest rates from several places. Always read the fine print; it may contain fees and penalties you didn't notice before. Weigh the pros and cons of a personal loan before making any decisions.
Contact Information
GlobeWest
Cellphone: 0939 303 5158 and 0917 422 5158
Email: apply@globewestfinance.com
You can also send them a message by clicking on the link here – https://globewestfinance.com/contact-us/
Social Media