Are you looking for a place to escape the everyday grind? A place where you can relax and rejuvenate your body and mind? If so, then you should consider exploring the wonders of Crimson Resort and Spa Mactan.
Also Read: Jpark Island Resort & Waterpark in Mactan, Cebu
This luxurious resort offers everything you need to relax and recharge, from beautiful beaches and lush gardens to excellent spa services and delicious food.
CHECK HOTEL RATES AT CRIMSON RESORT AND SPA HERE.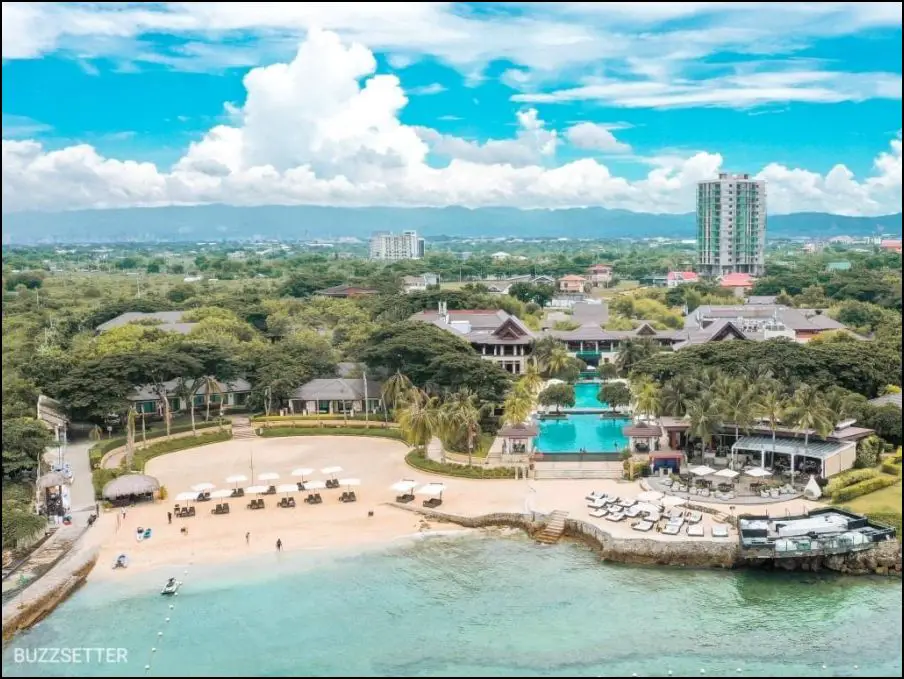 Crimson Resort and Spa Mactan is the perfect place to escape the everyday grind and relax your body and mind. With its stunning beachfront location, luxurious accommodations, world-class amenities, and incredible service, Crimson Resort and Spa Mactan offers everything you need for the perfect getaway. Whether you're looking to lounge by the pool all day, enjoy some of the best dining in Cebu, or experience world-class spa treatments, Crimson Resort and Spa Mactan has it all.
The resort's infinity pool are the perfect place to relax and soak up the incredible views of the ocean, while the on-site restaurants offer a delicious variety of international cuisine. And for those looking for a little pampering, Crimson Resort and Spa Mactan's spa is a true oasis of relaxation, offering a variety of treatments that will leave you feeling refreshed and rejuvenated.
10 Reasons Why You Need to Visit Crimson Resort and Spa Mactan
If you're looking for a luxurious and relaxing getaway, look no further than Crimson Resort and Spa Mactan in Cebu. This world-class resort offers stunning ocean views, first-class amenities, and excellent service. Here are five reasons why you should visit Crimson Resort and Spa Mactan:
Experience the beauty of white sand beaches and turquoise waters. The resort offers a stunning beachfront location with alluring views of the Philippines' most beautiful beaches.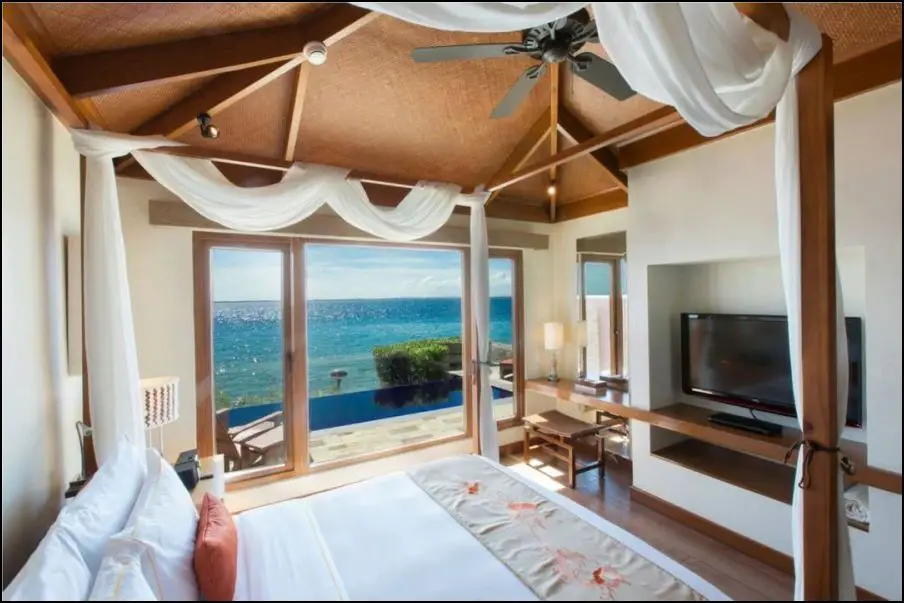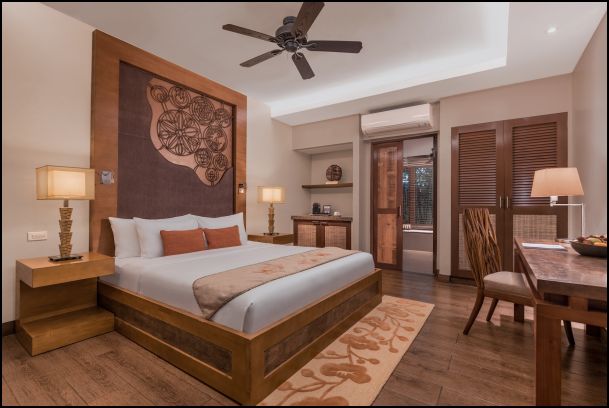 2. Take part in a wide variety of activities and attractions including snorkeling, diving, sailing, jet skiing and more.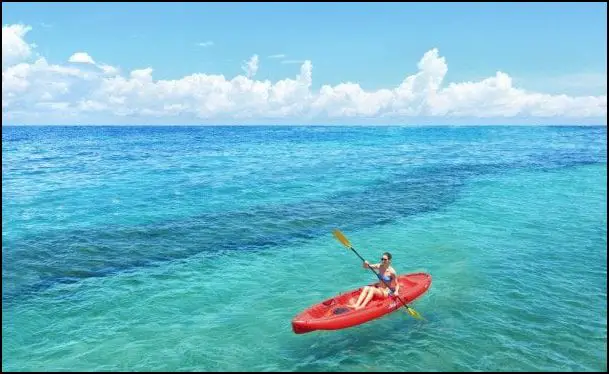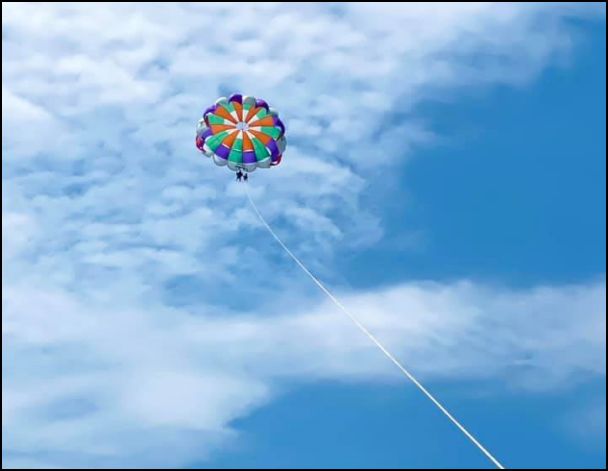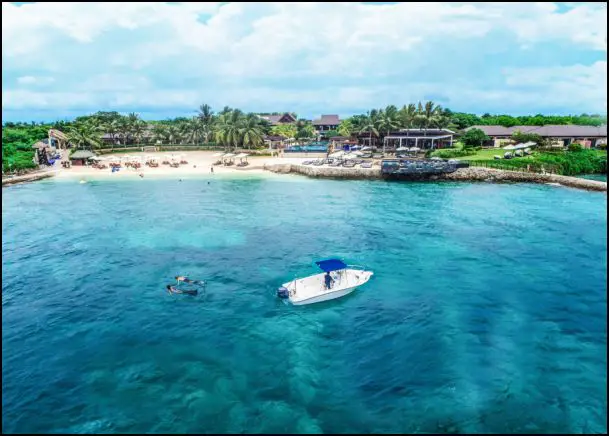 3. The on-site restaurants serve delicious food that will satisfy any palate. From light and healthy dishes to rich, flavorful meals, the restaurants at Crimson Resort and Spa Mactan offer something for everyone.
Enye by Chele Gonzalez (Spanish Restaurant)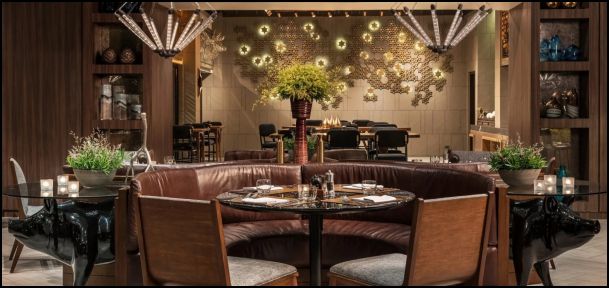 4. You can enjoy a massage or other spa treatment at the award-winning AUM Spa. AUM Spa offers a variety of treatments that will leave you feeling relaxed and revitalized.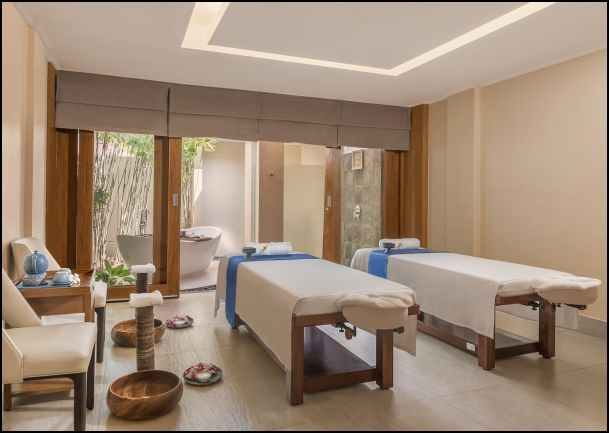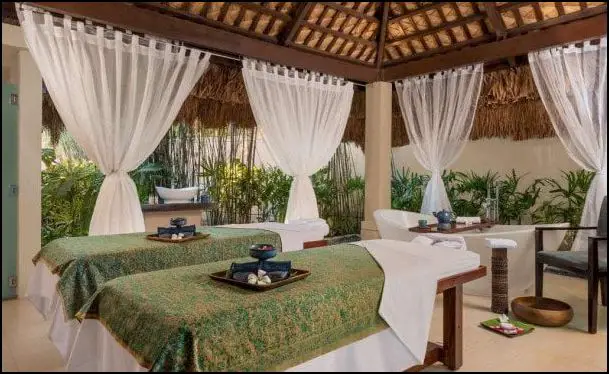 5. The staff are friendly and accommodating, eager to make your stay as enjoyable as possible.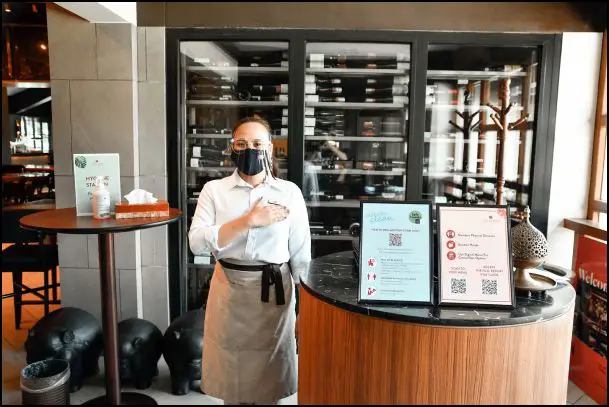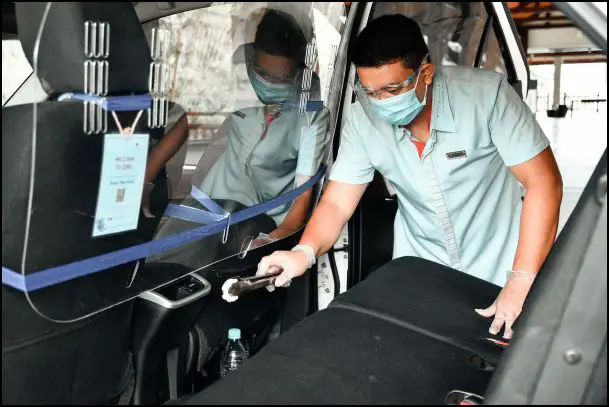 6. The location is ideal, with a stunning beachfront view and easy access to Cebu's top attractions.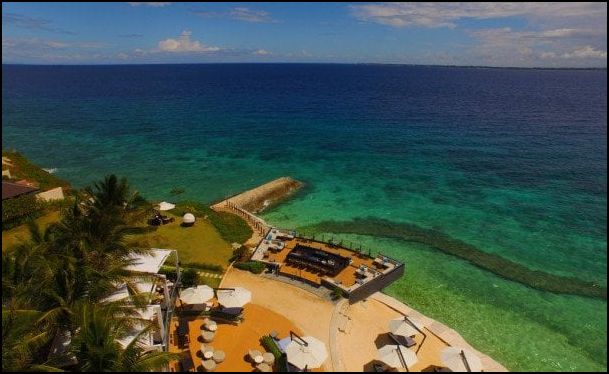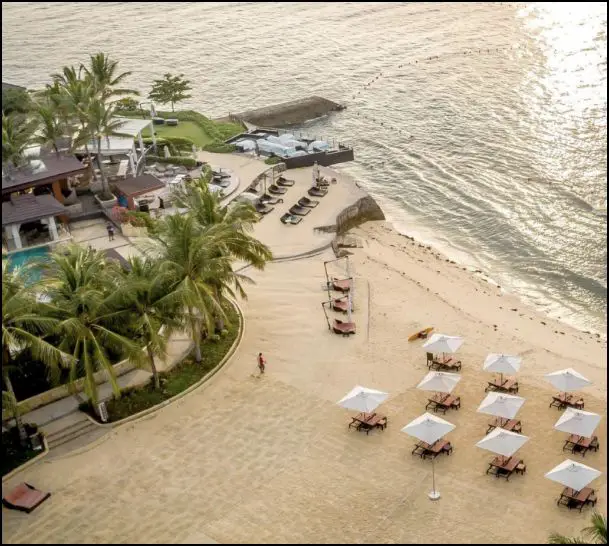 7. Unwind on one of Cebu's beautiful beaches while watching the sunset over the ocean. With spectacular views, Crimson Resort and Spa Mactan's beach will have you feeling relaxed and refreshed.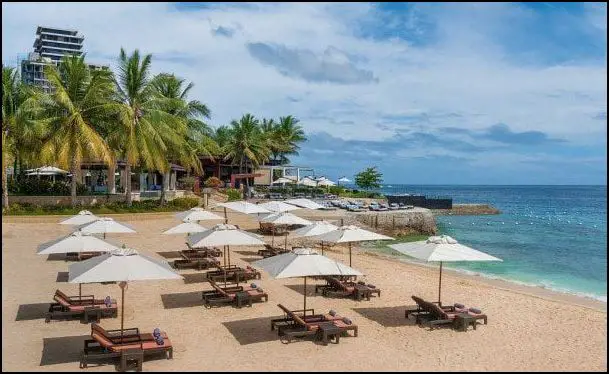 8. Explore the vibrant culture of Cebu with an array of tours that take you to some of the city's most iconic landmarks.
10 Minutes from Lapu-Lapu Shrine.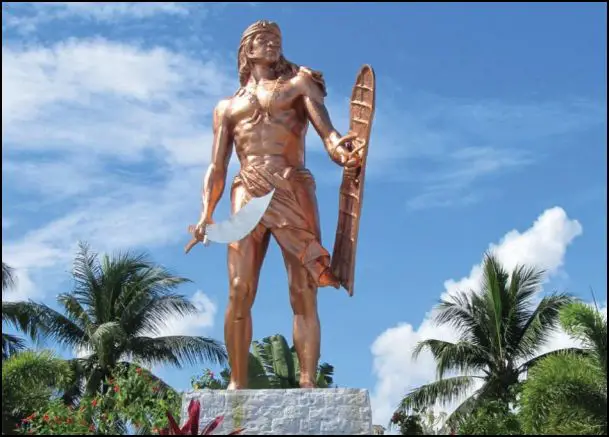 20 Minutes from Olango Bird Sanctuary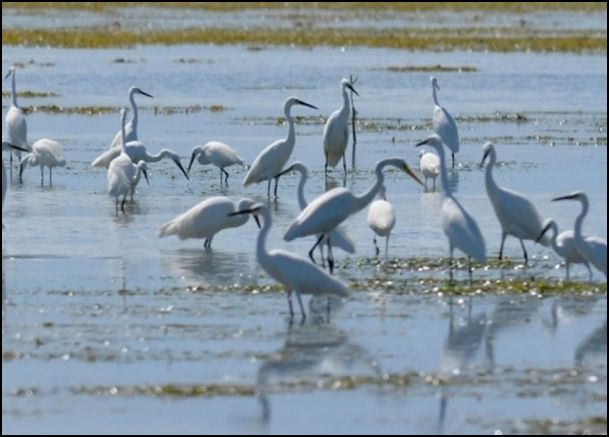 30 minutes to San Vicente Marine Sanctuary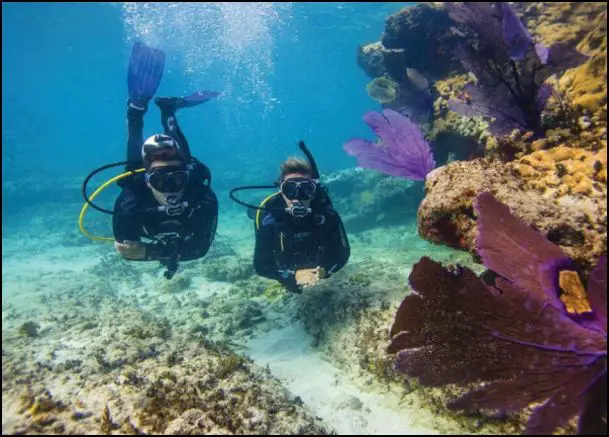 9. Rejuvenate in the resort's swimming pool, which offers breathtaking views of Mactan Island and nearby islands.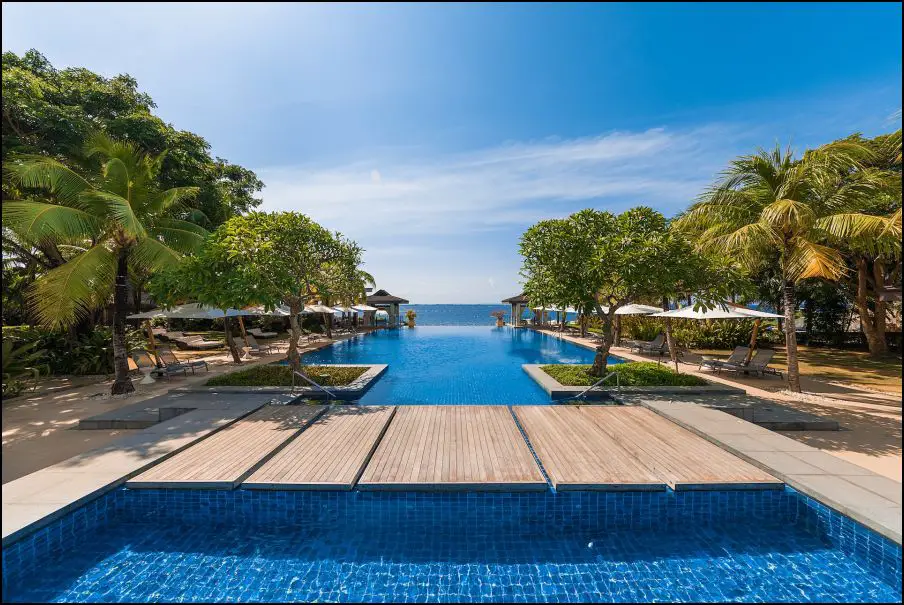 Your own private plunge pool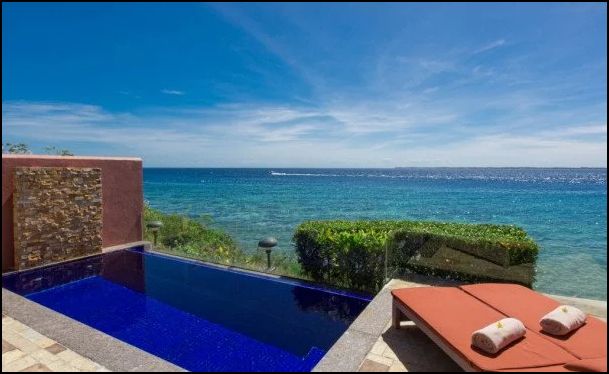 Pool side cabana at Crimzone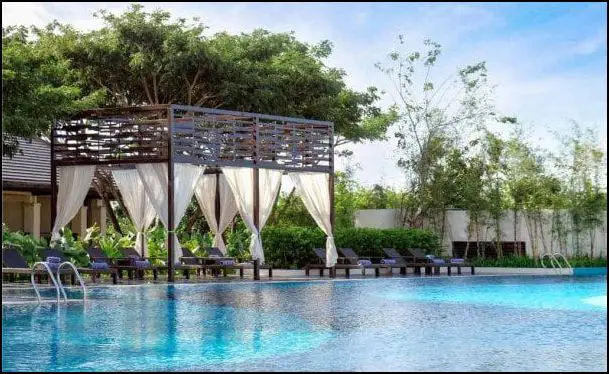 Waterplay at the Crimzone Pool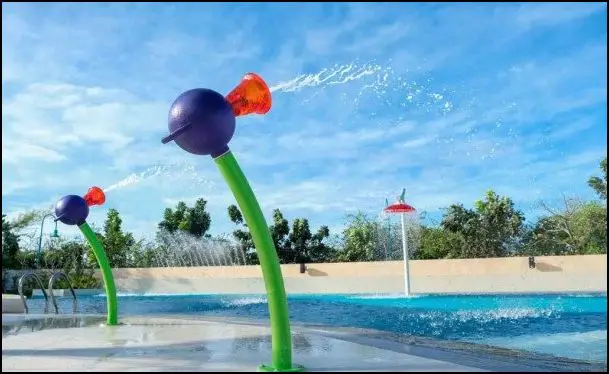 10. Have fun at Azure beach club, which features a bar and grill, live DJ performances, and amazing views of the sunset over Mactan Island.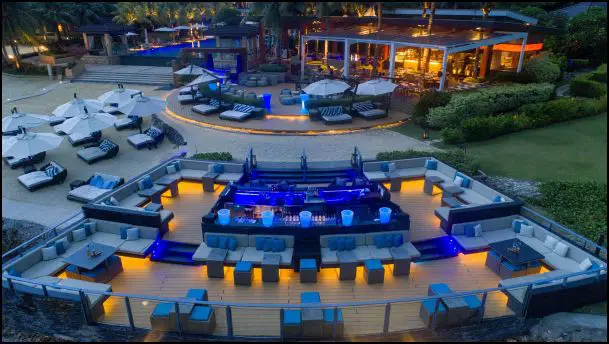 Rooms and Accommodations
Crimson Resort and Spa Mactan offers a variety of luxurious accommodations that are perfect for couples or families. All rooms feature breathtaking ocean views, comfortable furnishings, and modern amenities like flat-screen TVs, free Wi-Fi, and air conditioning. Additionally, each room is equipped with a private bathroom, mini fridge, and coffee maker.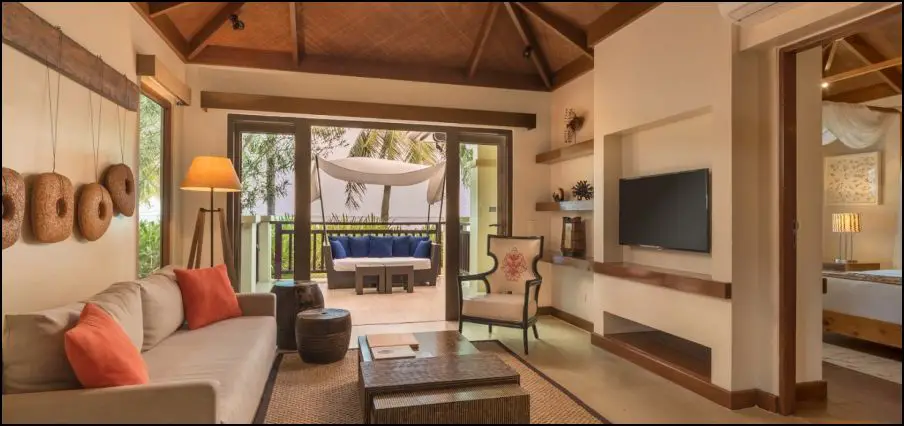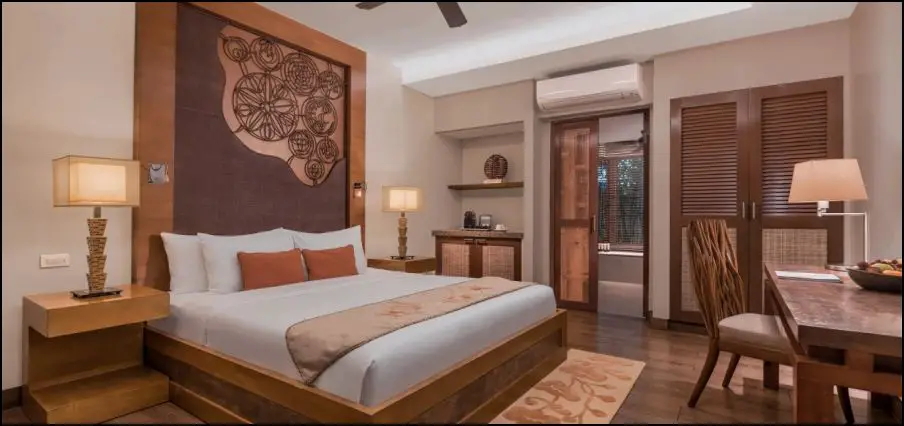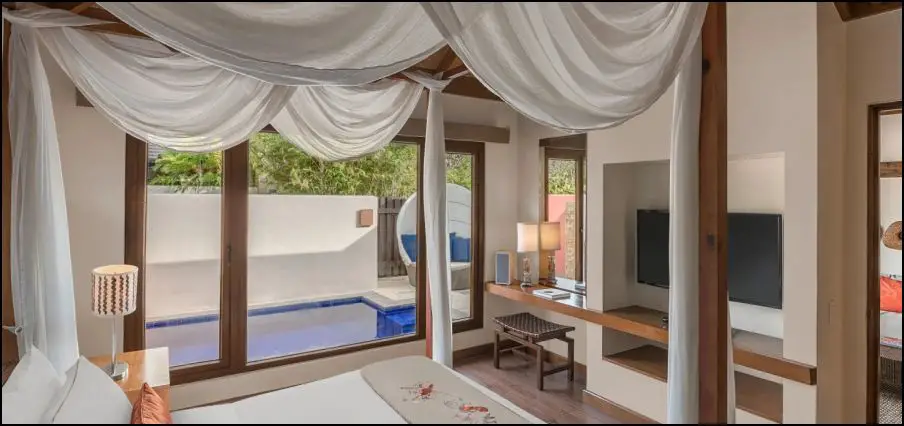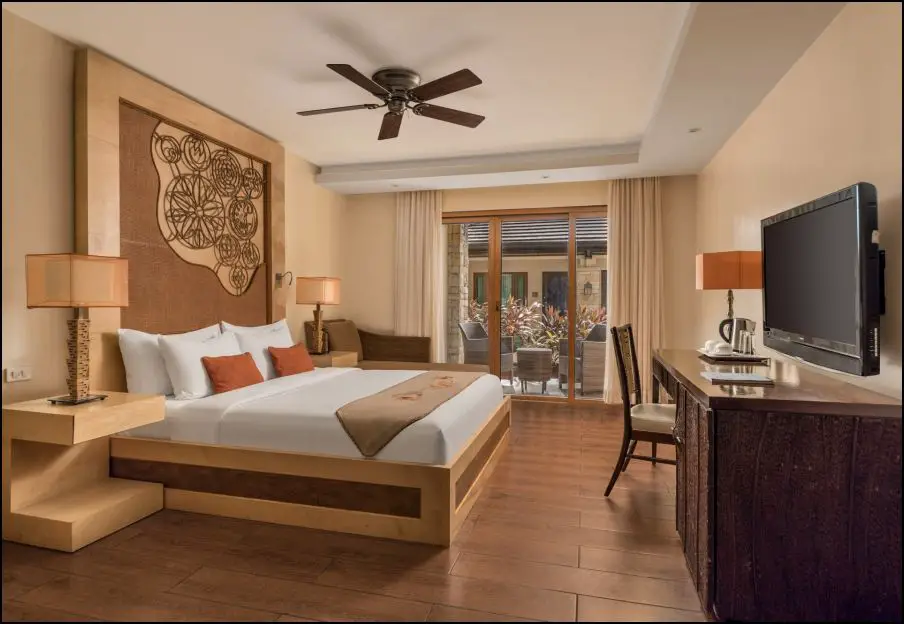 Ocean Front Private Pool Villa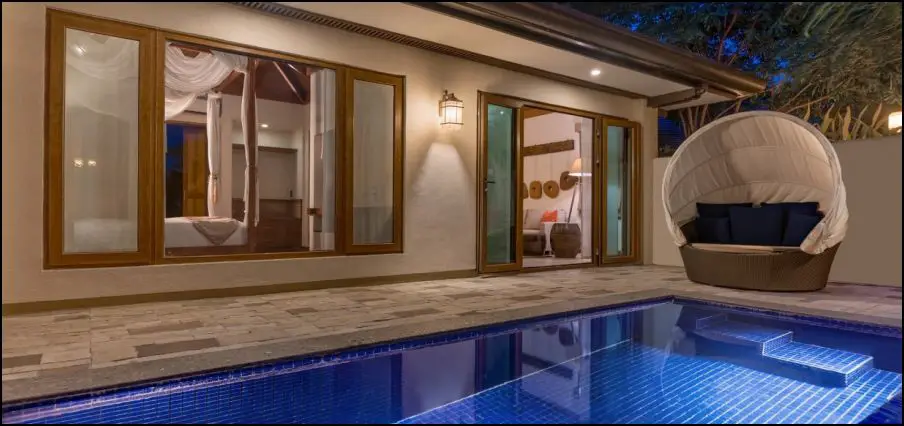 Room Amenities
BED & BATH
Waffle bathrobes
Cotton bathrobes
Down duvets and pillows
Hair dryer
Hypoallergenic bedding upon request
Lighted make-up / shaving mirror
Orthopedic pillows upon request
Slippers
ROOM FEATURES
42" LCD television
22" LCD television (for Deluxe Garden Rooms and Villas)
89 cable television channels
NDD / IDD telephone
Electronic key card access
In-room electronic safe
Minibar
Iron and ironing board (subject to availability) 
ENTERTAINMENT
LCD television
All-news cable network
SERVICES & AMENITIES
Complimentary newspapers upon request
Coffee / Tea making facility
Daily housekeeping service
INTERNET ACCESS
FOR FAMILIES & SPECIAL NEEDS
Special amenities and Crimzone Play Area for children.
All Rooms and Villas are Non-Smoking.
Wheelchair-accessible rooms available.
Frequently Asked Questions
1. Is the Crimson Resort & Spa Mactan in Cebu suitable for families?
A: Absolutely! The resort has something to offer for every member of the family. With a wide variety of activities, amenities, and dining options, there is something for everyone. From beachfront pools and kid-friendly game rooms to award-winning restaurants and family packages, Crimson Resort & Spa Mactan in Cebu is the perfect place for a family vacation.
2. Does the resort provide activities for children?
A: Yes! The resort offers a variety of kid-friendly activities, including game rooms, beach access, and swimming pools. In addition, the resort offers family packages that include special activities for children of all ages.
3. Are there any rules or regulations that I should follow while staying at Crimson Resort and Spa Mactan?
A: Yes, guests must abide by all rules and regulations set forth by the resort. These include but are not limited to: respecting other guests, refraining from smoking in public areas, and adhering to noise levels at all times. For more information please contact the resort directly.
4. What are the Check-in Time Policies?
A: The check-in time for Crimson Resort & Spa Mactan in Cebu is 3 PM and the check-out time is 11 AM.
5. What is the Cancellation Policy?
A: Details of cancellation policies and requirements may vary depending on the time of your booking. Please note that all promotional and discounted rates are non-refundable and no changes or amendments are allowed. However, for most dates of regular stays, cancellation of a guest room reservation must be received at least seven days prior to your arrival. If a guaranteed reservation is not received by the required time, the hotel is entitled to charge for one night's accommodation.
6. What are the payment methods accepted at the resort?
A: The resort accepts a variety of payment methods including major credit cards, debit cards and international currencies. Cash payments are also accepted at the front desk upon check-in.
7. What is the early arrival and late departure policy?
A: In the case of expected early arrival, they highly recommend booking the prior night to enjoy immediate access to your guest room. Similarly, reserving an additional night ensures access to your guest room until your departure. Should you decide not to reserve, we will be glad to stow your bags at the Concierge and make their fitness facilities available for you to freshen up.
8. Does Crimson Resort and Spa Mactan offer transportation services?
A: Yes, Crimson Resort and Spa Mactan provide airport transfers for guests staying in the resort. The service is available 24 hours a day. Guests can also book cars and vans for hire to explore the area.
9. How can I make a reservation at Crimson Resort and Spa Mactan?
A: Guests can make reservations online through the resort's official website or by calling the number provided on the website.
10. Is there a dress code at the restaurants and other facilities of Crimson Resort and Spa Mactan?
A: No. All guests are welcome to dress in whatever is comfortable for them. However, please note that certain restaurants may enforce a smart casual dress code. Please check with the restaurant beforehand if you have any questions about the dress code policy.
Summary
For tourist looking for a truly luxurious experience during their stay in Mactan Island, Crimson Resort and Spa is the perfect destination. From its magnificent beachfront area to its five-star hotel accommodations and amenities, it truly has something for everyone. Its villas are tastefully decorated, offering breathtaking views of the ocean from every angle. Additionally, the resort features an impressive seafront swimming pool, private cabanas, restaurants serving world-class cuisine, plus much more.
Tourists can also take advantage of the resort's wide array of activities including watersports, lawn sports and outdoor activities. With so much to offer visitors during their stay as well as incredible services provided by staff that is always eager to please, Crimson Resort and Spa truly stands out as one of the best resorts in Mactan Island.
Contact Information
Crimson Resort and Spa Mactan – BOOK HERE
Address: Seascapes Resort Town 6015 Mactan, Philippines
Website: http://www.booking.com/hotel/ph/crimson-resort-spa-mactan.html?aid=1234888&no_rooms=1&group_adults=1
Phone: 0917 314 4110
Email: info.mactan@crimsonhotel.com
Facebook Page: https://www.facebook.com/MactanCrimson/?ref=page_internal
Google Map