Are you a pizza enthusiast? If your answer is yes, then it's time to get excited as we have an exclusive list of the Angel's Pizza in Cebu City. For years, everyone has been raving about their superior tasting pizzas made with fresh ingredients and cooked to perfection. Every slice will make you fall even more in love with the delightful flavors and textures that these artisanal pies present. So let yourself savor every bite until there's none left on the plate! Be sure to add this list of top Angel's Pizzas in Cebu City to your must-have go-to places for extra cheesy goodness.
Also Read: List of Pizza Hut Branches and Locations in Cebu
Angel's Pizza in Cebu is a must-visit for anyone who loves pizza. The eatery is famous for its tasty, mouth-watering pizza options and has made a name for itself in the food scene in Cebu. The restaurant has a warm and inviting ambiance, creating a cozy atmosphere for diners to enjoy their meals. Whether you're in the mood for a classic Pepperoni or a more adventurous flavor combination, Angel's Pizza has got you covered. Don't miss out on this delicious pizzeria when you're in the area.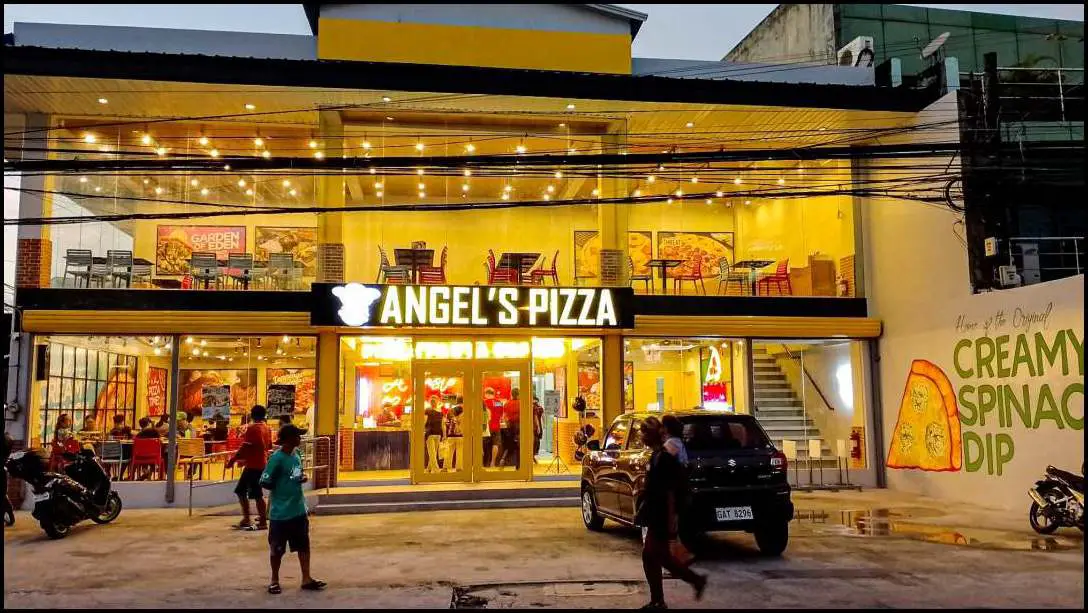 What to Expect
At Angel's Pizza, you can expect quality food that has been freshly made from the best ingredients available. They take great care in offering excellent customer service and making sure that every order is delivered promptly.
Ambiance
Angel's Pizza branches in Cebu offer a relaxed and cozy atmosphere, with comfortable seating options to dine-in or take out. The restaurants are clean and brightly lit, making for a pleasant dining experience.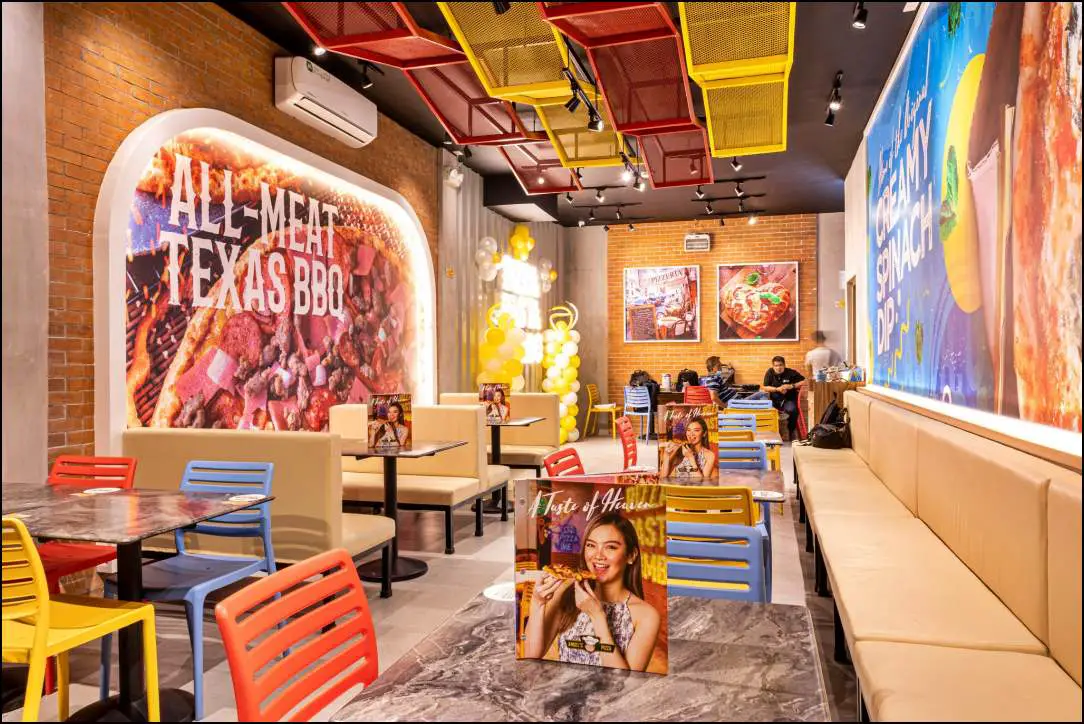 Service
Angel's Pizza branches strive to provide excellent customer service with each order. Their staff is friendly and attentive, always willing to go the extra mile for their customers. From ordering to delivery, their team works hard to make sure that you get your meal quickly and with a smile.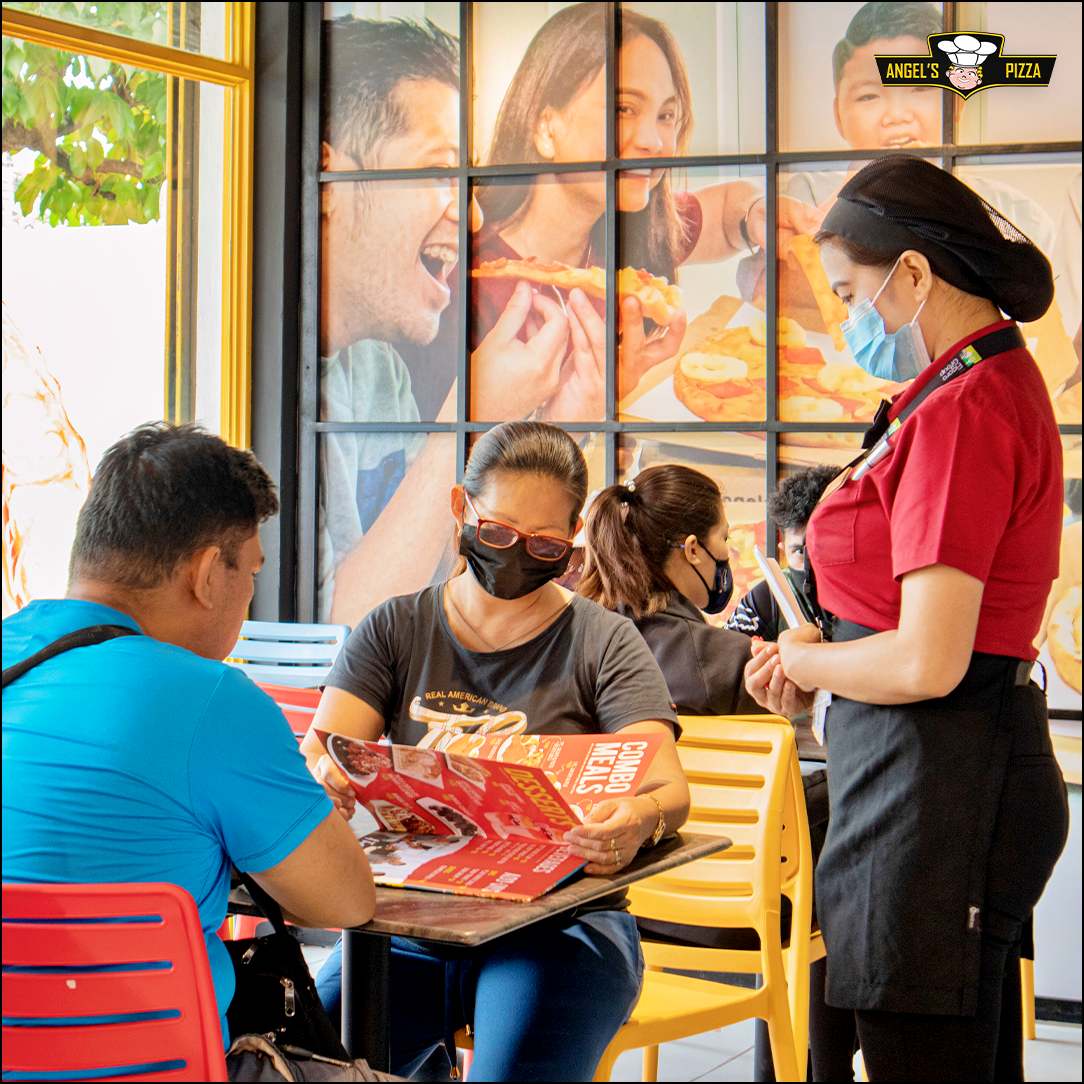 Quality
At Angel's Pizza, you can trust that your food has been freshly made with the best ingredients available. From savory pizzas to delectable desserts, every dish is sure to be delicious and satisfy your hunger.
So, if you're looking for quality pizza in Cebu, then look no further than Angel's Pizza branches. With a wide menu of classic and innovative dishes, as well as great customer service, you'll be sure to have a pleasant dining experience that you won't soon forget. Visit Angel's today!
List of Angel's Pizza Branches in Cebu
We have compiled a list of Angel's Pizza in Cebu City for your convenience:
1. Banilad Branch
Address: G/F GQS Plaza, Gov. M. Cuenco Ave., Banilad, Cebu (beside UC Banilad)
Contact number: 0995-835-8222
2. Mactan Branch
Address: Mactan Town Center, Brgy. Basak, Lapu-Lapu City, Cebu
Contact number: 231-8555 | 0915-024-4977
3. Basak Mandaue Cebu Branch
Address: 530 Cebu N Rd, Mandaue City, Cebu
4. Lapu-lapu Cebu Branch
Address: UNIT CT 128-129 LG GARDEN WALK BLDG. 2 MACTAN LAPU-LAPU CITY OPON CEBU
5. Gaisano Capitol Danao Cebu Branch
Address: Ground Floor Gaisano Capital F. Ralota St. Poblacion Danao City Cebu
Contact number: 032-5031729
6. Consolacion Cebu Branch
Address: National Road Pitogo Consolacion Cebu
Angel's Pizza Menu
Here is the list of the mouth-watering dishes served at Angel's Pizza: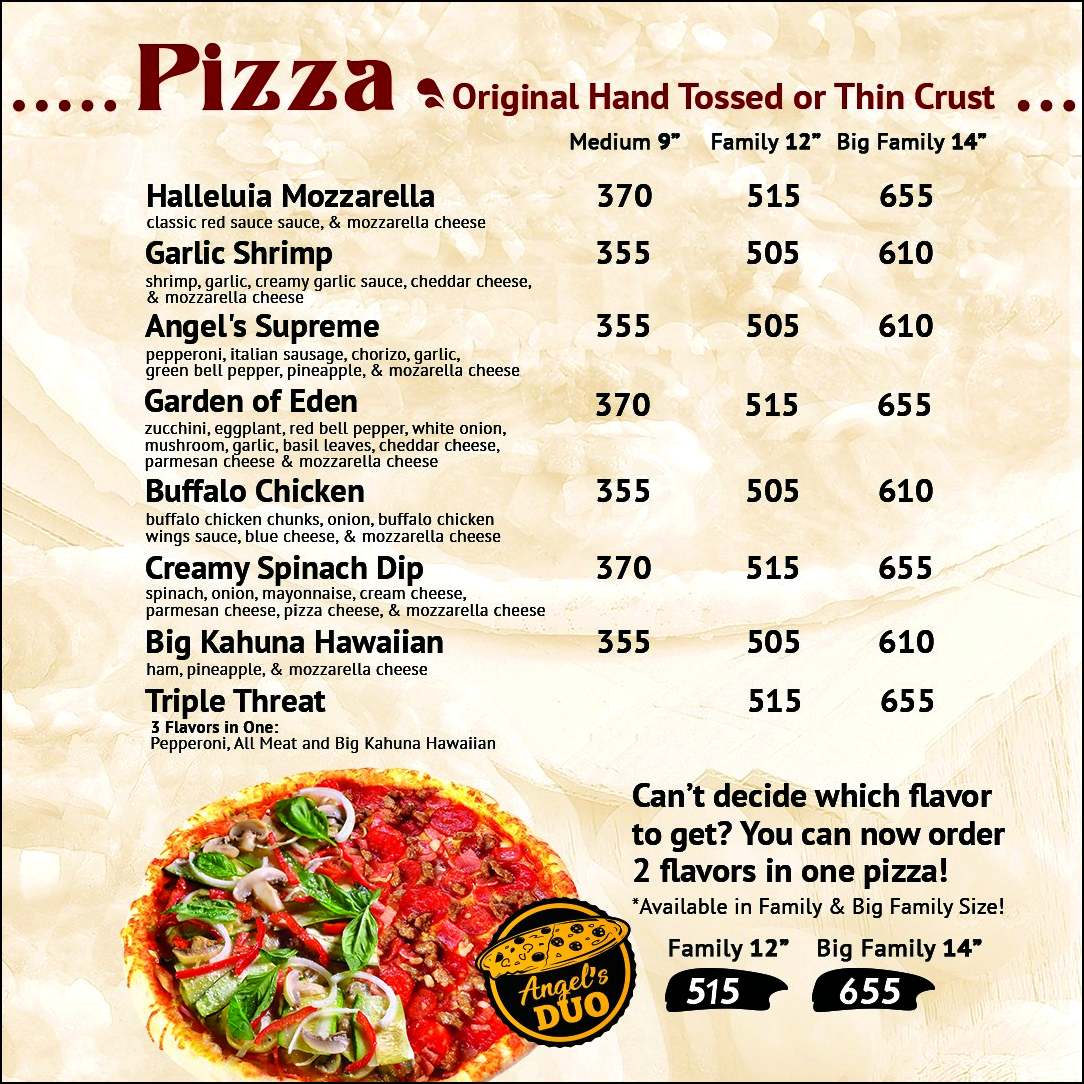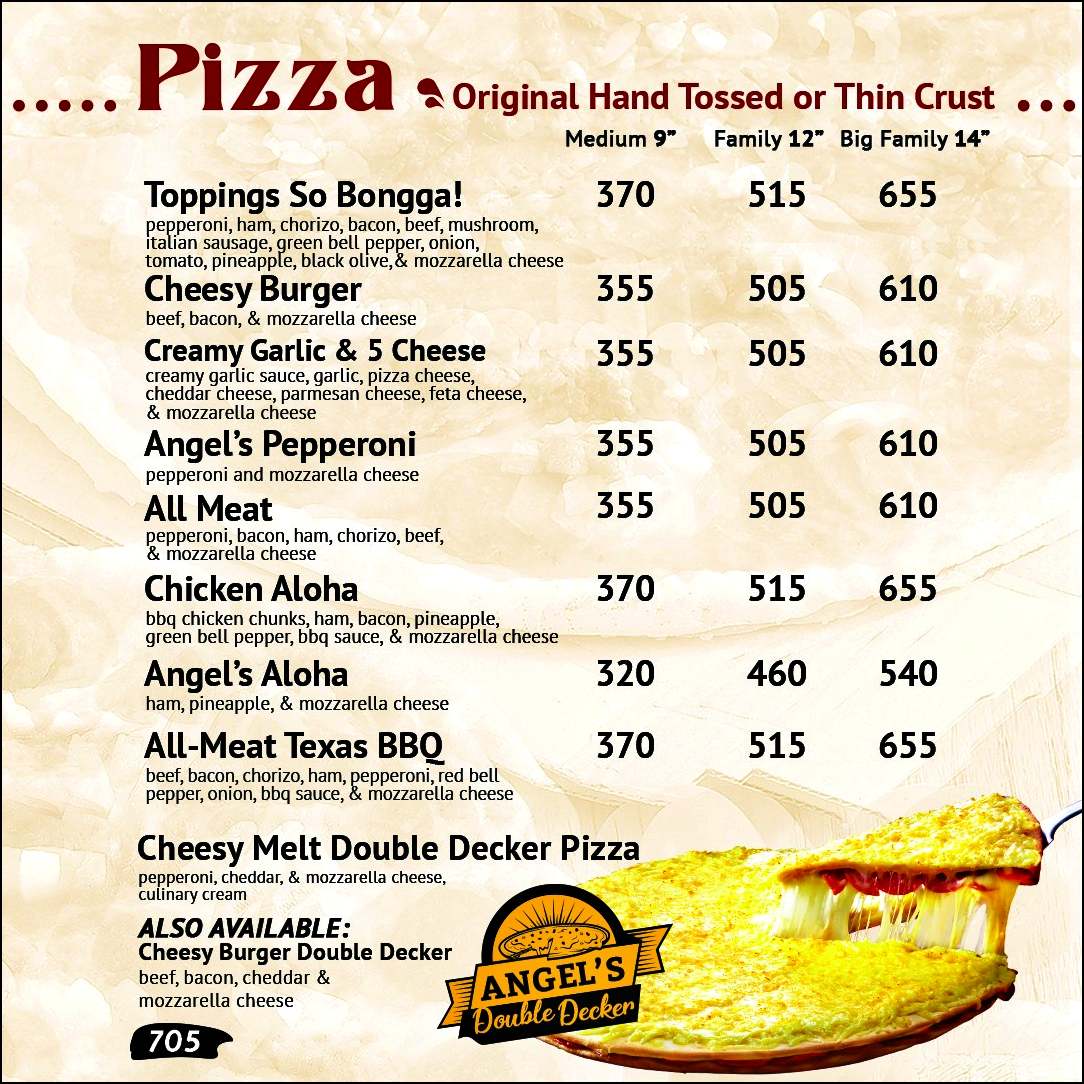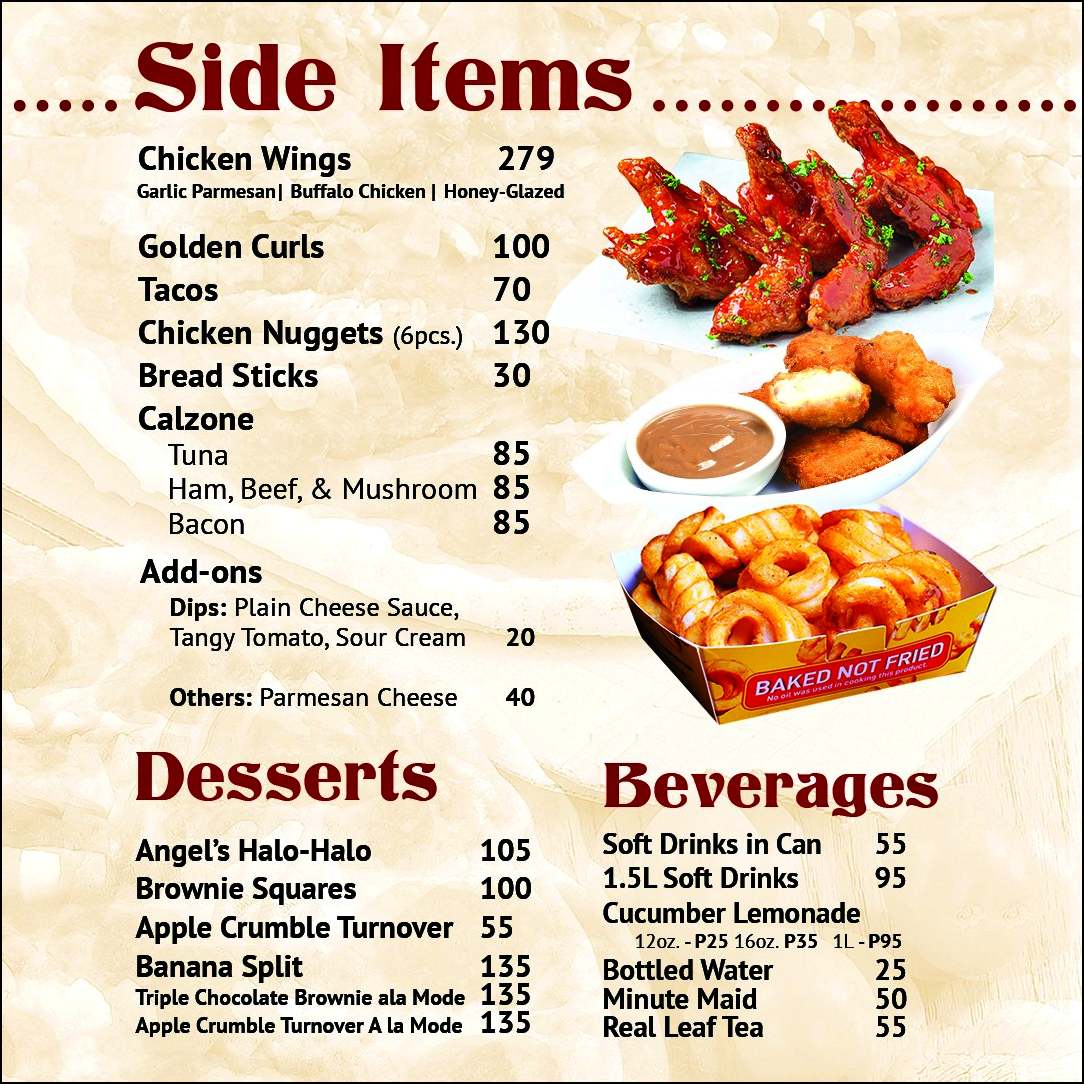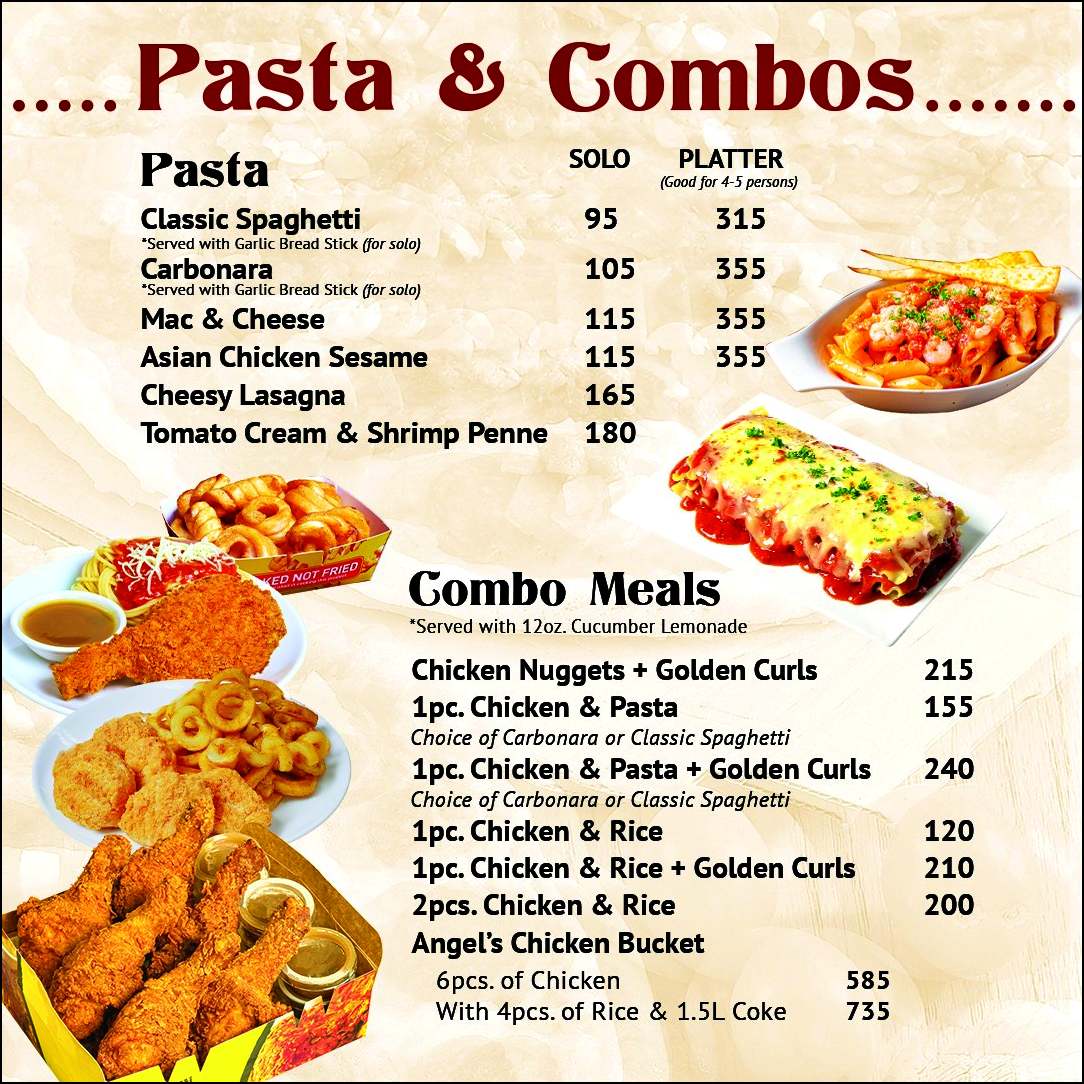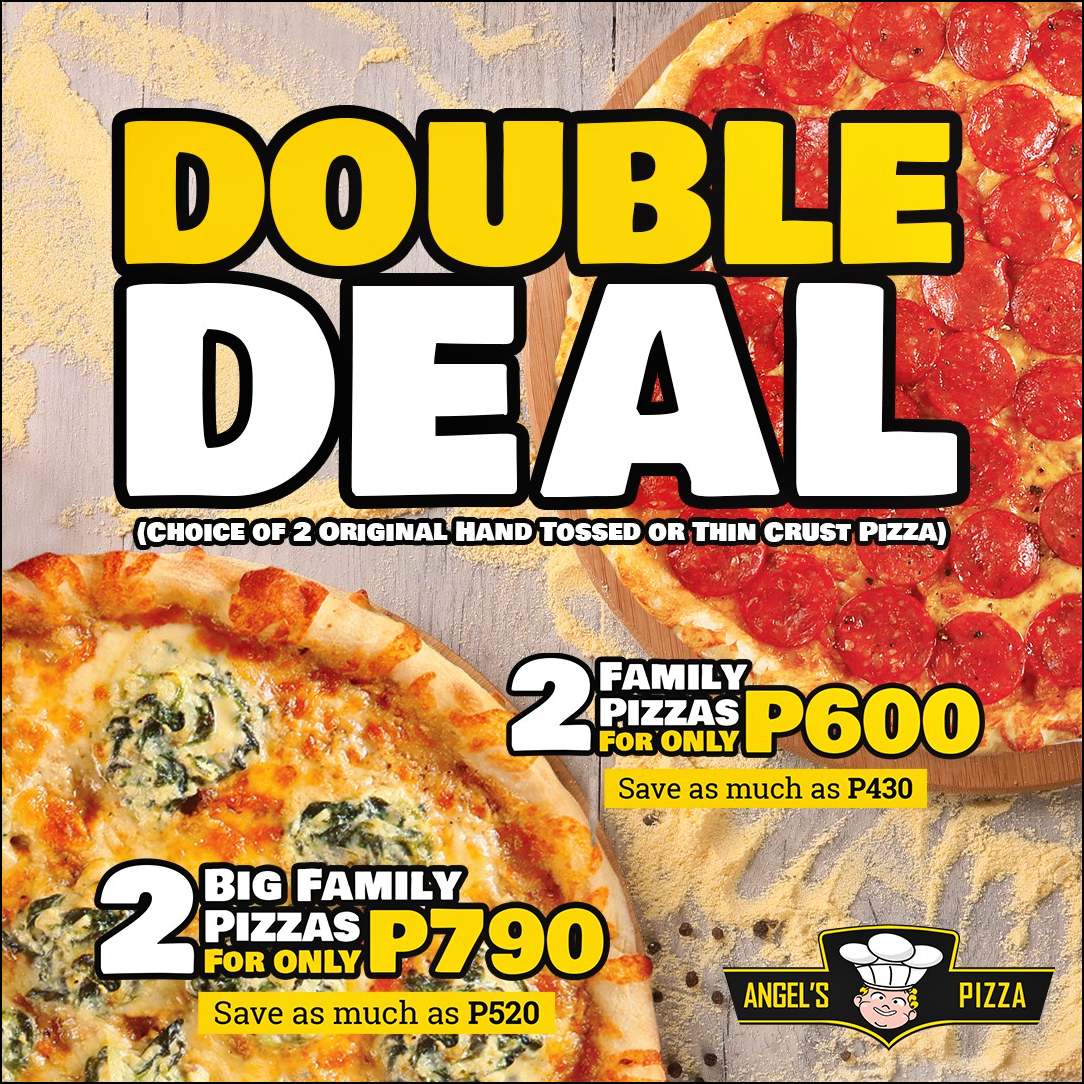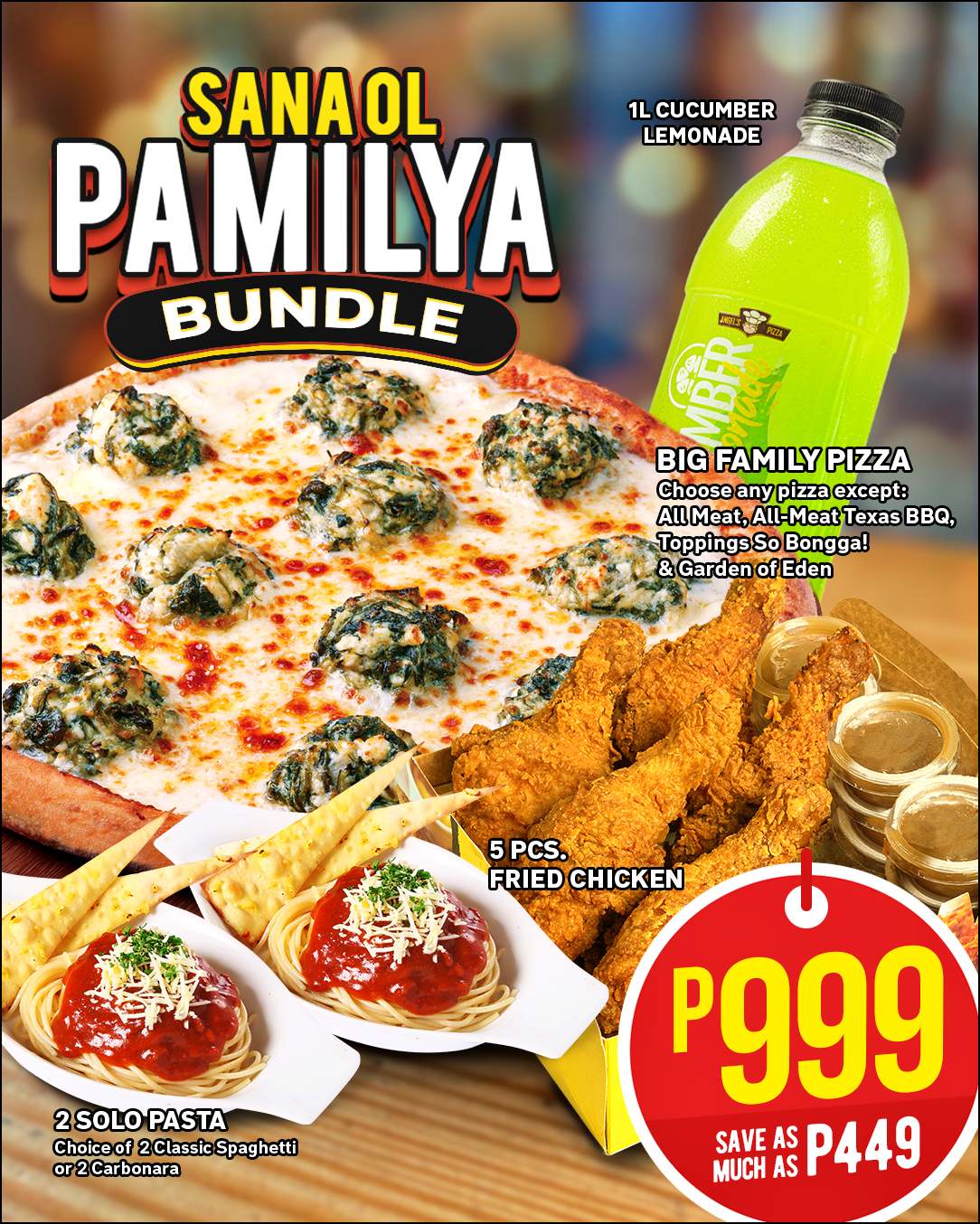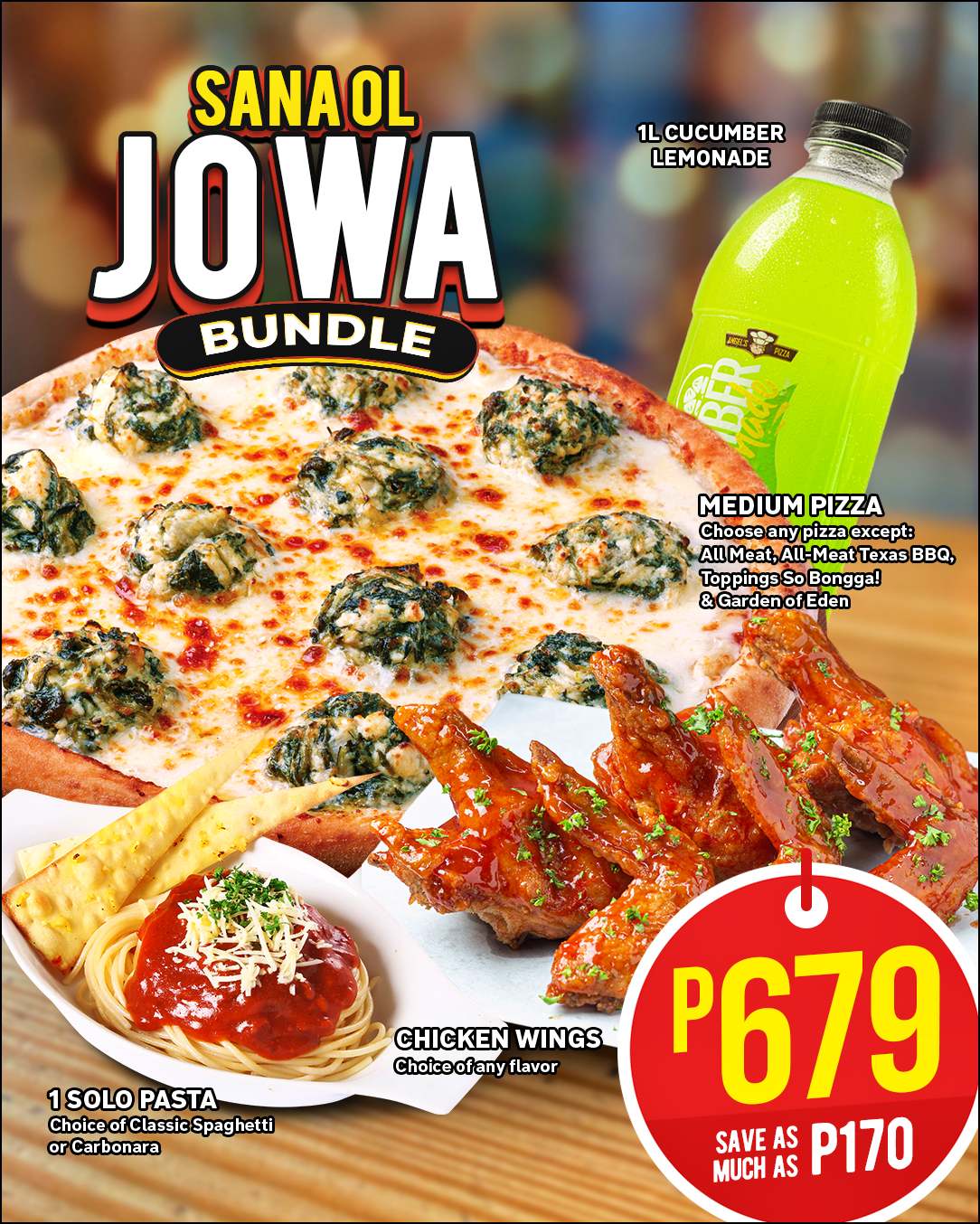 Angel's Pizza Must-Try
Here are some of the must-try specialties from Angel's Pizza:
CREAMY SPINACH DIP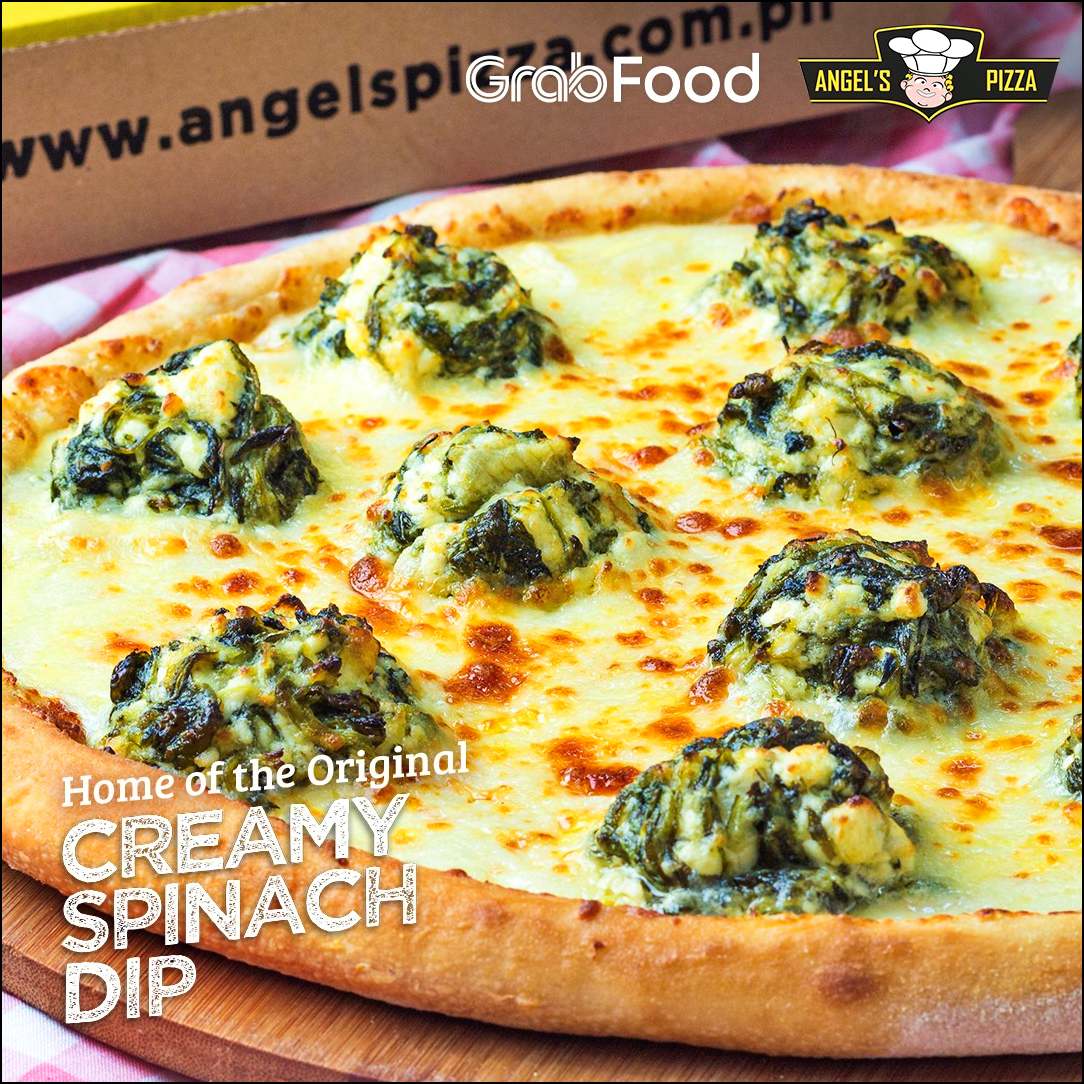 CHEESY MELT DOUBLE DECKER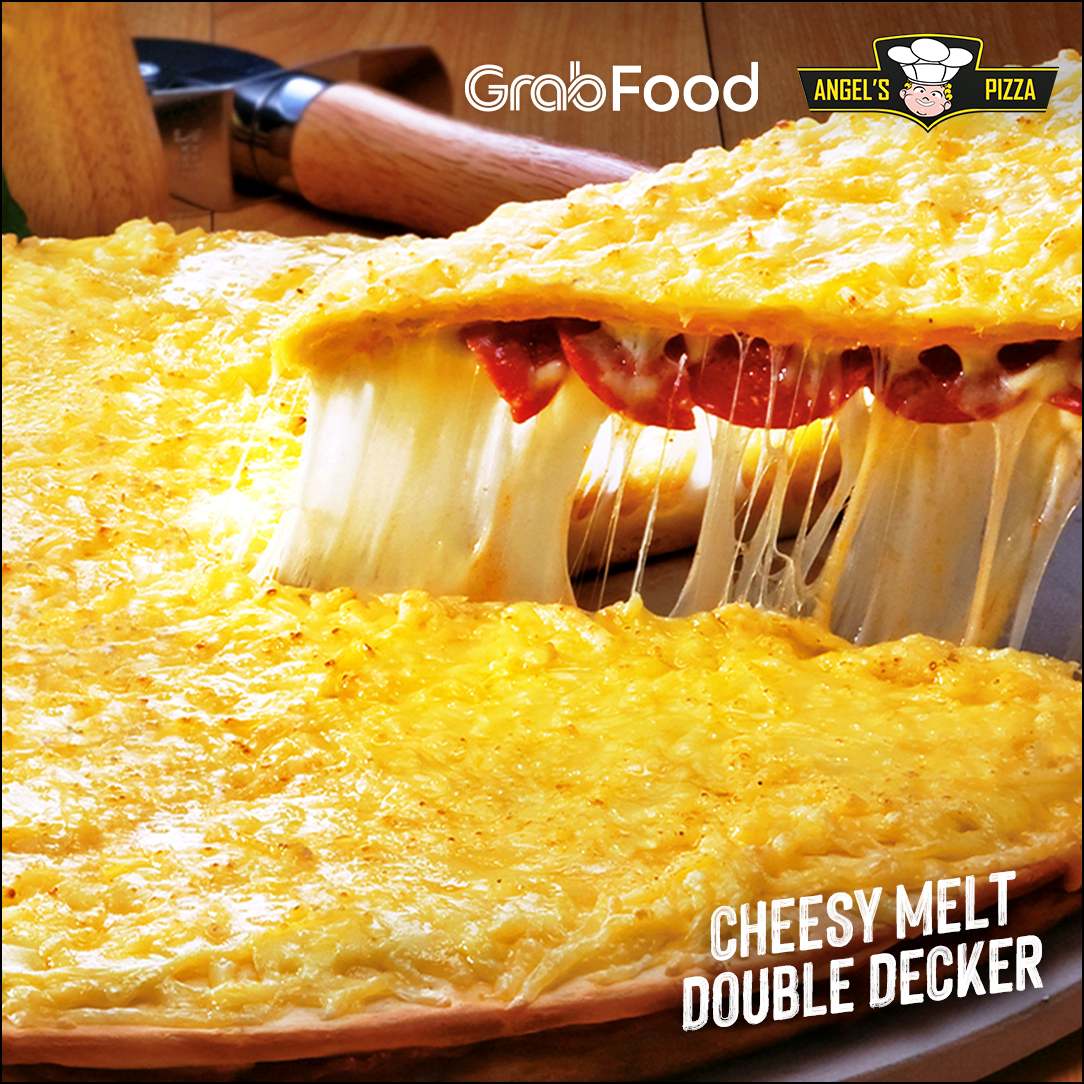 BIG KAHUNA HAWAIIAN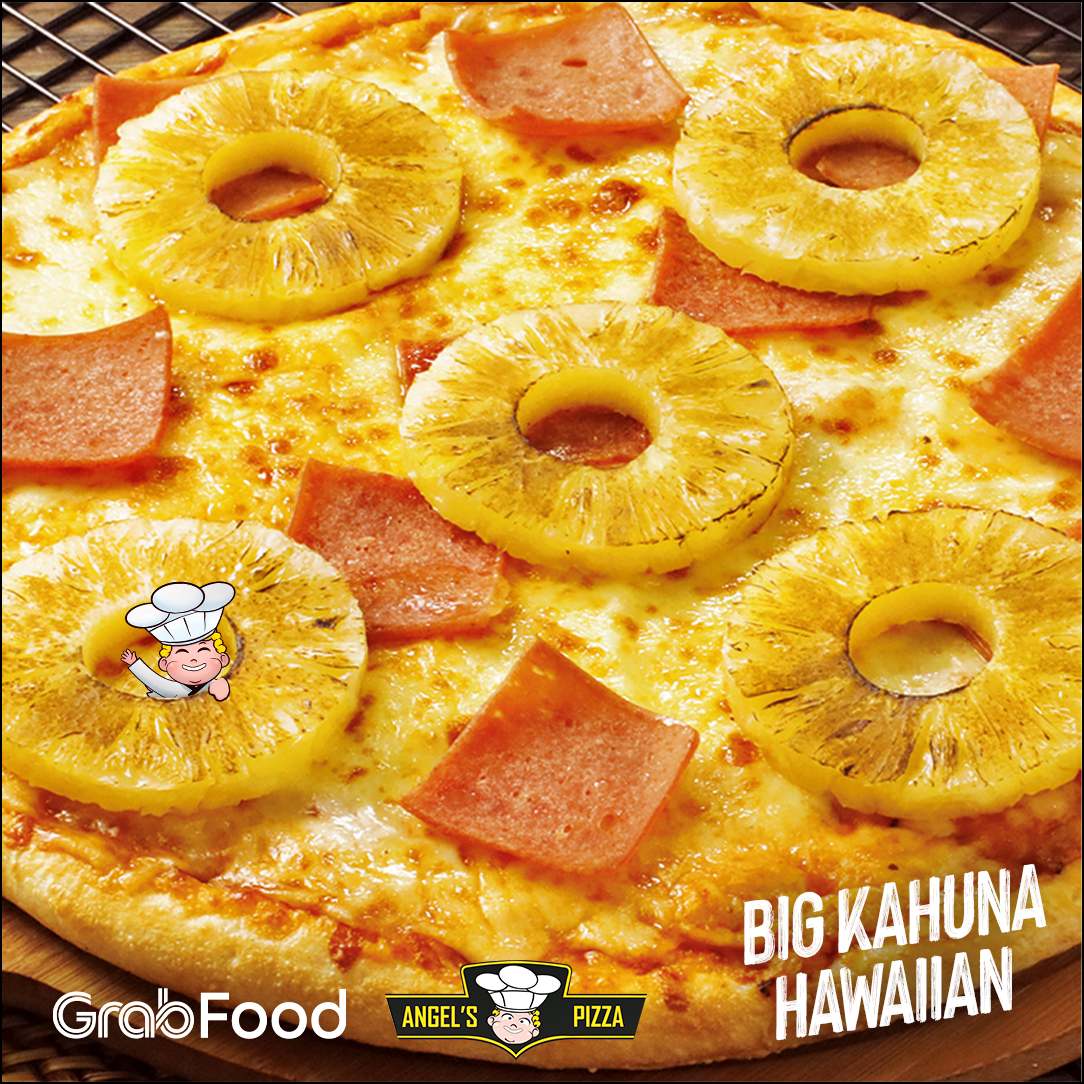 GARLIC SHRIMP
MEXICAN BEEF WRAP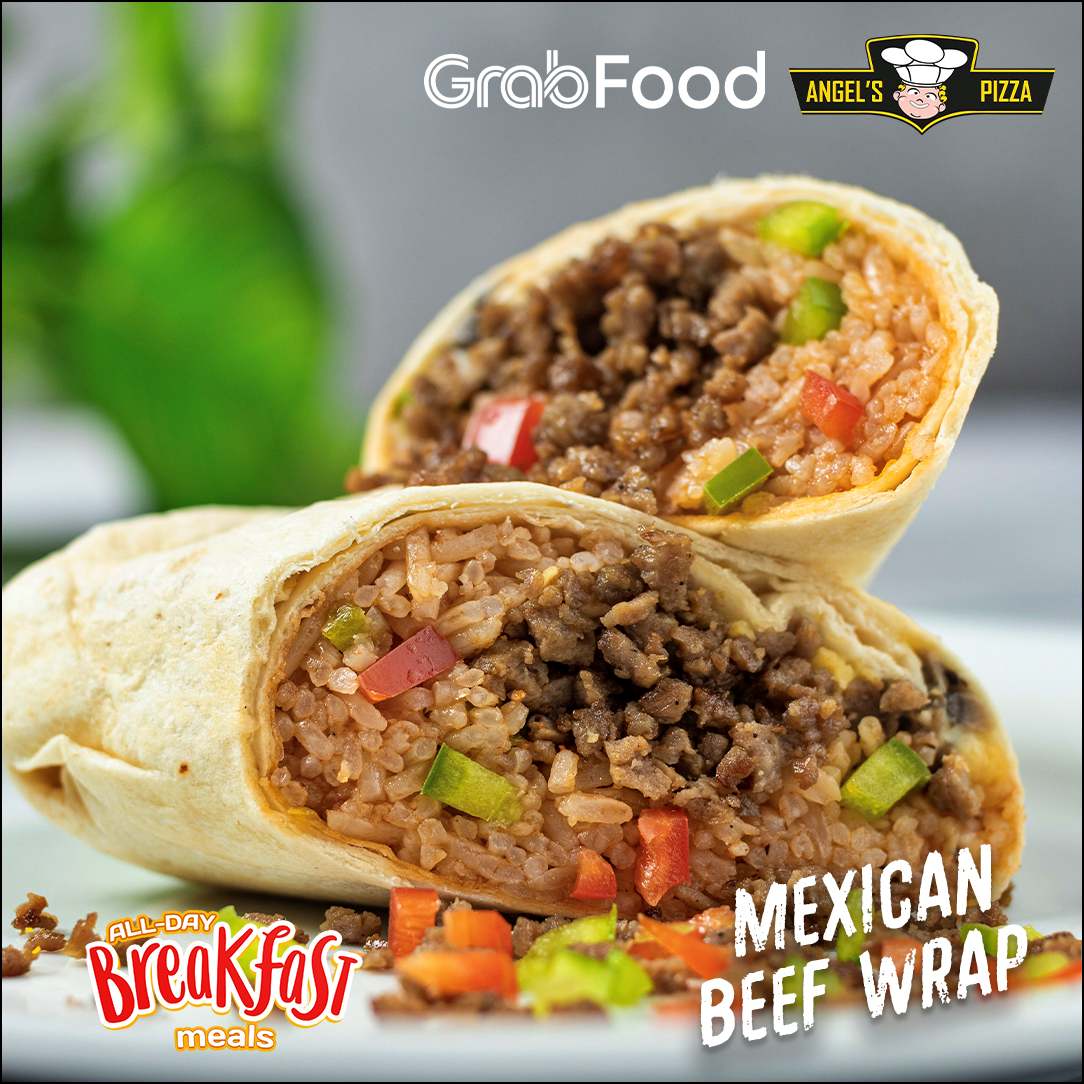 CHEESY LASAGNA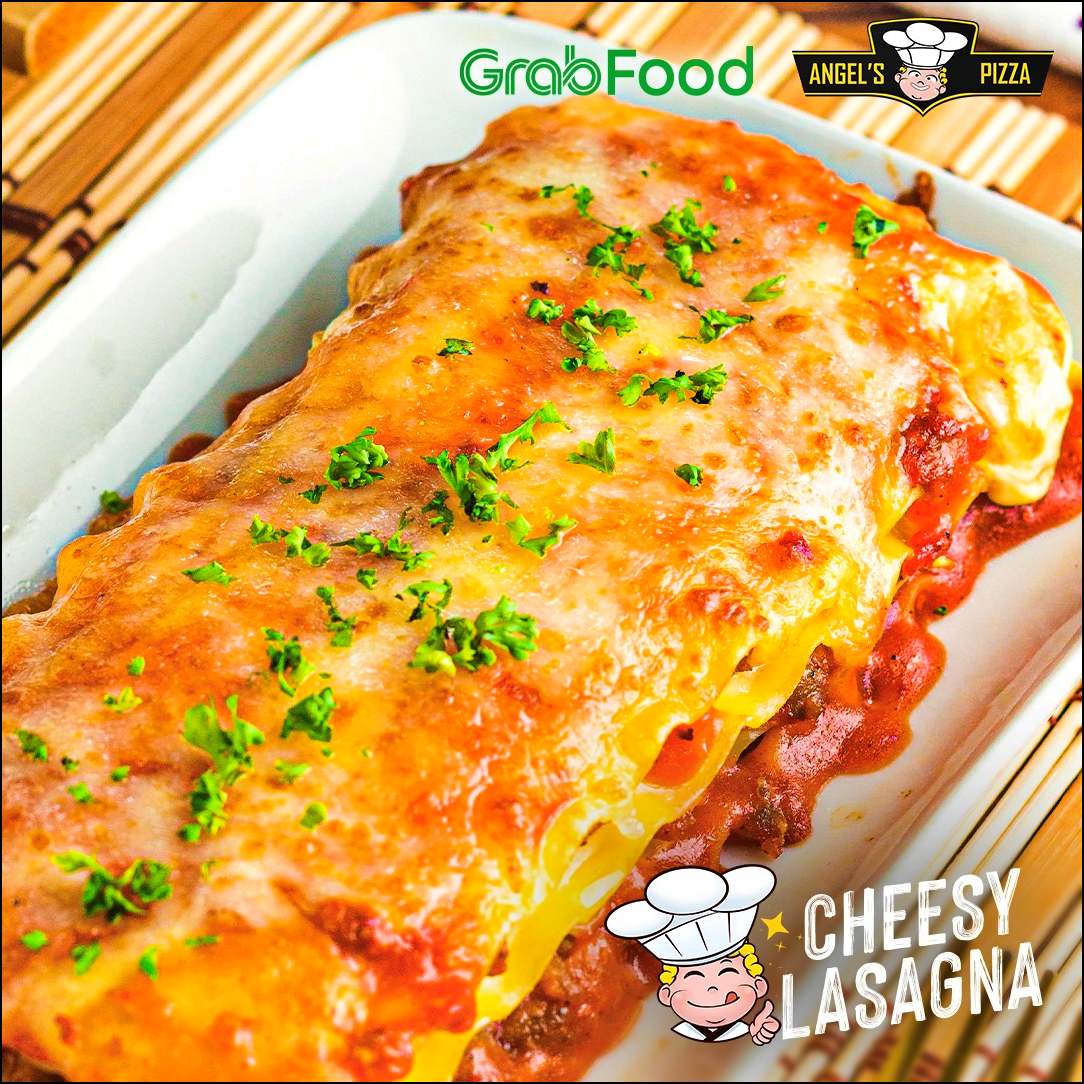 MAC & CHEESE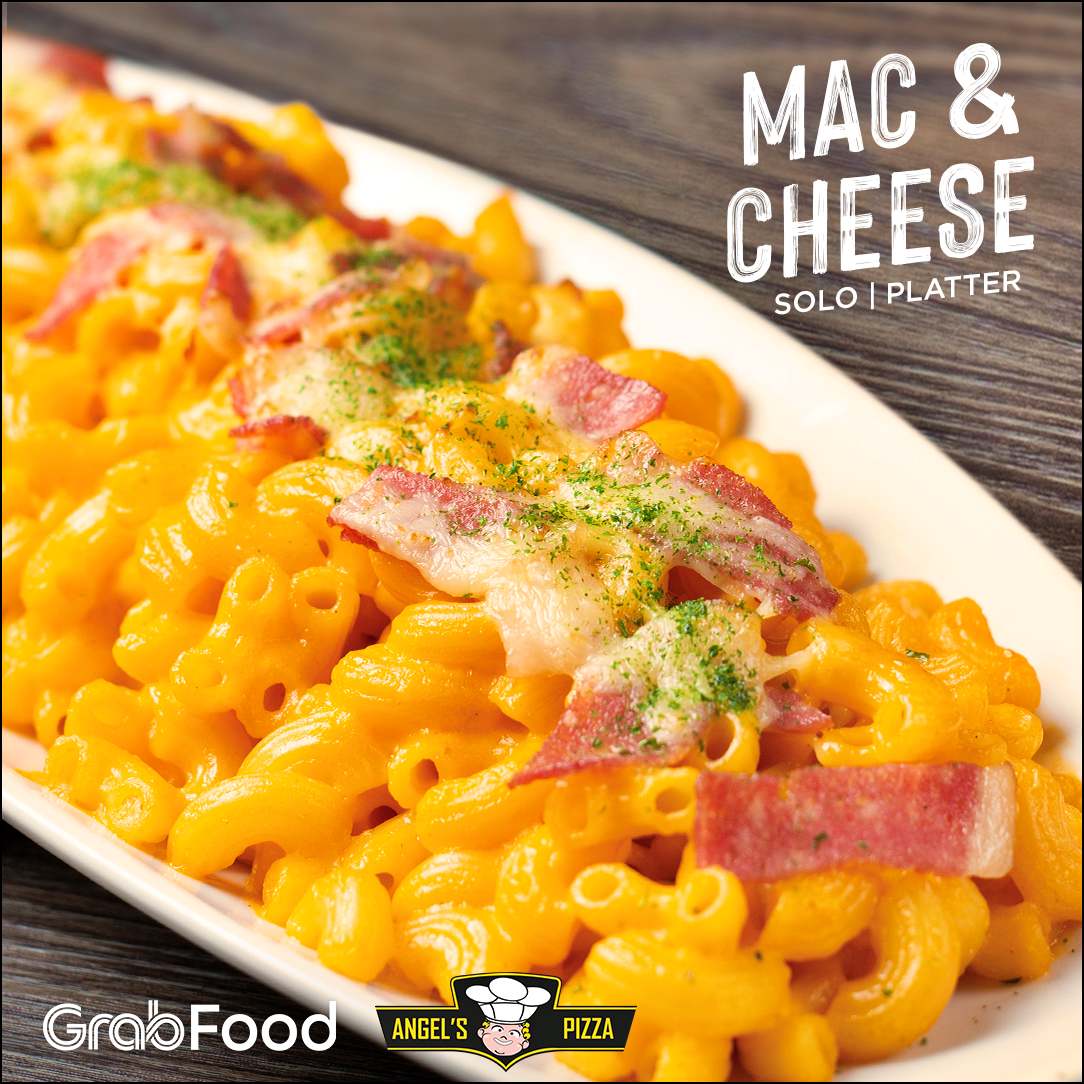 CARBONARA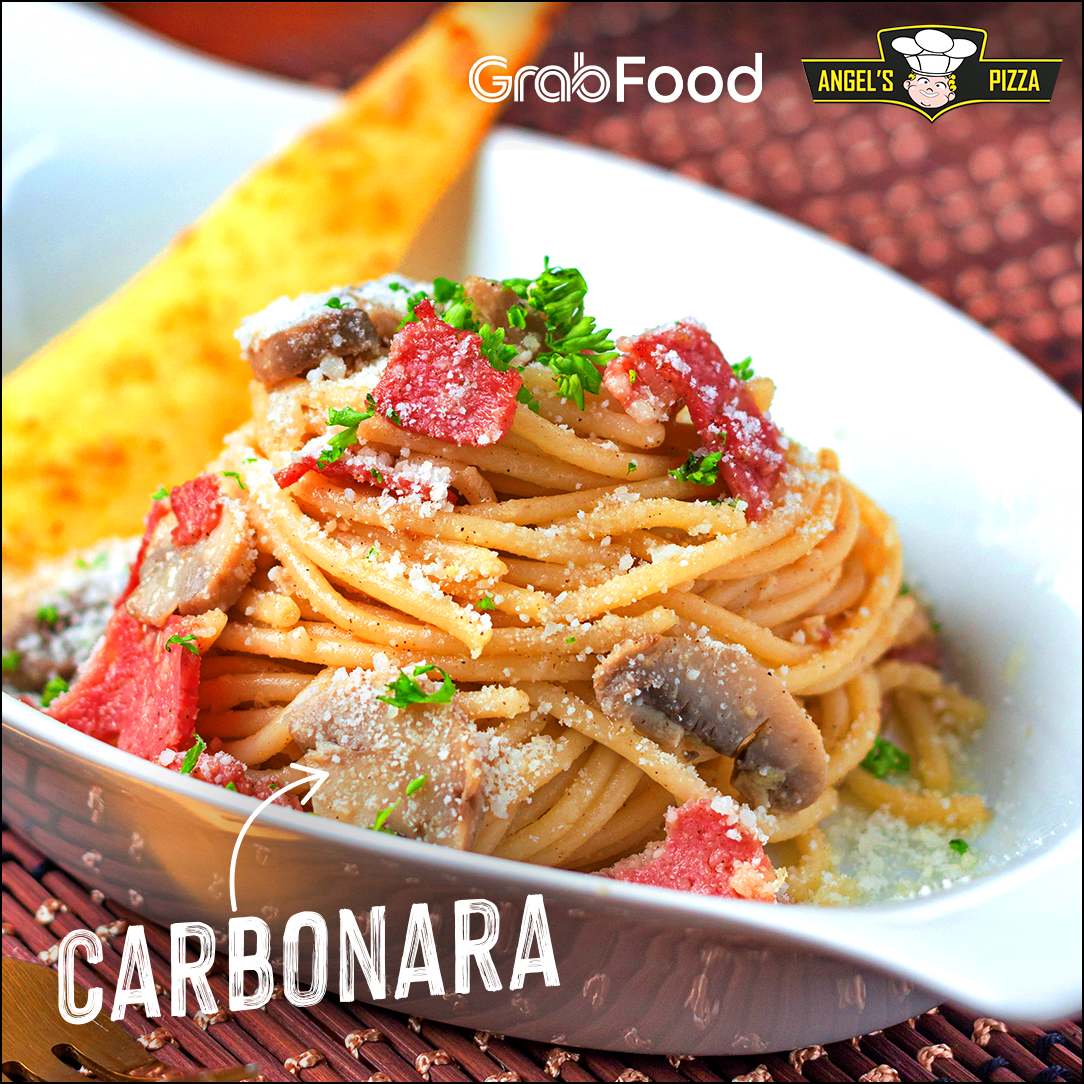 TOMATO CREME & SHRIMP PENNE
BANANA SPLIT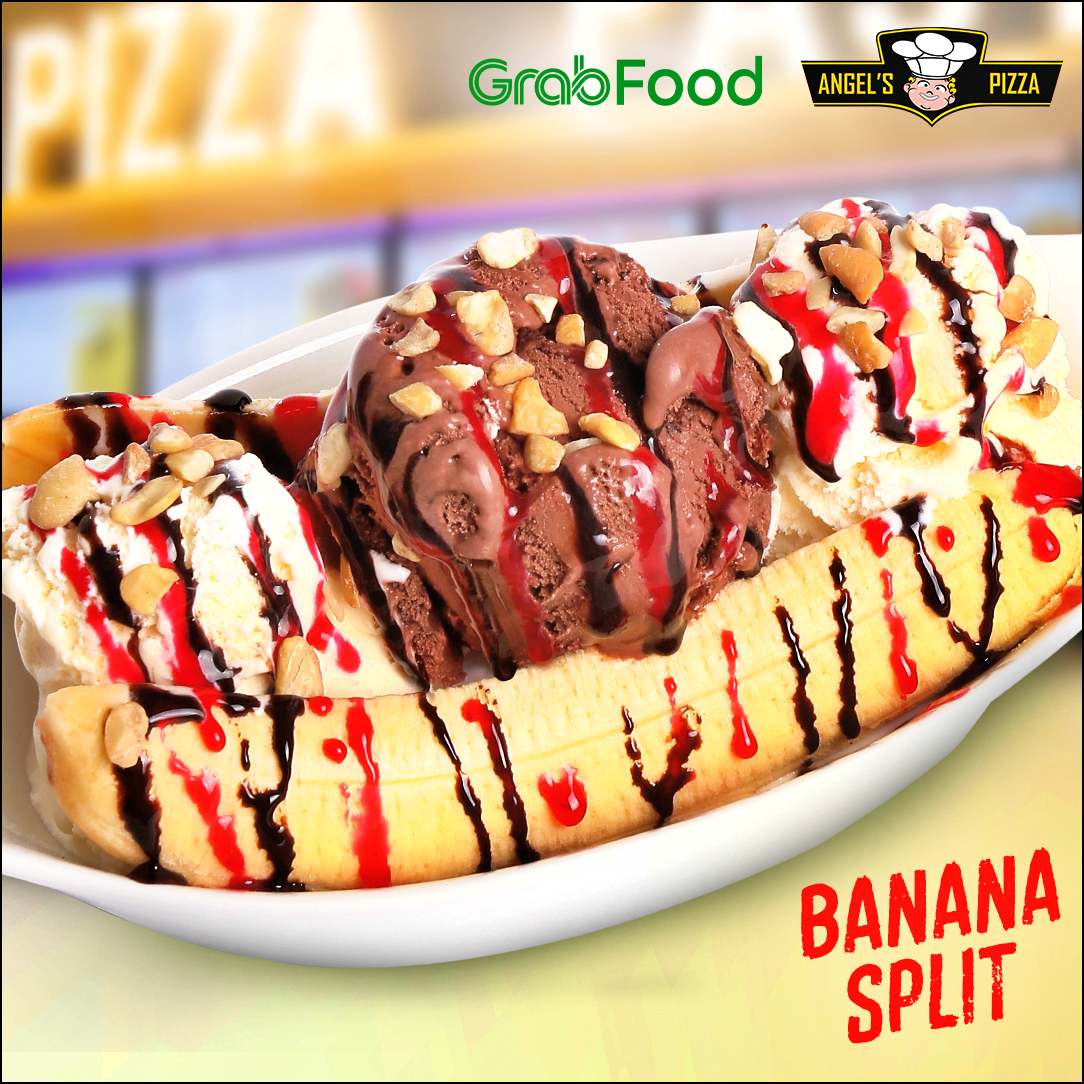 BROWNIE SQUARES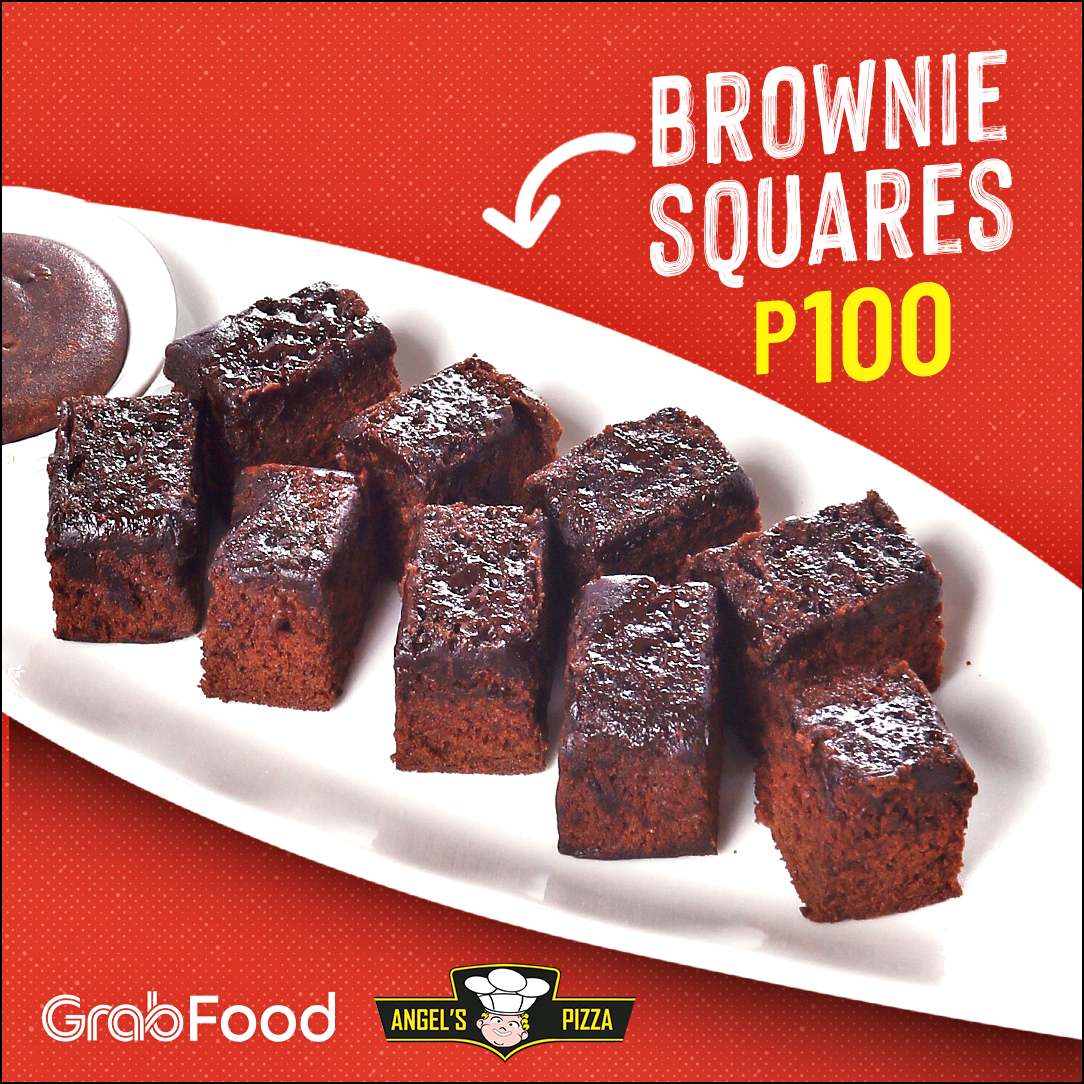 GARLIC PARMESAN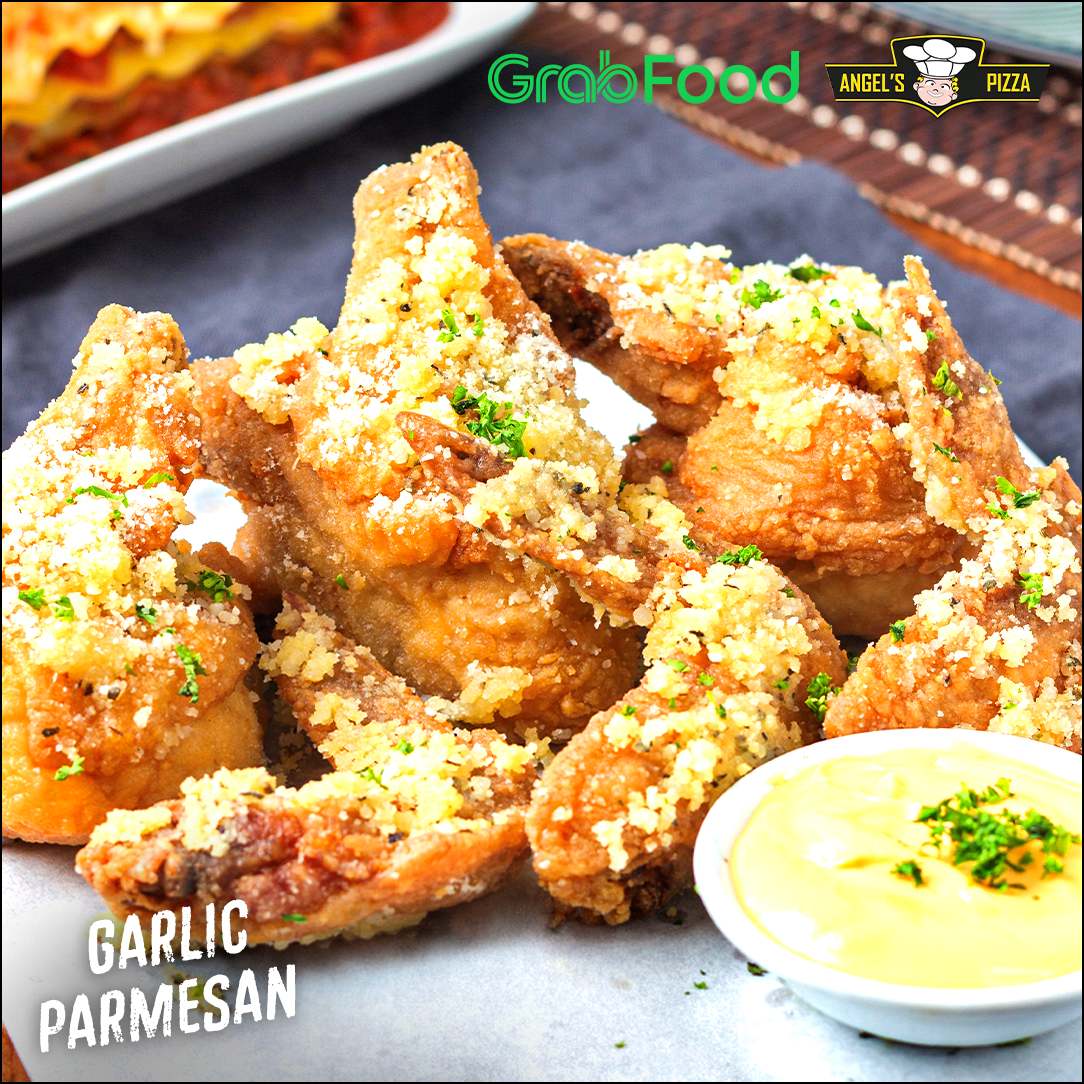 BUFFALO CHICKEN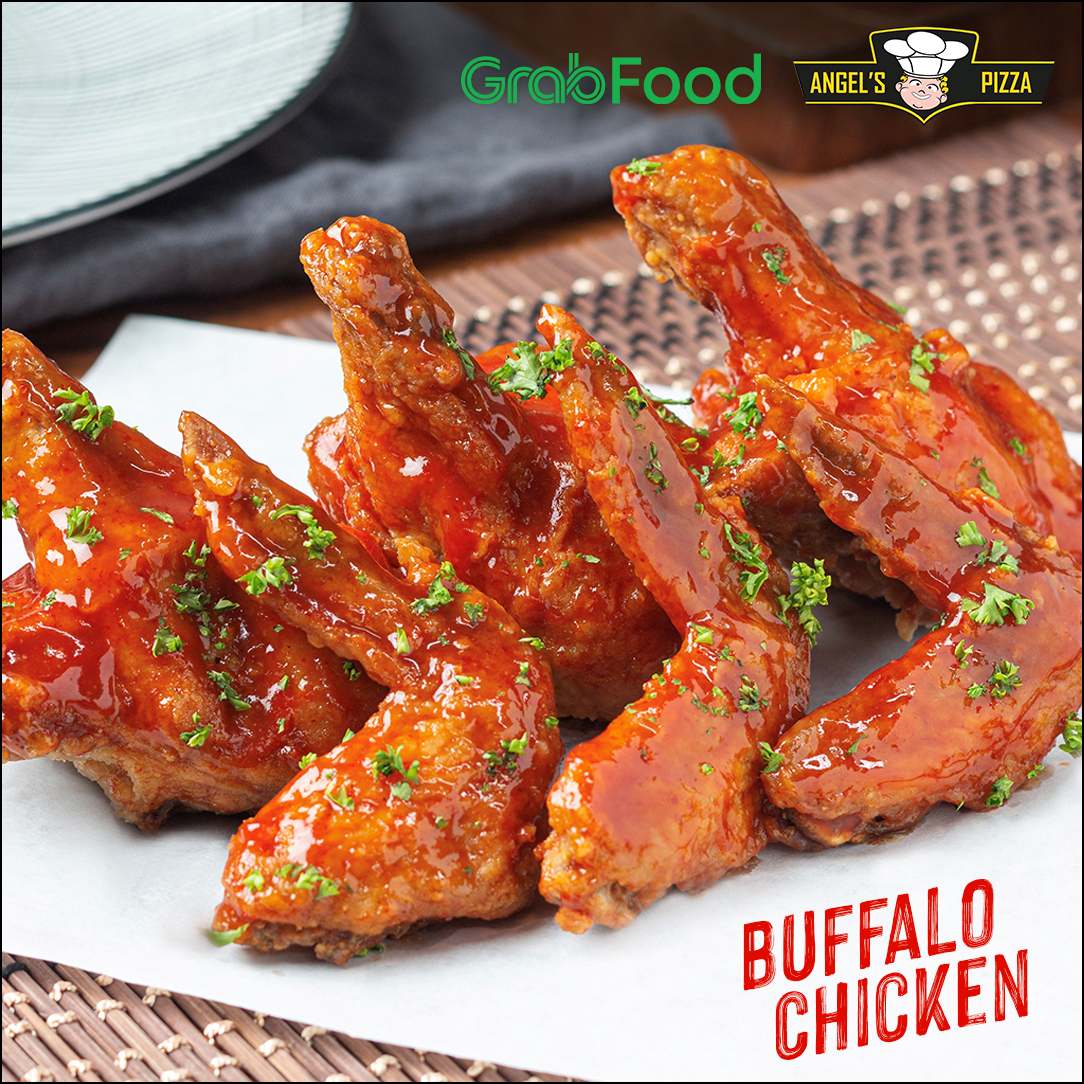 Angels Pizza Card (APC)
Get exclusive discounts, promos, and other perks when you get an APC.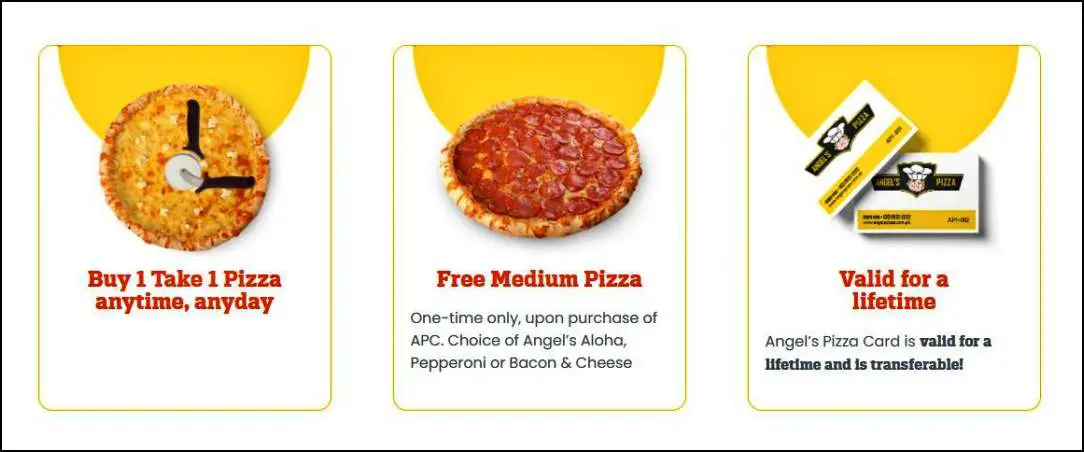 How to Get an APC
Angel's Pizza Club (APC) Card is available at all Angel's Pizza Branches for only Php 299.
APC Card may also be ordered thru delivery and upon order online.
Terms of Use
Buy 1 Take 1 Pizza is applicable for Family and Big Family Pizzas ONLY.
Valid for Original Hand-Tossed or Thin Crust Pizza.
APC Card is valid at all participating branches.
APC Card cannot be combined with other promos and discounts.
APC Card may be used for dine-in, take-out and delivery.
APC Card must be presented to the cashier upon order, or to the rider when receiving the delivery.
Summary
Angel's Pizza has taken the Cebuano food scene by storm with its delicious offerings and irresistible deals. Not only is their pizza mouth-wateringly good, but their discount offers and loyalty program are sure to make them the new favorite of locals.
It's hard to resist a piping hot slice of pizza that is also affordable, and Angel's Pizza has nailed that combination. And if that's not enough, their customer perks like freebies and exclusive promos will surely make you a believer. It's no surprise that Angel's Pizza has fast become a household name, with locals raving about it and always coming back for more.